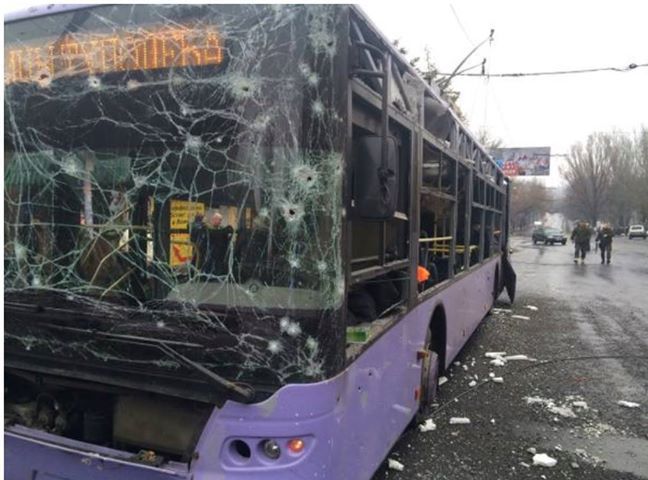 Russian terrorist attack at the bus stop in Donetsk, Ukraine 
Ukrainian intelligence cross-checked and confirmed the information that three Russian citizens arrested by the militants of "DNR" on January 28, 2015 staged a terrorist attack at the bus stop in Donetsk, killing city residents on January 22, 2015.
Member of Ukrainian parliament and advisor to the Minister of Internal Affairs Anton Gerashchenko wrote about it on his Facebook page.
"This information was cross-checked and confirmed by our intelligence. Yes indeed, three Russian citizens staged a terrorist attack in Donetsk. Now the "DNR" must investigate who and why sent them to Donetsk to kill 13 innocent people and blame it all on the Ukrainian army. If, of course, the investigators and torturers of "DNR" will have time to investigate it before a command from their Moscow handlers to release the detainees, who are likely to be Russian military intelligence saboteurs dispatched to ignite hatred against Ukraine by the cost of organizing the murder of Donetsk civilians," – wrote Gerashchenko.
As reported by the "Obozrevatel," on January 28, the "Novorossiya Militia News" community for "DNR" militants in the social network published information that a reconnaissance and sabotage group, whose members were Russian citizens, was arrested in the territory occupied by the pro-Russia terrorists organization of "DNR" in Donetsk.
Three people with a mortar shelled the city, traveled by car. All three are Russian citizens: two are from the city of Krasnodar, one from the Krasnodar Territory.
Tags: atrocities, Donbas war (2014-present), Donetsk, mortar shelling, Russian mercenaries, Russian military crimes, Russian state terrorism, Terror