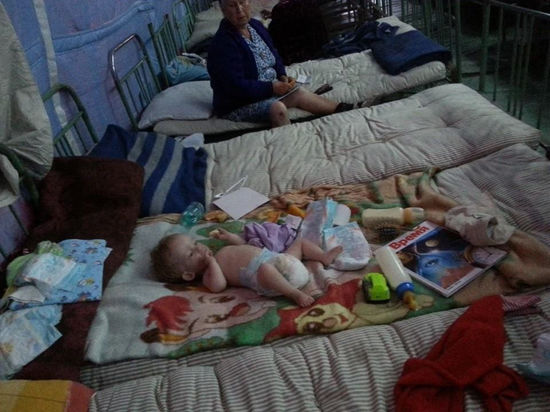 Translator's note: this article was taken from a Russian media-source taking an anti-Ukrainian stance in covering the crisis. As such, the accounts of  events in Ukraine should probably be regarded with a grain of salt.
"No one gives us a place to live. We can't find work either – they take only Russian citizens." 
"Will help refugees," "Will take in a family from the Ukraine," "Work for people from Donbas"… Food, clothes, medicine, transportation, all your heart desires… these ads make you believe it's the road to paradise. Refugees from South-Eastern Ukraine expect a great future in Russia.
Volunteers from all over the country collect humanitarian aid. They look for accommodation on their own. But ordinary people can only do so much. And the flow of refugees from the Ukraine is only growing. The influx of refugees prompted declaring emergency situations in 6 regions of Russia.
The TV shows us happy refugees thanking the volunteers. But things still get left behind, the ones TV won't show and those who've gone through the horrors of war won't tell. Because it's too awkward for them.
MK found out why Ukrainian citizens can't find work in Russia, who cashes in on the refugees, what irks the citizens of Sloviansk and Kramatorsk, and what steps they could take out of desperation.
Social networks are brimming with vacancies for refugees from the Ukraine.
Hundreds of compassionate people are reader to let their Slavic brothers use their apartments.
Dozens of companies and enterprises promise to give work to people from the Ukraine.
What more could you need? This seems to be even better than living in the Ukraine back when it was peaceful.
But the prospects of living in Russia turn out to be much less rosy.
The first thing the refugees have to face is inability to cross the border. Even though everyone keeps declaring: "There will be no difficukties crossing the border".
Elena Zelyanina: "Getting children abroad isn't easy. Hundreds of thousands more would have been in Russia if it were. There is a covert order not to let children and men out of Ukraine to avoid a torrent of refugees. If you made a foreign passport for you, travel documents with photos for children, a notarized approval from dad and print out all the legal documents, you might give it a try. And try doing all that in wartime. Most likely you'll also have to bribe the border guards.
But there's still no guarantee you'll get through. When they see everything is ok, they say: "Your passport data contradicts the database, get back to your passport authorities and sort things out". Anyway it's worth getting tickets only to the border. If you are lucky, you'll pay for the rest and go on. But not everyone gets that lucky…"
Nor is it easy to get work and accommodation.
Here's what Yuliya Gorbach from Donetsk told us:
"We decided to flee to Crimea. We went long before the horror started, because back then that was the only chance to cross the border without trouble. The accommodation is ok, but you have to pay for it. There are very few compassionate people here, and those who are have already helped other refugees. We can't rent a place to live because we have no work and neither we have the money. My husband is trying to find work, but it has been fruitless. Recently he was offered 3,000 rubles (85 USD) a month. It's just laughable.
The Federal Migration Service didn't give us any decent advice. In a refugee support center in Simferopol while my husband was trying to figure out something, I had to sit in the rain with my child for 4 hours. My husband signed up me and my child for accommodation, but no one has called us in two weeks. We aren't entitled to any allowance, the FMS told us. Although people in Russia wrote that we were. I don't know whom to believe. We cried out for help on social networks. 3 people responded. That's three out of the whole Russia. And only one of them actually helped by sending 1000 rubles [28.5 USD]. Well, thanks for that, anyway. There are rumors that Putin ordered to give work to the refugees, but you can't find one with an Ukrainian passport. There is a lot of refugees in Simferopol right now. Many of them got no help, just like we".
Yuliya Steblyanko, Kramatorsk: "We are a young family with a 3-year old child. We came to Naro-Fominsk. We are renting an apartment – no one gave us accommodation. My husband is trying to find work, but fruitlessly – they take only Russian citizens. We are running out of money – we will have to leave the flat. I've addressed everyone almost up to Putin. But I couldn't reach anyone. They've promised us temporary accommodation – we'll see…"
Mariya Petrenko: "Me and my husband came to Voronezh with our infant son. We were looking for an apartment, we went to an agency, they took 3,000 rubles for the agreement. They gave us an address. But this was a scam. No one opened the door. We didn't get our money back. We did find an apartment after all. No we have but 100 rubles [< 3 USD] left.
Irina Yarmosh: "I'm currently in Taganrog. I come from Sloviansk. But it's impossible to live here. It's muggy and rainy. We are living in a camp by the sea. The children keep coughing, many got pneumonia. I considered going back but I found out our house was destroyed. We'll go to Syzran where my grandmother lives. But we have no money for the travel".
"The refugees hide at abandoned houses and come to live with people they've hardly met".
During the last month around 4,000 Ukrainian citizens appealed to the Migration service only in St. Petersburg and the surrounding region, around 1,400 people from the South-East asked for temporary protection and 74 asked for a refugee status.
The actual number of people who have fled from the Ukraine to St. Petersburg is much higher.
Some just don't reach the migration service, while others hope for the best and people's kindness.
Valentina Zheleznaya, supervisor of the "Clear Sky" project in St. Petersburg and the region, knows the problems of refugees from the Ukraine firsthand.
– Valentina, is it true that the refugees are afraid to appeal to the migration service?
– They hear those scary rumours that if they appeal for temporary protection or refugee status, they'll lose their Ukrainian passports and will never be able to go back home. Or they hear that if they don't give their documents away to the FMS, they'll get caught and sent back to the warzone. And that's why when they come to our city they hide in abandoned houses or go to live with people they've hardly met.
– Do they hope to go back home?
– Most of the refugees don't yet realize what's going on. When I suggest them to get a job to rent accommodation, they ask: "You mean that's for a long time?". The militia says the war will continue for another year. The Ministry of emergency situations also warns the refugees they'll probably have to spend the winter in Russia.
– They say Sloviansk and Kramatorsk are getting back to normal – water and electricity is getting back…
– Sloviansk and Kramatorsk aren't getting back to normal. What you see on TV is just for show, The reality is different. We still get frightened people out of there who say that there's shooting in the streets and people are dying. Although some do go back. What do they hope for?
– Does the state work with refugees?
– A refugee affairs committee has been formed in St. Petersburg, but I have no idea how it works. People still have nowhere to live, the issue hasn't been resolved.
– Who are the people that take in refugees for free?
– The people the refugees stay with are mostly well-off. If a poor family still takes in refugees, conflicts and misunderstanding often arise. Some use the situation for their own gain – take the refugees in expecting food, clothes and money. Some want to have free workers and baby-sitters. You can't escape that. There are few cases when the receiving part are scammers. There are more domestic conflicts. People come with their characters, traditions and habits. The people that take them in have their own views of life. Their outlooks may contradict, and conflicts arise.
People that are ready to take in a refugee family often don't realize it means hard work and responsibility. You'll have to give up something, get used to something. You have to take in a stranger family into yours. Not everyone manage that. In that case we take the refugees away from the "new" family.
Elena Kozubai, St. Petersburg: On June 15 we took in refugees. Five people came from Donbas: A husband, a wife, their son and two grannies. A day later Sergey, their relative, turned up. We took them in like relatives. We made room in our two-room apartment. We gave a room to the family. We got them a baby bed and clothes. People gave them a stroller they threw away – they didn't like it. We bought food for our own money, although we have to feed five children of our own. When money started to run out the volunteers brought food and 2,000 rubles. We stuffed the fridge, bought cereals, spaghetti and eggs. All the food ran out in three days.
But when my children ate our guests' bananas, they took all the food to their room and started locking it. We became guests in our own apartment. They lived for almost three weeks at our place. We tried to get the woman hired as a cleaning lady. She refused. None of them were eager to work. Recently they left with a scandal. We were accused of theft. How can you trust people after this? We'll take no more refugees".
Yaroslav Zentsov: "We took in refugees. And once my father-in-law heard the woman – the mother of those we took in – saying on the phone that she'd found a sucker that she could easily cheat out of her apartment. That was quite a rude awakening.
– Valentina, in what state did the refugees arrive? Is it true that some were on the verge of suicide?
– Most often the people that contemplate suicide are those whose expectations don't match reality. Refugees go to a large and beautiful city hoping to have it all and they get used clothes, canned meat and spaghetti, all the accommodation problems. Not everyone can bear such stress. They come empty-handed. Mostly they leave the house with what they can grab. Sometimes they have nothing but papers.
– Are they picky when they choose a place to live?
– Some agree to any conditions just to get a roof over their heads. Some, however, want to stay specifically in the city, not in the suburbs or somewhere in the region. There are different cases.
– Are there any "troublemakers" among the refugees – alcoholics, suspicious people, ex-convicts?
– We leave out the suspicious right away. We just pull out of the talk subtly. We are mostly concerned with singles. Young singles are twice as suspicious. We try not to communicate with those and send them to the authorities. Several days ago a "brother and sister" addressed us. She was from Donetsk and he was from Kharkiv. They complained they had nowhere to live and no money. We offered them accommodation. They refused. It's unclear why they came and who they were.
– Do the refugees require psychological aid?
– There's the so-called Kramatorsk syndrome, when people shudder at the sound of helicopters and loud bangs and children are afraid of planes. Mostly these are citizens of Sloviansk and Kramatorsk. Psychologists work with them.
Valentina told four stories of the refugees at her social network page:
"A mom and two infants. Helpless, fragile and vulnerable, she wasn't ready to see explosions and blood around her, so she fled from Volnovakha to Russia. She had no money. No belongings. She only had an address of her friends in St. Petresburg who had managed to escape the Ukraine before all this started. Her friends took her in, but not for long. They were leaving and couldn't leave a person in a rented flat.
She had five minutes to use the Internet. I got a message, a call for help. I called and she cried on the phone. Out of everything she said I could only make out that she had no place to spend the night. Petite, fragile, alone in a big city with two infants.
Very good people took her in. She has no money, because she can't go to work yet. She has almost no clothes, because even going to the refugee aid center costs money and becomes a real ordeal with her two infants. What she has is a hope for a better future…"
"A family from Sloviansk. The mother addressed me when her child had had a fever for 12 days. She was brought to hospital and diagnosed with double pneumonia. After what happened mom was not in the best state either. The mom and her daughter are in hospital for now, The dad is setting up the apartment people helped them to find.
"Sloviansk. A mother and children. The elder is 10, the younger is 1. They ran away. They didn't know where, just further away. They rented a place to live for the rest of their money. Then the money ran out. They still had no warm clothes or food. They asked me for help – they were looking for someone to let them in for a while… The rent term was running out and they got no new accommodation. The infant needed medical attention. Saying that the mom was on the verge would be an understatement.
Kind people gave them a place to stay. But the stress was still there – the mom and her children ended up in hospital. The boy's tumor started growing rapidly. They were hospitalized. They are still in hospital now".
"A dad with his son. They came from Konstantinovka. They went to their sister, away from the war. But it turned out she wasn't ready to receive them. Wasn't ready to let them in, to feed them, to help them recover.
The dad walks through the city with his son till late at night, waiting for the time when he'd be able to get home to his sister and go to sleep in the corridor not to wake anyone up. Nor can he work – what kind of work would it be if you had to take a little boy to work? Not all the time, but quite often. It seems like these two have forgotten what decent food is. I know that we'll find work for the dad. And the boy will have the best uniform when he goes to school in Autumn".
"Hundreds of people from the Ukraine gather at the border. There's nowhere to get them out".
Alexey Smirnov is from Moscow, he studied to be a director.
One and a half months ago he turned volunteer. He found shelter for over 3,000 refugees in Russia.
– Two months ago a friend of mine from Kramatorsk came. She told me 15 children were staying in a basement, – Smirnov told me, beginning our conversation. – She wanted to go to Andrei Malakhov's popular talk show, to get money for a bus to get people out. We didn't go to the talk show. I gathered the money we needed and we got the first 15 children out of Kramatorsk. Some got parents' approval – the parents didn't wish to leave, some of the children had mothers or grandmothers with them. We got them to the Moscow Region. But I couldn't feed 15 children. The authorities refused to help. One by one my friends started sending aid:
everyone chipped in 1000 or 500 rubles. And then I thought: what's happening on the Ukrainian-Russian border if it's such a mess here in Russia? I got a ticket to Rostov and went there.
What I saw at the border shocked me. There were 5 Emergency  Ministry tents and women, children and old men around them… There was about a hundred. The children had few clothes, they were sick, they coughed, they had fever. I had but 5,000 rubles left. I started thinking of a way to get them out of there. A bus to Moscow cost 75,000 rubles. I started calling my friends. In the end I gathered enough for two buses. I got 65 people out of there.
On the way to Moscow I called tourist and recreation centers and hotels that could take in the refugees. But everyone refused me. No one wanted to take in Ukrainian citizens for free. When we were approaching Moscow, one of my friends arranged settling the people at an abandoned tourist center in Voskresensk. So we went there.
– How abandoned was it?
– Completely abandoned. There was nothing there. We had o restore it practically from scratch. But on the day of our arrival volunteers from the capital and the surrounding towns brought humanitarian aid: food, clothes, fridges, heaters, strollers. We got by.
– Is the flow of refuges dwindling?
– It's increasing every day. The fighting in South-Eastern Ukraine is still ongoing. The news give information sparingly. The fugitives keep getting away, they get shot at at the border. Recently we were waiting for 14 people from the Ukraine. Only 4 reached the border. The rest got killed on the way.
Volunteers call me from the border regions, asking to get a printer, telling they had to set up people's papers, some had no papers on them and crossed the border illegally. A lot of things happen. New events turn up every day. Recently a woman with 3 children crossed the border, her husband followed her but got killed by a sniper. A woman lived on the border for a long time with her 3-year old daughter diagnosed with bilateral cerebral cyst. We barely managed to raise money to send her to St. Petersburg for treatment.
– They say some refugees behave inappropriately.
– There are some weird people. They flee Ukraine and believe paradise awaits them here and Russia allocates huge allowances. When they find out pretty much no one needs them here, they break.
– Do they all leave without money?
– Some still have hryvnas left. But the hryvna to ruble exchange rate in Russia is 1:1. It's totally disadvantageous.
– Do you also aid them with papers?
– The Ministry of emergency situations guys work at the border. They handle those things. The MES guys live in tents as well, they bathe in cold water, they are barely surviving themselves. I always bring food and cigarettes to them. There is still a lot of refugees there. No one can take them out and they often have nowhere to go. They have one camp bed for several people, they sit on bare wooden floors, it's cold at night and hot in the afternoon. Surely some fall ill.
– Do any of them return to Ukraine? After all, east or west, home is best.
– They used to. No no one wants to go back. People fear they'd be suspected in aiding the militia and espionage and go to jail. There are always these talks there.
– Russia can only take in so much. Could a time come when the refugees would have nowhere to live?
– To avoid that the authorities should tackle the refugee issue. Right now these people are under volunteer care. People cross the border, but the authorities are not prepared. No one gives them buses or places to live.
You know what will happen to these people in 2 or 3 months? They'll become hobos and criminals. This is all because the Migration service did not loosen the immigration regulations. As of now, you can only get refugee status starting in October. For 2-3 months people will have no work and no money so sooner or later they'll go to the extremes. But the state doesn't realize that.
Volunteers find buses, convert tourist camps, bring in humanitarian aid, all at their own expense. I've been nearly accused of illegal entrepreneurship, they alleged I took money for travel and accommodation.
– You've spoken to many refugees. Have any stories stuck in your mind?
– Recently a man called me, he was looking for his 5-year old son he left in the care of his older child when he went to work in Krasnodar. They lived in Luhansk, near Lisichyansk. When the father found out that fighting had erupted in the town, he rushed to the Ukraine. He hitchhiked, got cold and contracted pneumonia. He couldn't reach Lisichyansk. He was beaten up by National guardsmen at the border, they sent him back to Russia. Volunteers later found the boy and got him out of the Ukraine.
Recently a girl came to us with an infant diagnosed with crown tumor, he was in need of quick surgery. Thank god, we managed to solve her problem. Russian hospitals don't take in refugees, They don't even take in pregnant women, by the way. We have to either bribe them or get them to private clinics. If we don't get the money, they give birth at home.
While this article was being prepared, Ilya Pirogov, head of Taganrog volunteers, contacted me: "Another family with a breastfed baby is to arrive today. We don't know where they will stay. Our region has run out of places to stay. Rostov and Krasnodar as well.
Source:
newsland.com

By Irina Bobrova
Translated by Kirill Mikhailov
photo: Alexey Smirnov
Tags: International, News, Refugees, Russia