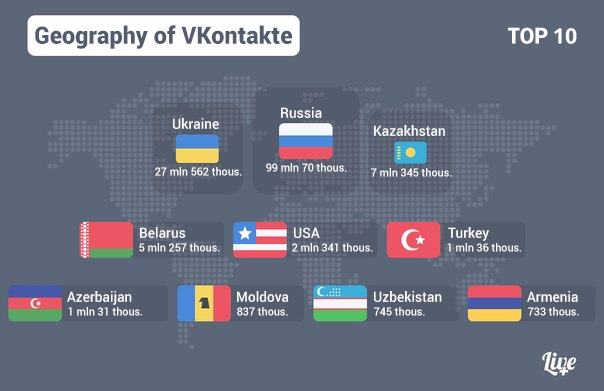 Image: Vk.com, translated by Euromaidan Press 
Russia continues to strengthen control over its media space. On July 7, President Putin signed a so-called "antiterrorist"
legislative package
designed by State Duma deputy Iryna Yarovaya and the Council of the Federation member Victor Ozerov.
Among other things, the law obliges mobile operators, including international ones like MTS, Megaphone, or Beeline, to store all the call records and messages of their users at least for half a year. Information about the time, date, and participants of any communication (without its content) must be kept for three years. The same applies to the "organizers of spreading information via the Internet," for example social networks and mail services.
According to Artem Kozluk, the head of Roskomsvoboda, an organization focused on monitoring violations of Internet users rights, the passed law will allow the Russian Federal Security Service (FSB) to have a permanent aссess to the whole range of private data even without a court`s permission.       
Thus, the new legislation not only violates the Russian constitution – the right to freedom of expression and privacy of correspondence – but also jeopardizes all users of the Russian Internet domain zone and Russian international mobile operators, including foreigners.
Euromaidan Press offers a brief overview of how the situation with the rights of Russian media space users has been deteriorating since 2014.
Should you be concerned?
Whose private data may potentially be endangered by the law? One of the biggest sources where a leak could happen is VKontakte, or vk.com – Russian number one social network, which is rather popular all over the world. Let us take a look at the geography of its audience.
According to the official VK.com statistics for 2014, it is mainly users from CIS countries who bring main traffic to this social network. However, the USA is #5 and Türkiye – #6 among VK.com fans, with 2.3 and 1.7 million users respectively.
Such European countries as Poland, France, Estonia, UK, Italy and Spain had over 200 thousand citizens registered in VK.com in 2014, while Germany until now remains a stable leader with more than half a million users. The popularity of VK.com increasingly grows in Asia and North and South America. This is just one example among hundreds other Russian sources exposed to FSB intervention.
The chronology of Russia's media occupation
The first particularly brutal Russian special services attempted to illegally seize data from VK.com on 13 December 2013, in the midst of Euromaidan revolution. The FSB demanded that the founder and CEO of VK.com Pavel Durov disclose the registration data of all users who created or administrated VK groups connected to Euromaidan, under threat of suspending the social network.
Durov refused, explaining that Russian legislature does not extend to Ukrainian users of VK.com. After that case, he was forced to sell his share of VK.com to Megaphone, that later resold it to Mail.ru. In its turn, the FSB prepared a law by June 2014 that obliged all Internet companies to provide full access to their users' data to the government, excluding the actual content of the communication.
The new anti-terrorism law dated 7 July 2016 is to correct this "drawback." Now there is no information that can be concealed.
Each Russian Internet resource and mobile operator must be registered in an online registry, which is being filled since 2014. This helps the FSB to navigate easily among information blocks and know their potential enemies personally. Bloggers who post in Russian resources like LiveInternet or Live Journal and have more than 3,000 readers per day are also obliged to register in this list. Legal persons who refuse to register will receive fines of up to one million rubles, and their servers will be blocked.
Yarovaya's law also requires Internet services and mobile operators to reveal their encryption algorithms to the FSB (almost all data is encrypted before online transmission). Putin ordered the FSB to obtain these algorithms in two weeks.
Experts compare the new law with the USA PATRIOT Act (a federal law passed in 2001 after 9/11), which legalized the mass wiretapping of citizens around the world. Former US intelligence officer Edward Snowden has already called the new Russian law repressive: "It violates not only human rights but common sense. A dark day for Russia," Snowden posted in his Twitter account.
#Putin has signed a repressive new law that violates not only human rights, but common sense. Dark day for #Russia. https://t.co/J4I2SQ9VCe

— Edward Snowden (@Snowden) July 7, 2016
Requests to not sign the law addressed Putin were voiced by The Human Rights Council under the President and the Commissioner for Businessmen Rights Boris Titov. The Internet industry and mobile operators also sought to repeal its provisions on storing information. The latter warned that observance of this law will lead to an extreme increase in tariffs.
BBC's Russian Service prepared a video that shows that Yarovaya's law is impossible to implement and absurd. It states, for example, that it will cost Russia 2.2 trillion rubles to store information as required by the law. And around 75 thousand square meters (the area of approximately 10 soccer fields)are needed to store 157 billion gigabytes of information.
We asked media expert Mykola Kostynian for several tips how to protect one's data from secret services.
"I wouldn't recommend using Russian Internet services in case you do, or write there something that could harm you. For instance, if you are a journalist or human rights activist and your opponent is the FSB. They will always have access to all of your data. But if you are chatting about cake recipes any social network is OK for this purpose. You should also remember about your interlocutor's safety while corresponding.
Unfortunately, it does not make any sense to delete your personal account because all data once uploaded to the Internet remains there forever. So users should think well in advance.
The same works for mobile connections. It is the most unsafe method of communication. So if you seem to be an 'important' person do not tell anything significant via phone. Moreover, if you wish to go anywhere privately, leave your cellphone at home. Your movement can be tracked with the help of your SIM card even when the phone is turned off."     
Tags: International, Russia