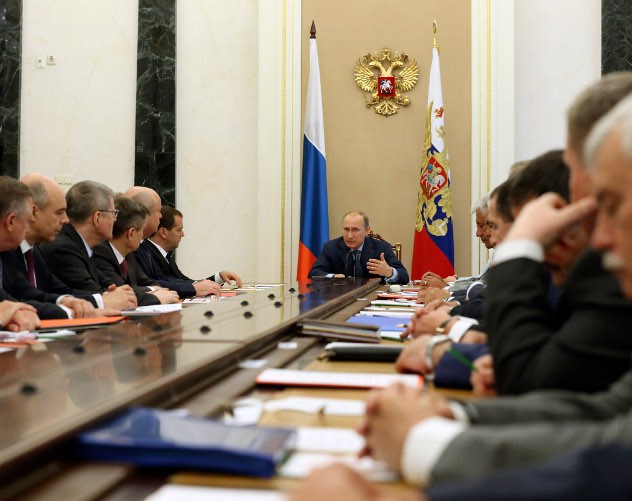 Many could not wait for today's meeting of the Security Council to happen: the topic of Russian sovereignty and territorial integrity was intimidating by itself. The impression was that they were preparing a session of the General Headquarters in anticipation of World War III. It is because of such high expectations that many afterwards let out a sigh of relief: it seems, the danger has passed. Alas: if one pays close attention to what the Russian President said, it will become clear that Russia is preparing for war, even if it is not hot yet.
Let us outline several key signals that Putin sent to the West, the elites and the Russian people. And all of them are not about the downed passenger airliner at all. To Putin, the crisis in Russian-Western relations has ascended to a new level, wherein the tragedy with the airplane is only one of the episodes.
Signal number one: a warning to the West. We are a nuclear state, and therefore you should stand aside. "Obviously, there is no direct military threat to the sovereignty or integrity of our country, of course, this is first and foremost guaranteed by the strategic balance of powers in the world," said the President, thus reminding us that direct military conflict between Russia and the West will inevitably lead to mutual destruction. Why mention strategic balance, if one does not feel a long-term threat of armed conflict? Well, the bad news is that Putin is possibly examining the current trends as preparations to destroy Russia in its current state by various means.
Signal number two: pressure of Russia is part of the "cold aggression" policy against it. "Today in the world, the language of ultimatums and sanctions is used more and more frequently, and the very definition of state sovereignty is being blurred, discordant regimes, states which conduct independent politics, or are simply in the way of someone's interests, are destabilized. For this, so-called 'colored' revolutions are used, and if we call things by their proper names, they are state coups," said Putin, holding onto the definition of "sovereignty" with all his might. In practice it is a harbinger of preparing a full-scale program "of decreasing the dependence of the national economy and its financial system on detrimental external factors." "I mean not only instability on global markets, but possible political risks as well," added Putin. This can only mean one thing: the increase of focus on self-isolation and minimizing all possibilities of influencing Russia and what is happening in it from outside.
Signal number three: to the Russian society and political elite: "the tightening of bolts" will be augmented by new means of pre-war mobilization. And even if this war is not hot, it is led against Russia, or so it seems to our President. Further it is necessary to mention this bestselling quote of Putin's, which the media cite in their headlines as "There will be no tightening of bolts in Russia." There will be. Because if we look at the quote closely, it will become clear that Putin is not promising us anything.
"Based on civil society, we will never allow the thought that the perfection of our work in all these spheres was made possible exclusively to tighten some bolts," said Putin. So besides tightening some sort of bolts, as the President said nonchalantly, other methods will be employed as well.
Another "sweetie" in the form of "basis on civil society" should not lead one astray either: fourteen years of steadfast work to cleanse real civil society and create a well-organized, loyal, pro-Putin "civil" infrastructure have not gone by in vain. And now this entire system of "civil and social control" in the form of the People's Front for Russia, the Civil Chamber, pro-Kremlin bloggers and experts, will receive additional political functions. "It is extremely important for our civil society to take an active position, to react to the facts of infringement on human rights and freedoms, to make its investment in radicalism and extremism prophylaxis," said Putin. Therefore the number of Kremlin-funded investigations regarding the violation of human rights by the Ukrainian army in the eastern regions will increase. The part of the pro-Kremlin media resource within the country will also become more prominent.
Signal number four: Russia is re-examining its approach to dialogue with the West. Russia's new policy is its final resignation from trying to settle with the West (first and foremost regarding a joint security system) and transition to deep defense. His strange quote about the detrimental nature of alliances speaks of deep disappointment in the projects of constructing a joint security system with the West. Now Russia is officially saying: we are alone, and there is no collective responsibility. This is a radical change in military policies.
It is not by accident that Putin mentioned the topic of missile defense – one of the most difficult topics in the Russian-American relations. "We are frequently told that the missile defense system is a defense system," noted Putin. "There is no such thing, it is an attack system, it is part of the US advance defense system, transferred to the periphery." Obviously, Putin feels that Russia's vulnerability is increasing, just like the risk of ruining the balance of strategic containment. And then, when, to his mind, this balance is ruined (in case the missile defense system is developed in Europe), a direct military threat to sovereignty will become real.
Which means that Russia is starting to reinforce is defense potential, amongst other things as a response to the reinforcements of NATO troops on the territory of eastern European states. So far Putin has only mentioned the recreation of the military infrastructure in Crimea and Sevastopol. However in reality he may have meant the swift rewriting of the principles of the military doctrine, which has obviously become obsolete back in 2010. "The world development at the current stage is characterized by the weakening of ideological confrontation, a decrease in the level of economical, political and military influence of some states (groups of states) and alliances and the increase of influence of other states, which are seeking all-encompassing domination; the multipolarity and globalization of various processes," says the four-year-old military doctrine. Putin sees the new reality otherwise. A real ideological war is beginning between Russia and West, which is based not only in differences in understanding values, but also swiftly increasing differences in understanding fundamental international legislation principles.
Signal number five is addressed to the West and Kyiv and touches of the Ukrainian crisis directly. It is, essentially, an ultimatum: the West makes Kyiv stop the ATO, and Russia limits its aid to the separatists and pushes them towards a more constructive position. Without any guarantees, of course. The saddest thing about this entire story is that we all thought that there is a geopolitical battle for Ukraine and that the battlefield in this case is the east of the country. However it is just a localized instance of a growing conflict between Russia and the West, in which Russia, according to the President, is being backed into a corner. And we all remember Putin's famous tale of the rat that was backed into a corner, and how such situations end.
Source: Slon
Translated by Mariya Shcherbinina
Tags: Donbas war (2014-present), Military analysis, Putin, Russia