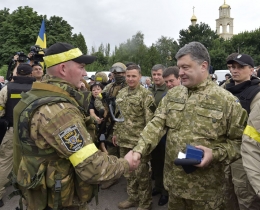 23 Russian fighters were captured while trying to break out of Lysychansk, according to the press service of the president of Ukraine.
Tonight, a group of terrorists were making attempts to break out of the city of Lysychansk in the Luhansk region.
By order of the Chief of the Armed Forces an armored column of bandits was divided: three armored vehicles were destroyed and 23 militants captured, including their wounded leader.
Among those taken as prisoners are those with Chechen nationality. All the fighters have Russian citizenship.
There is an ongoing battle to free the city of Rubizhne, in the Luhansk region from the militants.
Source: http://www.president.gov.ua/news/30809.html
Translated by Olena Wawryshyn
Tags: News