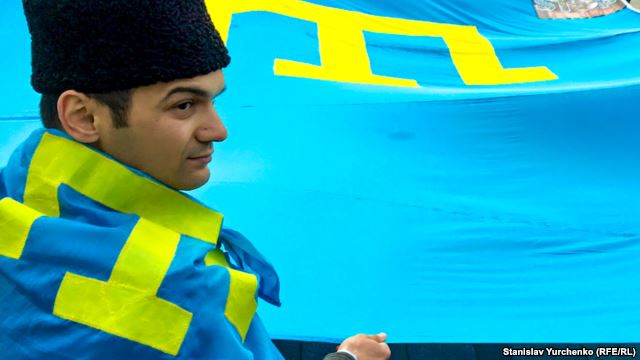 For two years, Moscow and Crimean Tatar collaborators have been vainly trying to gain favour with the Crimean Tatars in order to strengthen Russia's authority over the peninsula. They employ a "carrot and stick" policy that consists of random searches, arrests and abductions, as well as promises of a good life.
The "authorities" of annexed Crimea intend to create a sort of federal "national and cultural autonomy" of indigenous peoples. This was announced on the TASS site by a pro-Russian activist, Eyvaz Umerov, who for some unknown reason is referred to as the "leader" of the Crimean Tatars by Russian journalists.
As far as we know, Eyvaz Umerov is a very questionable person, directly under the "deputy prime minister" Ruslan Balbek. Over the past two years, he has become known for his public actions and statements aimed at discrediting the leadership of the Mejlis of the Crimean Tatars. Regularly echoing local Russian propagandists, Umerov has referred to his illegally searched, detained or arrested compatriots as "extremists".
The idea of a federal "national and cultural autonomy" (NCA) has been brought up several times by Zaur Smirnov, head of the Crimean "state committee" on Interethnic Relations. Judging by the context, the Crimean "Council of Ministers" is betting on a "paper autonomy". Firstly, after the failure of the Crimea Movement, led by "vice-speaker" Remzi Ilyasov, the collaborators had to quickly change their plans. Secondly, they want to respond to the initiative of the Ukrainian authorities, who have repeatedly stated their readiness to amend the Constitution, granting genuine autonomy to the Crimean people.
Eyvaz Umerov is not just the so-called "leader" of the Crimean Tatars. If Balbek is elected to the State Duma, Umerov might become "deputy prime minister", and an official representattive of the Crimean people. Experience has shown that he is ready to carry out the dirtiest tasks assigned by the local "authorities".
National and Cultural Autonomy needs local collaborators in order only to pull the wool over the eyes of the Crimean Tatars: "Russia has given you autonomy", they will say. The NCA will be seen as a public association that is not tied to a specific territory,  and its members will have no political authority. In accordance with federal law, national and cultural autonomies will be registered to support the language, culture and historical identity of indigenous peoples. In this case, the word "autonomy" has a certain decorative sense.
In any case, the Russian occupation forces are facing an old problem. There is virtually no one they can register in this new organization. Ilyasov's Crimea Movement showed that you can try forcing Crimean Tatar officials to join a movement, but it will have no political or media effect. Not only should such members attend government gatherings, but they must also actively promote "Russian Crimea" in the media and social networks. It turned out that Crimean Tatars officials used all means to to sabotage such actions, fearing that they would be publicly blamed by their countrymen.
Recently, Eyvaz Umerov made the following announcement to the media:
"We're negotiating and consulting with Crimean Tatars from Rostov Oblast, Stavropol and Krasnodar territories, Moscow, Saint Petersburg and other Russian regions where many of our compatriots live. We hope that the Federal National and Cultural Autonomy of Russian Crimean Tatars will be created by the end of this year." 
The logic is simple. If the Tatars in Crimea refuse to praise the Kremlin and President Vladimir Putin, this will be done by other compatriots living in other Russian regions that will be federated into a National and Cultural Autonomy.
The situation is both tragic and comic in that the "authorities" have already tried to shove the idea of an "autonomy" down the throat of Crimean Tatars. In the late 1980s, the Uzbek leadership understood that the Crimean Tatars wanted to return to their homeland. Seeing that so many were employed in industry and agriculture, Uzbekistan's economy would have suffered severely from a shortage of workers. At that time, party leaders in Tashkent feared that they would not be able to fulfill the next five-year plan.
The Uzbek government then drafted the so-called Mubarek Autonomy scheme that proposed giving deported Tatars some kind of "national republic" in Qashqadaryo Region. The Uzbek government said: Why go to  Crimea if you have already settled down in Uzbekistan. To promote the project, Uzbek authorities quickly formed a propaganda team of Communist Crimean Tatar members and sent them to collective and state farms where many of their compatriots lived. Many persons who took part in this communist caper are still alive, but prefer not to talk about how they fooled their countrymen into remaining in Uzbekistan.
When the Soviet Union disintegrated, it was impossible for the Communist Party to instill repressive measures and hold the indigenous people in captivity. Not only were the Crimean Tatars driven by a firm will and desire to return at all costs to their ancestral land, but also by an understanding that a Tatar republic – albeit a paper one – had existed on the Crimean peninsula until 1944
Today, the Russian "authorities" are trying to ram another "Mubarak Autonomy" down the throats of Crimean Tatars, one that is even more sordid and miserable than the previous one.
---
Related:
Tags: Crimea, Crimean Tatars, Deportation, History, International, News, Russia, Ukraine