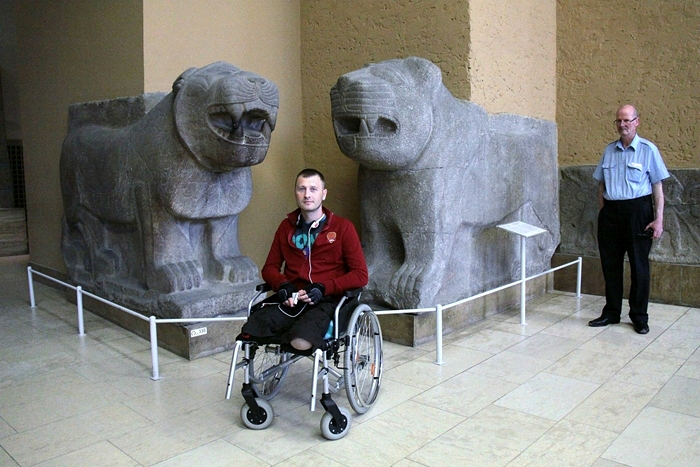 Some time ago we reported of the Ukrainians who were injured during the revolution events in Kyiv and other cities receiving treatment in German hospitals, including Berlin. Some of them are already back home by now, others continue to fight their injuries with the help of Germany's healthcare system.
Knowing that three of them are still in Berlin under treatment, I've been looking forward to meeting them. One of them is in a very bad condition, either still in a coma or recovering from it, but still partially paralyzed. And the other two are slowly recovering and can receive visitors and even go for a walk. I heard one of them, Vasiliy, who has lost both of his legs due to injuries, is nonetheless full of optimism.
I had a hard time to find a way to meet them until finally one of the volunteers – her name is Zhenia – promised to take me to one of her trips with Vasia as she was going to take him to several Berlin museums.
I must say I specifically avoid mentioning full names of these guys or their hospital address to avoid unwelcome visitors. I was also told one of the volunteers was threatened by phone by some pro-Russian activists. Therefore, the volunteers' and other supervisors' names are not mentioned here.
So, as agreed, one day I met Zhenia at the hospital to visit Vasia and Sasha. It was only 12 PM. and they were already having lunch. As it turned out, breakfast is served very early in the morning.
Vasia was getting ready for the trip and Sasha just woke up and apparently did not feel very well. I introduced myself and explained why I came and realized the guys did not mind at all my taking photos of them and asking questions.
But first, let me tell you more about why our heroes are in the hospital.
By the way they both come from the same city and have known one another for a long time. They were fighting together for the changes in the country, were injured at the same time and are now on treatment together. The guys were severely injured at the end of February [2014] at the very peak of tragic events in Ukraine. Since then they have been in hospitals all the time.
Vasia, who is known in Berlin for his optimism and who is always smiling, lost one of his legs in Ukraine and the other one was cut off in Germany. He's been through more than 20 operations, 18 of which were carried out in Berlin. He is now learning to walk on his artificial legs. There is still a long time to stay in Berlin to undergo several treatment stages and change several types of prosthetic devices.
Sasha's legs were also badly injured, a compound fracture with more than 10 centimeters of bone missing. He has been through more than 12 operations at least, bone marrow transplantation and transplantation of his back muscles to his legs… There is a lot more of therapy ahead. Sasha just started leaving his bad recently after the last operation and does not come out of the hospital yet.
All the way out of the hospital Vasia is handling his wheel-chair really well. There is a ribbon of blue and yellow pinned to the back of it. We pack the wheel chair into the car and off we go to the Museum Island.
It's been a long time since I've seen somebody take as much interest in museum displays as Vasia did. Maybe he simply did not want to go back to the everlasting hospital. Zhenia kept asking him from time to time if he was tired, but he kept responding he was not.
I must mention here the Berlin museum workers were always there ready to help wherever we were to let us through without waiting in line, making way and holding the doors for us or calling a special elevator.
We met some people from Ukraine by the Berlin Cathedral. When they found out Vasia was on treatment there after the injuries received during Maidan events, they took a picture with him and wished him good health.
The time went by really quickly and we had to go back to the hospital, where Sasha was waiting for us.
Summarized and translated by Svitlana Skob, edited by Alya Shandra
Tags: EuroMaidan, Germany, News