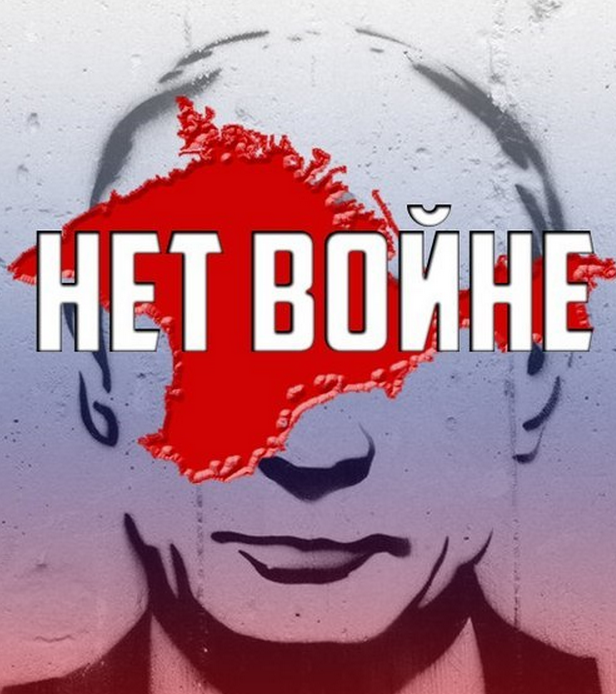 The situation in Donbas is a tragedy. But it a very simple tragedy with a very understandable authorship, with very understandable directors, with a very understandable creative intent, fabula and so forth.
And this should all be said in very simple terms. But the tendency is such that the words that the authors from the Russian Federation use in writing about the tragedy in Donbas are becoming more and more complex and double-ended. Whom are we fooling? Ourselves? To walk around blindsided?
Fact number one – Ukraine has toppled a bad government. Period. What kind of government came in its stead? Are the rebels good enough? Are they happy about Yanukovych's flight in Moscow? Are they happy in Washington? All of these questions have nothing to do with the situation at all. Cunning questions that lead slightly less intellectual people astray – questions that fool weak minds. The only important thing is that Ukraine rebelled against backstabbing and won. It is unimportant that the victory is local and disputable.
Fact number two – the Russian Federation started a war against Ukraine. Why: was Putin upset, whether the Russian Federation wanted to keep Ukraine under its influence, did the elite get scared? This is all unimportant.
What is important is that the Russian Federation had no reasons to justify war. And an unjustified war is a crime. The Russian Federation committed a crime. If not against the law – international law is not the perfect instrument, then against conscience. Or against God, for those who carries on yammering this word. And it is unimportant whether others have committed these crimes. It is unimportant whether this crime is beneficial to us or not. We are criminals. In the face of our own conscious. This is the only important thing.
Talk about self-defence (NATO in Sevastopol) or the protection of the weak (where are the Crimeans who have been devoured by bloodthirsty zhido-Banderites?), or the return of our territories (when the state named "The Russian Federation" owned Crimea) – all of this is simple cunning. Some are fooling the public for merit, but these can be understood. The majority is fooling themselves for free.
Ukraine did not give Russia any reason for war with its Right Sectors. And this is a fact. The rest is over-analysing, fantasies, horror stories, excuses.
Fact number three. The fight in Donbas was started by Russia and only Russia. Not by Ukrainian separatists-terrorists-federalists, but Russia. By the hands of special services, hands of volunteer idiots from Russian citizens (there are enough of those) and the hands of paid mercenaries, Russian citizens. Using the money and weapons of the Russian Federation.
And the motivation of the "rebels" is not important here: patriotic vigour or an empty stomach, career ambitions, service duty, love for the Motherland, simple idiocy… When a murderer kills out of jealousy he is still the same murderer that kills out of greed. The image of good, "our" killers which Putin's propaganda is thoroughly trying to construct is the same lie as the rest of his production.
It is unimportant how many locals were involved in this war and what suffering fell onto the shoulders of the local population. Well, it is very important, but not HERE, but when evaluating another issue. HERE what is important is that the responsibility for Donbas' suffering lies fully and completely on the Russian Federation, and only on the Russian Federation. So on our government and all of us, my dear compatriots. Period.
Fact number four. The disorganised (like any) population of Donbas was unable and incapable of reigning in the "protectors" that came out of nowhere. And this is how it accepted part of the responsibility for the suffering that fell on its shoulders.
Just like we, unable to reign in our governors, and what is worse, having supported them, accepted responsibility, full responsibility for the evils of Donbas. Just like before we accepted responsibility for Georgia, Chechnya, Moldova. It is our responsibility and we are to blame. And we will be punished for it. We already are being punished. Though few understand it as of today.
And all the talk about Kyiv fascists in this case is a simple attempt at self-deception and self-justification. Kyiv is doing what it cannot do – protecting its country from external aggression. The war in Ukraine is not a civil war. It is war between Ukraine and Russia.
That blood is being spilt in this war is horrible yet inevitable. But this blood is on our hands.
To call the Kyiv government "executors" is the same a gang does when humiliating the guy with the glasses: they have surrounded him, pushing, insulting and when he cannot take anymore and raises his hand to respond, they start shooting: "Oh, you want to hit us too! Here you go, have more!!!"
Such are the facts. Very simple. When Nikita Mikhalkov was younger, he was able to briefly express his attitude to such simple things: "You are animals, esteemed sirs!"
This is about us, my friends. Because the one who helps the animal becomes an animal himself.
Source: Kado4nikov
Translated by Mariya Shcherbinina
Tags: Donbas, Military analysis