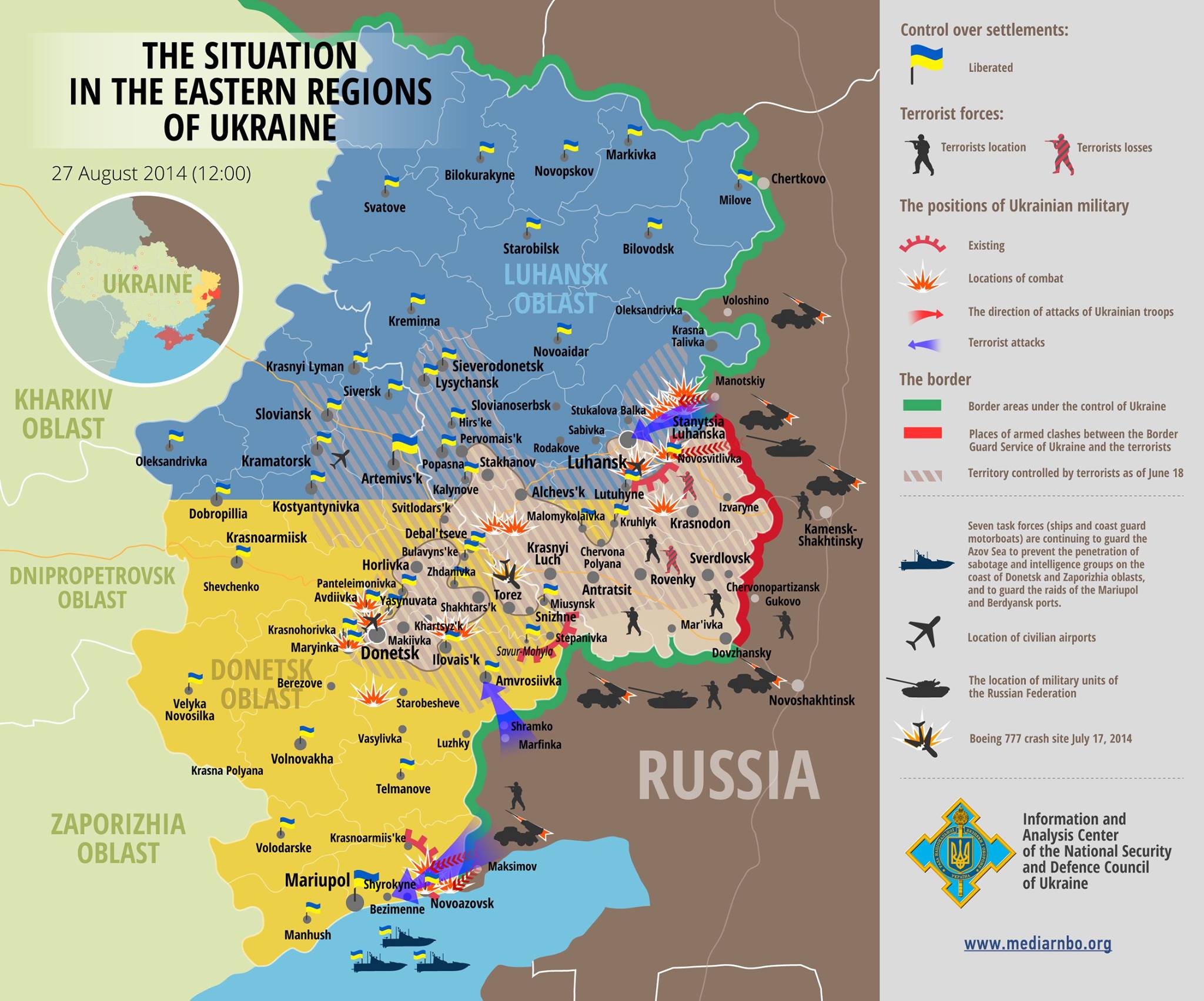 Map from the NSDC of Ukraine
ATO update from the ATO press center, August 27
Enemy losses: 3 tanks, 1 one armored fighting vehicle, two BM 21 Grads, four mortars, one car and one BM-30 Smerch. Also, 225 terrorists were killed. This was all accomplished by artillery strikes on illegal armed formations in the vicinity of Horlivka and Ilovaisk. One mortar position of the enemy was destroyed by artillery fire in response to an attack on our position near the settlement of Krasnyi Yar.
During the day UA Army came into fight with terrorists for 34 times

— NSDC of Ukraine (@NSDC_ua) August 27, 2014
Defensive battles for the settlements Novosvetlovka and Hryaschiuvate continue. Rodakovo, Illyria, and Malomykolayivka are being cleared by ATO units.  Fighting continues inside Ilovaisk, and for the access routes and the surrounding heights.
Shelling from Russian territory was resumed. In particular, a blow was inflicted on Ukrainian infantry positions nearby Makarov. In adddition the positions and checkpoints of ATO were shelled near Novosvetovka, Verhunskyy Rozyizd. The Donetsk airfield was shelled twice from Grads.
During the day the Russian side continued to transfer military equipment of the Armed Forces of the Russian Federation to regions bordering with Ukraine, primarily to the Rostov Oblast. At the same time, military presence of the Armed Forces of the Russian Federation in the border regions of Belgorod, Kursk, Voronezh and Bryansk oblasts of Russia has been reduced.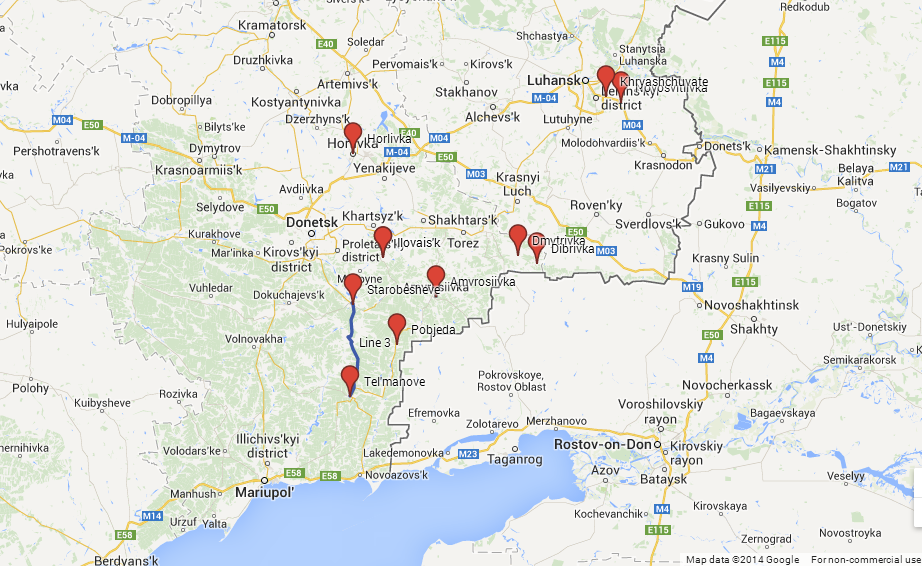 We have received data on the movement of a convoy of military equipment consisting of up to 100 units. (tanks, APCs, Grads,  BMPs) on the road connecting Starobeshevo – Telmanovo, moving in the direction of Telmanovo. The equipment has white triangles on it as a distinguishing mark.
According to our information, at the outskirts of Pobjeda  a headquarters of a Battalion Tactical Group (BTG) of the Russian Federation has been set up. 5 BTRs and 1 Kamaz with manpower entered Amvrosiivka. A convoy of 6 Grads, 8 covered Kamaz lorries, and 2 Urals with manpower have crossed from the Russian Federation through Dibrovka moving in the direction of Dmytrivka.
Additionally, according to information from the NSDC, 7 villages were captured by terrorist forces to the North of Novoazovsk.
To the north from Novoazovsk the terrorists and Russians has captured 7 villages pic.twitter.com/Nyd2WDXjaM

— NSDC of Ukraine (@NSDC_ua) August 27, 2014
Source:
ATO press center
,
@NSDC_ua
, translated by Alya Shandra, edited by Larry Field
Tags: Archive, Donbas, Ukrainian Army