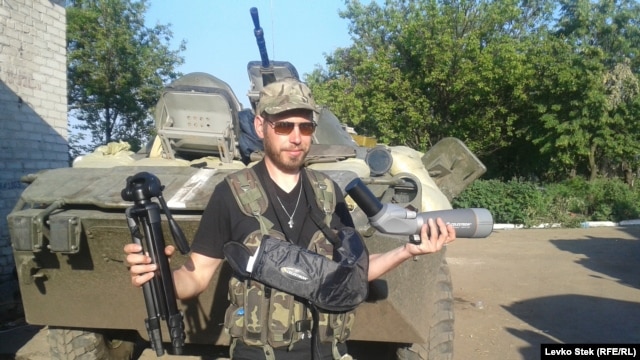 What could be difficult in the work of a courier? Nothing. You get a package, the address of the person you have to give it to and you set off on the road. The biggest troubles you might face are a flat tyre or traffic jams on city streets. However the circumstances change radically if your destination points are roadblocks of Ukrainian soldiers in the ATO zone, close to the centre of the conflict – the city of Sloviansk. And your car is full of humanitarian cargo (medicine, optics, military equipment, food). 

But this is the trip I set off for with Oleksandr Nazarchuk and his friend Andriy. This is Sasha's sixth time already. He says that before everything was calm here. This, of course, puts my mind at east, however… everything must happen for the first time. Overall, really, it is safer to move around here by car than in an armoured vehicle or as part of a column. Here they are on the palm of your hand, therefore they are frequently shot at. But this way we have a chance to slip by undiscovered.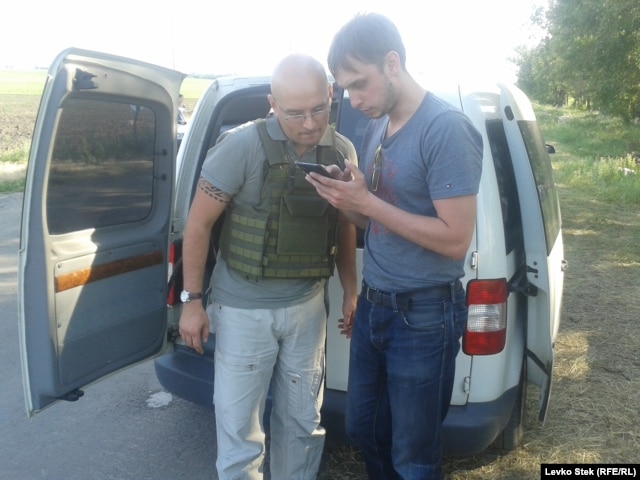 We start from Izium, a city at the border between the Kharkiv and Donetsk oblasts, which is relatively safe. Here one doesn't feel that within 40 kilometers, in Sloviansk, a real war is underway. The first destination of our trip is the village of Barvinkove. There at the roadblock we are to leave several packages with equipment and medicine that stops bleeding after gunshot wounds. The Ukrainian analogue of the already well-known "Cellox."
I am risking for the children – activist
I am riding in the car with Andriy. This is also his first trip. Both of us are in bulletproof vests. Helmets lie next to us. Sasha is riding without any protection. We don't really believe that they will help us should we need it, however we all agree that we are much calmer with them.
The guys themselves don't collect money, instead they deliver the aid that several funds purchase for the soldiers. There are few those who are willing to be couriers at war. In times of peace Andriy works for a software company. He has two small children.
"Don't you think it's a bit foolish to risk so much in your case?" I ask him.
"I go here because of my kids," explains Andriy. "For them to live in a peaceful country. I cannot simply sit and watch everything that is happening."
Oleksandr also has two children. I don't ask him about his motivation. We are putting more and more distance between us and Izium. The roads look like they have been bombarded by the artillery, however nobody shot here, for sure. This is simple corruption and carelessness. We cannot accelerate because of the holes. Andriy is getting irritated. When we travel through open spaces, it's as if nothing special is happening. It gets slightly scary where the road is surrounded by green. My T-shirt becomes damp under the bulletproof vest. I will think it's because of the temperature. It is really hot outside.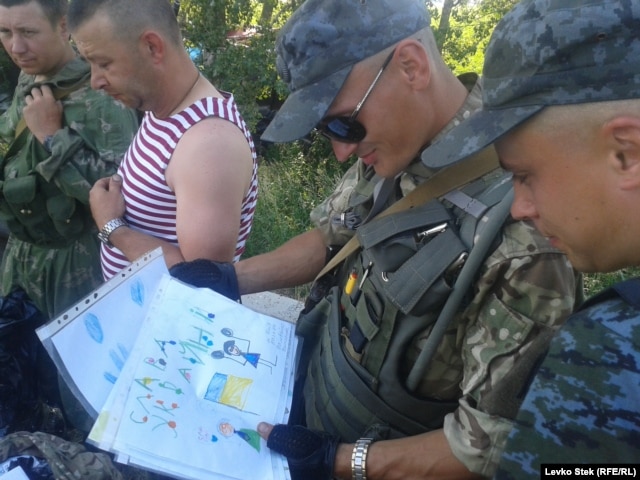 Meanwhile we are approaching the first roadblock. Everything as usual: document check, inspection of the car, questions as to the goals of our visit. Everything is in order. The guys offload several packages and boxes. Together with the packages, Sasha gives children's drawings to the soldiers. The soldiers forget about the packages for some time and start leafing through them. Then comes the compulsory photo with the packages for accountability's sake. We set off further.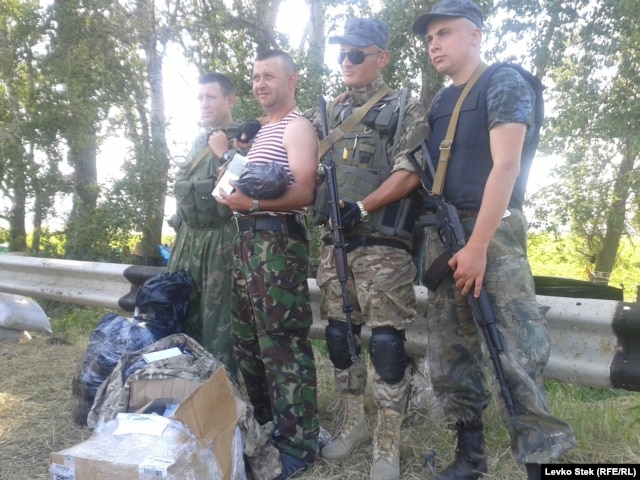 A hole the size of a football after a shooting
I am constantly thinking that in this bulletproof vest I look like a complete fool. We are traveling through villages, and small children on bikes pass by us, the local grannies are peacefully sitting on the benches near their houses. Someone is celebrating their wedding in some roadside café. A crowd of young people at the lake. We exchange glances with Andriy. We laugh, but we don't take off the vests.
Our next destination is the TV tower on mount Karachun. A day does not go by without the mass media publishing some sort of message about clashes in this neighbourhood. The point has very important strategic significance. De facto this is the highest reinforced roadblock of the Ukrainian army. From here, several kilometres' worth of territory can be surveyed. Sloviansk itself is visible as if on the palm of one's hand. However this does not prevent armed mercenaries from approaching it at several hundred metres and shooting at the tower from mine launchers. This is what happened this morning.
Upon seeing that I am walking around the territory with my mouth wide open, the local physical training instructor unmistakably identifies me as "the press." His reaction is better than I expected. Overall the soldiers are a superstitious people, starting with the pilots, that prohibit us from filming their planes during take-off and ending with the privates that are convinced that after our reports the separatists shoot at the locations where the cameras have been. Therefore everything on Karachun, including photos made on phone cameras, is strictly regulated.
However my new acquaintance agrees to give us a small tour. He shows us the consequences of today's shooting. On the asphalt under our feet, there are holes of several centimetres, part of the tree branches have been broken, there is a whole the size of a football in the transformer box, the walls of the TV centre are generously damaged by shells.
Work is underway on Karachun. The soldiers are building reinforcements. Everywhere, barricades out of sandbags emerge. Just like on Maidan – this is the association that pops into my head involuntarily. A soldier from Karachun is constantly joking. And his facial expression is such as if he is telling about some awesome adventure. Just today three people were wounded by shells. I don't know, maybe it's his natural form of coping. His brain is blocking out the feelings of fear, pain, pity. I am surprised how quickly people adapt to any circumstances. For these guys, the battles on Karachun are just another compulsory point on the daily agenda, like breakfast or washing-up.
My phone rings. Sasha is urging me on. It is time to go, as we have another three roadblocks ahead of us, and it is best to get there before dark. We exchange phone numbers. I hope I am able to see the TV centre in Sloviansk again, hopefully, there will be no barricades by then.
A Maidaner and a "Berkut" soldier at one roadblock
We descend. The sun begins to set and only now do I notice the wonderful view around us. Am I getting accustomed? The next roadblock is at the Sloviansk combined feed plant. Another famous place. Maybe everyone heard about the shootings by the infamous "Nona." Now it is quiet here. Only somewhere far away can some individual dull shots be heard. At the entrance we are greeted by law-enforcement. It is easy to determine by their uniform that they are former "Berkut" soldiers. They don't want to let us pass. We wait until the recipient of the package comes out (at every roadblock there is a concrete person receiving the cargo). A young man runs outside – no bulletproof vest, no T-shirt, but with a tan. A former Maidaner, now in the National Guard. How so, a few months ago they were ready to kill each other. Now they are fighting together.
"What are the relations with the "Berkut"?" I ask.
"OK. Of course there are some differences in our views, but I met some very dignified people here," answers Oleksandr. I will not be surprised if it turns out that in the winter he was among those who three Molotov cocktails at "Berkut" on Hrushevskogo.
The guys liked the mail. A masking robe, sausage and oranges combined well in one photo. The rest is in boxes, awaiting new owners.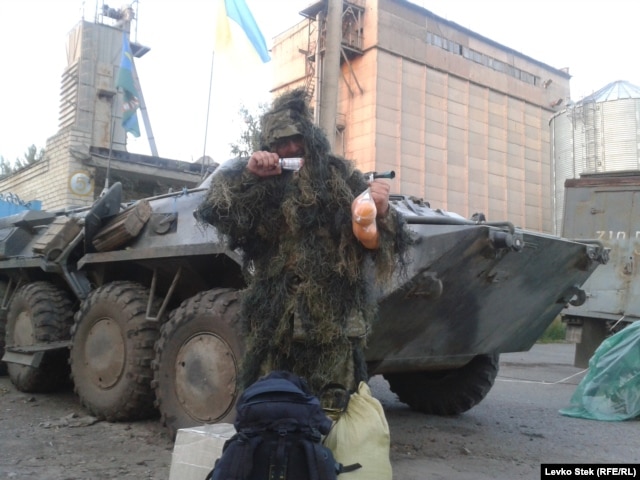 It becomes obvious that we will not make it before dark. If we turn back, we should do it now. No, Sasha decides to continue going. The next trip is only a week later. We have to give it to the max. We go to another roadblock. The guys unload the car hastily. I manage to get acquainted with another two former Maidaners. They show the flag of the 26th Hundred.
"Let the people know that we are here now," they tell us.
When leaving already in complete darkness, I remember the self-defence activists which are still on Maidan. It is strange how such different people could stand shoulder-to-shoulder at the barricades. And did they really stand there?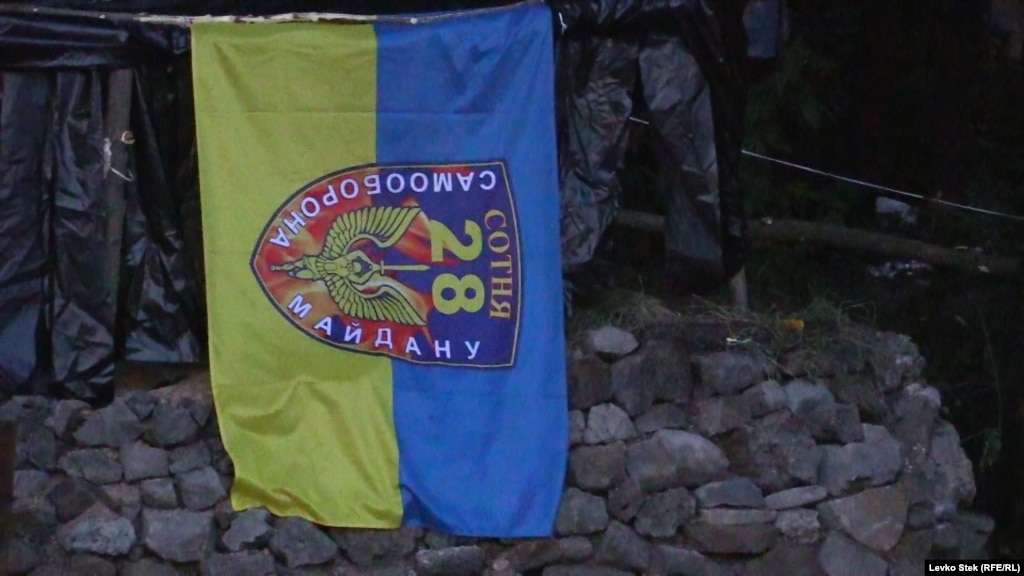 The "colorado" roadblock ahead
We exit towards the highway. We pass by the sign – "Sloviansk 4 km." There are no cars save for ours on the road. A light was switched on in front. We have to pass this roadblock in order to reach our addressees. Sasha exits the car. A voice from behind the concrete blocks orders him to raise his hands and approach them. Several minutes pass. Sasha returns – prepare the documents, they will search the cars.
The soldiers don't believe us. They are clearly dissatisfied with our explanation about packages in the middle of the night.
"Looks like I will end the night in a ditch," jokes Sasha.
Nobody laughed. Finally our data were copied, they asked us for the numbers of the people the volunteers are in contact with. They have acquaintances, everything will be all right. However we cannot drive any further.
"A 'colorado' roadblock lies ahead. If you're stopped with this cargo – you will cease to exist," explains one of the soldiers.
We did not argue. Even if it's not true about the roadblock, the rifle shots that we heard somewhere far away could now be heard within several hundred metres. And dull shots: one, two, three… I lost count. The soldiers don't react, I am constantly trying to see something in the darkness.
"Then we'll drop if off at the headquarters tomorrow, and they will send it to the guys by helicopter," is Sasha's response that seemed to satisfy everyone. I am not an exclusion.
On the way back to Izium I finally have cell coverage. Sasha has a dozen missed calls from the guy from the last roadblock. The information was confirmed. They wanted to warn us not to approach, as the mercenaries have established their own firing point. We were going straight for it.
Source: Radio Svoboda
Translated by Mariya Shcherbinina