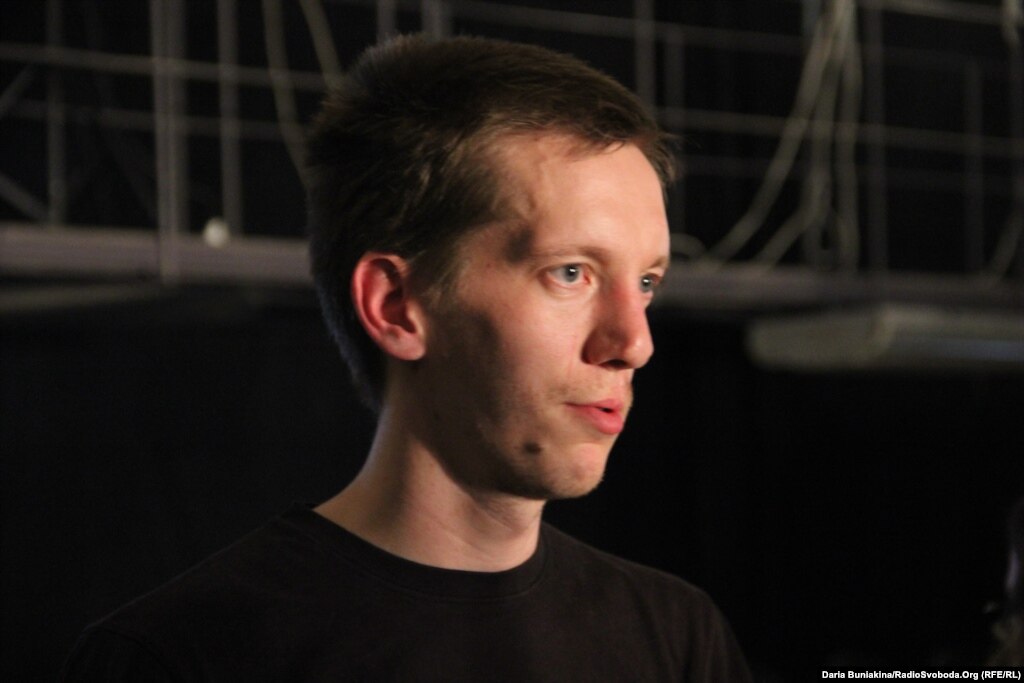 Kyiv-Cherkasy – The premier of a play staged by Simferopol director Anton Romanov, who left Crimea after the Russia's occupation, took place in Cherkasy. He dedicated his first performance in the Cherkasy Drama Theatre, an absurd comedy "Breakfast with the Enemy," to the latest events in Ukraine and his colleagues Oleg Sentsov, who is currently under arrest in Moscow, and Pavlo Yurov, who is being held hostage in Sloviansk. Radio Svoboda spoke with the director about Crimea, the war and about what the people on opposite sides of the barricades have in common. 

This is a play about people who are hostages of war. As war can really be easily stopped – but it is impossible. Nobody wants war. When everything began in Crimea, neither pro-Ukrainian nor pro-Russian activists wanted this. But war is bigger than people. And we are simply statistics with it, unfortunately.
"Breakfast with the Enemy" was already performed in Simferopol. How differently is this play interpreted in these two cities?
In Crimea the people exited the play and saw it out in the street. Police cars stood in front of the theatre. We showed it during the occupation, and the people understood everything very well. Here everything is slightly different. On the eve of the premiere, we had a showing for "Right Sector," the self-defence and the National Guard. Some came with weapons. After the show they said that the play should be taken to the east.
How serious is the confrontation between those who support Ukraine or Russia in Crimea? 
Very serious in the street. It was even present in our work group. There was an instance when we even stopped talking. But we managed to overcome ourselves in order to continue working together. There is life, where we stand on opposite sides of the barricades, and there is theatre. This is happening everywhere, really. Even in Donetsk the people that have opposing views on the situation end up in the same workforce or family. But I was lucky (and it was very strange): my family fully supported my pro-Ukrainian position.
When and why did you leave Crimea? 
We received information that all coordinators and activists that were "noticed" have to leave as quickly as possible – before April 10th. And my phone number was everywhere – I helped the soldiers by gathering medicine. The only ones who are left there are those who didn't have time to flee, and I fear for them a little. We hear every day that someone either disappeared or was detained. You're afraid that nobody will pick up if you call. For example, there is no communication with Oleg Sentsov now. He is in Moscow and the issue of his freedom is in the hands of lawyers. At the moment, the barrister who worked on the cases of Pussy Riot and the "Bolotnaya Square prisoners" is working there. But you know, regardless of what kind of lawyer you have, you mustn't forget that it's the Russian Federation.
Do you plan on staying in Cherkasy for long? 
It depends on the Cherkasy theatre. I don't work here officially, we have not signed the contract yet. Now I have to stage another production, and then we will see. I was born in Crimea and have lived there for 29 years. It's as if I'm beginning my life again.
Source: Radio Svoboda
Translated by Mariya Shcherbinina