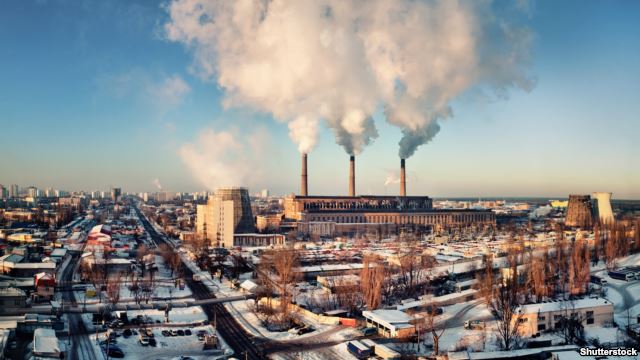 Article by: Dmytro Shurkhalo
Kyiv – The low amount of coal at the thermal power plants, barely enough for a month, threatens not only fanned-out electricity and heat supply interruptions, but a collapse of the energy system, experts say. Energy Minister Volodymyr Demchyshyn assures that the situation is under control and calls for businesses to voluntarily decrease their consumption of electricity. Experts note that the development of the situation depends on the success of the Energy Ministry's reaction to the challenges. Meanwhile consumers complain not so much about the interruptions in the supplies but about how energy suppliers are failing to provide them with a schedule for the suspensions, despite calling them 'planned.' 
In the village of Chubynske in Boryspil district of Kyiv oblast there is no electricity for about three hours a day on average.
"There is no schedule. These suspensions are allegedly planned – but there is no plan. The Kyivoblenergo website only has schedules for some districts. Our heating and electric stoves depend on electricity," says Pavlo, head of one of the local unions of homeowners.
Volynets: very little coal and it is not always high-quality
According to the Ministry of Energy, the coal reserves at Ukrainian power plants constitute 1,4 million tons. According to the head of the Independent Miners Union of Ukraine, former member of the Parliament Mykhaylo Volynets, there is enough coal for less than a month of work.
"We should take into account that not all the coal is good quality. There is a lot of 'gas coal,' which is oxidized and cannot be stored for a long time. Anthracyte and 'lent' coal can be stored for a long time. There is no balance in terms of various types," he notes in a comment to Radio Liberty.
According to Volynets, the problems in the energy industry are much worse than just a lack of coal: debts, the necessity to coordinate cooperation between soldiers and railway workers in Donbas… The situation is very dangerous, as it threatens the entire energy network.
"At some stations there is enough for 3-4 days of work, at some – for 25. The stations that have no coal will shut down. If this happens, there will not be enough power in the electric networks. In this case, the working stations which have coal and energy blocks at nuclear stations shut down next. This is followed by a possible collapse of the energy system," he says.
The Ministry of Energy advises to decrease consumption
In order to liquidate the coal deficit at thermal plants, talks are underway to import it from Russia, as well as transporting two million tons of coal from the stocks in the ATO zone, reported Minister of Energy Volodymyr Demchyshyn at a briefing on Friday. According to him, there is a possibility to exports the coal through the station of Debaltseve, which is controlled by Ukrainian troops.
The Energy Minister's foreseeable plans include a meeting with the leadership of the oblasts which consume a significant amount of energy and try to agree on voluntary limits on consumption. According to Volodymyr Demchyshyn, in case they voluntarily reduce consumption by 15%, electricity will not be disconnected.
At the moment, Ukrainian consumers have no electricity four hours per day on average. However, the Ministry acknowledges the fact that sometimes people have to go eight hours without electricity.
"The norm is four hours: two hours in the morning and two in the evening. However, as practice shows, the suspensions vary. It is not us who do it, but oblast energy companies, most of which are private," reported Energy Ministry press secretary Olena Mishchenko.
Crimean Ace
Head of the Committee for Ukraine's Energy Independence Ivan Nadeyin notes that the situation now depends on the adequacy of the Energy Ministry's actions. According to the expert, "the coal type used in our thermal plants is available on occupied Donbas, or Russia, or in South Africa." The government was aware of how dire the situation was, however they did not agree with Russia or South Africa in time.
An alternative to coal may be crude oil or gas, however this will be much more expensive. It is possible to import electricity from Russia as well.
"We should remember that we supply electricity to Crimea. This is our ace. We can agree on transit or compensation of electricity," notes Nadeyin.
Taking the situation into account, the Cabinet of Ministers extended the emergency measures on the electricity market for another month.
Translated by: Mariya Shcherbinina
Source: Radio Liberty
Tags: Politics, tweet, Ukrainian crisis, Ukrainian economy