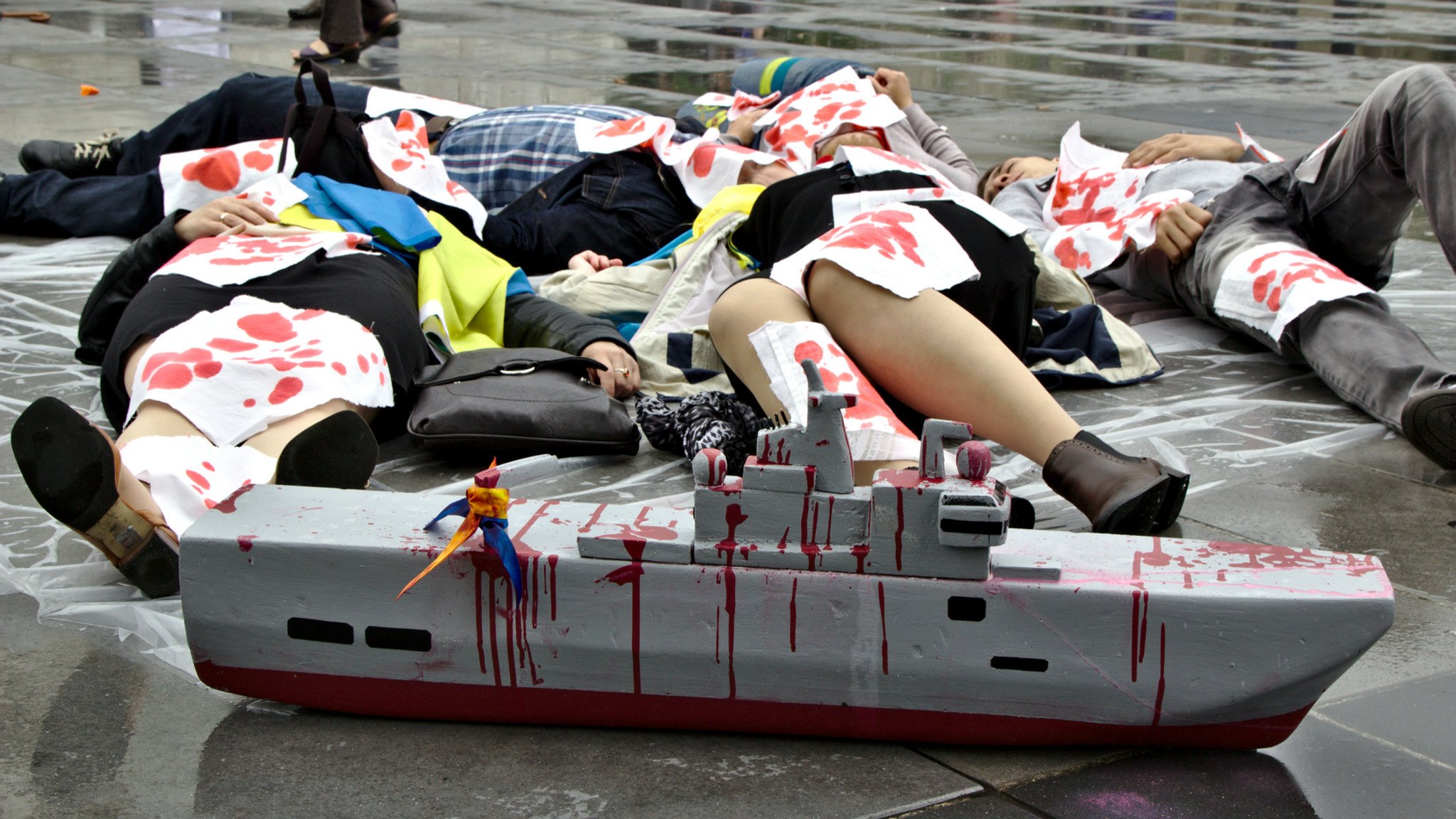 Around the French national holiday of Bastille Day, civic activists worldwide protested against France's Mistral deal with Putin's Russia. On 14 July 1789, the people of Paris stormed and captured the fortress Bastille. This date marks the beginning of the French revolution, and of French people's fight for freedom. The Bastille was the symbol of tyranny, as it is where political prisoners were jailed on the basis of arbitrary royal indictments that could not be appealed. This day was chosen for global protests due to the Mistral contract signed in 2011 by which France agreed to sell two Mistral warships to Russia. Many around the world voice concern that in light of Russia waging war in East Ukraine after occupying Crimea, this deal between a NATO member and one of the last authoritarian states in Europe is less than desirable. Particularly, the deal has been found to breach international law in arms trade, endanger Ukraine, signify the approval of Crimea's annexation, and jeopardize NATO members in the region. Hence, France was urged not to trade her values for monetary gain on her holiday of democracy and remember the founding values of the French Republic.
18 cities from 13 countries have denounced the opaque but tight military union of France and Russia on Bastille day: Kyiv, Lviv, Washington DC, Ottawa, Montreal, Toronto, Prague, Dublin, New York, Paris, Bratislava, Valencia, Vienna, Ankara, Antalya, Madrid, London, Warsaw. Two additional demonstrations in Amsterdam and San Francisco are planned for July 19-20. The global action was planned in order to draw greater media attention to the deal and to raise awareness to this controversial deal. It was coordinated by the online communities of No Mistrals for Putin and EuromaidanPR, as well as local euromaidan and civic activist groups.
Two galleries of photos from the event's page in FB:
This global action signifies that selling dangerous weapons to the Kremlin endangers peace and stability in not only Ukraine, but our world in whole. It is shocking that France is selling modern invasion warships to Putin at a time when the Kremlin has invaded a number of neighboring countries including Georgia and Ukraine. This modern 'Mistral' French technology gives Russia the ability to invade anywhere very quickly and efficiently. They can invade in hours, not days. But it is not only territorial occupation that worries activists around the world. As well as invasion, pro-Russian forces in East Ukraine bring with them every form of criminality, racism, and abuse of civil, legal, political, and human rights. Russian presence currently means thorough corruption; total dictatorship; repression of all civil, political, religious, ethnic, speech, broadcast, and human rights. France should not be supporting this export of values, stress the protesters of the Mistral deal.
Anti-Mistral protesters worldwide demand that:
the President of France François Hollande cancel the delivery of Mistral Vladivostok and the completion of Mistral Sevastopol;
France cancel training courses for 400 Russian sailors by the French Navy;
France start considering alternative solutions for the Mistral vessels: 1/ they could be purchased by the EU, NATO, Canada, USA, as proposed by experts; 2/ the Paribas Bank could purchase and lease them to NATO or the UN; 3/ other options.
that the international community impose third-level sanctions on Russia and that Russia immediately release political hostages from Ukraine.
Letter to the Ambassador of France, handed on Bastille Day
"An appeal to the President, Government and Parliament of France handed to His Excellency [name of the ambassador], Ambassador of France to the [name of the country]
Dear President Hollande, Prime Minister, Ministers of the Government and Members of the Senate and National Assembly,
Allow us, free citizens of the [name of the country], the European Union, Ukraine and other democratic countries of the world, this simple question:
How is it that France – a country of the Enlightenment, a founding member of the European Union, a fully-fledged member of NATO and a democracy that endured two painful world wars – is considering the delivery of two highly advanced Mistral-class amphibious assault vessels to Vladimir Putin, the Russian dictator who only a few months ago viciously violated the territorial integrity of his neighbour Ukraine by shamelessly annexing Crimea at the point of a gun and who has, what's more, unleashed a bloody war in eastern regions of that country? Putin is a despot who has also threatened other neighbours of Russia, including NATO and EU members, and who flouts human rights and western democratic values. How can you countenance making such a military delivery to our enemy for what would be shameful selfish gain?
We implore you to halt the process moving towards the delivery of these warships. Stop assisting and bolstering Putin. Honour your NATO and EU commitments and, above all, replenish your erstwhile role and reputation as a proponent of freedom and democracy.
Is France with us or with Putin?"
More information: The Mistral deal explained, Press release #1, Press release #2, Mistral deal protesters call upon France to heed to her values on Bastille Day, France breaches norms of international law by selling Mistrals to Russia, expert says.
Group No Mistrals for Putin, EuromaidanPR
Tags: France, Mistral, Politics, Protest, Russia, Russia's confrontation with the West, Russian military threat, Russian Navy