Russia's MFA attempted to discredit the Ukrainian MFA in a recent propaganda stunt which resulted in widespread sharing of graphics critical to Russia's foreign policy created by a Ukrainian NGO.
On 17 October 2014, the Ukrainian MFA tweeted graphics created by Euromaidan Press and designed by the artist Ev Melekhovets to show the difference between the German humanitarian convoy and Russian humanitarian convoys, criticizing Russia for sending so-called "humanitarian aid" to Ukraine without consent of the Ukrainian side, without an agreed route and proper inspection of the cargo by border and customs control, and for delivering the cargo without accompaniment by Red Cross representatives.
Aid convoys from Russia and Germany pic.twitter.com/5AC8FWN7XI

— MFA of Ukraine 🇺🇦 (@MFA_Ukraine) October 17, 2014
The Russian MFA in UAE was quick to cut out the Euromaidan Press logo and in a propaganda stunt give the graphics away as a product of the Ukrainian MFA. A gaffe of a non-governmental organization had a quite unexpected result: official Russian MFA twitter accounts shared an anti-Kremlin message: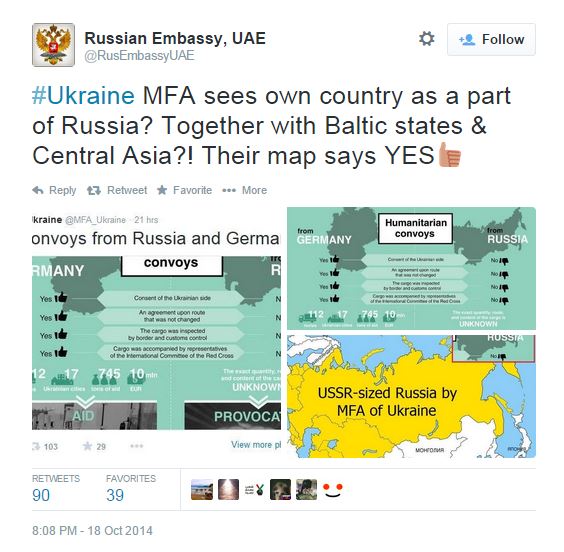 Source: https://twitter.com/RusEmbassyUAE/status/523521035199475712
It was retweeted by Russians at NATO, the Russian mission to UN, the Russian MFA, the Russian embassies in Uzbekistan,  Czech Republic, Kazakhstan, Singapore, and Finland. In doing so, these official twitter accounts of Russian foreign affairs organizations have inadvertently criticized their country's foreign policy while attempting to spread propaganda.
Euromaidan Press has tweeted that it appreciates the initiative of the Russian Foreign Ministry in spreading the truth about Russia's "humanitarian" missions to Donbas and asks for help in retweeting the graphics in German:
Dear @RusEmbassyUAE we have the graphics in German, RT please! Tnx for the help! ;)https://t.co/ItayrmkMRj pic.twitter.com/7n7JRgIq8m

— Euromaidan Press (@EuromaidanPress) October 19, 2014
 As reported earlier, Germany sent more than 100 trucks to deliver humanitarian aid to Ukraine's East. The exact number of "humanitarian convoys" that Russia sent to Ukraine is unknown, as neither their routes or content was agreed upon with the Ukrainian side. There have been reports of Russian trucks stealing Ukrainian factory equipment when leaving back for Russia, as well as reports of Russian convoys delivering  weapons for the Russian-backed separatists in Ukraine's East. Ukraine's Security Service has deemed the Russian convoys "a direct invasion of Ukraine."