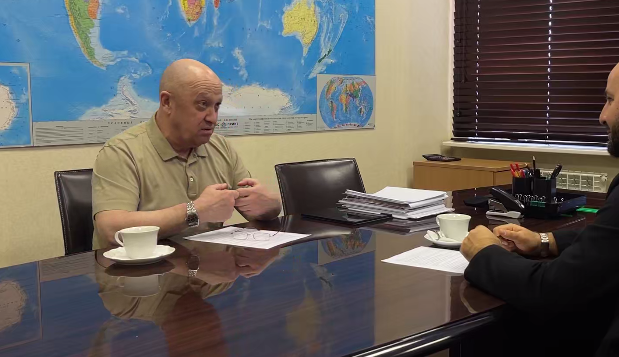 Prigozhin during the interview. Screenshot from video 
Ukraine's army is "one of the world's strongest" and Russia needs to take a page from North Korea's book, Prigozhin tells pro-Kremlin political strategist.
In an even more frank than usual interview released by pro-Kremlin political strategist Konstantin Dolgov on 24 May 2023, Evgeny Prigozhin, the controversial figure at the helm of the Wagner paramilitary cartel, offered sharp criticism of Russia's war strategy against Ukraine. Notably, he also acknowledged Ukraine's formidable military prowess. Here are the main points, as per Meduza.
Prigozhin initiated the discussion with a forthright acknowledgment of Russia's strategic errors in Ukraine, describing the Russian operation as "boorish" and "trampling all over Ukraine's territory in search of Nazis." He lamented the fact that, according to him, Russian forces reached Kyiv and Kherson, but then retreated without success. These remarks echo the reports from many international observers, who have frequently criticized the lack of clear objectives and coherent strategy in Russia's operations in Ukraine.
The Wagner chief further questioned the stated objectives of Russia's invasion, pointing out the apparent contradiction between the declared goals and the realities on the ground. While the purpose of Russia's "special military operation" was "denazification," Russia has made Ukraine into a nation that's known throughout the world, he said.
"They're like the Greeks or the Romans at their peaks. And as far as 'demilitarization,' if they had some 500 tanks at the start of the special military operation, now they have 5,000. If they had 20,000 capable fighters before, now they have 400,000. What kind of demilitarization is that? Now it looks more like we did the opposite, somehow or other, and militarized Ukraine."
Even more strikingly, Prigozhin expressed admiration for the Ukrainian army, describing it as one of the strongest in the world (naturally, he said that Wagner is number one).
"They're highly organized and highly trained, they have good intelligence, and they have a diverse arsenal. They work equally well on any systems, whether Soviet ones or NATO ones," he commented.
His respect for the Ukrainian forces provides a stark contrast to Russia's official narrative, which has sought to undermine and belittle Ukraine's military efforts since the beginning of the war.
Turning his critique inward, Prigozhin sharply condemned the disparity between those fighting the war and the privileged lifestyle of the elites' children in Russia. He warned that such a division could lead to social unrest and a potential revolution, similar to the upheaval of 1917.
"It's important to remember the elites aren't the only ones with kids. And while the kids of the elite are smearing creams on themselves and showing it on the Internet, ordinary people's kids are coming home in zinc, blown to bits, and mothers are crying over their sons," he stated.
Discussing the Wagner Group, Prigozhin expressed dissatisfaction with the current leadership within the Russian Defense Ministry. He singled out Defense Minister Sergey Shoigu and Chief of the General Staff Valery Gerasimov for their decisions that, in his view, blocked Wagner from acquiring necessary supplies despite Putin's assurances.
"If [former Deputy Defense Minister Mikhail] Mizintsev becomes defense minister today, and [former overall commander of Russia's forces in Ukraine Sergey] Surovikin becomes the head of the General Staff, that would be a fine structure," suggested, indicating his preference for a shake-up in the top echelons of Russia's military leadership.
On the subject of the future of the war, Prigozhin outlined two potential scenarios – one optimistic and one pessimistic. The optimistic scenario involves Europe and America tiring of the Ukrainian conflict, leading to negotiations brokered by China, where both sides agree to maintain their current territories. However, Prigozhin admitted he didn't see this scenario as likely. He expressed more belief in the pessimistic scenario, which predicts an unrelenting Ukrainian resistance, continued Western support, and a long, difficult war for Russia. "So we need to be ready for a difficult war," he warned, pointing out that Russia's economy could buckle under the strain of an extended conflict.
To avoid a collapse of Russia, Prigozhin advocated a North-Korea style shift towards a wartime economy, advocating for the implementation of martial law, new waves of mobilization, and "to transfer everybody we can to work on ammunition production":
"We need to cut the fat, stop building new roads and new infrastructure, and work only on the war. Russia needs to take a page out of North Korea's book for a certain number of years: close all our borders, stop pulling punches, bring back all our boys from abroad, and work hard. Then we'll see some kind of result."
In conclusion, he touched upon the prospects of nuclear conflict, arguing that Russia should prove its point on the battlefield rather than resorting to nuclear weapons.
"The nuclear bomb is an ax. You shouldn't chase your neighbor with an ax," he advised.
Also in this interview, Prigozhin told that he recruited 50,000 convicts for the war in Ukraine, and 20,000 Wagner fighters were killed.
20,000 Wagner group fighters, half of them ex-convicts, killed in Ukraine, claims Wagner founder
Prigozhin has positioned himself as a significant political force within Russia, often criticizing his fellow "oligarchs" and "elites" for their comfortable lifestyles while the country is at war. Since November 2022, analysts have seen him becoming a political force in Russia.
The dynamics within the Russian elite have been evolving, with some speculating that internal conflicts, including those involving Prigozhin, could influence the war's direction. However, this notion has been largely dismissed by analysts who contend that such infighting will not bring about an end to the war.
In a recent confirmation that Wagner fighters are especially brutal on the battlefield, in April 2023, Prigozhin made a statement that Russian mercenaries of the Wagner Group would cease taking Ukrainian defenders captive and instead would kill all on the battlefield.
Meanwhile, there have been reports of new Russian private military companies (PMCs) emerging to compete with Prigozhin's Wagner Group.