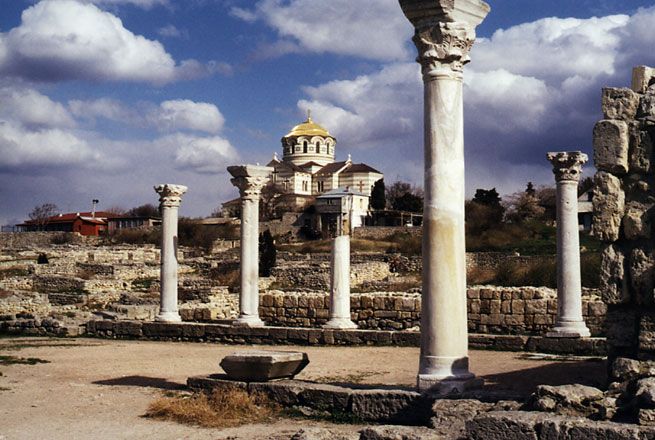 The temporarily occupied Crimea has witnessed the looting of the ancient reserve museum of Chersonesos Taurica by Russian forces, as reported by the Office of the President of Ukraine in Crimea. The occupiers plundered the museum, including artifacts such as ancient bone, clay, and other material works, falsely claiming to transport them to an exhibition on Byzantine gold in Veliky Novgorod. Furthermore, illegal archaeological excavations continue to take place on the museum's premises by Russian occupants.
Chersonesos Taurica, an ancient and Byzantine city-state located in southwestern Crimea, became a National Reserve in 1892. On June 23, 2013, it was included in UNESCO's World Heritage List during the 37th session of the World Heritage Committee in Cambodia.
Concerns about the preservation of the museum's heritage arose following the Russian occupation of Crimea in 2014. In 2015, reports emerged that the Russian army had cemented parts of the ancient estate in Cape Chersonesos. In 2021, the occupying authorities expressed intentions to expand the complex with "New Chersonesos." However, the project faced criticism due to the proposed use of excavators and concrete pouring within the buffer zone.
In December 2022, Senior Researcher Evelina Kravchenko from the Institute of Archaeology of the National Academy of Sciences of Ukraine revealed that the Russian occupiers had prepared collections from Chersonesos Taurica for removal from the peninsula. Approximately a year ago, they issued an evacuation order for the collections of four museums in Sevastopol: the National Reserve of Chersonesos Taurica, the Sevastopol Art Museum named after Kroshitsky, the United Museum of Panoramas and Dioramas, and the Museum of the Naval Fleet.
Tags: Crimea, gold, looting, museum, open-air museum