Russia's night attack on Ukraine on 16 May cost it $119.08 mn, Ekonomichna Pravda journalists calculate.
During the night, Russia launched the following missiles and drones, all of which were shot down, according to Ukraine's Air Force: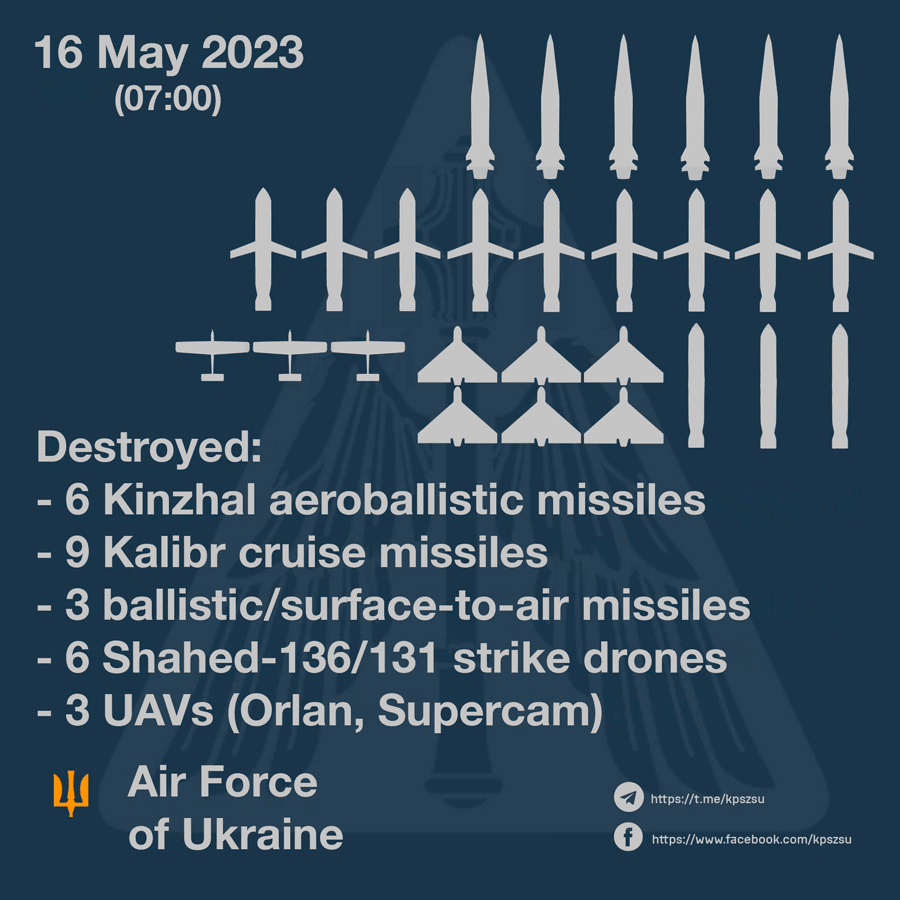 6 Kinzhal aeroballistic missiles;
9 Kalibr cruise missiles;
3 ballistic/surface-to-air missiles
6 Shahed-136/131 strike UAVs;
3 Orlan, SuperCam UAVs.
According to Forbes, one Kalibr missile costs approximately $6.5 mn, so their total value amounts to $58.5 million.
One hypersonic missile X-47 "Kinjal" costs at least $10 mn, so the total cost of the 6 launches is $60 mn.
Iranian Shahed-136/131 strike UAVs, according to information from open sources, range in price from $20,000 to $50,000 per unit. On average, 6 such UAVs cost $280,000.
The Russian UAV "Orlan-10" costs $100,000 according to the estimate of the General Staff. There is no publicly available information regarding the price of the SuperCam UAV, so let's assume it is close to the price of the "Orlan-10" UAV. Therefore, 3 drones cost $300,000.
Thus, the total cost of the missiles and UAVs launched at Ukraine on the night of May 16th amounts to $119.08 mn.
Ukraine's air defense capabilities were recently greatly boosted by the delivery of Patriot air defense systems, which allowed Ukraine, in a historical first, to shoot down a Russian Kinzhal missile on 5 May.
Ukraine repels night attack on Kyiv, shoots down all 18 Russian missiles, including six Kinzhals
Tags: air defense, Kinzhal