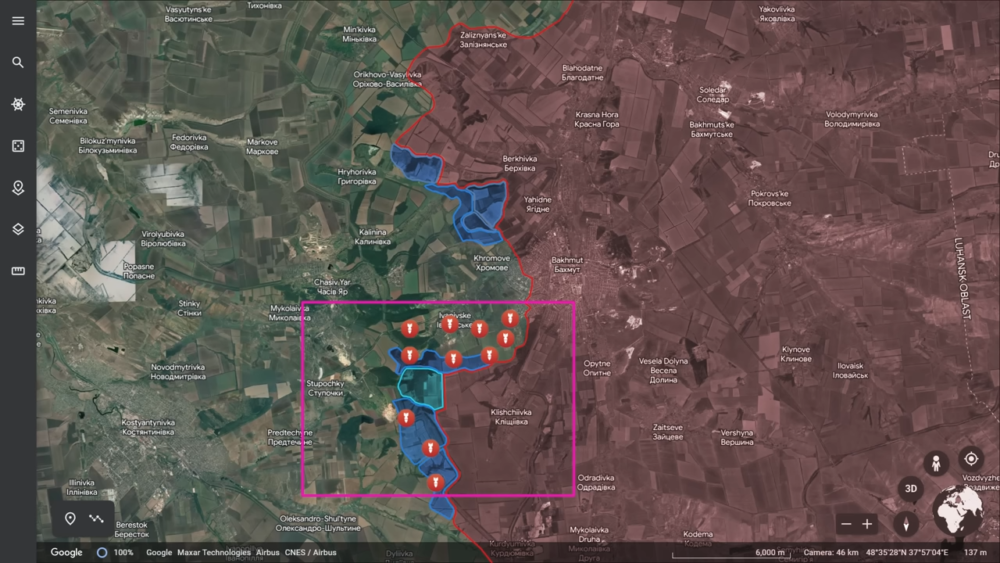 Map of the situation near Bakhmut. Screenshot from the video 
On 14 May, it became known that Ukrainian forces strategically encircled Russian troops in a forest near Bakhmut, cutting off their communication and supply lines, leading to the collapse of their defense and the elimination of key Russian commanders.
Day 445: May 14
Today there is a lot of good news from the Bakhmut direction. Here, Ukrainians finally managed to starve out Russian troops in a salient on the southern flank and collapse Russian defense by multiple kilometers at one time.
Previously, I told you that after Ukrainians undercut Russians by moving along the canal and pushing Russians from their positions in front of Klischiivka, Russians in the forest were caught in the operational encirclement. Russian forces tried to resist for several days, anticipating that Wagner troops or airborne units would conduct an unblocking operation.
Unfortunately for the Russians, the unblocking operation failed. Recently released footage shows that Russian forces tried to push Ukrainians from the tree lines in front of Ivanivske in order to secure control over the fields and allow for a safe retreat. Russian forces even sent a tank to help establish control over the field and also provide cover for the retreating troops, but it was destroyed by Ukrainian artillery already on the approach.
In the meantime, the problems for Russians in the forest were exacerbated by minute, as Ukrainian artillery also managed to destroy several shelters with ammunition. It looks like Russians also lost connection and could not communicate with the mainland. As a result, when Ukrainians started their storming operation, Russians did not understand that they got completely surrounded and fought until they were eliminated. On 14 May, a Ukrainian fighter reported that they completely cleared the forest.
Later, Russian sources confirmed this information and reported losing two colonels. One colonel was the commander of the 4th Motorized Rifle Brigade. Another colonel was second-in-command. Both died from lethal wounds, so the whole brigade now has no high command.
Russian MoD confirms that Ukraine eliminated two Russian colonels near Bakhmut
Interestingly, Ukrainian fighters from assault units reported that they starved out Russians in the forest so much that Russian mortar crews could fire at them only a dozen mines during the storming operation. A fighter from a different assault unit reported that they noticed a decrease in the Russian artillery fire on the flanks and speculated that the recent Ukrainian HIMARS strike demolished a lot of Russian artillery, so now they only have enough to maintain intense shelling of Bakhmut and Chasiv Yar.
Ukrainian Deputy Minister of Defense reported that today Ukrainians established control over 10 Russian positions around Bakhmut. The current setting indicates that Ukrainians are finally ready to start storming Klischiivka. In fact, the artillery preparation has already started. Recently released footage shows how a Ukrainian drone operator noted how 3 trucks delivered reinforcements to Klischiivka, which were then destroyed by Ukrainian artillery together with a small ammunition depot. Another footage shows how the drone operator spotted the second reinforcement at night, which Ukrainian artillery started shelling the moment the troops jumped from the trucks.
The Head of the Wagner Group, Prigozhin, recently published a video where he explained why the Russian Ministry of Defense is lying about the situation's stability. He said that the Ministry of Defense is focusing on settlements instead of tactical positions, and in most cases in Ukraine, settlements are located in the lowlands and mean virtually nothing. So, while the Russian Ministry of Defense reports that Ukrainian failed to take Berkhivka, for example, Ukrainians are successfully moving along the tactical heights.
The same thing is happening right now on the southern flank. Ukrainians are moving along the ridge that goes from Chasiv Yar to Kurdiumivka. They have already established control over the forest and hills around the forest and east of the canal and are ready to storm two fortifications that are protecting Klischiivka. If this attack is successful, Ukrainians will control a huge platform that will allow them to attack downhill and cut Bakhmut from the south. They will likely open a supporting line of attack towards Kurdiumivka to fix Russian troops while moving towards Zaitseve and Vesele.
Read also:
Tags: Bakhmut, Frontline report