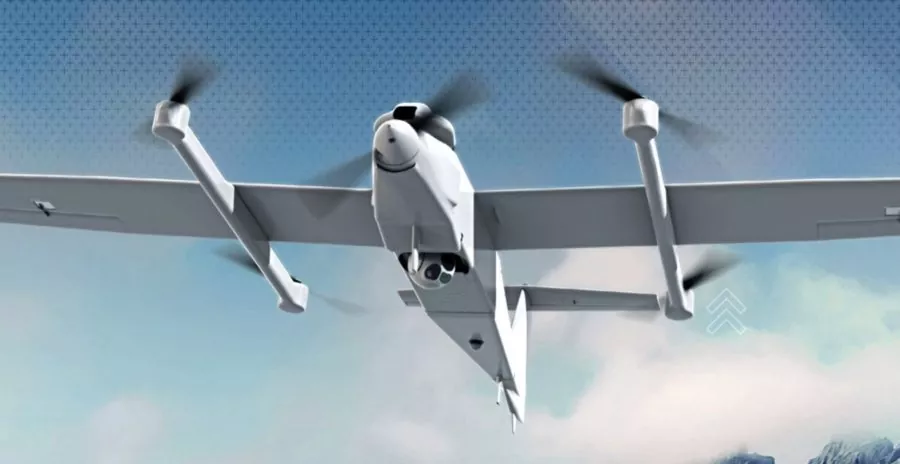 AeroVironment's JUMP 20 VTOL unmanned system. Illustration courtesy of AeroVironment.
American defense contractor AeroVironment, Inc., plans to provide Ukraine with modern tactical drones, according to the Voice of America.
AeroVironment designs and manufactures unmanned aerial vehicles, including miniature loitering munitions Switchblade that the Ukrainian Army uses extensively against Russian invading forces in Ukraine. AeroVironment has begun the production of a new type of drone for Ukraine, namely the latest tactical unmanned aerial vehicles Jump 20, the Voice of America reported.
"We are producing these drones now to send them as soon as the US government is ready," Wahid Nawabi, the President and CEO at AeroVironment, told the Voice of America.
The US Army selected the unmanned aerial vehicle Jump 20 as part of the Future Tactical Unmanned Aircraft System (FTUAS) program. This drone will replace the RQ-7B Shadow, an American-made unmanned aerial vehicle used by the US Army, Australian Army, Swedish Army, Turkish Air Force, and Italian Army for reconnaissance, surveillance, target acquisition, and battle damage assessment.
The Jump 20 is a vertical takeoff and landing unmanned aerial vehicle with four additional electric motors and horizontally arranged propellers on two additional beams, the Ukrainian analytical group Militarnyi reported. The drone is designed like an airplane, with a nose piston engine and a propeller.
The Jump 20 drone has a maximum takeoff weight of 97,5 kilograms, a payload weight of 13,6 kilograms, a length of 2,9 meters, and a wingspan of 5,7 meters. The drone can operate for 14 hours in a row, according to Militarnyi. The operational range of the Jump 20 is up to 185 kilometers; it can reach a height of 5,100 meters.
Related:
Tags: #USAarmUkraine, drones, military aid to Ukraine, Russian invasion of Ukraine, USA