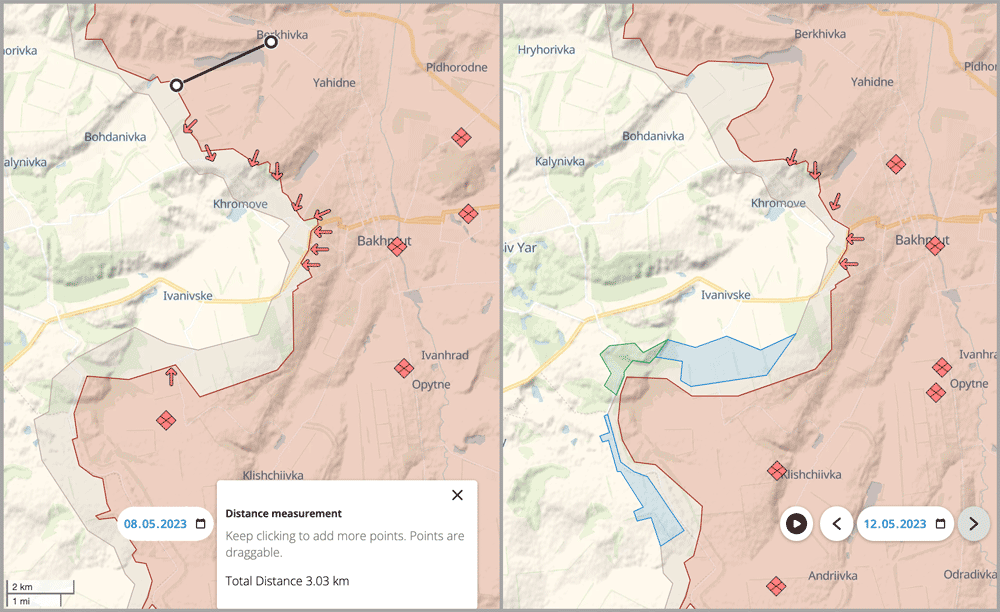 Situation in the area of Bakhmut on 8 and 12 May. Ukrainian fresh gains are marked in blue. Maps: DeepStateMap 
To the south and north of Donetsk's Bakhmut, Ukraine's Defense Forces pushed back the Russians to a distance of 250 meters to 1.5 km. Serhii Cherevatyi, the spokesman of Ukraine's Eastern Group of Forces, said it on Channel 24 on 12 May, Liga reports.
"As a result of [the Ukrainian Army's] active defense, our units in the north and south of the Bakhmut front were able to push back the occupiers to a distance of 250 meters to 1.5 kilometers," Cherevatyy said.
According to him, the Russians are regrouping in Bakhmut, but are losing the initiative due to the well-organized Ukrainian defenses.
"We managed to achieve the main thing – to essentially knock out the enemy's combat offensive potential, inflict huge losses in personnel and equipment, and thus break his morale, significantly reduce his troops' moral and psychological state, and thus prepare for further developments," Cherevatyy said.
On 10 May, Ukrainian Ground Forces Commander Syrskyi said that Russians retreated in places up to 2 km near Bakhmut.
On 11 May, multiple Russian "milbloggers" claimed that Ukrainian forces advanced near Bakhmut. The Russian Defense Ministry stated that claims "about 'defense breakthroughs' in various sections of the line of contact do not correspond to reality." Meanwhile, a day later, the Russian MoD said that its Southern Grouping units "took up a line of defense in the Maloilyinivske direction in the zone of a special military operation" due to "favorable conditions of the Berkhivka reservoir."
As of 8 May, the village of Bekhivka was three kilometers behind the frontline.
Read also:
Tags: Bakhmut, counter attack