Air raid alert was announced in the middle of the night on Tuesday, 9 May, in all oblasts of Ukraine. During the night of 9 May, the Ukrainian air defense destroyed 23 out of 25 cruise missiles launched by the Russian aggressor.
According to the commander of the Air Force, Mykola Oleksiuk, and the Chief Commander of the Armed Forces, Valeriy Zaluzhnyi, in just two waves of attack, the Russian forces launched 25 cruise missiles of the Caliber and X-101/X-555 types.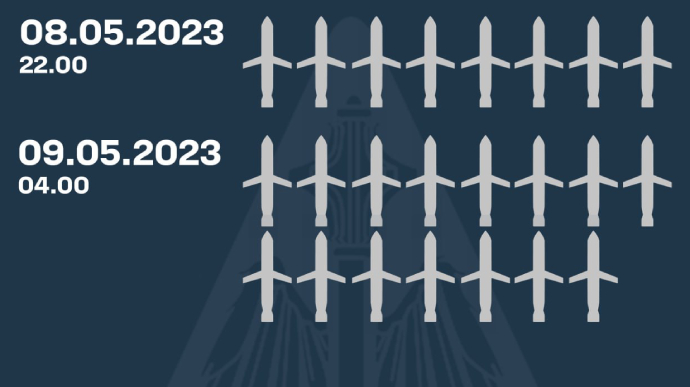 "23 of them were destroyed by the air defense of the Air Force of the Armed Forces of Ukraine, in cooperation with the components of the Defense Forces of Ukraine," said Oleksyuk.
Details reveal that at around 10:00 pm on 8 May, the enemy fired eight Caliber cruise missiles from carriers in the Black Sea, aimed at the eastern regions of the country. All eight were destroyed by the air defense forces of the Eastern Air Command. Later, closer to 4:00 am on 9 May, the Russians launched 17 X-101/X-555 cruise missiles from strategic aviation aircraft, specifically, four Tu-95MS planes in the Caspian region. The Central Air Command destroyed 14 cruise missiles, and one was destroyed in the area of responsibility of the Southern Air Command. Thus, 15 X-101/X-555 cruise missiles were destroyed by Ukrainian air defense.