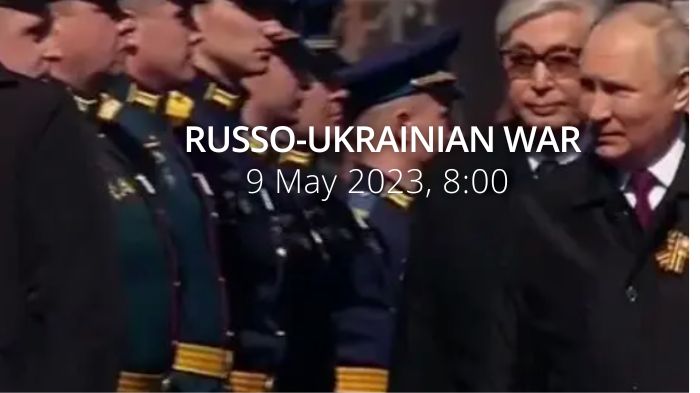 Another overnight large-scale missile and drone strike on Ukraine. Operations suspended at Zaporizhzhia nuclear plant in case of 'provocations.' Central Asia state leaders attend Russia's Victory Day parade in Moscow.
The aerial segment of Russia's Victory Day parade in Moscow and other cities was cancelled, officially due to weather conditions

Over 11,000 RU servicemen participated in the parade, which Ukrainians refer to as Day of 'Victory Madness' https://t.co/TxJpuYRb8b

— Euromaidan Press (@EuromaidanPress) May 9, 2023
Daily overview — Summary report, May 9
A map of the approximate situation on the ground in Ukraine as of 00:00 UTC 09/05/23.

There have been no notable changes to control since the last update. pic.twitter.com/HEflydbfW4

— War Mapper (@War_Mapper) May 9, 2023
The General Staff's operational update regarding the Russian invasion as of 18.00 pm, May 9, 2023 is in the dropdown menu below:
Last night, Russian terrorists launched yet another massive missile attack on Ukraine. Information on the aftermath of this terrorist attack is currently being updated.
On May 8, the adversary launched 30 missiles, 61 air strikes, and 89 MLRS attacks at the positions of Ukrainian troops and various settlements. The attacks caused casualties and destroyed and damaged private housing and other civilian infrastructure.
The likelihood of further missile and air strikes across Ukraine remains high. Do not ignore the air raid signals.
The adversary continues to focus its main efforts on Lyman, Bakhmut, Avdiivka, and Marinka axes. Heavy fighting for the cities of Bakhmut and Marinka continues. On May 8, Ukrainian Defence Forces repelled 42 enemy attacks in these areas of the frontline.
Volyn and Polissya axes: no signs of the formation of offensive groups were found. Certain units of the Russian armed forces remain stationed in the territory of Belarus.
Sivershchyna and Slobozhanshchyna axes: the adversary continues to maintain a military presence in the areas of Russia bordering Ukraine. On May 8, Russian forces fired mortars and artillery at the settlements of Berylivka, Moshchenka, Halahanivka, Leonivka, Oleksandrivka, Buda-Vorob'ivs'ka, Hrem'yach (Chernihiv oblast), Znob-Novhorods'ke, Stara Huta, Shalyhyne, Novoslobids'ke, Iskryskivshchyna, Volfyne (Sumy oblast), Hoptivka, Krasne, Zelene, Starytsya, Ohirtseve, Vovchans'ki Khutory, Karaichne, Mala Vovcha, Mykolaivka, and Nesterne (Kharkiv oblast).
Kupyansk axis: the adversary did not conduct any offensive operations. The invaders launched air strikes at the vicinities of the settlements of Zapadne and Masyutivka. The adversary fired artillery and mortars at Kam'yanka, Topoli, Petro-Ivanivka, Fyholivka, Novomlyns'k, Zapadne, Lyman Pershyi, Vil'shana, Buhaivka (Kharkiv oblast), Novoselivs'ke, and Stel'makhivka (Luhansk oblast).
Lyman axis: on May 8, Russian forces conducted unsuccessful offensives towards Bilohorivka. The invaders launched air strikes at the vicinities of settlements of Nevske, Bilohorivka (Luhansk oblast), Verkhnokamyanske, and Spirne (Donetsk oblast). Makiivka, Bilohorivka (Luhansk oblast), Yampolivka, and Spirne (Donetsk oblast) were shelled with artillery.
Bakhmut axis: fighting in the city of Bakhmut continues. In addition, the adversary conducted unsuccessful offensive operations towards Ivanivske and Chasiv Yar on May 8. The occupant forces launched air strikes on the vicinities of the settlements of Bohdanivka, Bakhmut, and Predtechyne. Vasyukivka, Orikhovo-Vasylivka, Novomarkove, Bakhmut, Ivanivske, Chasiv Yar, Stupochky, Predtechyne, Oleksandro-Shul'tyne, Dyliivka, Druzhba, Zalizne, and New York (Donetsk oblast) suffered from enemy shelling.
Avdiivka axis: on May 8, the adversary conducted offensive operations in the vicinities of Avdiivka and Pervomais'ke (Donetsk oblast), to no success. The invaders shelled the settlements of Novokalynove, Berdychi, Lastochkyne, Avdiivka, Sjeverne, Vodyane, Pervomais'ke, and Netaylove (Donetsk oblast).
Marinka axis: Ukrainian defenders repelled numerous enemy attacks in the vicinity of the city of Marinka. Heorhiivka and Pobjeda (Donetsk oblast) also came under enemy fire.
Shakhtarske axis: Russian forces did not conduct any offensive operations on May 8. The invaders launched an air strike in the vicinity of Velyka Novosilka and shelled the settlements of Paraskoviivka, Novomykhailivka, and Vuhledar.
Zaporizhzhia and Kherson axes: the adversary continues to defend. The occupant forces launched air strikes at the vicinities of settlements of Vremivka (Donetsk oblast), Hulyaipole, and Novodanylivka (Zaporizhzhia oblast). In addition, the invaders shelled more than 30 settlements near the line of contact, including Vremivka, Novosilka, Zelene Pole, Novopil' (Donetsk oblast), Ol'hivs'ke, Hulyaipole, Zaliznychne, Huliaipilske, Bilohir'ya, Mala Tokmachka, Kam'yans'ke (Zaporizhzhia oblast), Zolota Balka, Kachkarivka, Zmiivka, Tyahynka, Antonivka, Dniprovs'ke, Kizomys, Stanislav (Kherson oblast), and the city of Kherson.
The Russian occupiers do not stop robbing Ukrainian citizens, businesses, and government agencies in the temporarily occupied territories of Zaporizhzhia oblast. To transport the looted property from settlements near the contact line, the invaders involve drivers and truck owners from among local collaborators. The loot is taken to the Autonomous Republic of Crimea.
[In the city of Skadovsk, the activity of the local and city administrations has been suspended. Therefore, during the night of May 6-7th, the occupiers loaded documents, office equipment and other property of state institutions into vehicles, and on the morning of May 7, a large part of the Russian occupation administration left the city together with their families. Currently, a similar situation is observed in some settlements of the Oblast such as Mykhailivka, Petrivka, Shevchenko, Shiroke, Ul'yanivka and Krasne.]
[Taking into account the multi-kilometre traffic jams that have recently formed at the entrance to Crimea and in the area of the Kerch bridge, the invaders plan to take the documents and looted property from the state institutions of the temporarily captured Kherson Oblast by sea, with the help of a dry cargo ship, through the port of the city of Berdiansk.]
On May 8, Ukrainian Air Force launched 16 air strikes on the concentrations of troops and military equipment of the adversary.
In particular, Ukrainian defenders destroyed 1 Zala reconnaissance UAV of Russian forces.
Ukrainian missile and artillery troops hit 3 concentrations of troops, 2 ammunition depots, and 3 other important targets of Russian forces.
Military Updates
The enemy attacked the territory of Ukraine with sea and air-based cruise missiles, the Ukrainian General Staff reports. "Around 10:00 p.m. on May 8, the enemy launched eight Kalibr cruise missiles from carriers in the Black Sea, which they aimed at the eastern regions of the country. All eight were destroyed by the forces and means of air defence of the air command "East".
Closer to 4:00 a.m. on May 9, the occupiers launched 17 Kh-101/Kh-555 air-based cruise missiles from strategic aviation planes – four Tu-95ms (Caspian region). The forces and means of air defence of the Center air command destroyed 14 cruise missiles, one more in the area of responsibility of the South air command. A total of 15 Kh-101/Kh-555 cruise missiles were destroyed.
In total, during two waves of shelling of Ukraine on the night of May 9, 2023, the Russian occupiers launched 25 Kalibr and X-101/X-555 cruise missiles. 23 of them were destroyed by the air defence of the Air Force of the Armed Forces of Ukraine, in cooperation with the components of the Defence Forces of Ukraine."
The Ukrainian Red Cross Society (URCS) says last night's Russian missile attack has completely destroyed its Odesa regional organization's 1,000-square-meter warehouse and the humanitarian aid stored there.https://t.co/NMG2XnaFab pic.twitter.com/jB2lVBFXOi

— Euromaidan Press (@EuromaidanPress) May 8, 2023
Russian invaders fire 8 Kh-22 missiles at Odesa Oblast, Ukrainska Pravda reports, citing Colonel Yurii Ihnat, Air Force spokesman. «On the night of 8 May, Russia fired up to eight Kh-22 cruise missiles at Odesa Oblast, some of them did not reach their targets. 
As for Odesa Oblast, there were seven aircraft and up to eight launches of Kh-22 cruise missiles; some of them reached Odesa Oblast and certain facilities were hit, but the rest of the missiles did not reach their targets (possibly self-destructing, possibly just falling due to their ageing, because they are outdated Soviet missiles).
Operational Command Pivden (South) reported that Kh-22 missiles hit a food business's warehouse and a recreational area on the Black Sea coast. Fires broke out as a result of the strikes.
The Air Force reported that Russian forces deployed Tu-22m3 long-range bombers to attack Odesa Oblast, firing eight missiles from the area near Cape Tarkhankut in Russian-occupied Crimea."
Ukrainian forces down 35 out of 35 Russian Shahed drones overnight, Ukrainska Pravda reports, citing the Ukrainian General Staff and Air Force. "On the night of 7–8 May, enemy forces once again attacked Ukraine, this time deploying Iranian-made Shahed attack drones. […]
The Air Force said that all 35 drones targeted Kyiv Oblast from the north, in particular the Seshcha airfield in Russia's Bryansk Oblast. Air defence personnel and military assets from the Tsentr (Centre) Command and units of Ukraine's Defence Forces destroyed all 35 Shahed-136/131 drones."
Russian forces make tactical gains on Avdiivka, Bakhmut and Lyman fronts – Ukraine's Defence Ministry, Ukrainska Pravda reports, citing the Military Media Centre. "The enemy has recently been conducting offensive actions on the Avdiivka, Bakhmut and Lyman fronts, achieving tactical advances there. At the same time, the enemy is on the active defensive on the Kupiansk, Novopavlivka, Orikhiv and Prydniprovia fronts."
On the Donetsk front, Russian troops are reportedly focusing their primary efforts on capturing the cities of Bakhmut and Marinka and blocking supply roads to the city of Avdiivka.
On the Tavriia front, the Russian invaders focused their primary efforts on carrying out positional defence, preventing Ukrainian troops from securing the islands at the mouth of the Dnipro River and the loss of control over the held frontiers and logistics routes in the occupied territories.
Russia keeps two operational groups of troops in the border areas of its Bryansk and Kursk oblasts. They are reportedly doing this to prevent the deployment of Ukrainian forces to areas of active hostilities."
The US has high confidence in the accuracy of Ukraine's claim that it used an American-made Patriot air defense system to intercept a Russian hypersonic missile, according to a source familiar with the matter, CNN reports. https://t.co/PXeGT7AEXa

— Euromaidan Press (@EuromaidanPress) May 8, 2023
According to British Defence Intelligence, (last 48 hours): 
On 28 April 2023, the head of the self-declared Donetsk People's Republic announced that regional water supplies were dangerously low. Water scarcity has been a growing issue for Russian-occupied Donetsk since Russia's 2022 invasion of Ukraine.
The Siversky-Donets canal which supplies the region remains largely under Ukrainian control but has been frequently contested along its long route. Russian forces have likely been seeking to secure the canal to reduce water scarcity within Donetsk.
The Siversky-Donets canal traverses through the town of Chasiv Yar, approximately 6km to the west of Bakhmut. Russia's heavy use of indirect artillery to support the capture of Bakhmut and surrounding territory has likely inflicted collateral damage to the canal and other regional water infrastructure, undermining Russia's efforts to remedy the lack of water that its invasion originally created. To compensate for its lack of success in capturing and retaining the canal Russia is likely constructing a water pipeline to mitigate the water shortage in Donetsk City. However, this is highly unlikely to fully compensate for the occupied regions' reduced access to water.
Russian military recruiters have been targeting central Asian migrant workers in Russia to serve in Ukraine. Recruiters have visited mosques and immigration offices to recruit. At immigration offices, staff who speak Tajik and Uzbek routinely attempt to recruit migrants.
Radio Free Europe reported recruiters offering sign-up bonuses of USD $2,390 and salaries of up to USD $4,160 a month. Migrants have also been offered a fast-track Russian citizenship path of six months to one year, instead of the usual five years.
The high monthly salary and sign-up bonuses will entice some migrant workers to sign up. These recruits are likely sent to the Ukrainian frontlines where the casualty rate is extremely high.
Recruiting migrants is part of the Russian Ministry of Defence's attempts to fulfil its target of 400,000 volunteers to fight in Ukraine. The authorities are almost certainly seeking to delay any new overt mandatory mobilisation for as long as possible to minimise domestic dissent.
Losses of the Russian army 
As of Tuesday 9 May, the approximate losses of weapons and military equipment of the Russian Armed Forces from the beginning of the invasion to the present day:
Personnel – about 195620 (+650)
Tanks – 3734 (+4)
Armoured combat vehicles – 7258 (+4)
Artillery systems – 3031 (+13)
Multiple rocket launchers –MLRS – 554 (+0)
Air defence means – 307 (+1)
Aircraft – 308 (+0)
Helicopters – 294 (+0)
Automotive technology and fuel tanks – 5969 (+11)
Vessels/boats – 18 (+0)
UAV operational and tactical level – 2618 (+4)
Special equipment – 388 (+4)
Mobile SRBM system – 4 (+0)
Cruise missiles – 955 (+8)
Head of Russia's Wagner group says still no sign of promised ammunition, Reuters reports. "Russia's mercenary Wagner forces have not yet received the ammunition promised by Moscow, the head of the group said on Tuesday, rowing back from comments hours earlier that initial data showed they had begun to get it. But Yevgeny Prigozhin, whose forces have spent months trying to capture the eastern Ukraine city of Bakhmut, added that he did not want to "spoil" Russia's big Victory Day parade set for 0700 GMT, and would reveal more details afterwards.
The people who were supposed to fulfil the (shipment) orders have so far, over the past day, not fulfilled them, Prigozhin said in a video post on the messaging app Telegram. Late on Monday, he had said preliminary data showed his troops were beginning to get the ammunition, while cautioning they had not seen it in practice".
Humanitarian 
Aftermath of Russian forces' launching of Kh-22 missiles on Odesa Oblast on 8 May

A warehouse was hit. One person, a security guard, was killed, and three warehouse employees received wounds.
Photos from Operational Command "South" pic.twitter.com/nXPIDYysp2

— Euromaidan Press (@EuromaidanPress) May 8, 2023
Russian strike destroys Red Cross warehouse with humanitarian aid, Ukrinform reports, citing the press service of the Odesa regional organization of the Ukrainian Red Cross Society. "As a result of a missile strike in Odesa region on 08.05.2023, the leased warehouse of the Odesa regional organization of the Ukrainian Red Cross Society with an area of 1000 square meters was completely destroyed, the statement said. It is noted that the fire destroyed the humanitarian aid for Odesa region in the warehouse. At the time of the missile strike, the Red Cross representatives were not there.
The provision of humanitarian aid and the activities of some projects of the Odesa regional organization of the Red Cross of Ukraine have been suspended, the statement also said. As reported, Russian troops launched a missile attack on Odesa region from strategic aviation aircraft. It was reported that Russian missiles of the Kh-22 type hit a warehouse of a food company and a recreational area on the Black Sea coast. A security guard of the warehouse was killed.»
Russia attacked 10 Ukraine's oblasts in a day: 28 injured, 3 killed, Ukrainska Pravda reports, citing the Military Media Center. "According to the information provided by the Situation Centre of the Ministry of Defence, during the past 24 hours, Russian troops attacked the territory of 10 oblasts of Ukraine.
In total, 127 settlements were attacked with various types of weapons (mortars, tanks, artillery, MLRS, anti-aircraft missiles, UAVs and strategic and tactical aviation), and 139 infrastructure facilities were confirmed to have been damaged. Preliminary reports indicate that three people have been killed and 28 others have been injured."
Russia destroys 177 medical institutions in Ukraine, Ukrinform reports, citing First Deputy Minister of Health Serhiy Dubrov. "1433 medical facilities were damaged, and if we talk about completely destroyed hospitals, then today 177 medical facilities have been completely destroyed since the beginning of the invasion. We are rebuilding, and first of all, we are rebuilding those medical facilities that have been slightly damaged, replacing window units, replacing roofing and rebuilding those medical facilities that have been damaged in places where citizens need medical care, said Dubrov.
The deputy minister emphasized that it takes a long time to rebuild large medical facilities that Russia destroyed. Therefore, in those places where medical institutions were destroyed, in small settlements, emergency medical services and emergency medicine started to work immediately after de-occupation, providing not only emergency care but also primary health care.
Then the issue is resolved through temporary solutions, such as the installation of modular health centers or modular hospitals. We are considering the construction of modular hospitals, some of them have already been built for the future. With the help of the French government, we are also planning to expand the network of mobile hospitals, Dubrov added."
Invaders start mobilizing public sector employees in Mariupol, Ukrinform reports. "The mobilization in Mariupol has begun. A military enlistment office has already sent the first group of male public sector employees to pass military medical commission," Petro Andriushchenko, adviser to Mariupol mayor, posted on Telegram. He noted that all those men already received Russian passports.
As reported, Mariupol suffered one of the biggest humanitarian disasters caused by Russia's aggression. The city was almost 90% destroyed as a result of enemy shelling. Residential buildings, hospitals, schools, kindergartens, etc. were damaged and destroyed.
Currently, more than 100,000 people remain in the city. The invaders are pressuring the citizens of Mariupol, especially public sector employees, to get Russian passports."
Ukraine and Russia began visiting civilians' detention places by agreement, Ukrainska Pravda reports, citing Dmytro Lubinets, Ukraine's Human Rights Commissioner. "The Ukrainian Parliament Commissioner for Human Rights and representatives of the State Duma (the lower chamber of the  Russian Parliament) have started parallel monitoring visits to places of detention of civilians on both sides.
The Ukrainian Parliament Commissioner for Human Rights and representatives of the Russian State Duma have started joint activities for monitoring visits to places of detention of civilians on both sides and handing over the basic necessities. The Russians visited our citizens, a total of 17 people, in places of detention in Luhansk Oblast on 23 April of this year.
Representatives of the Ukrainian Parliament Commissioner for Human Rights, together with the Nadiia non-government organisation, visited and handed over the previously agreed list of essential items to the 17 defendants detained on the territory of Ukraine on 3 May of this year."
Ukraine farms lose workers to war, complicating a tough harvest, Reuters reports. "Dutchman Kees Huizinga has faced many challenges in the two decades he has spent as a farmer in Ukraine. Russia's invasion has thrown up one challenge he never expected. Around 40 of his 350 workers have signed up to fight in the war, and the replacements he has found lack their experience. Huizinga fears this could mean a fall in grain and milk yields, and with them a drop in his income. […]
They said that assessing the impact of staff shortages on output is all but impossible – but just another complication in an already difficult campaign. Ukraine's grain output – long a driver of its export revenues and of global grain markets, is already down sharply because of a war that has disrupted exports, reduced access to fertilisers and made huge swathes of farmland inaccessible.
Steps by Kyiv to ring-fence the key agriculture sector from the military draft have had only a limited impact. […] A new recruitment drive since the start of this year as Ukraine prepares for a widely expected counteroffensive coincided with the annual sowing campaign, which was delayed because of heavy rains. […]
(For) all the farmers all over Ukraine, I think on average they lost like up to 15%, around 15% of their labour force to the army. Huizinga has willingly given machinery and money to the Ukrainian armed forces and says it makes sense for the military to take drivers used to working with heavy machinery such as combine harvesters, trucks or tractors. But he has keenly felt the departure 14 months ago of "his main guy", who repaired machinery in the fields. […]
Ukraine has long been known as the breadbasket of Europe. Its fertile black soil, large expanse of flat plains and deep Black Sea ports enabled the country to become a major exporter of grain across the world. Agricultural exports are vital to the economy, making up about 12% of gross domestic product before Russia's invasion and about 60% of all its exports, and are crucial to feeding some parts of the world including the Middle East and Africa.
But the invasion has upended much of that. Grain output is likely to have slumped to about 53 million tonnes in clean weight in the 2022 calendar year from a record 86 million in 2021. This year it could drop as low as 44.3 million.
Under a U.N.-brokered deal allowing the safe export of grain from three Ukrainian Black Sea ports that had been blocked after the invasion, Ukraine has been able to export 29.3 million tonnes of agricultural products including grains. However, the deal is in jeopardy as Russia has signalled it will not extend it unless the West facilitates the export of Russian grain and fertiliser, sales which it says have been impeded by Western sanctions imposed on Moscow.
Hoping to boost Ukraine's harvest this year, Kyiv has introduced a law that allows some farms to be designated as critically important to the economy, providing some exemptions from the call-up."
Russians launch mass cyber-attack on online service for queueing to cross border by trucks, Ukrainska Pravda reports, citing the press service of the Ministry of Infrastructure. "The Russians launched a cyber attack on YeCherha (E-Queue), the online service for booking a place to cross the border by truck. In addition, calls for cyber-attacks are spread by Russian propaganda channels.
The attention of Russians to E-Queue means that we are moving in the right direction and making innovative products. As of 11:00, we have already begun to record attacks on our service. Now specialists provide the necessary technical solutions in order to prevent Russians from influencing the work of E-Queue, said Anatolii Komirnyi, Deputy Minister for Digital Development, Digital Transformation and Digitalisation.
The system is currently running smoothly. In case of any changes, the drivers and carriers shall be informed swiftly. Apart from this, we note that the personal data of drivers and vehicle data registered in the system are protected and cannot be accessed by unauthorised persons despite the attempted cyber attacks, the department added.
The E-Queue service for signing up in queues at new checkpoints started working on Monday, 8 May."
Environmental
The EU proposed prohibiting access to ports for vessels that attempt to circumvent sanctions, transporting Russian oil priced above the caps

Reportedly, the 11th package of sanctions will focus on closing loopholes in the restrictions. https://t.co/UB6rzMx8VS pic.twitter.com/jOUWkt4W2Z

— Euromaidan Press (@EuromaidanPress) May 8, 2023
Operations suspended at Ukraine nuclear plant in case of 'provocations', Reuters reports. "Operations at the Zaporizhzhia nuclear plant are being suspended in case of "provocations" by Ukrainian forces, the TASS state news agency said on Monday, citing the Moscow-installed governor of the Russia-controlled part of the surrounding region. Russia captured the plant in the early days of its invasion of Ukraine last year.
Ukraine is expected to start soon a much-anticipated counteroffensive to retake Russian-held territory, including potentially in the Zaporizhzhia region, and Russian authorities have begun evacuating people. […]
The head of the U.N. nuclear power watchdog, Rafael Grossi, has previously said all six reactors at Europe's largest nuclear energy facility are already in "cold shutdown", meaning they are not producing electricity, but they are still loaded with nuclear material. Grossi warned on Saturday that the situation around the plant had become "potentially dangerous" as Moscow-installed officials began evacuating people from nearby areas."
Nuclear and radiation safety threats in Ukraine, as reported by the Ministry of Environmental Protection and Natural Resources of Ukraine.  "On April 27, British intelligence reported that Russian military personnel had set up firing positions on the roofs of the power units at the Zaporizhzhia Nuclear Power Plant (ZNPP). The photos show that Russian forces had set up firing positions with sandbags on the roofs of several of the six power units before March 2023. Russia has controlled the ZNPP since March 2022. However, this is the first indication that the power unit buildings have been integrated into tactical defense planning. Such actions by the Russian forces increase the likelihood of damage to the ZNPP's safety systems if fighting occurs around the facility.
On May 3, the State Nuclear Regulatory Inspectorate of Ukraine stated that representatives of the International Atomic Energy Agency (IAEA) had reported the placement by Russian occupiers of military equipment, weapons, and explosives in the turbine room of the 4th power unit at ZNPP.
The new criminal actions of the Russian occupiers are another step that causes significant harm to the nuclear and radiation safety of the nuclear facilities located at the industrial site of the Zaporizhzhia Nuclear Power Plant. The inadequate decisions and actions of the Russian military endanger both the personnel of the nuclear power plant and the residents of nearby settlements.
The Ukrainian parliament has appealed to the parliaments of the EU and all world countries, as well as to the IAEA, regarding the imposition of sanctions on Rosatom and the introduction of measures to reduce cooperation with the Russian Federation in the field of nuclear energy. The corresponding resolution was adopted by the Verkhovna Rada of Ukraine on May 2, 2023. The appeal calls for the start of work on a sanctions mechanism and its criteria that will be applied in the future if the nuclear terrorism of the Russian Federation intensifies."
Legal 
The Hague's Permanent Court of Arbitration has ordered Russia to cough up billions to Ukraine's energy giant in compensation for the losses from the annexation of Crimea. Will Russia actually pay? https://t.co/zeR03jHphq

— Euromaidan Press (@EuromaidanPress) May 8, 2023
1,444 children killed and injured due to Russian aggression in Ukraine, Ukrinform reports. "As a result of the Russian full-scale invasion of Ukraine, at least 1,444 children have been killed and injured. According to the official information from the juvenile prosecutors, 480 children have been killed and more than 964 have received injuries of varying degrees of severity, the Prosecutor General's Office reports.
As noted, these figures are not final. The efforts are ongoing to establish casualties in the areas of military operations, in temporarily captured and liberated territories."
Provocations and lies are eternal weapons of tyrants and aggressors, the Ukrainian General Staff reports. "The whole point of the war that Russia unleashed against Ukraine is that we are not them. We fight on the battlefield. They bomb maternity homes and train stations where civilians gather.
Our enemy is a terrorist state bent on sacred dates. Russia's "victorious" hysteria constantly requires new significant sacrifices and crimes in order to enlist the support of its own population. We see that many Russian cities plan to carry out parades on May 9th, including with the participation of children. It is not excluded that Russia is preparing provocations against its citizens. They repeatedly murdered their own people for political purposes.
The Armed Forces of Ukraine act exclusively within the framework of international humanitarian law and abide by the rules of war. People's lives are a key value for us. We do not fight against the civilian population and, in particular, against children."
Russia-captured civilians forced to dig trenches "no traitors" – Ukraine officials, Ukrinform reports, citing the Coordination Headquarters for the Treatment of Prisoners of War. "Captured civilians, whom the Russian invaders force to dig trenches in anticipation of a Ukrainian counteroffensive will not be considered traitors. On the initiative of the Civilians in Captivity non-governmental organization, a meeting with the families of civilian hostages held by the Russian Federation took place at the Coordination HQ. […]
The SBU official assured families of civilian hostages held by Russia that the work on the return mechanism never stops – both at the level of ombudspersons and at that of other agencies. […] It was noted that captured civilians, whom the Russians force to dig trenches in anticipation of a Ukrainian counteroffensive, will not be considered traitors.
We have to return all people to their families. And then the relevant agencies will find out who helped the enemy voluntarily, and who did so at gunpoint, said Kononenko."
Support
Ukrainian soldiers completed the latest four-week instructor training course in Lithuania

These servicemen will train other Ukrainian soldiers. Their skills and knowledge will be applied at military training centers, multiplying the result. https://t.co/Uzgkz3qCg8 pic.twitter.com/ZsPUCfOKtA

— Euromaidan Press (@EuromaidanPress) May 8, 2023
Poland transfers ten MiG-29 fighter jets to Ukraine, Ukrinform reports. "Poland has already transferred 10 MiG-29 fighter jets to Ukraine as part of military support. This was announced by Polish Defense Minister Mariusz Błaszczak during his visit to Canada.
According to Błaszczak, Poland is not trying to put pressure on its allies, but only trying to encourage them to help Ukraine defend itself against the aggressor. As reported, Poland is planning to transfer a total of 20 MiG-29 aircraft to Ukraine. As a replacement, Poland purchased 48 South Korean FA-50 aircraft."
Britain prepares to send long-range missiles to Ukraine, The Washington Post reports. "Britain, which has prided itself on being ahead of its Western allies in introducing new weapons systems to Ukraine, now appears poised to send Kyiv the long-range missiles the Biden administration has long denied it. In a procurement notice posted May 2 by the British-led International Fund for Ukraine, a group of northern European countries that has set up a mechanism to send weapons to the battlefield, the United Kingdom's Defense Ministry asked for "expressions of interest" in providing strike capabilities with a range of up to 300 kilometers, or nearly 200 miles. The notice asked for responses within three days.
No final decision has been made, according to a British official who declined to confirm the type, timing or quantity of weaponry under consideration. But the notice is a substantive step toward Britain itself supplying such munitions, and the requested specifications and capabilities closely match its air-launched Storm Shadow cruise missiles.
Ukraine has long pleaded with Western nations for longer range missiles, arguing that such weapons could change the course of the war by allowing its forces to target Russian command centers, supply lines, ammunition and fuel dumps deep inside Crimea and Russian-held territory in eastern Ukraine. As Kyiv prepares to launch a major counteroffensive as soon as within the next several weeks, the ability to strike far behind Russia's front lines would help clear the way for a ground assault with tanks and infantry troops.
Storm Shadows can be mounted on Ukraine's Soviet-made jets and reach into Russian territory. Kyiv has long sought that capability, and tried to ease Western escalation fears with pledges it would refrain from using donated weapons in such attacks. […]
Moscow has charged that Kyiv has adapted drones for long range use in what have been sporadic attacks deep inside Russia. Kyiv has not asserted responsibility for any of the attacks but has claimed its right to hit internal Russian targets with its own weapons.
Concerns that Ukraine would fire missiles at targets in Russia is a key reason the administration has repeatedly rebuffed Ukrainian pleas to supply long-range US munitions.
The United States has provided multiple-launch precision rocket systems, including the High Mobility Artillery Rocket System, or HIMARS, but only with munitions whose range is limited to about 50 miles. In a weapons package announced earlier this year, the Pentagon said it will send Ukraine Ground-Launched Small-Diameter Bombs (GLSDB) with double that range. They can also be fired from HIMARS, but delivery is not expected until later this year at the earliest.
HIMARS also has the capability to fire the Army Tactical Missile System, or ATACMS, a munition with a range equal to that of the Storm Shadow's 300 kilometers. But the Biden administration has been unyielding in denying Ukrainian appeals for those weapons, with Pentagon officials, in addition to fears of escalating the conflict, citing short supplies in US arsenals.
British Prime Minister Rishi Sunak has dismissed talk among Ukraine's benefactors of their depleted stockpiles. "If there is a moment in this conflict we can make a difference, why not seize it? What are we waiting for?" he asked of European allies at the Munich Security Conference in February. "What is the purpose of these stockpiles? If the weapons are degrading Russian armed forces, that is increasing our security."
Weeks before those remarks, according to a previously unreported file included among the classified US documents leaked online through the Discord messaging platform, US intelligence confirmed Britain intended to send Ukraine an unspecified number of Storm Shadow missiles, along with British personnel to aid in targeting. The United Kingdom will be the first country to provide Ukraine with longer range weapons, Sunak said in his Munich speech. […]
While US policy remains unchanged, Pentagon officials expressed no concern when asked about the prospect of Britain sending long range missiles to Ukraine. Each country makes their own sovereign decisions on what types of security assistance and what kinds of equipment they provide, said Pentagon press secretary Brig. Gen. Patrick Ryder. We commend the significant support that allies and partners from around the world, including the United Kingdom, are providing to Ukraine.
US lawmakers of both parties who support an aggressive stance have repeatedly urged the administration to provide Ukraine with ATACMS and F-16s. In a statement issued after late-January announcements by Germany and the United States that they, too, would send tanks, Democratic Sens. Richard Blumenthal (Conn.) and Sheldon Whitehouse (R.I.), along with Republican Lindsey O. Graham (S.C.) urged the Biden administration and our allies to send more long range artillery, such as ATACMS and fighter aircraft. […]
The distance between Ukrainian-held territory and Sevastopol, Crimea's largest city and the headquarters of Russia's Black Sea fleet, is within the range of the Storm Shadow, which was originally developed as an Anglo-French project in the early 1990s and is held in the arsenals of a number of countries in Europe and the Persian Gulf. Used by Britain in Iraq in 2003, and by Britain, France and Italy in Libya in 2011, it has been adapted to fit on a number of different aircraft.
The weapons would allow Kyiv's forces to adopt tactics already in use by Russia, which launches "cruise missiles [from aircraft] inside their own territory to be beyond Ukrainian air defenses," said Mark Cancian, a senior adviser to the Center for Strategic and International Studies International Security Program who has specialized in weapons systems used in the Ukraine war."
US to announce $1.2 billion in military aid for Ukraine -source, SWI reports. "The United States plans as soon as Tuesday to announce a new $1.2 billion military aid package for Ukraine that will include air defense systems, ammunition and funds for training, a US official said.
Ukraine will receive 155-mm Howitzer ammunition, counter-drone ammunition, and funding for satellite imagery as well as various types of training, said the official. 
The package is paid from Ukraine Security Assistance Initiative (USAI) funding which allows President Joe Biden's administration to buy weapons from industry rather than pull from US weapons stocks.
The military aid, first reported by the Associated Press, comes as Congress and the White House debate ways to avoid a default on the nation's debt, with many Republicans demanding sharp cuts in domestic spending in exchange for lifting the debt limit. However, members of both parties insist they support continued aid for Ukraine including top Republicans House Speaker Kevin McCarthy and Mitch McConnell, the top Republican in the Senate."
Fearing Russian capture, US strips sensitive tech from M1 Abrams tanks headed for Ukraine, USA Today reports. "Earlier this year, the Biden administration relented after months of pleas from Ukraine and agreed to send the country its most lethal armored vehicles: the Abrams tanks. But with Ukraine gearing up for an expected spring counteroffensive in its war with Russia, these powerful tanks are months away from reaching the frontlines of the battlefield. Abrams tanks won't be part of the initial spring assault.
That is because the tanks are being modified to remove sensitive technology that could fall into the hands of Russian forces. It is a necessary precaution in case the Russians capture one of the vehicles and exploit them for intelligence, US officials and military experts said. It may or may not present opportunities for Russia to do testing on it, and to look for vulnerabilities, said Colin Smith, an expert on the Russian military at the RAND Corp., a non-partisan think tank.
As is the case with other weapons, the US government sends stripped-down versions of its tanks to foreign governments. The Pentagon reserves its highest-end capabilities for US troops. A complicating issue with sending Abrams tanks to Ukraine, officials and experts say, is the probability that one will fall into Russian hands on the battlefield. […]
This time around, a big concern is armor protection on the more advanced version of the tanks and how that could be breached, Smith said. […] The lower-tech tanks the Ukrainians will receive won't have sensitive components that the Russians can exploit, according to two US officials who were not authorized to speak publicly about the issue. Both tanks share the same, powerful 120mm gun, but the more advanced M1A2 has improvements, including targeting systems. […]
Some military officials say the needed retrofitting is not delaying the deployment. Even if the tanks were ready today, the Ukrainians would not be ready to take them into combat, said Army Col. Martin O'Donnell, spokesperson for US Army Europe and Africa. The troops need about 10 weeks of training, which is set to begin later this month in Germany."
NATO allies need to spell out the concrete steps for Ukraine to become a member of the military alliance and move beyond repeating the standing position that it's welcome to join the bloc, according to Estonia's top diplomat. https://t.co/BClT9425h4

— Euromaidan Press (@EuromaidanPress) May 8, 2023
Ukraine receives EUR 189.32M from World Bank, Ukrinform reports, citing the Finance Ministry press service. "The general fund of Ukraine's state budget received EUR 189.32 million from the World Bank. Funds were provided on concessional terms from the International Development Association (IDA). The raised funds will allow to reimburse the priority social expenditures of the state budget, in particular, the financing of the wages of the public sector employees, as well as to further ensure sustainable state administration in Ukraine, said Minister of Finance Sergii Marchenko.
The funds will be directed to partial reimbursement of state budget expenditures made to ensure the payment of wages to employees of state bodies and teaching staff for February 2023.
The loan was provided under the Agreement on financing the project Public Expenditures for Administrative Capacity Endurance (PEACE) in Ukraine between Ukraine and the International Development Association (IDA). The repayment term is 10 years with a 4-year grace period.
As reported earlier, international partners provided Ukraine UAH 495 billion in 2022 to cover priority expenditures through the PEACE project."
New Developments
Since 2015, Ukraine has commemorated the victims of WWII on 8 May.

However, the Soviet legacy of 9 May as the victory day also remained. Until today, when President Zelenskyy signed the decree, making the 9 May the Day of Europe. https://t.co/IV7BZr7QJG

— Euromaidan Press (@EuromaidanPress) May 8, 2023
Assessment 
On the war. 
The Institute for the Study of War has made the following assessment as of  May 8, 2022:
Russian forces conducted limited ground attacks on the Kupyansk-Svatove-Kreminna line on May 8. The Ukrainian General Staff reported that Ukrainian forces repelled Russian ground attacks near Bilohorivka (10km south of Kreminna) and Spirne (26km south of Kreminna). A Russian milblogger claimed that Russian forces conducted unsuccessful ground attacks near Synkivka (8km northeast of Kupyansk), Nevske (19km northwest of Kreminna), and Makiivka (22km northwest of Kreminna). Geolocated footage published  on May 7 shows an unspecified element of the Russian 98thGuards Airborne (VDV) Division conducting a drone strike against Ukrainian positions south of Torske (16km west of Kreminna). […]
Russian forces have made marginal advances within Bakhmut as of May 8 amid reports of intensified Wagner Group forces offensive operations. Geolocated footage published on May 7 indicates that Russian forces likely made gains in western Bakhmut. Russian sources claimed on May 7 and 8 that Wagner fighters intensified assaults on Ukrainian positions in western Bakhmut and shelling of the area. Wagner financier Yevgeny Prigozhin claimed on May 7 that Wagner advanced 280m in Bakhmut and that Ukrainian forces currently control 2.37 square km of the city. A Russian milblogger refuted Russian claims that some Chechen Akhmat units have deployed to Bakhmut as of May 7. ISW has not seen any visual confirmation of Akhmat units operating in the area.  Russian milbloggers claimed on May 7 that Russian forces also increased assaults on Ukrainian positions near Bohdanivka (6km northwest of Bakhmut), Chasiv Yar (13km west of Bakhmut), and Orikhovo-Vasylivka (14km northwest of Bakhmut) and conducted assaults near Bohdanivka, Predtechyne (14km southwest of Bakhmut), and Ivanivske (6km west of Bakhmut) on May 8. Ukrainian Eastern Grouping of Forces Spokesperson Colonel Serhiy Cherevaty reported on May 8 that Russian forces conducted 29 assaults in the Bakhmut direction, and that increased artillery activity indicates that Russian forces in the area do not suffer from significant ammunition shortages despite Prigozhin's recent claims. Cherevaty stated that Russian forces continue to conduct attritional ground attacks as their main tactic in the Bakhmut area. Ukrainian Commander of the 127th Territorial Defense Brigade Roman Hryshchenko reported on May 7 that additional Wagner personnel arrived and are operating in the city, leading to an increased intensity of assaults. Hryshchenko stated that Ukrainians have not observed any indications that Wagner intends to leave the city and that intensified shelling likely indicates that Wagner has received more ammunition. The Ukrainian General Staff reported on May 8 that Russian forces conducted unsuccessful offensive operations near Khromove (immediately west of Bakhmut), Ivanivske, Chasiv Yar, ad Stupochky (14km southwest of Bakhmut).
Russian forces continued limited offensive operations along the Avdiivka-Donetsk front on May 8. The Ukrainian General Staff reported that Russian forces conducted unsuccessful offensive operations near Avdiivka, Pervomaiske (11km southwest of Avdiivka), and Marinka (27km southwest of Avdiivka). Russian Southern Grouping of Forces Spokesperson Vadim Astafyev claimed that Russian forces repelled a Ukrainian reconnaissance-in-force operation in the Avdiivka area.
Russian forces did not conduct any confirmed ground attacks in western Donetsk Oblast on May 8. Russian Eastern Grouping of Forces Spokesperson Alexander Gordeev claimed that Russian forces repelled a Ukrainian reconnaissance-in-force operation in an unspecified location in western Donetsk Oblast.
Russian forces conducted another large-scale missile and drone strike against Ukraine on the night of May 7 to 8. The Ukrainian General Staff reported on May 8 that Russian forces launched 16 missiles at Kharkiv, Kherson, Mykolaiv, and Odesa oblasts, and that Ukrainian forces shot down all 35 launched Shahed drones. Kyiv Mayor Vitaly Klitschko stated that Ukrainian forces shot down 36 Russian drones targeting Kyiv out of a 60 total launched against Ukraine, however.  Klitschko did not specify how many total drones Ukrainian forces shot down elsewhere in Ukraine. Klitschko's report is more likely accurate as it was posted nearly four hours after the initial round of Ukrainian reporting on the Shahed strike. The Ukrainian Red Cross stated that one Russian missile destroyed an entire Red Cross warehouse in Odesa Oblast. Russian milbloggers celebrated claims that Russian forces intensified strikes against Kyiv, with one milblogger claiming that Russian forces conducted the largest strike campaign against Kyiv since the start of the war. Russian sources are likely overcompensating for the ineffectiveness of the drone strikes by playing up the size and scale of the effort.
Senior Ukrainian officials indicated that Ukrainian forces may be preparing to conduct counteroffensive operations in May or June. Ukrainian President Volodymyr Zelensky stated on May 7 that Ukrainian forces are preparing for "new events" in May or June 2023. Ukrainian Deputy Defense Minister Volodymyr Havrylov stated in a May 8 interview that the timing and location of a Ukrainian counteroffensive is not significant because Russian forces and leadership will panic regardless, but that he would not be surprised if "something," possibly alluding to Ukrainian counteroffensive operations, occurred in May or June. The Ukrainian Defense Forces Military Media Center stated that Russian forces continue to transfer military equipment, ammunition, and supplies to Ukraine to prepare for a defensive operation against a Ukrainian counteroffensive push.
Russian-occupied Transnistria asked Russia to increase its peacekeeping contingent in the region, likely to support the Kremlin's efforts to destabilize Moldova. A Transnistrian occupation representative to Moscow, Leonid Manakov, asked Russia to increase the number of peacekeepers in Transnistria due to claims of increasing security and terrorist risks. Manakov proposed that Transnistria increase the number of peacekeepers by involving the Russians living in Transnistria in the peacekeeping operations. Manakov's statement follows reports of Moldovan prosecutors detaining and cracking down on the members of the pro-Russian "Shor" party in mid-April and May. Chisinau detained 27 protestors from the "Shor" party on May 7. Kremlin's Spokesperson Dmitry Peskov did not comment on Manakov's proposals. White House officials warned in March that individuals linked with Russian intelligence were planning to stage protests against the Moldovan government in order to install a pro-Russian administration. Manakov's statements are likely a continuation of the Kremlin's effort to destabilize Moldova. Russia remains unlikely to deploy additional forces to Transnistria given its ongoing need for forces in Ukraine.
Russian President Vladimir Putin is attempting to use the Moscow Victory Day parade to show Russia's continued influence in Central Asia. Kazakh President Kassym-Jomart Tokayev, Kyrgyz President Sadyr Japarov, Uzbek President Shavkat Mirziyoyev, and Tajik President Emomali Rakhmon are reportedly attending the Victory Day parade in Moscow on May 9. Kremlin-affiliated news outlet Vedemosti reported Japarov's visit to Moscow for Victory Day on April 23, while Russian media reported Tokayev's, Mirziyoyev's, and Rakhmon's visits on May 8, only one day before the Victory Day parade in Moscow. Russian independent news outlet SOTA reported that Rakhmon's press service initially announced that Rakhmon would celebrate in Dushanbe, but later stated that Rakhmon had arrived in Moscow for Victory Day. Kremlin newswire TASS reported that Putin also invited Turkmen President Serdar Berdymukhamedov but he did not confirm his attendance. No foreign leader attended Moscow Victory Day in 2022, and Kazakhstan, Kyrgyzstan, and Uzbekistan did not hold Victory Day parades in 2022 with some citing health risks from the coronavirus pandemic. The late announcement of Central Asian leaders' attendance likely indicates their reticence to show direct and public support of the war despite Kremlin efforts to project power. Belarusian President Alexander Lukashenko and Armenian President Nikol Pashinyan reportedly also flew to Moscow to attend the Victory Day parade.
Key Takeaways
Russian forces conducted another large-scale missile and drone strike against Ukraine on the night of May 7 to 8.
Senior Ukrainian officials indicated that Ukrainian forces may be preparing to conduct counteroffensive operations in May or June.
Russian-occupied Transnistria called on Russia to increase its peacekeepers in the region likely to support the Kremlin's efforts to destabilize Moldova.
Russian President Vladimir Putin is attempting to use the Victory Day parade to show Russia's continued influence in Central Asia.
Russian forces conducted limited ground attacks on the Kupyansk-Svatove-Kreminna line.
Russian forces have made marginal advances within Bakhmut as of May 8 amid reports of intensified Wagner Group forces offensive operations and continued ground attacks along the Avdiivka-Donetsk City line.
Russian forces continued defensive operations in southern Ukraine.
Russian authorities have reportedly escalated their campaign targeting ethnic minorities for contract service in the Russian military.
Russian occupation authorities continued to forcibly evacuate civilians in rear areas in Kherson and Zaporizhzhia oblasts.
Czech President warns Ukraine against hurried counter-offensive, Ukrainska Pravda reports, citing Petr Pavel in an interview with The Guardian. "Czech President Petr Pavel has privately warned the Ukrainian leadership against the disaster of a hurried counter-offensive. During recent meetings in Kyiv of the Czech President with President Volodymyr Zelenskyy and Prime Minister Denys Shmyhal, Pavel warned that Ukraine's Armed Forces lack the element of surprise that contributed to the successful assault on Kharkiv and Kherson oblasts last autumn. […]
Kyiv recognises that there are gaps in Ukraine's ability to attack Russian troops successfully. Apparently, they still have a feeling that they do not have everything to start an operation successfully, Pavel said.
As preparations are still underway, Pavel has appealed to Ukraine's PM during meetings last week not to be pushed into a faster pace before they are fully prepared, the Czech leader said. Because it might be a temptation to push them, for some, to demonstrate some results, he explained. It will be extremely harmful to Ukraine if this counteroffensive fails, because they will not have another chance, at least not this year, Pavel said.
According to him, Ukraine will inevitably face terrible losses regardless of the strength of its troops, and they cannot afford to fail. Because it's extremely demanding in terms of putting together personnel equipment, ammunition logistics, fuel financing. It will simply be one chance this year, so it has to be successful, he stressed."
Russia using loitering munitions more often, trying to disrupt Ukraine's preparation for counteroffensive, Ukrinform reports, citing the Military Media Center. "The aggressor continues to actively redeploy additional weapons, military, and special equipment from the territory of the Russian Federation to the operational areas and to build up cruise and ballistic missiles and combat UAVs. In addition, the Russian aggressors continue to fortify the defence positions in the temporarily occupied Ukrainian territories.
At the same time, the enemy goes on the offensive in certain directions with the aim of capturing new territories in the eastern regions of Ukraine. The Russian troops take measures to exhaust and restrain the defence potential of Ukraine as much as possible and to hinder the preparation of Ukrainian troops for a possible counteroffensive. For this, in particular, the use of loitering munitions was intensified."
Ukraine's Defence Intelligence explains why Wagner Group founder so actively comments on Ukrainian counteroffensive, Ukrainska Pravda reports, citing RBC-Ukraine. "Andrii Yusov, the representative of the Defence Intelligence of Ukraine, believes that the statements of Yevgeny Prigozhin, the head of the Wagner Private Military Company, about the Ukrainian offensive are part of the preparation of Russian elites for life after defeat in the war with Ukraine.
People like Prigozhin, when we talk about Russian so-called society, if they say something, they say it not only on their own behalf but on behalf of their partners, patrons, who allow such statements and such speeches. A part of the Russian so-called political and ruling elite is considering various scenarios, including planning some kind of life after Putin, after the defeat in the war with Ukraine. That's why they are preparing for various apocalyptic (but actually realistic) scenarios for Russia. 
I think that this is not even one wing; these are different environments that can compete with each other. For example, Prigozhin and Girkin, to put it mildly, do not like each other in the public sphere. But their narratives often point to the same problems in the occupying army. Therefore, they are different environments. In his opinion, the number of "environments" will only grow. 
Yusov called Prigozhin's statement about the withdrawal of the Wagnerites from Bakhmut a preparation for "searching for the extreme" in the future: "If in a few months the situation for the Russian army is miserable on several fronts, including in the east, they will be looking for the blame game. Of course, in this situation, Prigozhin will show his statements from a few months ago and say: 'I'm definitely not the last man standing.'."
Consequences and what to do?
NATO air force was put on alert due to Polish aircraft interception by Russian Su-35, Ukrainska Pravda reports, citing RMF FM. "On Friday, a Russian Su-35 fighter jet performed a dangerous interception of an L410 TURBOLET aircraft belonging to the Polish Border Guard Service, which was on a scheduled patrol mission under the auspices of Frontex over the Black Sea in international airspace in cooperation with Romanian services. The incident happened around 13:20, 60 km to the east of Romanian airspace.
The Ministry of National Defence of Romania reported that the aggressive and dangerous manoeuvres repeatedly carried out by the fighter jet of the Russian Federation near the Polish plane caused high turbulence and difficulties in controlling the aircraft.
Two Romanian Air Force fighter jets and two Spanish Air Force fighter jets, which were operating as part of the Air Police Combat Service, were alerted by NATO's Joint Air Operations Center in Torrejón, Spain. They were ready to intervene at the first opportunity, but it turned out that there was no need for this. […]
The Romanian authorities are in contact with Frontex and the Polish authorities to find out all the circumstances of the incident. The aggressive behaviour of a military aircraft belonging to the Russian Federation towards an unarmed aircraft carrying out the Frontex mission of monitoring migration risks in the Black Sea basin is unacceptable. This incident is another proof of the provocative behaviour of the Russian Federation in the Black Sea, the Ministry of Defence of Romania reports in its communiqué.
The Polish L410 UVP-E20 aircraft is in Romania from 19 April to 17 May 2023 as part of the multipurpose maritime operation Western Black Sea 2023, coordinated by the European Border and Coast Guard Agency.
The Western Black Sea 2023 is a joint operation led by Romania and coordinated by Frontex. Poland, Spain, and Sweden also participate in the operation with two European Union agencies. Planned to last until mid-December this year, the operation aims to prevent illegal migration, illegal fishing, and sea pollution and combat other types of cross-border crime in the Black Sea region. Operation Western Black Sea has been conducted annually since 2019.
Citing a leaked Pentagon paper, the Washington Post reported that on 29 September, a Russian fighter jet came dangerously close to shooting down an unarmed British spy plane over the Black Sea last year."
8 more strike drone companies formed in Ukraine, Ukrainska Pravda reports, citing Mykhailo Fedorov, Deputy Prime Minister and Minister of Digital Transformation. "Eight new strike drone companies are ready for battle, they have received pickup trucks, attack helicopters and FPV drones. Fedorov emphasised that all drones are Ukrainian-made.
He also added that the authorities continue to remove obstacles to the development of Ukrainian companies, and there are many changes ahead so that thousands of drones will be produced in Ukraine every month for the needs of the defence forces.
Fedorov called the creation of strike companies an unprecedented and timely step. The three strike companies that we launched a few months ago have already seen some successful results at the front line. The top priority is to provide other units with the due technology. This will bring victory closer and save the lives of our soldiers," concluded the minister of digital transformation."
Hans Petter Midttun: My latest article "We have stopped discussing the worst-case scenario in Ukraine. That is a mistake" was published today.
"More than nine years after the war started, strategic messaging from politicians and high-ranking officers advising them on military matters is still not fully aligned.
There is a huge gap between political – and therefore, public – expectations and the expectations of the military community. A kind of euphoria has descended over the West, and many have already concluded that Ukrainian victory is inevitable. It is not.
Military communities, however, see beyond the initial success. The reasons for Ukrainian success and Russian failures are understood. Russia's efforts to close some of the lessons identified and improve its tactics and strategy are continuously being evaluated.
When the politicians say Ukraine is receiving everything it needs to conduct a successful counteroffensive, their military advisors know that this is not the case.
Ukraine is about to start doing what Russia has failed to achieve for 16 months while suffering enormous casualties. Ukraine suffers, however, a handicap: It lacks Air Power and Air Defence.
When politicians express high expectations for the forthcoming Ukrainian offensive and argue that Ukraine must succeed for them to maintain public support for continuous defence aid, I fear the politicians demonstrate the enduring disconnect between politicians and military advisors.
We have stopped discussing the worst-case scenario. That is a mistake.
The West needs to stop fearing the unknown. It needs to fear the potential outcome of the ongoing war in and against Europe. Not least, it needs to start taking advice from its military advisors.
Ukrainian initial success is in part a result of Ukrainian politicians taking advice from its Armed Forces. The US and Europe should follow Ukraine's example.
The consequences of anything but a Ukrainian victory are dramatic to European security and stability."
Tags: Russian invasion