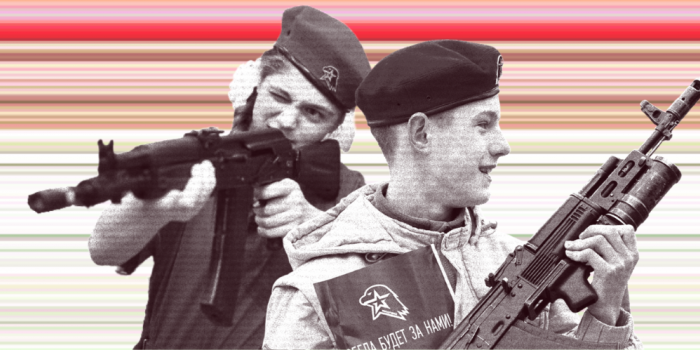 Source: imi.org.ua 
Expanding its program to create "Putin's faithful soldiers" to occupied Ukrainian territories, Russia has added summer "military" camps, "patriotic" clubs, and "bravery" lessons in the school curriculum aimed to brainwash Ukrainian children and eventually recruit them for a battle against their homeland, according to the
Institute of Mass Information
.
Following the full-scale invasion of Ukraine, Russia has changed the national education program and included mandatory "basic military training" and "patriotism" lessons in the school curriculum in the occupied territories, the Institute of Mass Information said April 5. Today, in Russian classes, boys and girls learn to use assault rifles and provide battlefield first aid, while they also absorb the Kremlin's standpoint on the war in Ukraine, which portrays the 2014 annexation of Crimea as a "reunification" and the invasion as a "liberation."
In the occupied territories of Ukraine, Russian authorities are trying to weaponize the education process with even greater ferocity and cynicism, compelling schools and universities to promote military service, indoctrinating young minds with propaganda narratives, and threatening those who resist Russia's armed aggression with deportation or torture.
Russia plans to use Ukrainian children to kill other Ukrainians
As well, according to the 16 March report by the UN Independent International Commission of Inquiry on Ukraine, Russian troops have violated numerous international laws and committed war crimes during their occupation of Ukraine through willful killings, unlawful confinement, torture, rape, other sexual violence, and deportation of children.
UN report accuses Russia of war crimes in Ukraine: Torture, sexual violence, and murder revealed
In addition to numerous cases of violence against civilians, Ukrainian officials have documented incidents of forced mobilization by the occupying forces.
These efforts are seen as an attempt to overcome a conscription crisis in Russia by compelling Ukrainians to fight against their fellow citizens – potentially even their own neighbors, friends, or relatives.
Ukrainian children, who have become a primary target of Russian authorities, are probably the most vulnerable group in the war.
On 6 February, the National Resistance Center reported that occupiers set up "pre-conscription" training classes for Kherson Oblast school students in grades 10-11 to promote service in the Russian army. According to the Center, the Russian occupation administrations in Skadovsk, Kalanchak, Novotroitsk, and Genichesk districts established "cadet" classes in local schools, where boys aged 15 receive "deep" military education. Moreover, to motivate Ukrainian teenagers, Russian invaders promise high-ranking positions in the Russian military if they complete military training classes.
In the occupied Donetsk Oblast, Russian soldiers armed with assault rifles regularly conduct so-called "bravery" lessons in schools, as reported by Petro Andriushchenko, the adviser to the mayor of Mariupol. As the propaganda seeks to create a favorable image of invaders, teachers – collaborators in classes portray invaders as heroic liberators and "cool guys" needing help. Andriushchenko added that earlier, students at Azov University in Mariupol were compelled to donate blood for the Russian military.
In occupied Mariupol, armed Russian soldiers teach schoolchildren about the "heroism of the Russian Army"

Earlier, Petro Andrushchenko, an adviser to Mariupol's mayor, said that students of Azov University were forced to donate blood for invaders https://t.co/UAGNhqWg3r pic.twitter.com/0p0wqeGGIx

— Euromaidan Press (@EuromaidanPress) April 15, 2023
Furthermore, in 2022, the Mariupol City Council shared images from a "summer camp" in Melekino, where the youngest Ukrainians were taught to shoot and hate their homeland while dressed in red Soviet-style uniforms.
In March 2023, Russian occupiers in Zaporizhzhia Oblast announced the formation of the "Voluntary Youth Brigade," which would collaborate with law enforcement services, police, and the army. The National Resistance Center asserts that Russian invaders established the organization in a revival of Soviet-era practices, not only to coerce Ukrainian children into joining Russian propaganda centers, but also "to share responsibility for service" with them. In addition, Ukrainian children are routinely made to write warm words on cards to invaders, sing the Russian anthem, and put together care parcels for the front, according to the Mayor of Melitopol, Ivan Fedorov.
From a legal perspective, Russia's mandatory drafting of civilians in the occupied territories is a clear violation of Article 51 of the Fourth Geneva Convention on the Protection of Civilians during War, which says, "The Occupying Power may not compel protected persons to serve in its armed or auxiliary forces. No pressure or propaganda which aims at securing voluntary enlistment is permitted."
In addition to the breaches of the Geneva Convention, the Institute of Mass Information has found that Russian authorities could be prosecuted for violations of the UN's Convention on the Rights of the Child, the Optional Protocol to the Convention on the Rights of the Child on the Involvement of Children in Armed Conflict, and the African Charter on Human and People's Rights.
However, it appears that the Kremlin is not concerned with criminal accountability. Currently, the Russian government is drafting a law that would introduce an educational measure (a form of punishment) for a child who commits a crime, such as handing a child over for re-education to one of the hundreds of pro-Kremlin volunteer organizations such as the "Russian Movement of Children and Youth." As Russian authorities are desperately trying to increase school enrolment in occupied territories, the law could be used to pressure parents and children to attend propaganda lessons.
How schoolchildren in Russian-occupied Ukraine are taught to hate their homeland
Rifle assembly in kindergartens
In 2016, one year after a decree of President Vladimir Putin established the Russian Movement of School Children and Youth, the organization signed an agreement with the largest military youth association in Russia, the Young Army Cadets National Movement (Yunarmiya).
The agreement aimed to establish a central hub for developing Russia's military and patriotic education system. Today, more than 1.2 million parents, teachers, and students have joined Yunarmiya, which promotes the Russian war against Ukraine and advocates for introducing specialized military (cadet, "Cossack," and other) classes in schools.
To achieve the Kremlin's recruitment objectives for children, Russian authorities have launched courses and clubs where children undergo combat and tactical training and participate in military-sport games. In addition to these activities, teenage members of the Yunarmiya conduct "patriotic lessons" for preschoolers, teaching them how to assemble AK-47 Kalashnikov rifles and to hate Ukraine.
The Crimean Human Rights Group coordinator, Olga Skripnik, said that units of the Yunarmiya have been established in nearly every school in annexed Crimea, involving at least 10,000 children, as reported by Qirim.News.
"The education system in occupied Crimea was built in such a way that it is not, in fact, an education but a propaganda of military service, propaganda of a cult of war, falsification of historical facts, and disinformation of children," Skripnik emphasized.
Since the beginning of the full-scale war in 2022, Russians have been attempting to recruit Ukrainian children into Yunarmiya in Kherson, Donetsk, and Zaporizhzhia oblasts, according to Vladyslav Nazarov, the spokesperson for the Operational Command South.
Apart from the Yunarmiya, other clubs, organizations, and movements in Russia also teach children to follow orders and be loyal to the Kremlin's regime. For instance, the youth club "Leader" in St. Petersburg is linked to the infamous Wagner PMC's owner Yevgeny Prigozhin.
Video of ISIS-style execution of Ukrainian POW shared by Russian TG channels
The Russian oligarch himself does not hide his connection to the organization, stressing that the club's mission is to "provide a comfortable environment for generating new ideas aimed at increasing Russia's defense capability."
Members of "Leader" are taught how to operate UAVs and are involved in financial support for the Russian Army.
Furthermore, it became known that at the end of 2022, on the initiative of Russian ombudsman Maria Lvova-Belova and head of Russia's Chechnya region, Ramzan Kadyrov, 200 Ukrainian teenagers were forcibly taken from the occupied territories of Donetsk and Luhansk Oblast to Chechnya for lessons on "the heroism" of Russian troops and military training at the specialized camp called "Gorsky Key."
The Institute of Mass Information has also revealed that Ukrainian children who were illegally deported to Russia and placed in orphanages are being exploited in propaganda news reports and engaged in trench candle production.
In response to the illegal and forcible deportation of children from the occupied territories, the International Criminal Court has issued an arrest warrant for the Russian president and Maria Lvova-Belova.
According to the Court, the investigation uncovered sufficient evidence to hold Putin accountable for crimes against children, including "his failure to exercise control properly over civilian and military subordinates who committed the acts and were under his effective authority and control."
Related:
Tags: Children, militarization, propaganda, Russian occupation