Russian missiles rain into Ukraine overnight, injuring 25 in Dnipropetrovsk Oblast; Ukraine hits Russia-occupied Berdiansk airport as Russia slowly progresses in Bakhmut. The UK will purchase long-range missiles for Ukraine in the "near future." 
Situation
According to information from the General Staff as of 06.00 01.05.2023, supplemented by its [18:00 assessment].
[toggle]
"[Russian aggressors don't give up plans to occupy Ukraine and continue its war against our State. Russia continues to target both civilian and military targets.]
The Russian Federation continues to use terror tactics. On 30 April, Russian forces launched 5 missile attacks on the cities of Kramatorsk, Kostyantynivka, and Pavlohrad. In addition, the invaders launched 27 air strikes and 45 MLRS attacks at the positions of Ukrainian troops and settlements, killing and wounding civilians.
The likelihood of missile and air strikes across Ukraine remains high.
Russian forces continue to focus their main efforts on the offensive operations on Bakhmut, Avdiivka, and Marinka axes. On April 30, Ukrainian defence forces repelled more than 36 enemy attacks in the above areas of the frontline. Bakhmut and Mar'inka remain at the epicentre of the fighting, Ukrainian soldiers are standing their ground.
Volyn and Polissya axes: no signs of the formation of offensive groups were found. Certain units of the Russian armed forces remain stationed in the territory of Belarus.
Sivershchyna and Slobozhanshchyna axes: Russian forces launched air strikes on the settlements of Krasnyi Khutir (Chernihiv oblast), Seredyna-Buda (Sumy oblast) on 30 April. The invaders mortars and artillery at the settlements of Mykolaivka, Halahanivka, Arkhypivka, Leonivka, Oleksandrivka (Chernihiv oblast), Seredyna-Buda, Prohres, Druzhba, Bachivs'k, Sopych (Sumy oblast), Chervona Zorya, Veterynarne, Strilecha, Hlyboke, Krasne, Vovchans'k, Chernyakove, and Loshakove (Kharkiv oblast).
Kupiansk axis: Russian forces offensive did not conduct any active operations. The invaders fired artillery and mortars at Kam'yanka, Krasne Pershne, Novomlyns'k, Dvorichna, Lyman Pershyi, Kyslivka, Berestove (Kharkiv oblast), and Novoselivs'ke (Luhansk oblast).
Lyman axis: Nevske, Dibrova, Bilohorivka (Luhansk oblast), Kolodyazi, Tors'ke, Verkhn'okam'yans'ke, Spirne, and Rozdolivka (Donetsk oblast) were shelled with artillery.
Bakhmut axis: Russian forces continue their offensive operations. Battles in the city of Bakhmut continue. In addition, Russian forces conducted unsuccessful offensive actions towards the settlements of Bohdanivka, Ivanivske, and Oleksandro-Shul'tyne on 30 April. Vasyukivka, Orikhovo-Vasylivka, Novomarkove, Hryhorivka, Bakhmut, Chasiv Yar, Ivanivske, Kostyantynivka, Bila Hora, Oleksandro-Shul'tyne, Dyliivka, Pivnichne, Zalizne, Pivdenne, and New York (Donetsk oblast) suffered from enemy shelling.
Avdiivka axis: the adversary conducted offensive operations in the vicinity of the settlements of Avdiivka and Pervomais'ke, to no success. The invaders shelled Novokalynove, Avdiivka, Tonen'ke, Sjeverne, Netaylove, Karlivka, Vodyane, and Pervomais'ke (Donetsk oblast).
Marinka axis: the adversary keeps attacking the positions of the Ukrainian Defense Forces. Fighting for Maryinka continues. Krasnohorivka, Pobjeda, and Novomykhailivka (Donetsk oblast) were shelled by Russian forces.
Shakhtarske axis: Russian forces did not conduct any offensive operations on 30 April. The invaders shelled the settlements of Vuhledar, Prechystivka, Novoukrainka, and Zolota Nyva (Donetsk oblast).
Zaporizhzhia and Kherson axes: the adversary stays on the defensive. The invaders shelled numerous settlements, including Vremivka, Burlats'ke, Novosilka, Novopil' (Donetsk oblast), Ol'hivs'ke, Hulyaipole, Bilohir'ya, Mala Tokmachka, Novodanylivka, Novoandriivka, Novoyakovlivka, Kam'yans'ke (Zaporizhzhia oblast), Kherson, Odradokam'yanka, and Bilozerka (Kherson oblast). The occupant forces launched an air strike at the settlement of Kizomys (Kherson oblast).
The adversary keeps replenishing its casualties with convicts. Recently, about 400 convicts recruited by PMC Wagner have arrived in one of the occupiers' field camps in the Berdiansk district (Zaporizhzhia oblast).
A similar replenishment is expected in the vicinity of Luhansk. Up to 200 convicts are known to be trained at one of the training grounds near the city. The training is planned for several weeks. The troops of the commandant's company, which will safeguard this group of recruits, have been ordered to fire for effect in case of any attempts to escape or disobedience.
The so-called leadership of Luhansk Oblast is working on alienating the real estate of Ukrainian citizens who have left the temporarily occupied territories of the Oblast. The seized property is to be handed over to law enforcement agencies and the military.
[Local hospitals of the temporarily occupied Luhansk are finding it increasingly difficult to cope with the growing number of wounded. A group of medical workers, in particular, surgeons, recently arrived in the city from the Moscow region to treat and rehabilitate Russian soldiers. The official purpose of the visit is to exchange experience and help medical institutions in Luhansk.]
[Recently, irreversible losses from the residents of Luhansk and its region who were forcibly mobilized to the Russian army amount to about 70 people per day. In order to prevent possible manifestations of discontent among the population, ritual services are recommended to adjust the number of people present at funeral processions to 6 people. In addition, in this context of the so-called "MDB" insists precisely on cremation of the dead instead of burial.]
On 30 April, the Ukrainian Air Force launched 4 air strikes on the concentrations of the adversary troops and intercepted 1 Orlan-10 type reconnaissance UAV of Russian forces. In the meantime, Ukrainian missile and artillery troops hit 5 concentrations of troops, 1 ammunition depot, 2 concentrations of enemy artillery, and 1 logistics centre of the Russian occupiers."
[/toggle]
Air defence systems repelling Russian missile attacks in Kyiv region, officials say, Reuters reports. "Air defence systems were repelling missile attacks in the early hours on Monday in the Kyiv region, local authorities said, after air raid alerts were issued throughout all of Ukraine by emergency services. […] Ukrainian media also reported blasts in the Dnipropetrovsk and Sumy regions."
"Around 02:30 in the morning, the Russian invaders attacked Ukraine from strategic aviation planes – nine Tu-95s from the Olenegorsk region (Murman region) and two Tu-160s from the Caspian Sea region. A total of 18 Kh-101/Kh-555 air-based cruise missiles were launched. The forces and means of air defense of the Air Force of the Armed Forces of Ukraine destroyed 15", Ukrainian General Staff reports.
Ukraine says it still holds parts of Bakhmut, Russia reports progress, Reuters reports. "Ukraine said on Sunday its troops were holding onto parts of the eastern city of Bakhmut, focus of a prolonged Russian assault, while the head of a major pro-Moscow force said his men were making progress.
Russian forces, which have struggled for months to capture Bakhmut, are slowly taking over more and more of the city. Fierce fighting continues in the city of Bakhmut. The enemy is unable to take control over the city, despite throwing all its forces into the battle and having some success, said Ukrainian deputy defence minister Hanna Maliar.
The defence of Bakhmut is coping with its military tasks," she said in a Telegram post. The Ukrainian military does not reveal exactly how much of the city is in Russian hands. Separately, Serhiy Cherevatyi, a spokesperson for Ukrainian troops in the east, told the ICTV channel it was still possible to supply the Bakhmut defenders with food, ammunition and medicine and evacuate the wounded."
Invaders direct all resources to Bakhmut, defence of city ongoing – Maliar, Ukrinform reports, citing Ukrainian Deputy Defense Minister Hanna Maliar . "According to her, in the north of Ukraine, from the Belarusian side, no signs of offensive groups' formation were detected. Units of the Russian armed forces are maintaining presence in Belarus. In Russia's regions bordering Ukraine, the enemy continues to maintain a certain number of troops and carry out mortar and artillery fire.
In the south, the enemy holds the defense. The enemy's offensive has been ongoing during the current week in three directions – Bakhmut, Avdiivka and Marinka, Maliar said.
In the Lyman direction, the enemy periodically reduces its activity, as they suffer setbacks due to the active defense of Ukrainian troops. During the week, the enemy had little success in certain areas, but our defenders recaptured the lost positions, Maliar noted.
It is the hottest now in Bakhmut and Marinka. The enemy continues to attack in the Bakhmut sector. Fierce battles are ongoing in the city of Bakhmut. The enemy is not able to take control of the city, despite the fact that they threw all resources into the battle and even had success in some areas. Our fighters repel numerous attacks and conduct counterattack in certain sectors."
Ukrainian forces hit Berdiansk airport with many Russian occupiers, ammo inside, Ukrinform reports, citing Advisor to Mariupol Mayor Petro Andriushchenko. "The Armed Forces of Ukraine have struck an airfield in the Zaporizhzhia region's temporarily occupied city of Berdiansk. According to Andriushchenko, there were many Russian invaders and ammunition loads within the airport.
A reminder that on the evening of 30 April 2023, blasts were heard in the Zaporizhzhia region's temporarily occupied city of Berdiansk. Local social media pages were reporting on at least two powerful explosions."
Ukrainian forces likely attacked an oil storage facility in Sevastopol reportedly with a wave of Mugin-5 UAVs on April 29, Institute for the Study of War reports. "Occupation governor of Sevastopol Mikhail Razvozhaev stated on April 29 that a Ukrainian UAV struck an oil tank near Kozacha Bay and caused a fire over 1,000 square meters in extent. […] Crimean occupation head Sergey Aksyonov stated the attack did not result in any casualties. Ukraine has not formally taken credit for the attack. […] 
Some milbloggers argued that this attack highlights the effectiveness of using low-cost drones for swarm attacks and underscores the need for Russian forces to saturate the Crimean air space with more air defense systems."
"Panic rumours" spread in Sevastopol after fire at oil depot – General Staff, Ukrainska Pravda reports, citing the Ukrainian General Staff. "The situation in temporarily occupied Sevastopol is restless. As a result of yesterday's large-scale fire that broke out at an oil depot near Kozacha Bay, 10 tanks containing oil products with a total capacity of about 40,000 tonnes were destroyed. In connection with this, panic rumours about the inability of Russian air defence to ensure the security of its own strategic facilities have spread in the city.
The General Staff adds that the oil depot that was on fire was used to provide fuel to the ships of the Russian Black Sea Fleet, which had been launching missile strikes on peaceful cities in Ukraine."
Ukrainian military official on oil depot explosion in Sevastopol: Preparatory work for offensive actions, Ukrainska Pravda reports. "Nataliia Humeniuk, Head of the press centre for Operational Command South, has said that the fire at the oil depot in occupied Sevastopol is a preparation for active Ukrainian army actions. Humeniuk noted that undermining Russian logistics is one of the elements in preparation for active actions by the Ukrainian Defence Forces. This work is preparatory to the broad, full-scale offensive that everyone expects."
Battles in some areas take place at distances of up to 50 metres – National Guard Spokesman, Ukrainska Pravda reports, citing spokesman of the National Guard, Ruslan Muzychuk. "He said that the front line hardly moved during the week, and the main battles are taking place on the Lyman, Bakhmut, Avdiivka and Marinka fronts. Street battles continue at minimal distances on the Marinka and Bakhmut fronts. Muzychuk emphasised that combat clashes sometimes occur at distances of less than 50 metres. The National Guard spokesman said that the Armed Forces are forced to act as quickly as possible due to such close combat."
Prigozhin afraid of Ukrainian counterattacks in Bakhmut – ISW, Ukrinform reports, citing the Institute for Study of War (ISW). "Wagner Group financier Yevgeny Prigozhin fears that the Russian positions in Bakhmut's rear are vulnerable to counterattacks by the Ukrainian army.
Prigozhin threatened to withdraw Wagner forces from Bakhmut if the Russian military command fails to provide more ammunition to the Wagner mercenaries. On April 29, he said that the Wagner mercenaries will continue to fight in Bakhmut but will need to withdraw in an organized manner or stay and die if the situation does immediately not improve. He added that the terrorist group is only receiving 800 of the 4,000 shells per day that it is currently requesting.
Prigozhin is likely attempting to regain access to more ammunition as Putin is once again reshuffling the Russian military leadership in a way that may favor Prigozhin, experts said. Prigozhin also continued his efforts to convince the Kremlin to go over to the defensive in eastern Ukraine. He claimed that the Ukrainian counteroffensive could take place before May 15 but that the Russian military is not rushing to prepare to repel attacks."
From 1 January 2023 to 29 April 2023, a daily timelapse of the battle for Bakhmut in 🇺🇦's Donetsk Oblast.

📹@War_Mapper pic.twitter.com/ftKjSuZ8S4

— Euromaidan Press (@EuromaidanPress) May 1, 2023
Fuel and timber train derails after explosion on railway in Bryansk Oblast, Russia
Fuel and timber train derails after explosion on railway in Bryansk Oblast, Russia

Russian Telegram channel Baza reported train was carrying 60 wagons w/ fuel & timber; 7-8 wagons overturned & caught fire. Extent of damage unknown https://t.co/AjAkt6Uh10pic.twitter.com/IpNFvQ2kY9

— Euromaidan Press (@EuromaidanPress) May 1, 2023
According to British Defence Intelligence, (last 48 hours):
Since summer 2022, Russia has constructed some of the most extensive systems of military defensive works seen anywhere in the world for many decades. These defences are not just near the current front lines but have also been dug deep inside areas Russia currently controls.
Imagery shows that Russia has made a particular effort to fortify the northern border of occupied Crimea, including with a multi-layered defensive zone near the village of Medvedevka. Russia has also dug hundreds of miles of trenches well inside internationally recognised Russian territory including in the Belgorod and Kursk regions.
The defences highlight Russian leaders' deep concern that Ukraine could achieve a major breakthrough. However, some works have likely been ordered by local commanders and civil leaders in attempts to promote the official narrative that Russia is 'threatened' by Ukraine and NATO.
In recent months, Russian commanders have likely started punishing breaches in discipline by detaining the offending troops in 'Zindans' which are improvised cells consisting of holes in the ground covered with a metal grille.
Multiple recent reports from Russian personnel give similar accounts of being placed in Zindans for misdemeanours including drunkenness and attempting to terminate their contracts.
In the early months of the war, many Russian commanders took a relatively light touch in enforcing discipline, allowing those who refused to soldier to quietly return home. Since Autumn 2022, there have been multiple increasingly draconian initiatives to improve discipline in the force, especially since Chief of the General Staff Valery Gerasimov assumed command of the operation in January 2023.
As of Monday May 1, the approximate losses of weapons and military equipment of the Russian Armed Forces from the beginning of the invasion to the present day: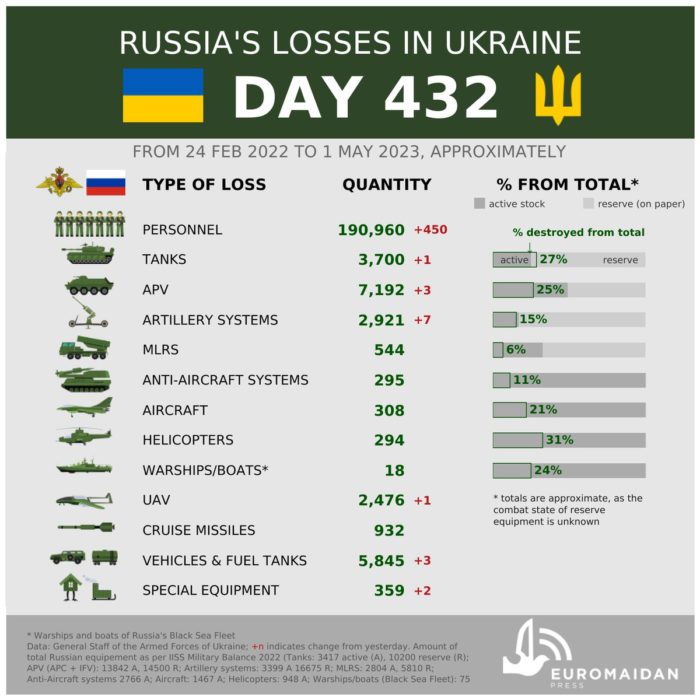 Tanks – 3700 (+1)
Armoured combat vehicles – 7192 (+3)
Artillery systems – 2921 (+7)
Multiple rocket launchers –MLRS – 544 (+0)
Air defence means – 295 (+0)
Aircraft – 308 (+0)
Helicopters – 294 (+0)
Automotive technology and fuel tanks – 5845 (+3)
Vessels/boats – 18 (+0)
UAV operational and tactical level – 2476 (+1)
Special equipment – 359 (+2)
Mobile SRBM system – 4 (+0)
Cruise missiles – 932 (+0)
Cases of collective Russian refusal to participate in active combat have become more frequent, the Ukrainian General Staff reports. "Cases of collective refusal to participate in active combat have become more frequent in the units of the Russian occupation forces stationed in the vicinity of Marinka. It has been established that the main drivers for the refusals are heavy casualties, late ammunition supplies, short supply of personal protective equipment, and Russian troops being forced to launch assault operations with no heavy equipment or artillery support."
Humanitarian
Number of children killed by Russian army in Ukraine rises to 477, Ukrinform reports, citing the Ukrainian Prosecutor General's Office. "As of the morning of April 30, 2023, more than 1,432 children were affected in Ukraine due to Russia's full-scale armed aggression. According to official information from juvenile prosecutors, 477 children were killed and more than 955 were injured, the report reads.
These figures are not final, as work is ongoing to establish them in areas of hostilities and in temporarily captured and liberated territories."
Missile attack in Dnipropetrovsk oblast leaves 25 injured, including 3 children A missile attack in Dnipropetrovsk Oblast, Ukraine, has resulted in injuries to 25 people, including three children, the head of the military administration of Dnipropetrovsk Oblast, Serhiy Lysak reported. The incident occurred following a series of air raid alerts announced throughout the country around 2:30-3:00 a.m.
Missile attack in Dnipropetrovsk oblast leaves 25 injured, including 3 children

Following night-time air alert, in Pavlohrad district, industrial enterprise; 19 apt buildings, 25 homes, 6 schools, & 5 stores heavily damaged https://t.co/dCGhV0sBrU pic.twitter.com/kNb3AUZAyW

— Euromaidan Press (@EuromaidanPress) May 1, 2023
Lysak stated, "The enemy attacked with missiles. Seven of them were shot down by the military air command 'East.' However, there were still hits. Pavlohrad district was affected."
All Russian missiles and UAVs in Kyiv airspace were destroyed by Ukraine's air defense forces. The missiles were launched by Russian strategic aircraft Tu-95MS, and the attack was synchronized with drone strikes.
During the night, explosions were reported in Kyiv, Sumy, and Kharkiv Oblasts. The Kyiv Oblast Administration stated that air defenses were active in response to the attacks.
Energy ministry: About $3.4B needed to make preparations for next heating season, Ukrinform reports, citing Ukrainian Energy Deputy Minister Farid Safarov. "Currently, about $3.4 billion is needed to make preparations for the 2023/2024 heating season, including $1.2 billion to purchase certain resources. The rest of the sum is what is needed to restore, first of all, power transmission lines (these are Ukrenergo's lines), power distribution lines (these are mostly regional power companies) and rebuild power generating facilities. This refers to thermal power generation, green energy, pumped storage and hydro power plants. It is approximately $2.1 billion," Safarov told.
In his words, this is the sum needed to prepare for the heating season alone. The total recovery cost of Ukraine's energy system is much higher."
Reconstruction of Kharkiv estimated at about $9.5B – mayor, Ukrinform reports, citing Kharkiv Mayor Ihor Terekhov and lb.ua. "Now strikes continue and it is impossible to finally estimate all the damages inflicted on Kharkiv by the Russian aggressors. To reconstruct Kharkiv, $9.5 billion is needed, said Terekhov.
According to him, Ukraine will not be able to find these funds on its own and needs the support of Western partners, in particular, the United States. As Ukrinform reported, the city authorities will discuss the reconstruction of Kharkiv with representatives of the US government in Washington and at the summit in Denver."
Legal
Ukraine calls on global community to accelerate seizure of Russian assets, Ukrinform reports. "Ukraine has called on the global community to focus on strengthening the implementation of sanctions against Russia and accelerate the development of mechanisms to confiscate Russian assets and direct them to Ukraine's reconstruction efforts. The relevant statement was made by the Ukrainian Finance Ministry, following the Informal Meeting of EU Economic and Financial Ministers and Central Bank Governors (ECOFIN), which was attended by Ukrainian Finance Minister Sergii Marchenko in Stockholm. […]
According to Marchenko, Russia must pay for its horrific actions in Ukraine and, in this regard, the minister drew attention to the issue of strengthening sanctions against Russia. First of all, even taking into account the unprecedented sanctions, they did not have a devastating enough impact on the aggressor's economy as we all expected. We should focus on strengthening the implementation of sanctions and closing loopholes that allow evasion, Marchenko stressed. In his words, it is important to impose restrictions on those countries that help Russia.
Secondly, it is necessary to accelerate the development of mechanisms for confiscating Russian assets and directing them to rebuild Ukraine, Marchenko noted. The aggressor must be held accountable for its actions and compensate Ukraine for the losses, the minister emphasized."
Russians who committed war crimes in Ukraine will be found and destroyed in any part of the world – Ukraine's Defence Intelligence Chief, Ukrainska Pravda reports, citing DIU's press service. "Kyrylo Budanov, Head of the Defence Intelligence of Ukraine (DIU), has voiced confidence that the Russian occupiers who committed war crimes in the war in Ukraine will be found and eliminated anywhere.
Any perpetrator that committed any war crimes against humanity in Ukraine or even very egregious crimes, like the group rape or killing of civilians and children, will be found and eliminated in any part of the world. Budanov added that Ukraine has "enough Ukrainian means and weapons to do this.
The DIU chief also reaffirmed his belief that Russia cannot prolong the war and will collapse."
South Africa invites Putin to BRICS summit via Zoom after ICC issues arrest warrant – Sunday Times South Africa has invited Russian dictator Vladimir Putin to participate in the upcoming BRICS summit via Zoom instead of in person, following the issuance of an arrest warrant for the Russian president by the International Criminal Court (ICC). The Sunday Times reports that the move places South Africa's ruling party in an uncomfortable position after it refused to support sanctions against Russia or condemn its aggression in Ukraine.
Ukraine Amb to Ireland calls for Jameson whiskey boycott over Russian trade Ukraine's Ambassador to Ireland, Larysa Gerasko, has called for a boycott of Jameson whiskey due to the company's decision to continue trading in Russia, RTE reports. Gerasko accuses Jameson of funding Russian aggression in Ukraine through its business dealings. Jameson, owned by French company Pernod Ricard, resumed sales in Russia last year.
Support
Without modern fighters, it is impossible to successfully attack or defend, Ukrainska Pravda reports. "Yurii Ihnat, spokesman for the Ukrainian Air Force Command, explained that without air cover by aircraft, it is impossible to succeed in both offensive and defensive actions. We will wait for the planes in any case.
Without aeroplanes, it will be very difficult for us to defend our country both in wartime and in peacetime… Without air superiority, without air cover from above, it is impossible to achieve good success in both offensive and defensive actions. Ihnat emphasised that Generation 4+ aircraft will become part of Ukraine's Air Defence System. According to the Air Force spokesman, it takes about three months for Ukrainian pilots to learn how to fly modern Western aircraft.
President Volodymyr Zelenskyy is convinced that Ukraine cannot delay the recapture of its territories until its partners provide F-16s; the counteroffensive should begin earlier."
Several countries have agreed to train Ukrainian pilots on the F-16, mil.in.ua reports, citing Dmytro Kuleba, Minister of Foreign Affairs of Ukraine. "Ukraine has received a signal from some countries about their readiness to start training Ukrainian pilots on F-16 fighter jets. […] According to the head of the Ministry of Foreign Affairs of Ukraine, the F-16 fighter is a perfect aircraft due to its technical characteristics, although Kyiv avoids neglecting other aircraft. Kuleba added that the last word regarding F-16 was with the United States, because they were American fighter jets. […]
The day before, one of the publications reported that members of the US Democratic Party insisted on the transfer of F-16 fighter jets and long-range ATACMS missiles to Ukraine and demanded that President Joe Biden approved the relevant decision. Members of congress from both parties have called on Biden to supply Ukraine with long-range rocket artillery, called ATACMS, and modern F-16 fighter jets, the American publication The Hill said. […]
For now, a group of lawmakers believes that F-16s and long-range missiles are the logical next step. The equipment could be of key importance in the defense as well as the counteroffensive of the Ukrainians, members of Congress say. Among them, the publication points out, are the names of Biden's fellow party members, such as Jason Crow, Richard Blumenthal, Sheldon Whitehouse, Jared Golden, Mark Kelly and others."
Germany confirms delivery of second IRIS-T air defence system to Ukraine, Ukrainska Pravda reports, citing German government website. "The German government has handed over another military aid package to the Ukrainian Armed Forces, including a second IRIS-T air defence missile system. The updated list of aid includes eight Zetros trucks, two 8×6 forklift trucks with eight slide-out containers and one IRIS-T air defence system.
Germany delivered the first IRIS-T system to Ukraine in October 2022. On April 19, Defence Minister Oleksii Reznikov confirmed that Ukraine had received a second IRIS-T air defence system from Germany.
The IRIS-T SLM air defence system consists of three vehicles: a launcher on a military truck with space for eight missiles, a radar vehicle and a command vehicle. The anti-aircraft missiles can hit targets at an altitude of up to 20 kilometres and at a distance of up to 40 kilometres."
UK to purchase missiles with a range of 100-300 km for Ukraine, Ukrinform reports, citing the website of the UK government. "The list of military equipment and ammunition that the UK Ministry of Defence plans to purchase for Ukraine in the near future includes long-range missiles or rockets with a range of 100 to 300 km. The main requirements for missiles are that they must be launched from land, sea or air. The payload of ammunition should be from 20 to 490 kg. Other desirable requirements include Low Probability of Intercept (LPI), Mission Planning Capability, assured navigation (with hardened Global Navigation Satellite System capability) in the face of advanced countermeasures and EM spectrum denial, air defence penetration methods to increase probability of successful strike, and Technical Readiness Level of at least 8.
To increase the mobility of the Ukrainian army, the UK announced the purchase of engineering equipment and heavy equipment transporters:
Armoured minefield breaching capabilities – mine rollers and mine ploughs full width and track width for Main Battle Tanks – T-72, Leopard 1, Leopard 2. Armoured mine clearing vehicles.
Armoured vehicle launched bridges and launchers in any size.
Medium Girder Bridges: 9m to 31m, with at least Military Load Capacity (MLC) – 70(T).
Logistical support bridge launchers and reusable bridges: 40m to 80m, with at least Military Load Capacity (MLC) – 70(T).
Heavy equipment transporters capable of transporting Main Battle Tanks.
Also, until April 26, the British Ministry of Defence planned to purchase equipment to strengthen Ukrainian air defence:
Sensors to detect and track cruise missiles, low flying (<50m) DoD Group 2 drones, and/or ballistic missiles.
Sensor-guided air defence cannons to defeat low flying drones and cruise missiles. Sensor could use radar, electro-optical, infra-red etc.
Air burst rounds for cannon-based air defence systems (30mm, 35mm, 40mm). Must be at Technology Readiness Level (TRL) 9.
Expeditionary barriers to protect critical infrastructure sites – military gabion (collapsible wire mesh containers). Any size.
The purchase is to be made by the International Fund for Ukraine, managed by the UK Ministry of Defense. Norway, the Netherlands, Denmark and Sweden also joined the fund. Together with Iceland and Lithuania, they have already collected more than EUR 587 million."
Ukrainian volunteers create Trembita missile, Ukrainska Pravda reports, citing Militarnyi. "The work is conducted by the engineers from the PARS volunteer design bureau and with the participation of volunteers from theVidsich (Rebuff) сivic movement. Designers plan to create a small cruise missile with a pulsejet engine. The missile is planned to be used to destroy objects and exhaust the enemy's anti-aircraft defences. Our simple missile is incomparably cheaper than projectiles of the enemy's anti-aircraft missile systems."
It is stated that the missile is capable of hitting targets at a range of 140 kilometres. According to the plans, a salvo launch of 20 such missiles will allow Ukrainians to overcome Russia's air defence and hit targets at a significant range.
The volunteers want to launch the production of individual parts and components of the missile throughout Ukraine, using garage workshops. Declared characteristics of the Trembita missile: Weight: 100 kg; Warhead weight: 20 kg; Effective range: over 140 km; Speed: over 400 km/h; Maximum flight altitude: 2000 m; Minimum flight altitude: 30 m.
The rocket engine has no moving parts, is simple to manufacture, and runs on gasoline. It will be launched from a pneumatic catapult. The warhead can contain a thermobaric charge or a combined 20-kg high-explosive charge."
Czech Republic and allies seek ammo supply increase to Ukraine Together with other allies, the Czech Republic will seek to increase the supply of ammunition to Ukraine, as reported by České Noviny from a press briefing following Czech President Petr Pavel's return from a visit to Ukraine.
According to Pavel, Ukraine is suffering from a severe lack of ammunition required to launch a counteroffensive and regain control of its territory occupied by Russia.
"From the meetings I had in Ukraine – and there were many of them, both at the central level and at the level of one region – it became very clear that what Ukraine needs most for successful defense today is ammunition. We will continue to look for ways to not only increase the supply of ammunition from our sources, but we will also creatively look for ways, in cooperation with our allies or other countries, to get what they need to Ukraine in the short term," emphasized President Pavel.
Zelenskyy thanks partners: Together we'll be able to prevent Russia from prolonging war, Ukrainska Pravda reports. "President Volodymyr Zelenskyy has emphasised that Ukraine, together with its partners, will not allow Russia to prolong the war and will restore peace. Remaining as united as possible, maintaining the greatest principled stance to protect our common values and implementing defence agreements as fast as possible, all together in Ukraine, in Europe, in the world, we will be able to prevent Russia from protracting the war and restore a normal, fair peace.
At the end of the week, Zelenskyy thanked France for the arms package for Ukraine, which was confirmed by President Emmanuel Macron in a conversation with Zelenskyy on Sunday.
He also thanked partners from Denmark for Caesars; from Slovenia for armoured vehicles; from Spain for tanks; from Germany for additional defensive intentions for armoured vehicles and shells, for air defence. 
I am grateful to America for funding in the amount of US$1.25 billion to support our budget and resilience. I am grateful to the Netherlands for the parliamentary decision to train Ukrainian soldiers on advanced Western systems. I am grateful to Italy for its efforts to rebuild our country as soon as possible. I am grateful to Croatia for its new assistance in the treatment of our defenders after being wounded in combat."
General Zaluzhnyi meets with NATO Commander Europe General CavoliGeneral Zaluzhnyi holds an extended meeting with the NATO Supreme Allied Commander Europe (SACEUR), General Cavoli, to discuss potential scenarios.
New developments
Assessment
On the War
The Institute for the Study of War has made the following assessment as of Sunday, 30 April:
[/box]
"ISW is publishing a special edition campaign assessment today, 30 April. This report details changes in the Russian military command since Russia began its full-scale invasion of Ukraine.
Russian President Vladimir Putin's decision to invade Ukraine without a clear and doctrinal command structure and his reluctance to appoint an overall theater commander have had lasting effects on the structure of the Russian command in Ukraine. Putin's regular command changes have led to an increasingly factionalized Russian military and disorganized command structures that are degrading the Russian military's ability to conduct a cohesive campaign in Ukraine.
 Factions are not a phenomenon particular to the Russian military, although their current dynamics within the Russian military are shaping decision making to an unusual degree. […]
Russian President Vladimir Putin's reluctance to appoint an overall theater commander for his invasion of Ukraine has had cascading effects on the Russian military including fueling intense factionalization, disorganizing command structures, and feeding unattainable expectations. Western officials reported in April 2022 that Russia had not have a single military commander of its forces in Ukraine since the start of the invasion on 24 February 2022. Putin likely sought to present himself as the commander-in-chief and the mastermind of the successful invasion of Ukraine. Captured Russian military plans revealed that the Kremlin expected Russian forces to capture Kyiv in mere days, and Putin had likely wanted to declare this speedy invasion a personal geopolitical victory. Putin may have been reluctant to appoint a commander for this invasion to avoid crediting a military commander with the military victory in Ukraine – a dynamic similar to the one between Soviet leader Joseph Stalin and Marshal of the Soviet Union Georgy Zhukov during World War II. Stalin had limited and outdated wartime experience and was reportedly jealous of Zhukov's military exploits and fame. Putin has no military experience, which may have further contributed to his decision not to appoint a commander for his invasion who could have upstaged him by claiming credit for the expected dramatic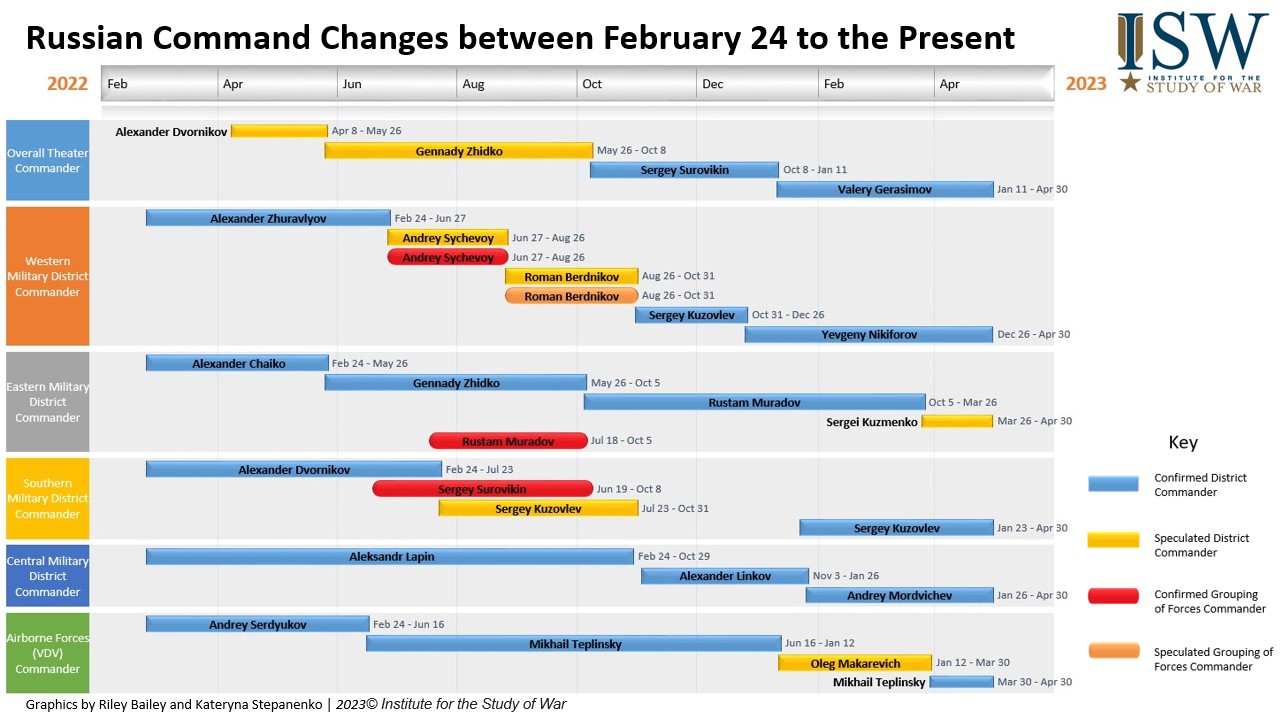 victory.
Putin appointed the first overall theater commander, Army General Alexander Dvornikov, in April 2022 in response to Russia's failed attempt to drive on Kyiv but had replaced him by the end of May due to Dvornikov's inability to achieve Putin's high expectations in the first months following the retreat from Kyiv. Putin appointed Dvornikov immediately after Ukraine's counteroffensive around Kyiv as he likely became aware that the war in Ukraine would become a longer operation requiring a more defined command structure.[ Dvornikov was the Southern Military District (SMD) commander at the time and throughout his tenure as overall commander. Putin reportedly instructed Dvornikov to capture Donbas by the Victory Day holiday on May 9, setting Dvornikov up for failure (although neither Putin nor Dvornikov may have realized that fact at the time). Putin also tasked Dvornikov with establishing a single uniform command for Russian operations in Ukraine. Dvornikov failed to achieve either goal and Putin subsequently appointed Army General Gennady Zhidko in Dvornikov's place by the end of May. Putin also appointed Zhidko to replace Eastern Military District (EMD) commander Colonel General Alexander Chaiko, likely in order to continue having the theater commander hold a dual position as one of the military district commanders. The dual roles given Zhidko and Dvornikov were likely a result of Putin's continued reluctance to make any single general too prominent. Both Zhidko and Dvornikov became effectively first among equals rather than occupying a distinctive and unique position clearly above the other military district commanders. Putin would not appoint an overall theater commander with no other responsibilities until eight months into the war after several significant setbacks. Chaiko's dismissal as EMD commander was also the first dismissal of a military district commander, as Dvornikov appeared to have retained command of the Southern Military District (SMD) following his demotion from overall theater commander. Chaiko's dismissal signaled Putin's decision to remove the commanders who had overseen the Russian military's failure to capture Kyiv. Putin's reasoning for appointing Dvornikov and Zhidko specifically is unclear, although he may have chosen them because of their likely affiliations with Chief of the General Staff of the Russian Armed Forces Army General Valery Gerasimov.
The Russian military began to introduce commanders for operational directions in June and July of 2022 under the leadership of overall theater commander Colonel General Gennady Zhidko in an attempt to organize its offensive in eastern Ukraine. Zhidko likely inherited Dvornikov's task of formalizing Russian command structures in Ukraine and sought to introduce operational groupings of forces in an effort to succeed in the task that likely contributed to Dvornikov's dismissal. Russian forces introduced Army General Sergey Surovikin as Southern Grouping of Forces commander, Lieutenant General Andrey Sychevoy as Western Grouping of Forces commander, and Central Military District (CMD) commander Colonel General Alexander Lapin as Central Grouping of forces commander before and after the Russian capture of Sievierodonetsk in late June. The Russian military introduced the final operational direction commander following its capture of Lysychansk and subsequent operational pause in early July with Colonel General Rustam Muradov appointed commander of the Eastern Grouping of Forces. While the southern and central grouping of forces were heavily involved with the attritional offensive to capture Lysychansk and Sievierodonetsk, it is unclear how concrete the eastern and western groupings of forces were as the command structures by the culmination of the Russian offensive following the capture of Lysychansk and Sievierodonetsk. The Russian military command never publicly clarified the delineations between military district command and grouping of forces command resulting in public confusion and the possible degradation of the Russian military's ability to effectively conduct operations in Ukraine across multiple lines of effort, although it is unclear whether Russian commanders and forces were confused.
The attritional but partially successful offensive operations in eastern Ukraine likely gave Putin the informational backing to dismiss the remaining commanders who had failed earlier in the invasion to drive on Kyiv: Western Military District Commander (WMD) Commander Colonel General Alexander Zhuravlyov, Russian Airborne Forces (VDV) Commander Colonel General Andrey Serdyukov, and former theater commander Dvornikov from his position as SMD commander. The capture of Sievierodonetsk and Lysychansk likely served as the catalyst for Putin to begin shifting his favor to figures not associated with Gerasimov and, by extension, the resounding failures of the first few months of the war, particularly to Lapin and Surovikin who commanded the operations that resulted in the cities' capture. The Wagner Group also emerged from the operations around Sievierodonetsk and Lysychansk with a budding reputation as an effective fighting force capable of making tactical gains where conventional Russian forces could not, likely further convincing Putin to begin favoring figures outside of Gerasimov's orbit.
Chechen Head Ramzan Kadyrov reported that Colonel General Sergey Kuzvovlev was operating as interim SMD commander in late July, likely indicating that the position passed to him on Dvornikov's dismissal as First Deputy Commander of the SMD. Kuzovlev's appointment may suggest that there were significant gaps between some dismissals and new permanent appointments, and that subordinate commanders held temporary positions during these transitional periods. These transitional periods likely disrupted Russian planning and operations.
The start of Ukrainian counteroffensives in August and September of 2022 led to widespread Russian panic, prompting more command changes while delaying the decision to dissolve the operational direction commands as entities distinct from military districts. The dismissal of Sychevoy as the Western Grouping of Forces commander several days before the start of Ukrainian counteroffensive operations suggests that the Russian military command had decided sometime in August to eliminate distinctions between grouping of forces and military district command structures. Putin may have intended to further simplify the command structure for operations in Ukraine but refrained from doing so further when Ukrainian forces launched their counteroffensives in the Kharkiv and Kherson oblasts. Sychevoy likely continued as Western Grouping of Forces commander in some capacity through the start of the Ukrainian counteroffensive in Kharkiv Oblast until a series of setbacks in Sychevoy's zone of responsibility around northeastern Kharkiv Oblast reportedly prompted the Russian military command to shift command of the grouping away from Sychevoy and his rumored replacement, Lieutenant General Roman Berdnikov, to Lapin. Lapin's appointment to oversee almost the entirety of Russian operations in Kharkiv and Luhansk oblasts likely reflected Lapin's standing with Putin at the time. The Kremlin had increasingly made Lapin the face of the Russian offensive in eastern Ukraine throughout the summer of 2022, and Putin may have envisioned appointing Lapin as the next overall theater commander, as Lapin had long been rumored as a likely successor to Gerasimov and appeared not to be closely associated with the major MoD factions. Both factions within the MoD likely welcomed or even supported Lapin's appointment to this elevated role of responsibility, realizing that whoever was in command of this sector of the front would likely become a convenient scapegoat for Russian military failures.
The success of Ukrainian counteroffensives in Kharkiv and Kherson Oblasts led to more profound command changes and the rise of the anti-Gerasimov faction within the Russian Ministry of Defense (MoD). The unstable and confusing command and control structure involving the Eastern and Western Military districts and their corresponding groupings of forces likely compounded the chaotic Russian rout in Kharkiv Oblast and the complete collapse of Russian lines around Izium in mid-September. The subsequent Ukrainian liberation of Izium and wide swathes of territory in Kharkiv Oblast likely prompted Putin to acquiesce to Russian Defense Minister Army General Sergei Shoigu's and Gerasimov's proposals to announce partial mobilization. Following the start of partial mobilization Russian forces sent thousands of mobilized personnel to the front with little to no training at all in an effort to stabilize the front along the Kharkiv-Luhansk Oblast axis, which they succeeded in doing following the last decisive outcome of the Kharkiv counteroffensive with the Ukrainian liberation of Lyman on October 1. The stabilization of the front allowed Putin to institute the command changes he likely had intended to make before the Ukrainian counteroffensive prevented him from doing so, and he used the uproar in the Russian information space about Russian setbacks, particularly the loss of Lyman, to justify a wide array of command changes. Putin dismissed Zhidko as both the overall theater commander and EMD commander and ended the grouping of forces command role as a separate position from the district commander in the week following the Ukrainian liberation of Lyman.
The failure of two generals who were establishment MoD figures and Gerasimov affiliates likely solidified Putin's decision to appoint a commander not affiliated with Gerasimov to the position of overall theater commander after the Kharkiv debacle. If Putin intended to appoint Lapin as overall theater commander the intense vitriol against him from the Russian pro-war ultranationalist community for the loss of Lyman likely dissuaded Putin from giving Lapin a larger role in the Russian campaign in Ukraine at the time. The Kremlin was also increasingly relying on and amplifying the standing of ultranationalist figures with their own paramilitary structures in Ukraine: Kadyrov and Wagner financier Yevgeny Prigozhin. Putin likely sought to secure the support of the pro-war ultranationalist community when he appointed their preferred candidate, Surovikin, to the position of overall theater commander. Putin likely viewed Surovikin as the last untarnished high-ranking commander in Ukraine he could appoint to overall theater command. Surovikin became the first publicly acknowledged overall theater commander, one of the most central aspects of the Kremlin's and the MoD's campaign to publicly address criticisms of the Russian military's setbacks in Ukraine.  Putin also likely publicly appointed Surovikin to insulate the Kremlin and the Russian military establishment from further criticism for any future operational failures associated with the ongoing Ukrainian counteroffensive in Kherson Oblast. 
The Kremlin likely did not intend to replace Lapin as CMD commander in late October 2022. Lapin reportedly resigned because he did not want to be the public face of the failures associated with the Kharkiv counteroffensive and due to his anger at Gerasimov and the MoD for not defending him from public criticism as they had done for commanders earlier in the war. Lapin's reported resignation led to a temporary replacement by the head of the CMD's organizational and mobilization department Major General Alexander Linkov, a particularly strange candidate for a command position given that most military district commanders previously held deputy command positions or high-ranking positions on the General Staff, further suggesting that the Kremlin did not intend to replace Lapin. Both the CMD and WMD command structures would continue to be unclear or unpublicized for the following months, possibly indicating how thoroughly Ukrainian forces had destroyed their elements in the Kharkiv counteroffensive and their likely subsequent lack of combat effectiveness in Ukraine while undergoing reconstitution and replenishment.
Surovikin's tenure as overall theater commander increased Prigozhin's influence and role in Ukraine as Wagner began receiving significant supplies from the Russian military and assumed responsibility for the offensive to capture Bakhmut. The Russian information space either tolerated or celebrated Surovikin's conduct of the withdrawal from the west (right) bank of Kherson Oblast and initially lauded Surovikin for overseeing the start of Russia's air campaign against Ukraine's critical infrastructure. The expanding influence of Surovikin and Prigozhin unnerved many within the Kremlin and the MoD, however, especially as Prigozhin became more publicly vocal about his opinions about the two institutions. Possible counterweights to Prigozhin from within the MoD establishment such as EMD commander Rustam Muradov or WMD commander Sergey Kuzovlev commanded a fraction of Surovikin's and Prigozhin's influence, and the Kremlin and the MoD likely began considering the possibility of having a notable figure from the Gerasimov faction return to assume a larger role in Ukraine.
Gerasimov and his affiliates likely attempted to convince Putin that they could successfully conduct Russia's upcoming winter-spring offensive as the Ukrainian fall counteroffensive culminated from December 2022 to early January 2023. An unconfirmed Russian source claimed that Gerasimov attempted to persuade Putin to reinstall the "old guard" – namely Lapin, Dvornikov, Zhuravlev, Serdyukov, and Chaiko – during his meeting with Putin in Rostov-on-Don on December 18. While ISW cannot verify this statement, Gerasimov began to appear in several high-profile meetings with Putin, Shoigu, and the Russian military command in late December, where he likely attempted to shift Putin's favor to his camp. Gerasimov's camp also likely launched an information campaign to discredit Wagner mercenaries with the aim of portraying Wagner-affiliated generals as reckless. ISW observed an increase in media coverage about high casualties among Wagner prisoners, Wagner's careless use of ammunition, and poor Wagner discipline around December – despite the fact that Russian conventional forces had suffered from similar issues during their offensive operations earlier. Unnamed Kremlin officials had previously revealed to a Russian opposition outlet that Russian security forces deliberately leak sensitive information to undermine each other.
Gerasimov likely had some success convincing Putin that Wagner was wasting personnel and resources given that Wagner lost access to prisoner recruitment and access to ammunition from the Russian MoD at the start of 2023. It is unclear, however, to what extent Gerasimov was able to villainize commanders such as Surovikin and VDV commander Colonel General Mikhail Teplinsky – who represent the members of the anti-Gerasimov camp. Teplinsky increasingly received the favor of Russian ultranationalist voices in the Russian information space and the VDV began cooperating with Wagner forces in the Bakhmut direction. Ukrainian intelligence revealed that Wagner-linked Chief of Staff of the Eastern Military District Lieutenant General Yevgeny Nikiforov replaced Colonel General Sergey Kuzovlev as the Western Military Commander on December 26. Putin also publicly awarded Surovikin on December 31, and reportedly appointed Teplinsky to command the newly formed "Dnepr" operational grouping of forces on January 1 to defend the land corridor to Crimea. Both appointments may indicate that while Putin was likely becoming more skeptical of Wagner's ability to capture Bakhmut by at least the end of the year he still favored the anti-Gerasimov faction.
The highly attritional capture of Soledar in January likely prompted Putin to acquiesce to Gerasimov's campaigning and appoint Gerasimov as the overall theater commander for the winter-spring offensive operation. The Russian MoD announced on January 11 that Gerasimov assumed the position of theater commander in Ukraine, demoting Surovikin to the position of deputy commander of Russian forces in Ukraine. Putin likely partially caved into Gerasimov's pressure as Wagner forces had failed to capture Bakhmut by January 1, but decisively switched sides during the Battle of Soledar, which intensified between January 4 and January 13. An unnamed source within Putin's presidential administration stated that the long and bloody capture of Soledar triggered command changes, likely because Putin was able to confirm prior reports of Wagner's ineffectiveness in combat. Putin even attributed the victory over Soledar to the Russian MoD and the General Staff on state television, ostentatiously displaying his change of favor for Gerasimov's camp. Gerasimov was also likely able to advocate successfully for the return of the disgraced Lapin, who assumed the position of the Chief of Staff of the Russian Ground Forces on January 10 during the final phase of the Battle of Soledar. Lapin notably was not appointed to command forces on the frontlines, which may indicate a strain within the Lapin-Gerasimov relationship – possibly as a result of Gerasimov's inability to shield Lapin from criticism. Prigozhin claimed that Lapin's biggest mistake was that he blindly followed orders, which if true, could be a ground for conflict when Gerasimov did not repay Lapin with the same loyalty.
Gerasimov spearheaded a ruthless campaign to eliminate irregular armed formations such as Wagner and its affiliates with the newfound favor he had obtained with Putin. Gerasimov began to rapidly integrate the Donetsk and Luhansk People's Republics' (DNR and LNR) into the Russian Armed Forces, dismiss proxy commanders, and introduce professionalization measures that upset many ultranationalists and proxy fighters. Gerasimov may have attempted to punish Teplinsky for his affiliation with Wagner by committing VDV forces to a grinding battle for Soledar, although he may simply have been using the only high-quality uncommitted reserves available to him. Unconfirmed Russian sources claimed that Teplinsky resigned or took a leave of absence on January 12 after a personal conflict with Gerasimov about the use of VDV forces in human wave attacks – likely around Soledar. Deputy Head of the Russian General Staff Academy Colonel General Oleg Makarevich reportedly replaced Teplinsky as the VDV commander despite having no previous VDV experience. ISW previously observed Russian VDV units operating in the Bakhmut-Soledar area in early January, and it is possible that Gerasimov attempted to outshine Wagner in Bakhmut with the use of VDV forces in Soledar while pinning the high losses on the anti-Gerasimov camp. Gerasimov's camp also appeared to be avenging itself on Prigozhin, Wagner forces, and the anti-Gerasimov camp by stripping Wagner's access to prisoner recruits, reinforcements, and ammunition.
Gerasimov's camp reportedly appointed Colonel General Sergey Kuzovlev, who had been removed from his position commanding the WMD in late December, as the SMD commander around January 23. Russian sources claimed that the "opposition faction" within the Russian MoD was able to replace Linkov with Colonel General Andrey Mordvichev as the CMD commander after a previous failed attempt in October. Mordvichev's appointment may suggest that Putin either attempted to balance the factions or that some anti-Gerasimov camp members still had some influence despite Gerasimov's command.
Russian military commanders within the anti-Gerasimov faction increasingly began to call attention to Russian military failures during the winter-spring offensive but were unsuccessful in convincing Putin to make their desired changes in February. Prigozhin began a loud information campaign attempting to persuade Putin to reappoint commanders from the anti-Gerasimov camp by consistently doubting the ability of the Russian Armed Forces to capture Donbas before spring. The Gerasimov camp likely intensified restrictions on the provision of supplies to Wagner forces in Bakhmut to prevent Prigozhin from exploiting the Russian conventional forces' defeat around Vuhledar in early February to regain favor with Putin. A Russian source claimed that Prigozhin hoped that Secretary of the General Council of United Russia Andrey Turchak would amplify his complaints about Russian military failures over the winter-spring offensive operation directly to Putin on February 16 and March 17. Russian sources claimed that Turchak delivered a blunt briefing to Putin in February but was unable to convince Putin to change the military command arrangements and almost ignited a conflict with Shoigu. An unconfirmed Russian source claimed that Surovikin convinced Teplinsky to delay his official resignation in late February in hopes that Turchak's March 17 report would shift the tide in favor of the anti-Gerasimov faction.
Turchak's February 16 briefing may have alerted the Russian MoD to the anti-Gerasimov camp's intensifying efforts to discredit the current commanders with Putin. The Russian MoD publicly confirmed four prior reported commander appointments on February 17, identifying Mordvichev as the CMD commander, Kuzovlev as the SMD commander, Nikiforov as WMD commander, and Muradov as the EMD commander. The Russian MoD may have confirmed four active commanders to use as scapegoats for the failed winter-spring offensive operation in Ukraine. Putin also awarded the rank of colonel general to Nikiforov and Muradov on February 18, consistent with their positions as military district commanders, despite the fact that neither achieving any successes on the battlefield during the winter offensive. Shoigu also met with Muradov on March 4 in western Donetsk Oblast, with some Russian milbloggers claiming that Shoigu ordered Muradov to capture Vuhledar in an effort to settle the widespread criticism within the Russian MoD. The New York Times, citing leaked Pentagon documents, reported that Putin personally attempted to resolve the feud between Wagner and the Russian MoD by holding a meeting between Shoigu and Prigozhin on February 22. The meeting likely indicates that Putin was aware of Prigozhin's complaints about the current progress of the war but sought to avoid taking a clear side at that time.
Teplinsky set conditions for the next set of command changes by expressing his dissatisfaction with the current military command directly to Putin in late February, ultimately assuming a leading military command position in April 2023. Teplinsky published a video on February 23 congratulating VDV troops in which he called on Russian commanders to "save [their] soldiers" and not to "pay for captured villages and heights with soldiers' lives." Teplinsky also warned commanders that "the time will come that history will hold everyone accountable" and admitted that he had not fought on the frontlines since January but wished to return to combat. Teplinsky's video likely confirmed his frustration with the use of his forces in Soledar and reports of his insubordination with Gerasimov. Teplinsky and his allies within the VDV veteran communities reportedly directly appealed to Putin on March 15 about the MoD's supposed poor treatment of Wagner forces, lack of transparency, and disregard for the Russian war effort. Prigozhin simultaneously boasted about Surovikin and Teplinsky on March 15, likely to rally additional support for the anti-Gerasimov group.
Teplinsky was successful in his efforts to discredit Gerasimov and regain command in Ukraine. Russian milbloggers claimed on March 26 that the Russian military command dismissed Muradov and speculated that Lieutenant Colonel General Sergey Kuzmenko would become EMD commander. Prominent Russian milbloggers claimed that the Russian MoD recalled Teplinsky from leave on March 30 after which he deployed to the Russian Joint Grouping Headquarters in Rostov-on-Don, Krasnodar Krai to assume command of the VDV on April 1. The Russian MoD also reportedly summoned Lapin alongside Teplinsky.
The widespread failures of the Russian winter-spring offensive likely prompted Putin to divide responsibility for operations in Ukraine equally between the two factions in the MoD ahead of an expected Ukrainian counteroffensive. Putin publicly identified the commanders in charge of defeating planned Ukrainian counteroffensives during his visits to occupied Luhansk and Kherson oblasts likely prior to Orthodox Easter on April 16. Putin met with Teplinsky and Makarevich in Kherson Oblast, and Lapin in Luhansk Oblast. The Kremlin introduced Teplinsky as the VDV commander, Makarevich as commander of the Dnepr Group of Russian forces, and Lapin as a commander overseeing the Luhansk direction. Russian sources claimed that Putin also presented Teplinsky with an icon that had previously belonged to a Ukrainian-born Russian imperial defense minister – a symbolic nod to Teplinsky who is a Ukrainian native. Kremlin Spokesperson Dmitry Peskov notably highlighted that Shoigu and Gerasimov did not travel with Putin due to "high security risks." The mention of Shoigu's and Gerasimov's absence (and the insulting reason given for it) was likely a signal that the Kremlin had appointed new commanders for the new phase of the war.
Lapin's return to the frontlines indicates that Putin is attempting to maintain some balance between the two military command factions to take charge of eastern and southern Ukraine in the coming months. A Russian source claimed on April 25 that Teplinsky became the deputy theater commander overseeing "the most dangerous" Zaporizhzhia, Kherson, and southern Donetsk directions. Teplinsky's subordinates include Makarevich, who commands the Kherson "Dnepr" direction, and Kuzmenko, who oversees Zaporizhzhia and the southern Donetsk "East" direction. Lapin reportedly assumed command of eastern Ukraine (possibly to counterbalance the influence of the anti-Gerasimov camp) and oversees: the Lyman "Center," the Kostyantynivka-Avdiivka-Marinka-Lysychansk "South," and the Kupiansk-Starobilsk "West" directions. Mordvichev, Kuzovlev, and Nikiforov are reportedly in charge of the "Center," "South," and "West" directions, respectively. A prominent Russian milblogger also claimed that Putin officially retired Dvornikov and Zhuravlyov and dismissed Muradov on April 20. Wagner began to receive ammunition and reinforcements in early April, which likely indicates that Putin had changed his mind about Wagner and Prigozhin once again.
Russia's war in Ukraine is not existential despite the Kremlin's claims otherwise, although the war does appear to be increasingly existential for the character and composition of the Russian military. Some commanders have indicated that one of their paramount priorities is preserving the combat effective forces under their command at the expense of others. This priority appears to occasionally supersede the imperative to secure gains in Ukraine and likely suggests that some commanders view the preservation of their forces as a means of retaining influence. The commanders likely expect future Russian operations in Ukraine to continue to be highly attritional and may be advocating for their forces to play less attritional roles in those operations. The commanders are likely maneuvering between preserving their forces and supporting Putin's current operational objectives, with some weighing one over the other in an attempt to maintain Putin's favor. The overall degradation of the Russian military after 14 months of fighting in Ukraine has substantially changed the overall nature of the Russian military that existed before the invasion, and the commanders likely view their own self-preservation and that of their affiliates as an existential issue that will determine who will be in charge of the Russian military in the foreseeable future.
The Kremlin and the Russian MoD have attempted to use command changes to generate desired informational effects to offset increasingly diminishing results. Putin and the MoD have either obscured or carefully announced command changes throughout the war in Ukraine to shield themselves from criticism, set up scapegoats for military failures, appease certain voices within the Russian information space, or compound efforts to sell marginal territorial gains as operational victories to the Russian public. Russian commanders in general have long drawn the ire of ultranationalist figures in the Russian information space, and the Kremlin and MoD have carefully chosen moments corresponding to specific battlefield realities to justify command changes in this atmosphere of intense criticism. The Russian MoD specifically promotes commanders from the Gerasimov faction while trying to obscure the activities of those from the anti-Gerasimov faction to protect the MoD establishment and to present the image of a unified Russian military. Command changes may have temporarily appeased criticism from Russian milbloggers earlier in the war, but responses to more recent changes indicate that many Russian milbloggers now consider command changes to be a purely cosmetic response to the endemic and strategic issues that they routinely call on the Russian military to fix. Some Russian authorities and milbloggers will likely continue fixating on identifying and punishing individual commanders for Russian military failures in Ukraine, however.
Putin's affinity for rotating personnel and not outright dismissing commanders is emblematic of his style of domestic rule, a style of leadership not well suited for leading a military engaged in a costly war. Putin has long rotated personnel in government positions as a way to ensure that no one figure amasses too much political influence and to maintain support among competing factions. Putin also routinely avoids outright dismissing officials and instead temporarily demotes them in order to encourage them to seek to regain his favor and to retain options for future appointments. Former EMD commander Chaiko and former VDV commander Serdyukov have appeared in Syria, and rumored former EMD commander Muradov is reportedly serving in an advisory role for the peacekeeping contingent in Nagorno-Karabakh. These apparent demotions leave open the possibility that these commanders could return to Putin's favor, as Gerasimov did at the start of 2023 and as Lapin has reportedly done recently with overseeing operations in eastern Ukraine. The regular and rotational nature of replacing officials may work in an authoritarian system only concerned with retaining the institutional power of the Kremlin, but this style of rule is detrimental to creating an effective and stable military command structure. The regularity of the command changes is disruptive to efforts to formalize command and control and the return of formerly demoted commanders (who had failed badly) is likely exacerbating the MoD's pervasive reputational problems as well as its operational effectiveness.
The results of a potential upcoming Ukrainian counteroffensive will likely determine which faction Putin favors going forward and likely prompt further command changes in some form. The current delineation of responsibilities between commanders in Ukraine will likely establish one faction as more successful during the potential upcoming Ukrainian counteroffensive unless Ukrainian forces launch counteroffensive operations across many diverging axes. The Russian commander who faces the main direction of the potential upcoming counteroffensive will either demonstrate resounding success in defeating the counteroffensive or notable failure. That success or failure would contrast to other Russian commanders whose forces faced less intense Ukrainian counteroffensive operations, and Putin's favor would likely shift toward the more apparently successful faction once more.
Putin is unlikely to appoint a new overall theater commander in the current circumstances, however. Putin is faced with a challenging situation in this regard, as removing Gerasimov, who is Chief of the General Staff and second only to Shoigu in the military chain of command, as overall theater commander may be too damaging to the Kremlin's and the MoD's reputation. Putin also likely prefers to keep the extremely loyal Gerasimov as overall theater commander, since Putin need not worry that Gerasimov would seek to undermine his authority as the leader of the Russian war in Ukraine. Putin may attempt to avoid fallout from future command changes by increasingly rewarding commanders he favors with more responsibility beyond what their official position denotes and diminishing the role of certain commanders who have fallen out of favor instead of outright replacing them.
Key inflections in ongoing military operations on April 30:
The Ukrainian General Staff reported that Russian forces did not conduct offensive operations along the Kupiansk-Svatove-Kreminna line on April 30. Ukrainian National Guard Spokesperson Rulan Muzychuk stated that Russian forces are using more artillery but conducting fewer assaults in the Kupiansk and Lyman directions than in Bakhmut and Marinka.
Russian forces conducted ground attacks in and around Bakhmut and along the Avdiivka-Donetsk City line on April 30. Ukrainian Eastern Grouping of Forces Spokesperson Colonel Serhiy Cherevaty reported that Ukrainian forces continue to have access to logistics routes to Bakhmut.
A Russian source suggested on April 30 that Russian forces will likely conduct their own offensive in southern Ukraine if the potential Ukrainian counteroffensive fails. The Russian source cited the fact that top Russian officials and law enforcement are discussing possible candidates to lead various districts in Zaporizhzhia Oblast which are currently under Ukrainian control as further evidence of Russian plans to move in the southern direction.[
Ukrainian Main Military Intelligence Directorate (GUR) Head Kyrylo Budanov reported that Russia is seeking to take control of numerous Russian paramilitary groups and is trying to create a new structure that would subordinate private military companies (PMCs) to the Russian General Staff.
A Russian milblogger claimed that Russia is forming new brigades of the airborne forces (VDV), elite units that have conducted joint operations with Wagner forces in Bakhmut. " [/box]
Consequences and what to do?
Hans Petter Midttun: On Saturday, April 29, President Zelensky said that Hungary's behaviour, and its relations with Russia, contravened its status as a NATO ally state.
The response from Hungary was swift. The Hungarian Minister of Foreign Affairs], wrote:
"If this statement means 'I respectfully thank Hungarians for welcoming and taking care of over a million refugees from Ukraine, and I respectfully thank them for continuing to send aid', then 'You are welcome, and you can count on us in the future'. The Hungarian Foreign Minister also said that Zelenskyy has no right to decide whether Hungary's behaviour is in line with its NATO membership. The Hungarian people have already paid too high a price for this war. Many Hungarians, members of the Hungarian community in Zakarpattia, have already been killed in this war, he added."
Some might question the wisdom of criticising and alienating an international partner and a member of NATO and the EU.
The answer is that Hungary is not the kind of international partner you want as your neighbour. On the contrary, it is not only seen as Putin's only friend in NATO and the EU but has not dissimilar aspirations towards Ukraine (and its other neighbour countries).
In its foreign policy paper, Hungary states that:
"Hungary's policy in all partner countries with a Hungarian community follows the same goal: to enhance conditions for the preservation of Hungarian communities and to establish harmonious relations between all three sides of the "triangle" determining the life of these communities, that is in the Hungarian-Hungarian relations, in the relations between the Hungarian community and the state it lives in, and in the bilateral relations between Hungary and that state. […] We wish to help those voices of the Hungarian communities be accepted which call for the establishment of various forms of autonomy."
In an address to the Hungarian parliament on May 10 2014 – on the eve of the illegal referendums in eastern Ukraine that led to Russian proxy forces declaring independence from Ukraine and calling for incorporation into Russia – Orbán said that ethnic Hungarians in Ukraine "must be granted dual citizenship, must enjoy all of the community rights and must be granted the opportunity for autonomy".
In the case of Ukraine, Hungary has cast its eyes on Transcarpathia, a region in Western Ukraine that shares a border with Hungary. It is the home to 96.8% of the 140,000 Hungarians living in Ukraine and 98.2% of those that speak Hungarian as a native language. Following Ukrainians (80.5%), Hungarians are the largest community (12%) in this region.
Orbán's comments were, however, not restricted to Ukraine. "The Hungarian issue is a European issue," he stated. Border changes in the wake of the First World War left 2.5 million Hungarians outside the borders of the vestigial Hungarian state that emerged from the dismemberment of the Austro-Hungarian empire.
Hungary continues to commemorate the Treaty of Trianon on June 4 (Day of National Unity) when – according to Hungary – two-thirds of Hungary's territory was ceded to neighbouring countries in 1920.
Hungary has been using every tool in its inventory – except military power – to further its strategic aim of ensuring greater autonomy for Hungarians living in neighbouring countries.
It has blocked Ukraine-NATO meetings since 2017 when the Ukrainian Parliament adopted legislation reinstating membership in NATO as a strategic foreign and security policy objective and the Ukrainian Parliament passed a new Law on Education.
Hungary falsely claims the law is "violating the human rights of its ethnic minorities" despite the law explicitly stating that "persons belonging to national minorities of Ukraine are guaranteed the right on education in municipal educational institutions of pre-school and primary education in the language of the national minority they belong to and in the official language of the State."
Since the first part meets Hungarian national interests, the problem lies in the latter part of the text. The requirement to learn Ukrainian (as Ukrainian citizens) conflicts with Hungary's aim of greater autonomy for Transcarpathia and its hope of future accession into Hungary. Ukraine seeks greater integration while Hungary seeks less.
Hungary has stated that it will block Ukraine's membership in NATO until it restores "the rights that ethnic Hungarians had before a language law curbed minorities' access to education in their mother tongues" (read: spend more time learning the official state language of Ukraine).
Hungary's foreign minister said Monday that while his government isn't in favour of the European Union sending funding for weapons to Ukraine, it won't block a planned tranche of 500 million euros ($543 million) in assistance to Kyiv to use in the war with Russia.
Budapest has refused to provide Ukraine with weapons or allow their transfer across its border with Ukraine. It opposes the delivery of Western weapons to Ukraine but has not vetoed the EU defence aid package. Hungary did, however, veto an 18-billion euro financial aid package in December (until the EU pledged to free a part of the funds earmarked for Hungary in exchange for Budapest allowing joint funding for Ukraine).
When NATO decided to let the weakest link define the Alliance's highest ambition for its support to Ukraine – and ended up doing far less than envisaged in its Strategic Concept from 2010 – it is fair to assume that Hungary was among the member states that vetoed anything but non-military support. For objectivity, it is also fair to assume that its stand was supported by other countries.
Additionally – and irrespective of its national interests in conflict with Ukrainian sovereignty and independence – Hungary has also vocally opposed sanctions against Moscow, arguing they have done more damage to EU countries than to Russia. On April 11, Hungary even signed agreements to ensure its continued access to Russian energy, a sign of its continuing close diplomatic and trade ties with the Kremlin. According to AP, "the Hungarian government has lobbied heavily in the EU to be exempted from any sanctions imposed on Russian gas, oil or nuclear fuel, and also has threatened to veto proposed EU actions against Moscow."
Hungary frames ethnic Hungarians, speaking Hungarian living in Ukraine in the same manner as Russia discusses ethnic Russians speaking Russian. While Russia uses ethnicity and language as a rationale to wage war against Ukraine, Hungary uses it to block Ukraine's accession to NATO to achieve its strategic aims and objectives. The aim is the same. To undermine Ukrainian sovereignty and independence. Both groups have one thing in common: They are Ukrainian citizens living in Ukraine under the Ukrainian constitution.
The bottom line is that Hungary – like Russia – will continue to use all tools available to it to blackmail Ukraine into submission. It will most likely maintain its stands on Ukraine's NATO membership until Ukraine cedes Transcarpathia greater autonomy.
"What?!" the prime minister exclaimed in a Twitter post responding to a POLITICO article on NATO Secretary-General Jens Stoltenberg's declaration in Kyiv on Thursday that "Ukraine's rightful place is in NATO."