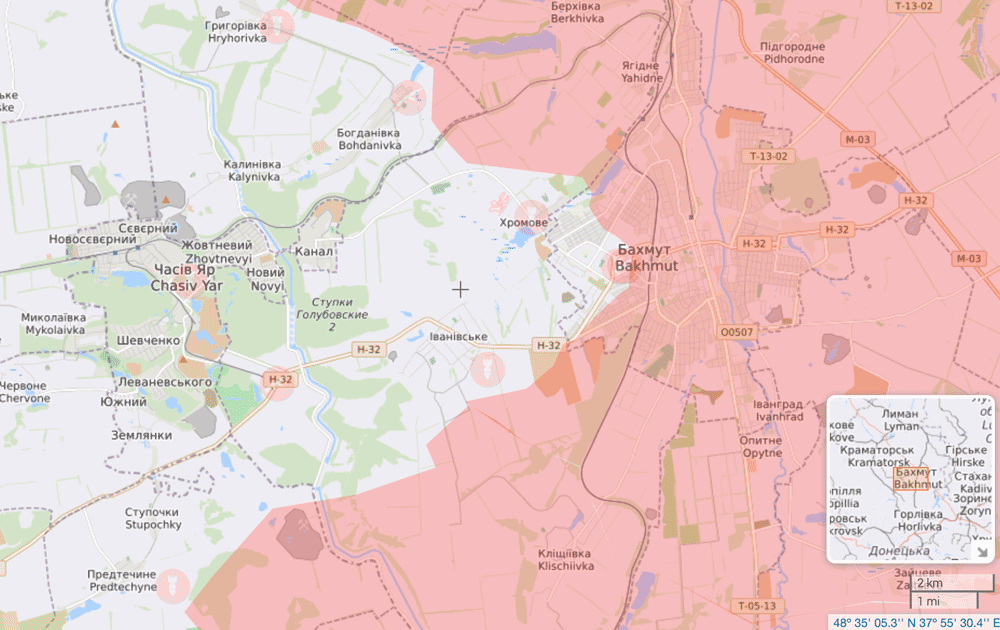 Situation around Bakhmut, Donetsk Oblast as of the evening of 29 April 2023. Map: Liveuamap. 
The Russians are far from capturing the lifeline route from Chasiv Yar to Bakhmut used to supply Ukrainian troops in Bakhmut. Spokesman for the Ukrainian Army's Eastern Group of Forces Serhii Cherevatyi stated this in his commentary to ZN.UA on 29 April.
Asked whether there is a danger that Russian forces capture this highway, Cherevatyi said:
"For several weeks now, the Russians have been talking about seizing the 'road of life' and maintaining constant fire control over it. In reality, everything is different. Yes, it is really difficult there, because their attempts to seize the road continue, as well as attempts to establish fire control," said Cherevatyi. "However, thanks to the Special Operations Forces and artillerymen, the Defense Forces do not allow the Russians to 'cut off' our logistics."
The spokesman said that engineers and logistics specialists are also working to pave new routes. All these efforts allow Ukraine to deliver weapons, medicines, food, and ammunition to Bakhmut, and evacuate the wounded from the embattled city.
"Heavy fighting continues, but there is no panic or uncontrollability. Everyone is acting according to predefined scenarios. The situation is fully controlled by the General Staff, plus we can see all the enemy's intentions and prevent them with fire. All of this together allows us to hold Bakhmut on," adds Cherevatyi added.
Read also:
Frontline update: Russia escalates airstrikes on Bakhmut, Ukrainians respond effectively
Frontline update: Ukrainians adapt to new Russian tactics, counterattack in Donetsk Oblast
Tags: Bakhmut, Donetsk Oblast