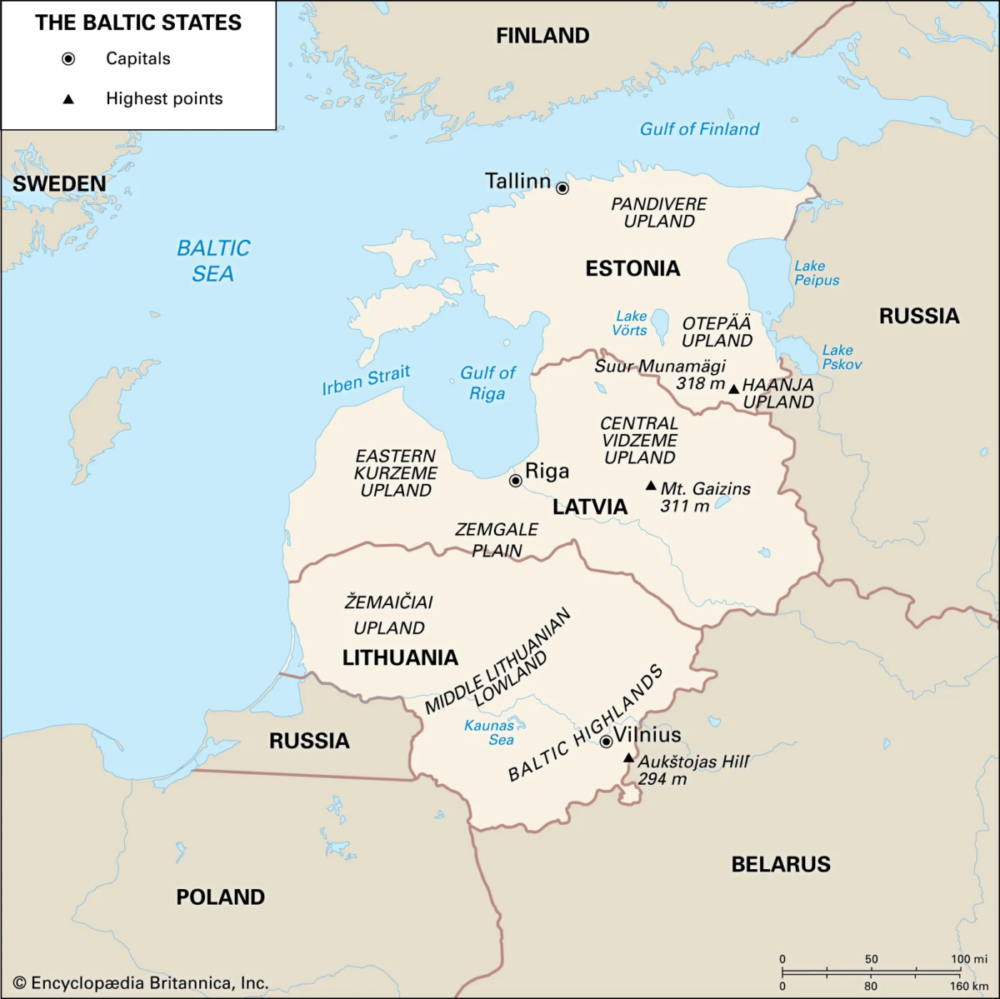 Baltic states on the map. Map: britannica.com 
Leaked Russian documents have revealed the Kremlin's strategy to increase its influence in the Baltic states, according to an international research network led by German media outlets NDR, WDR, and Süddeutsche Zeitung, with the Estonian media outlet Delfi involved in the research, ERR.ee reported. Tagesschau.de quoted German security experts, who consider the documents to be authentic.
The documents, written by the Russian government-affiliated think tank Presidential Directorate for Cross-Border Cooperation in the summer of 2021, outline a plan to avoid increasing NATO's influence in the region by strengthening Russia-friendly NGOs, tightening economic relations, and influencing public opinion against NATO's presence.
The papers, which report to the deputy head of the Russian presidential administration, Dmitry Kozak, indicate that the Kremlin wanted to support Russian-friendly parties and media outlets, preserve the Russian-language education system in the Baltic countries, and prevent the removal of Soviet-era monuments. However, unlike Russia's strategies for Belarus and Moldova, there is no evidence of any plans for military action against Estonia, Latvia, or Lithuania.
Russia planned to take control over Moldova by 2030 – investigation
Estonia's Prime Minister, Kaja Kallas, stated that Estonia and its allies have long been aware of Russia's interest in using hybrid tactics to assert influence in other countries. Lithuanian Prime Minister Ingrida Šimonytė and Latvian Prime Minister Krišjānis Kariņš commented in a similar vain.
Aleksander Toots, the deputy director of the Estonian Internal Security Service (KAPO), stressed the need to pay serious attention to Russia's plans, but also highlighted that the authors of the documents likely had no idea that life would soon take a completely different turn, especially after Russia's invasion of Ukraine in February 2022.
Russia saw the following as the most undesirable scenario: the active participation of the Baltic states in NATO activities, an increase in the presence of allied troops in the region, sanctions against Russia, and a decrease in trade. All of these events occurred after Russia unleashed its full-scale invasion of Ukraine.
Read also: