Surface drones attacked Sevastopol. Drone with explosives crashes near Moscow. Information on Ukrainian forces' advancement in east (left) bank of Kherson Oblast is being clarified.
A drone of Ukrainian origin, reportedly a UJ-22 Airborn, crashed with 17 kg of explosives 40 km from Moscow.

Earlier, the same drone crashed 90 km from the Russian capital. It has a maximum range of 1600 km. https://t.co/BRx5tfDGoe

— Euromaidan Press (@EuromaidanPress) April 24, 2023
Daily overview — Summary report, April 25
A map of the approximate situation on the ground in Ukraine as of 00:00 UTC 25/04/23.

There have been no notable changes to control since the last update. pic.twitter.com/9mcumUjtnA

— War Mapper (@War_Mapper) April 25, 2023
The General Staff's operational update regarding the Russian invasion as of 18.00 pm, April 25, 2023 is in the dropdown menu below:
[toggle]
Last day, Russian forces launched 6 missiles and 62 air strikes, shot 70 rounds from MLRS.
The threat of launching missile and air strikes on the entire territory of Ukraine remains high.
The main efforts of Russian forces continue to focus on conducting offensive actions in the Bakhmut, Avdiivka and Maryinka areas. Units of the Defence Forces of Ukraine repelled 43 enemy attacks on the specified areas of the front during the past day. The fiercest battles continue for Bakhmut and Maryinka.
Volyn' and Polissya axes: the operational situation has not changed significantly. There were no signs of the formation of offensive groups.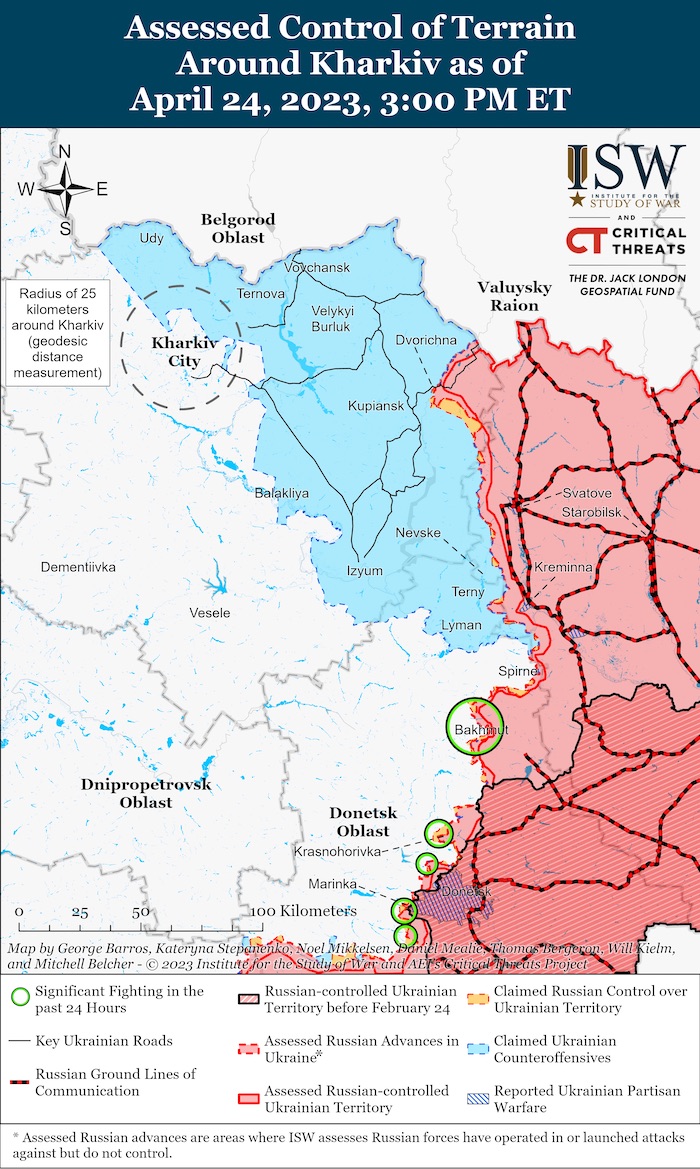 Sivershchyna and Slobozhanshchyna axes: Russian forces maintains a military presence in the Bryansk, Kursk and Belgorod regions bordering Ukraine. During the past 24 hours, the adversary shelled the settlements of Klyusy, Gremyach, Chernihiv Oblast; Novovasylivka, Kucherivka, Shalygine, Stukalyvka, Iskryskivshchyna, Volfyne, Mogrytsia, Popivka in the Sumy Oblast, as well as Okip, Mali Prohody, Strelecha, Neskuchne, Gatyshche, Budarky and Chugunivka in the Kharkiv Oblast.
Kupiansk axis: Russian forces continues to fortify positions in different areas. The settlements of Topoli, Kam'yanka, Krasne Pershe, Figolivka, Novomlynsk, Dvorichna, Zapadne, Kindrashivka, Masyutivka, Kislivka of Kharkiv Oblast and Novoselivske – Luhansk were hit by enemy artillery and mortar attacks.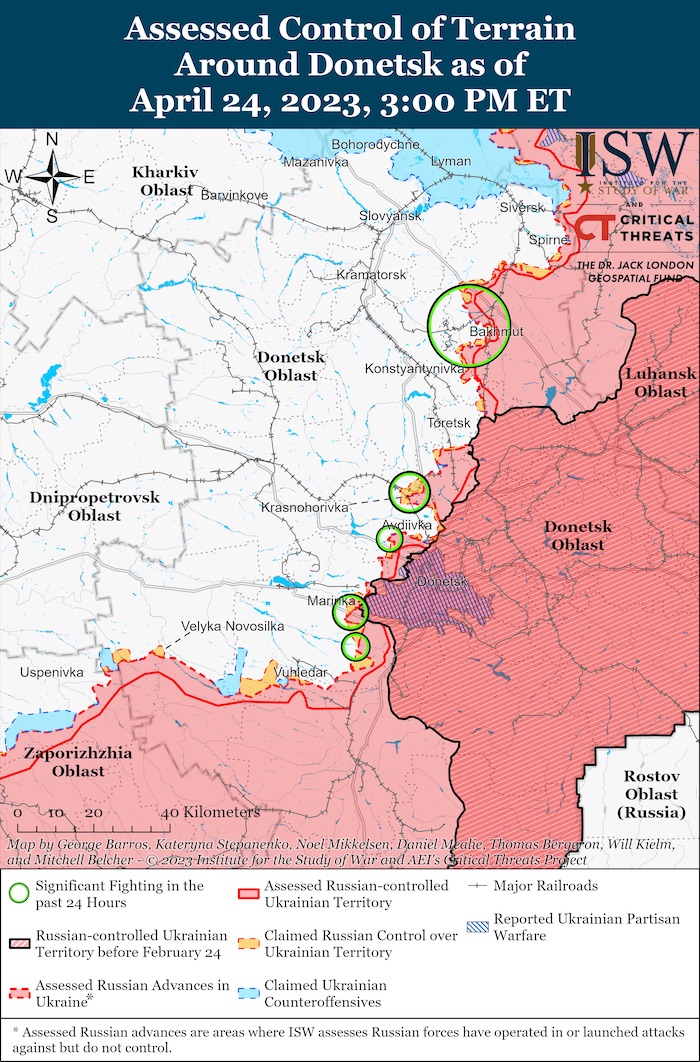 Lyman axis: Russian forces did not conduct offensive operations. Makiivka, Nevske, Dibrova, Belogorivka of the Luhansk Oblast and Torske, Spirne, Verkhnyokamianske and Pereizne of the Donetsk Oblast were hit by artillery fire.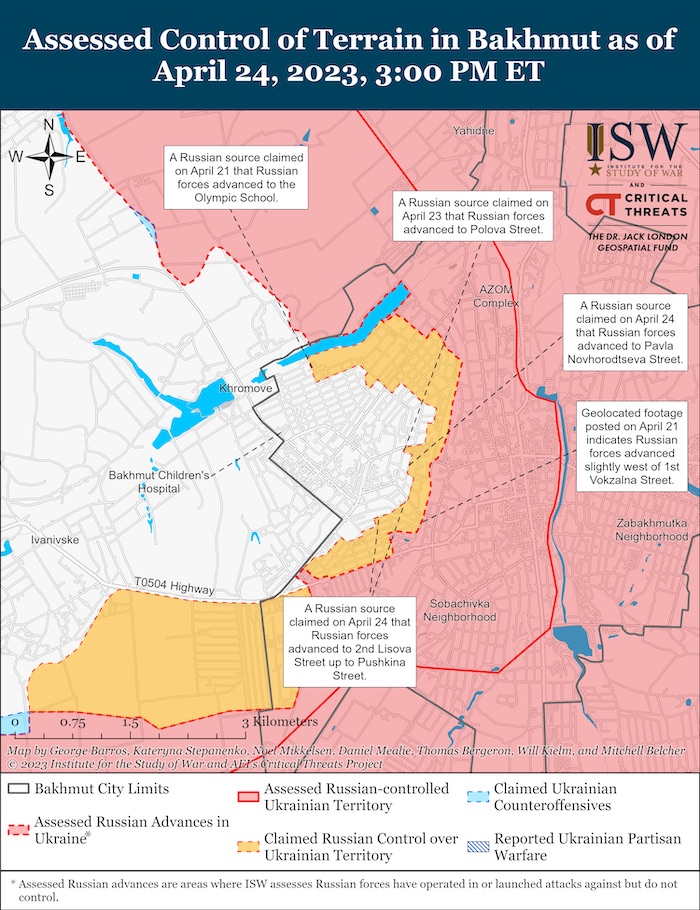 Bakhmut axis: Russian forces continue to conduct offensive actions. Heavy fighting continues for the city of Bakhmut. In addition, during the past day, Russian forces conducted unsuccessful offensive actions in the axis of the settlements of Novomarkove and Khromove. Vasyukivka, Orihovo-Vasylivka, Markove, Hryhorivka, Khromove, Bakhmut, Ivanovske, Chasiv Yar, Stupochki, Severnye and New York of the Donetsk Oblast were affected by enemy shelling.
Avdiivka axis: Russian forces carried out offensive actions near the settlements of Novokalynove, Stepove, Severna and Pervomayske of the Donetsk Oblast, without success. He carried out shelling of populated areas. These are, in particular, Novokalynove, Avdiyivka, Severne, Tonenka, Lastochkina, Pervomaiske, Karlivka and Nevelske of the Donetsk Oblast.
Maryinka axis: during the past day, our defenders repelled enemy attacks in the area of the Mar'yinka settlement, as well as near Novomykhailivka. Krasnohorivka, Gostre, Georgiivka, Maryinka, Pobyeda, Novomykhailivka, and Paraskoviivka of the Donetsk Oblast got under enemy fire.
Shakhtarske axis: Russian forces did not carry out offensive operations during the last day. Fired at Vugledar, Prechistivka, Velika Novosilka and Komar in the Donetsk Oblast.
Zaporizhzhia and Kherson axes: Russian forces is on the defensive. At the same time, they carried out shelling of populated areas, that are next to the line of military confrontation. Among them are Novosilka, Novopil' of the Donetsk Oblast; Olhivske, Malynivka, Chervone, Gulyaipilske, Charivne, Orihiv of the Zaporizhzhia Oblast; Ivanivka, Antonivka of the Kherson Oblast and the city of Kherson.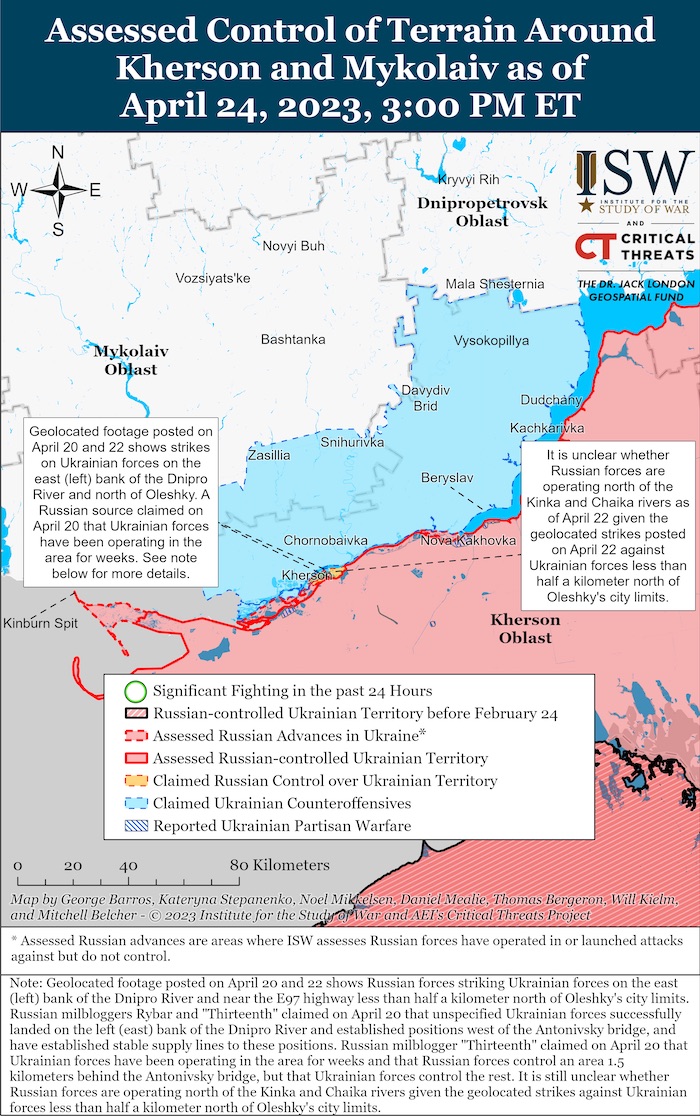 To provide medical assistance to their wounded, the Russian invaders continue to actively use medical facilities in the settlements of the temporarily occupied Luhansk Oblast. In particular, in the city of Khrustalnyi, the occupiers deployed a military hospital on the territory of the city hospital.
[The adversary continues to re-purpose the civilian infrastructure of the temporarily occupied settlements. In particular, Russian occupants are using one of the schools in Holubivka (Luhansk oblast) as a medical centre to provide medical care to their troops.]
Over the past day, the Ukrainian Air Force has struck 9 strikes on the areas of concentration of personnel and military equipment of the occupiers, as well as 3 strikes on anti-aircraft missile systems. In addition, our defenders shot down 10 enemy UAVs of various types.
Over the past day, units of missile and artillery troops hit a Russian anti-aircraft missile complex and 2 electronic warfare stations.
[/toggle]
Military Updates
Ukrainian forces establish a 20-km bridgehead on the Russian-occupied eastern bank of the Dnipro River, which gives them more freedom to launch sabotage and reconnaissance missions, and may assist in the main phase of the upcoming counteroffensivehttps://t.co/TCZzYE8meM

— Euromaidan Press (@EuromaidanPress) April 25, 2023
Surface drones attacked Sevastopol, Ukrainska Pravda reports. "Mikhail Razvozhayev, the so-called "governor of Sevastopol", said on the night of 23-24 April that the Russian Black Sea Fleet was repelling a surface drone attack on the city. According to Razvozhayev, Russian anti-submarine-sabotage forces shot down one drone, and another allegedly exploded on its own.
The so-called governor has claimed that the drones were shot down during an outer raid, and therefore no facilities in Sevastopol were damaged. The Russian Telegram channel Astra posted photos of broken windows in buildings in Sevastopol."
Drone with 17 kilograms of explosives crashes near Moscow, Ukrainska Pravda reports, citing Russian Telegram channel Baza and Russian media. "A drone allegedly made in Ukraine with 17 kg of explosives was found in Moscow Oblast. […]
As Baza reports, the downed drone was allegedly a Ukrainian-made UJ-22 Airborn, 3.5 metres long. It is assumed that the UAV ran out of fuel. About 30 briquettes of 570 grams each with explosives inside were allegedly found inside the drone. Baza reported that the UAV was probably equipped with C-4 charges. […]
This information was also picked up by collaborator Rogov. He wrote that a similar drone had allegedly crashed near Kolomna, Russia, earlier, and stated that as long as Ukraine exists, there will be no safe places in Russia".
Russian army mines fields near Melitopol, Ukrinform reports, citing the Melitopol Mayor Ivan Fedorov. "The occupiers are mining fields and dirt roads near the village of Vesele, Melitopol district. Now farmers, who were initially forced to sow the land, are forbidden to work in the fields, Fedorov said. 
Fedorov reminded that before, the Russians had mined the suburbs of Enerhodar and the area between Mykhailivka and Orlianske. A GMZ-3 tracked minelayer in the fields was noticed, which can "sow" a 1-2 kilometre strip with anti-tank mines within 10-20 minutes.
As Ukrinform reported earlier, in the Zaporizhzhia direction, Russian occupiers built fortifications, installed anti-tank weapons and mined the area expecting a Ukrainian counteroffensive."
According to British Defence Intelligence, (last 48 hours): 
The illegal and unprovoked invasion of Ukraine is continuing.

The map below is the latest Defence Intelligence update on the situation in Ukraine – 24 April 2023.

Find out more about the UK government's response: https://t.co/2a9lnkUrK2

🇺🇦 #StandWithUkraine 🇺🇦 pic.twitter.com/c3wgyKwllv

— Ministry of Defence 🇬🇧 (@DefenceHQ) April 24, 2023
Over April 2023, Russia's average daily casualty rate has highly likely fallen by around 30 per cent. This follows exceptionally heavy Russian casualties over January-March 2023.
Figures released by the Ukrainian General Staff suggest a reduction from a daily average of 776 Russian casualties in March, to an average of 568 so far in April. Defence Intelligence cannot verify Ukraine's exact methodology, but the general trend is likely accurate.
Russia's losses have highly likely reduced as their attempted winter offensive has failed to achieve its objectives, and Russian forces are now focused on preparing for anticipated Ukrainian offensive operations.
The authorities in occupied areas of Ukraine are almost certainly coercing the population to accept Russian Federation passports. Residents in Kherson have been warned that those who have not accepted a Russian passport by 01 June 2023 will be 'deported' and their property seized.
Russia is using passports as a tool in the 'Russification' of the occupied areas, as it did in Donetsk and Luhansk before the February 2022 invasion.
Russia is likely expediating the integration of the occupied areas of Ukraine into the bureaucracy of the Russian Federation to help paint the invasion as a success, especially in the run-up to the 2024 presidential elections.
Losses of the Russian army 
Russia's estimated losses in Ukraine as of day 426 of the all-out war, according to Ukraine's GenStaff pic.twitter.com/HwCcDhNCAs

— Euromaidan Press (@EuromaidanPress) April 25, 2023
As of Tuesday 25 April, the approximate losses of weapons and military equipment of the Russian Armed Forces from the beginning of the invasion to the present day:
Personnel – about 187770 (+690)
Tanks – 3688 (+5)
Armoured combat vehicles – 7151 (+12)
Artillery systems – 2863 (+14)
Multiple rocket launchers –MLRS – 539 (+0)
Air defence means – 291 (+2)
Aircraft – 308 (+0)
Helicopters – 294 (+0)
Automotive technology and fuel tanks – 5784 (+31)
Vessels/boats – 18 (+0)
UAV operational and tactical level – 2437 (+24)
Special equipment – 345 (+6)
Mobile SRBM system – 4 (+0)
Cruise missiles – 911 (+0)
120,000 previously mobilized Russian soldiers not yet deployed in Ukraine, Ukrinform reports, citing Kyrylo Budanov, the head of the Defence Intelligence of Ukraine in an interview with RBC-Ukraine. "About 120,000 previously mobilized Russian soldiers have not yet been deployed in Ukraine. Budanov noted that those mobilized people are currently on the territory of Russia.
They can't all be deployed, you have to understand that. Because there are losses, there is some ongoing work and someone has to do it. Since the losses are quite significant, someone has to compensate for this shortfall, he said.
As reported, the Kremlin wants to recruit 400,000 "volunteers," the British Ministry of Defense said on March 30, referring to intelligence data."
Iran ships 300,000 artillery shells and 1 million rounds of ammunition to Russia the past six months, Ukrainska Pravda reports, citing The Wall Street Journal. "Cargo ships have transported over 300,000 artillery shells and 1 million rounds of ammunition from Iran to Russia in the past six months, according to officials and documents seen by The Wall Street Journal. […]Officials in the Middle East said that the last shipment of weapons known to have crossed the Caspian Sea to Russia left Iran in early March aboard cargo ship Rasul Gamzatov, a 460-foot Russian vessel. It carried 1,000 containers with 2,000 artillery shells, a previously unreported shipment. […]
Publicly available shipping data suggests that the Rasul Gamzatov left the Iranian port of Bandar Amirabad on 8 March and arrived in Astrakhan in Russia 6 days later. The vessel sailed back to Iran in late March and left for Russia once again, staying in docks for only a day. […]
Several months ago, the United States and other allies of Ukraine stressed that Iran was ready to send ballistic missiles to Russia. However, according to US and foreign experts, this has not happened yet. […]
Anna Borshchevskaya, a senior fellow at the Washington Institute for Near East Policy, said Iran's relationship with Russia is gradually moving from transactional to strategic. Russia is now dependent on Iran for the first time in the broad scope of the Russia-Iran relationship. It's a historic shift".
Humanitarian 
A little Ukrainian kid tells his dad how much he misses him.

The boy's father defends Ukraine in Bakhmut.
🎥28_katya_28/ТikТok pic.twitter.com/ba7dLqAyak

— Euromaidan Press (@EuromaidanPress) April 25, 2023
Ukraine approaching 'all for all' exchange, Ukrinform reports. "Our country is approaching an "all-for-all" exchange with Russia, and it is real. The head of the Defense Intelligence of Ukraine, Kyrylo Budanov, said this in an interview with RBC-Ukraine, answering the question of whether he considers this exchange format realistic.
Yes, [I think], we are, in principle, approaching this. Let's look at the numbers again. As of now, more than 2,200 people have already been exchanged [the number of people released from captivity by Ukraine]. This is an unprecedented case in world history. No one has ever done anything like this. All exchanges take place after the end of hostilities and not during them, he clarified."
President Zelensky: More than 2,230 people released from Russian captivity, Ukrinform reports, citing President Volodymyr Zelensky and the Office of the President of Ukraine. "A total of 2,238 people have been released from Russian captivity since February 24, 2022, including 140 civilians. Ukraine is constantly working on the release of both military and civilians.
According to the Head of State, the Joint Center for the coordination of search and release of persons illegally deprived of freedom as a result of the Russian armed aggression operates around the clock.
We are working on the release of both military and civilians. Of course, torture takes place, first of all, against the heroes of our state, those who defended it. We are working constantly and will continue to do so, Zelensky stressed."
14,000 civilian objects already damaged in Mykolaiv region, Ukrinform reports. "Since the beginning of the full-scale war, more than 14,000 objects have been destroyed or damaged in Mykolayiv region, of which more than 3,000 objects were hit twice or more, Vitaliy Kim, Head of the Mykolaiv Regional State Administration, said."
Over 6,000 civilian objects damaged and destroyed in Kherson region due to shelling, Ukrinform reports, citing Head of the Kherson Regional Military Administration Oleksandr Prokudin. "In Kherson region, more than 6,000 civilian objects have been damaged or destroyed by shelling, and the humanitarian situation in the de-occupied territory is of medium complexity."
Environmental
$100B needed to rebuild cultural infrastructure of Ukraine – deputy minister, Ukrinform reports. "According to our statistics, 1,373 cultural institutions have been damaged or destroyed: libraries, museums, theaters, philharmonics, art schools. More than 550 cultural monuments, as well as more than 200 religious buildings, have been damaged or destroyed, Deputy Minister of Culture and Information Policy of Ukraine Halyna Hryhorenko told the leading Austrian newspaper Die Presse in an interview. […]
According to the approximate calculations of the World Bank, cultural reconstruction will cost 100 billion dollars, Hryhorenko said about the estimated needs for the restoration of cultural objects.
The official also noted that the Russians loot Ukrainian museums and libraries in the occupied territories. For example, they stole up to 70% of exhibits from Kherson museums. Thefts of works of art are systematic in nature. This happened both in Mariupol and in Melitopol. We know about it from open sources. It has not been officially confirmed. It will be difficult to hold the Russians to account for this. They keep the exhibits in Crimea. Libraries and museums were also looted in Kharkiv, Izium, and Balaklia, the official added.
She emphasized that the Russians want to erase the Ukrainian language, our culture, our national memory and replace it with Russian. Hryhorenko gave an example of the targeted shelling of the museum of the Ukrainian philosopher Hryhoriy Skovoroda in a small village in Kharkiv region in May 2022. There were no military objects near the museum."
Legal 
Concern mounts as #Russia blocks release of #Ukraine #journalist seized over a year ago from #Kyiv_oblast#Dmytro_Khyliuk #LetMyPeopleGo #StandWithUkraine #StopRussiahttps://t.co/BSihMAoVeD

— Euromaidan Press (@EuromaidanPress) April 25, 2023
Prigozhin says Wagnerites will no longer take prisoners, Ukrainska Pravda reports, citing Prigozhin's press service on Telegram. "Prigozhin said that Wagner's men would no longer take prisoners, commenting on an audio recording posted on 23 April on the Telegram channel Wagner's Unloading. The channel claims that the audio contains an intercepted conversation between the Ukrainian soldiers, who allegedly decided to shoot the wounded Wagnerite. On the recording, Ukrainian soldiers are allegedly speaking Russian to each other. One of them asks what to do with the wounded man who was "smoked out of the hole". The other man replies, "Shoot him".
The Ukrainian side has not commented on the appearance of this audio recording. It is currently unknown whose voices are actually recorded on it. Instead, Prigozhin considers the posted recording to be proof of the execution of the prisoner.
The founder of the Wagner PMC stated that we will not violate the rules of humanity and will simply kill everyone on the battlefield. He called this new rule the law of the 300th [cargo 300 is a Soviet military term defining wounded/injured soldier– ed.]. We will kill everyone on the battlefield. We will not take any more prisoners, Prigozhin said. At the same time, he clarified that Wagner Group does not currently know the name of the prisoner allegedly shot by the Ukrainian military."
Estonian Prime Minister on "Hybrid Tribunal": It Will Allow Putin to Avoid Responsibility, European Pravda reports. "Estonian Prime Minister Kaja Kallas insists on creating a special tribunal to hold Russian President Vladimir Putin and other Russian leaders accountable for the crime of aggression.
We support an international tribunal to investigate the crime of aggression. War crimes can be considered by the International Criminal Court and courts in Ukraine where they were committed. But when it comes to the crime of aggression, it is a crime of leaders. I am a lawyer by education and can say that any hybrid tribunal will allow Putin, Lavrov and others to avoid responsibility. It should be underlined clearly that aggression is a crime committed by leaders. They must be held accountable for it, Kallas said at a joint press conference with President Volodymyr Zelenskyy in Zhytomyr.
According to her, one of the obstacles in the way of a special tribunal concerns that the ICC has already taken steps against Putin. […] We will help make sure there is no impunity, no immunity for the crimes of Russians, including the crime of aggression. Holding Russian leaders accountable for genocide and crimes against humanity is the goal. We can demonstrate that deportation was a crime of this regime, as was the attack on the Ukrainian people. Crimes without punishment will encourage new atrocities, the Estonian Prime Minister added.
Earlier, the media reported that Brussels and G7 countries were leaning towards the idea that the most realistic prospect for holding those responsible for the crime of aggression against Ukraine accountable would be a hybrid tribunal. It could combine the national jurisdiction of Ukraine and the process based on international law with judges from different countries. Kyiv does not support the "hybrid tribunal" the West is promoting for Putin."
Support
Ukrainian troops undergo combat coordination using American infantry fighting vehicles Bradley and Slovenian tanks M-55S.
📷https://t.co/r2h7dhQ7sk pic.twitter.com/iGqFKNYkeS

— Euromaidan Press (@EuromaidanPress) April 25, 2023
Poland, Czech Republic and Slovakia call for security guarantees for Ukraine even before NATO membership, Ukrainska Pravda reports, citing an article of the prime ministers of Poland, the Czech Republic, Slovakia: Mateusz Morawiecki, Petr Fiala, Eduard Heger; in the magazine Foreign Affairs. "NATO should outline a clear path to Ukraine's membership when the appropriate conditions are met. Before that, they should be ready to provide security guarantees that will once and for all remove the grey zone status from Ukraine. The prime ministers believe it is not too early to plan post-war guarantees for Ukraine's security because there will be no investment and sustainable reconstruction in Ukraine unless it is able to defend itself against future aggression.
In their opinion, at the upcoming summit in Vilnius, NATO will have to answer difficult yet unavoidable questions about the alliance's future, including its relationship with Ukraine and its future strategy on Russia. […]
Now is the time for the alliance to lay out a clear and credible path for Ukraine's membership, if and when Kyiv wishes and when conditions allow. And until then, we must be ready to provide security guarantees, beyond political assurances, that prevent Ukraine from becoming a grey zone once and for all. According to the heads of the three governments, grey zones create opportunities for authoritarian regimes to sow instability and heighten tensions. […]
Last week, during NATO Secretary General Jens Stoltenberg's visit to Kyiv, Zelenskyy said that Kyiv expects the adoption of a package of security guarantees for Ukraine on the way to membership in the Alliance from the NATO summit in Vilnius."
Estonia and Ukraine Agree on Joint Actions for Security Guarantees before Joining NATO – Zhovkva. European Pravda reports. "Ukraine's President Volodymyr Zelenskyy and Estonia's Prime Minister Kaja Kallas have signed a joint declaration to work together to establish a path that will help bring Ukraine closer to NATO membership and pave the way for Ukraine to join NATO as soon as conditions allow and commit to coordinating closely on this matter and to ensuring Ukraine's security while on a path towards NATO membership. […]
According to [Ihor Zhovkva, deputy head of the Office of the President], Estonia has completed the first ten countries of the Alliance (Czech Republic, Belgium, Montenegro, Lithuania, Poland, Italy, Latvia, Iceland, and Slovenia), which have already formalised support for Ukraine's NATO membership in similar declarations.
The ultimate goal is clear and understandable – the fastest possible full membership for Ukraine. In the meantime, we are already working on creating effective security guarantees, which we should receive from the Alliance states even before joining NATO, Zhovkva said."
Retired German general argues Ukraine needs western fighter jets, not just air defense systems

Bühler emphasizes that F-16s are "just an example," with the ultimate goal being to enable Ukrainians to independently secure their country in the long termhttps://t.co/H6hu1LVNL9 pic.twitter.com/dcMnyeDalx

— Euromaidan Press (@EuromaidanPress) April 24, 2023
New Developments
The US is preparing for peace talks with Russia if 🇺🇦's counteroffensive falls short of expectations, Politico says

"The administration has only itself to blame for withholding certain types of arms," Kurt Volker, the ex-US special envoy for 🇺🇦, said.https://t.co/r9Sd0k1X6a

— Euromaidan Press (@EuromaidanPress) April 24, 2023
EU foreign policy chief @JosepBorrellF says presidents Xi Jinping of China & Lula da Silva of Brazil should travel to Ukraine and see the war "through the eyes of those who have been bombed" by Russia before engaging in any further peace-promoting effortshttps://t.co/FbdCrmz4qI

— Euromaidan Press (@EuromaidanPress) April 25, 2023
To put forward peace proposals, one must first visit Ukraine, Ukrinform reports, citing EU High Representative Josep Borrell. "A number of countries are putting forward proposals for a peaceful settlement in Ukraine, but for such proposals to be effective, one must first visit Ukraine and understand the difference between an aggressor and a victim of aggression. […] We know that Ukraine needs ammunition and missiles urgently, and they need them to defend its territory. It is not that Russia does not want to stop and Ukraine does not want to stop either. No, this is not the way of presenting things. Russia does not want to stop the invasion and Ukraine has to continue defending [itself]. This is the right way of explaining what is happening there, Borrell said."
EU leaders will discuss China relation during June summit, Reuters "EU leaders will discuss the bloc's stance towards China and its future relations with the country during their next summit in June, EU Council President Charles Michel said on Monday. […] EU foreign affairs ministers, speaking before a joint meeting on Monday, expressed their dismayover recent remarks by China's ambassador to France, who questioned the sovereignty of former Soviet states such as Ukraine."
Beijing says EU-China relations should not be tied to 'Ukraine crisis', Ukrinform reports, citing The Paper. "China's Ambassador to the European Union, Fu Cong, has said that the EU should build relations and develop cooperation with China regardless of Beijing's position on the "Ukraine crisis." According to the ambassador, the "Ukrainian crisis" causes great concern for European countries and is the background against which Europeans consider all other issues."
The Chinese Foreign Ministry said on Apr 24 it respects the sovereignty of former Soviet republics after Beijing's ambassador to France caused an uproar in Europe by saying they aren't sovereign nationshttps://t.co/eoPHwPbxJ2

— Euromaidan Press (@EuromaidanPress) April 25, 2023
China says it respects sovereignty of all former Soviet states, Ukrainska Pravda report, citingAFP, quoting Mao Ning, China's Foreign Ministry Spokeswoman. "China respects the sovereign state status of the participating republics after the dissolution of the Soviet Union, she said. The spokeswoman stated that China respects the sovereignty, independence and territorial integrity of all countries and upholds the purposes and principles of the UN Charter. After the collapse of the Soviet Union, China was one of the first countries to establish diplomatic relations with relevant countries, the representative of the ministry added.  She also said that some media misinterpret China's position on the Ukrainian issue and are sowing discord in relations between China and relevant countries."
China's cooperation with Europe 'unlimited' as with Russia – Chinese envoy, Reuters "China's cooperation with Europe and other nations is "endless" just as its ties with Russia are "unlimited", China's envoy to the European Union said, giving some reassurance of China's neutrality over Ukraine in an interview published on Monday. […] Various EU diplomats have slammed China for its refusal to describe Russia's war on Ukraine as an invasion or call for a Russian withdrawal, noting that Beijing and Moscow declared a "no limits" partnership just days before Russian troops launched their attack on Ukraine."
"On the eve of a much-anticipated counteroffensive that's only weeks away — most likely mid-May, if the ground is dry enough, or possibly early June — Ukraine is sending as many false signals as it can to confuse Russia"https://t.co/ht40gGI4IB

— Euromaidan Press (@EuromaidanPress) April 25, 2023
Assessment 
https://www.understandingwar.org/backgrounder/russian-offensive-campaign-assessment-april-24-2023*
On the war. 
The Institute for the Study of War has made the following assessment as of  April 24, 2022:
Russian milbloggers speculated that Russian President Vladimir Putin ordered additional military command changes on April 20. A prominent Russian milblogger claimed that Putin signed a decree on April 20 about a series of military command changes and formally dismissed Commander of the Eastern Military District Colonel General Rustam Muradov. The milblogger noted that Muradov's dismissal likely resulted from his disastrous offensive on Vuhledar that resulted in many casualties among Russian personnel and the loss of much military equipment. The milblogger added that the decree also forced Army General Aleksandr Dvornikov — who reportedly commanded Russian forces in Ukraine in April 2022 — to retire. The milblogger claimed that Putin forced former commander of the Western Military District Colonel General Alexander Zhuravlyov into retirement alongside other unnamed commanders as well. The milblogger claimed that the Kremlin is now relying on newly reappointed Commander of the Russian Airborne Forces Colonel General Mikhail Teplinsky to achieve decisive results.
These reports about command changes and dismissals follow the Kremlin's reported dismissal of Russian Pacific Fleet Commander Admiral Sergei Avakyants on April 19. A Russian milblogger claimed that Avakyants was not fired as a result of poor performance during military drills in the Pacific, but that he will be forming a new "organization" under the rumored control of the "gas sector." It is unclear if this was an intentionally vague reference to the reports about Russian state-owned gas company Gazprom's formation of a private security company. The milblogger noted that he is not sure if the organization will cooperate with the Russian Volunteer Society for Assistance to the Army, Aviation, and Navy of Russia (DOSAAF) or the Young Cadets National Movement (Yunarmiya). ISW previously reported that Russian state gas companies — namely Gazprom — are forming new military formations and that DOSAAF has been proactive in Russian military recruitment efforts.
Wagner Group financier Yevgeny Prigozhin has launched an information operation to undermine the credibility of Russian state-affiliated private military groups (PMCs). Prigozhin claimed to visit the positions of "Potok" and the "Alexander Nevsky" units – which Prigozhin characterized as "micro-PMCs" – and harshly criticized the poor condition of these units on April 24. The Potok battalion is reportedly one of three volunteer detachments of the Russian state-owned energy company Gazprom and is analogous to the Russian State Combat Reserve (BARS). The Potok battalion is reportedly subordinated to the Russian Ministry of Defense PMC Redut. Prigozhin claimed that these units are supposed to cover Wagner's flanks and asked how these units can conduct combat operations if they lack the proper supplies and weapons. Prigozhin also criticized the general proliferation of such PMCs, which likely suggests that Prigozhin views these new entities as Wagner's competition.
Wagner-affiliated sources claimed on April 24 that Wagner forces tasked Potok with defending unspecified newly captured positions to allow Wagner to regroup, but that Potok abandoned these positions and allowed Ukrainian forces to recapture the area. Alleged personnel of the Potok unit posted a video message on April 24, blaming the leadership of Gazprom and PMC Redut for failing to provide Potok with proper weapons and supplies as well as blaming Wagner for forbidding the Potok personnel from leaving their positions. Some milbloggers — including Wagner-affiliated milbloggers — criticized the Potok unit for blaming leadership and instead attributed their poor combat performance to their status as volunteers. The milbloggers' and Prigozhin's reports indicate that Wagner has authority over Russian MoD-owned entities, which in turn indicates that Prigozhin has regained some favor with the Kremlin.
Kremlin authorities proposed equalizing pay between mobilized personnel and volunteers likely in an attempt to incentivize military service. Russian President Vladimir Putin met with United Russia Secretary Andrey Turchak on April 24 to discuss initiatives to provide benefits to Russian military personnel. Putin expressed support for Turchak's proposal to equalize the salary of "all participants" of the war in Ukraine. Turchak claimed that mobilized personnel currently receive 195,000 rubles (about $2,400) monthly no matter where they serve, whereas contract soldiers receive the same amount only when serving on the frontlines. Turchak claimed that contract soldiers serving in the rear are receiving salaries "several times less" than those received by soldiers in the same role on the front line. Turchak also proposed to implement other social benefits including: setting an admission quota at Russian universities for veterans, for those awarded Hero of Russia of three Orders of Courage, and for children of participants in the war; reducing or cancelling the commission fees for withdrawing or transferring money; and extending or cancelling loans for parents, spouses, and children of veterans in the event of death or severe disability. ISW previously reported on conflicts between different groups of Russian servicemen regarding unequal payments and social benefits, and the Kremlin is likely attempting to appear to resolve these discrepancies to encourage enlistment.
The Saratov Oblast Investigative Committee detained a former Wagner Group commander who told Russian human rights organization Gulagu.net about Wagner's murder of children and other civilians in Bakhmut. Gulagu.net founder Vladimir Osechkin reported on April 24 that the Saratov Oblast Investigative Committee arrested Wagner commander Azamat Uldarov, who detailed Wagner's practice of killing children in Bakhmut and the group's treatment of prisoners of war on Wagner Group financier Yevgeny Prigozhin's orders (which Prigozhin denied). Osechkin stated that four other Wagner mercenaries accompanied the Investigate Committee and threatened Uldarov with death for his testimony against Prigozhin. Wagner's cooperation with local investigative authorities indicates that Wagner and Prigozhin are able to influence certain local authorities and security organs. This anecdote further suggests that Wagner is deeply invested in encouraging participation in atrocities in order to build social cohesion among the group and indicates that Wagner uses the threat of retribution to discourage dissenting voices that expose Prigozhin to discredit the wider group.
Ukrainian forces likely conducted a naval drone attack against the Russian Black Sea Fleet's (BSF) base in Sevastopol in the early morning of April 24. Geolocated footage shows a likely Ukrainian naval drone detonating in the port of Sevastopol reportedly around 3:30am on April 24. The extent of damage from the strike is unclear. The Russian Ministry of Defense announced on April 24 that Ukrainian forces attempted to attack the BSF base in Sevastopol with three unmanned surface vehicles and claimed that Russian forces destroyed all three vehicles. Russian occupation governor of Sevastopol Mikhail Razvozhaev reported that of the two of the three unmanned surface vehicles entered Striletskyi Bay and that one of them detonated on its own, damaging four residential buildings. Razvozhaev reported that the attack did not damage any military infrastructure. Ukrainian forces have likely targeted the Russian BSF before: the Ukrainian forces likely attacked a Grigorovich-class frigate of the BSF near Sevastopol with unmanned surface vehicles on October 29, 2022. […]
Krasnoyarsk Krai deputy Konstantin Senchenko resigned on April 24 following the resignation of Krasnoyarsk Krai Governor Aleksandr Uss on April 20. Senchenko reportedly left Russia over a year ago and actively criticized the war, earning himself a fine in January for "discrediting the army." Uss reportedly resigned following an offer by Russian President Vladimir Putin to work on the federal level. Senchenko's and Uss's resignations may signal discontent with Kremlin leadership on more regional levels of Russian government.
Key Takeaways
Russian milbloggers speculated that Russian President Vladimir Putin ordered additional military command changes on April 20.
Wagner Group financier Yevgeny Prigozhin has launched an information operation to undermine the credibility of Russian state-affiliated private military groups (PMCs).
Kremlin authorities proposed equalizing pay between mobilized personnel and volunteers, likely in an attempt to incentivize military service.
Saratov Oblast Investigative Committee detained a former Wagner Group commander who told Russian human rights organization Gulagu.net about Wagner's murder of children and other civilians in Bakhmut.
Ukrainian forces likely conducted a naval drone attack against the Russian Black Sea Fleet's (BSF) base in Sevastopol in the early morning of April 24.
Russian Foreign Minister Sergei Lavrov arrived in New York City on April 24 to chair a session of the United Nations Security Council (UNSC).
The Wall Street Journal (WSJ) reported on April 24 that Russian ships are ferrying Iranian ammunition across the Caspian Sea to resupply Russian troops fighting in Ukraine.
Krasnoyarsk Krai deputy Konstantin Senchenko resigned on April 24 following the resignation of Krasnoyarsk Krai Governor Aleksandr Uss on April 20.
Ukrainian forces have made marginal gains south of Kreminna as of April 24 and continue to target Russian logistics nodes in rear areas of Luhansk Oblast.
Russian forces continued ground attacks in and around Bakhmut and along the Avdiivka-Donetsk City frontline.
Some Russian sources denied claims from other Russian milbloggers that Ukrainian forces established enduring positions in east (left) bank Kherson Oblast.
The Kremlin continues crypto-mobilization efforts likely in an attempt to avoid a second wave of formal mobilization.
The Wagner Group may be attempting to fill law enforcement roles in occupied territories."
Russian forces stockpile missiles to repel Ukrainian counter-offensive, Ukrainska Pravda reports, citing Kyrylo Budanov, Head of Ukraine's Defence Intelligence, in an interview with news agency RBC-Ukraine. "Budanov said the Russians have been amassing missiles to disrupt the offensive operation for a month now. They will mostly hit the groups of troops that will be built up, he said.
If they [Russians] don't waste any missiles, they will have a certain amount by the autumn, [it will be] less than they had when they started launching these missile attacks, nevertheless quite a significant one. However, that's not going to happen because they are planning to use those missiles soon.
The last time Russia launched a massive missile attack was on the night of 8-9 March. Then 13 of Ukraine's oblasts came under attack."
Russian forces will likely pose significant obstacles defending critical sectors of the frontline, Institute for the Study of War assess. "This report is based on a number of assumptions about Ukrainian capabilities that ISW does not, as a matter of policy, attempt to assess or report on. It assumes, in particular, that Ukraine will be able to conduct a coordinated multi-brigade mechanized offensive operation making full use of the reported nine brigades being prepared for that operation.
That task is daunting and larger than any offensive effort Ukraine has hitherto attempted (four Ukrainian brigades were reportedly used in the Kharkiv counter-offensive, for example). It also assumes that Ukraine will have integrated enough tanks and armored personnel carriers of various sorts into its units to support extended mechanized maneuver, that Ukrainian mechanized units will have sufficient ammunition of all sorts including artillery, and that Ukraine will be able to conduct long-range precision strikes with HIMARS and other similar systems integrated with and supporting maneuver operations as it has done before. It further assumes that Ukrainian forces will have the mine-clearing and bridging capabilities needed to move relatively rapidly through prepared defensive positions. […]
Russian forces in Ukraine are operating in decentralized and largely degraded formations throughout the theater, and the current pattern of deployment suggests that most available units are already online and engaged in either offensive or defensive operations. ISW assesses that Russian forces are currently operating along seven axes: Kupiansk; Luhansk Oblast; Bakhmut; Avdiivka-Donetsk City; western Donetsk/eastern Zaporizhzhia; western Zaporizhzhia; and Kherson Oblast. Russian forces are pursuing active offensive operations on at least five of these axes (Kupiansk, Luhansk, Bakhmut, Avdiivka-Donetsk City, and western Donetsk/eastern Zaporizhzhia) and predominantly pursuing defensive operations on the western Zaporizhzhia Oblast and Kherson Oblast axes. The forces currently committed to both offensive and defensive operations in Ukraine are both regular (doctrinally consistent based on Russian pre-war units) and irregular (non-standard and non-doctrinal) forces, and it is highly likely that the majority of Russian elements throughout Ukraine are substantially below full strength due to losses taken during previous phases of the war. […]
Russia has committed elements of two military districts and two airborne (VDV) divisions to an unsuccessful offensive in Luhansk Oblast that has operationally culminated. […] Considering that most of these elements have been actively engaged in offensive operations along an active front for the greater part of four months they are likely exhausted and substantially degraded. […]
VDV forces are also actively engaged near Kreminna. […] The Main Directorate of the Russian General Staff (GRU) has also deployed limited special forces (Spetsnaz) elements along the Svatove-Kreminna line, likely to offset the lack of needed infantry capabilities. […] The Russian military continues to use Spetsnaz units to conduct ground attacks and infantry maneuvers instead of for their primary sabotage and targeting missions, as ISW has previously observed. 
Russian forces have failed to make meaningful advances in Luhansk Oblast in 2023, despite the heavy commitment of elements of at least three armies of two military districts, elements of two VDV divisions, and the support of numerous irregular formations. The forces that have been fighting along this line for at the better part of four months are likely exhausted and substantially degraded. They have continued to attack, have not rotated to rest and refit, and do not appear to have prepared themselves to receive a Ukrainian offensive. 
The current Russian pattern of commitment around Bakhmut suggests that the Russian military leadership is increasingly prioritizing the completion of the capture of [Bakhmut] before the start of the Ukrainian counter-offensive if possible. The Wagner Group continues to take heavy losses. It may well be able to complete the seizure of the city at some point. Sustaining Wagner's advance beyond its culmination required the Russian MoD to commit VDV formations to allow Wagner to concentrate almost entirely on the urban fight.  […] VDV units near Bakhmut are likely further removed from direct, highly attritional urban combat than Wagner elements, and will thus likely emerge from the battle for Bakhmut in substantially better shape than Wagner. […]
The Russian military command has heavily committed a variety of Donetsk People's Republic (DNR) elements to the Avdiivka-Donetsk City frontline, alongside some Southern Military District (SMD) and Northern Fleet units. These elements have made no operationally significant progress on this axis in 2023 beyond marginal tactical advances around Avdiivka and within Marinka. DNR forces have notably been active along this axis since 2014, and the current frontline in this area is within kilometers of the line that has held for eight years.
DNR elements in this area have particularly suffered from poor and abusive command culture, which has been greatly exacerbated by the Russian MoD's recent campaign to officially integrate and formalize DNR forces within the Russian military. […] Reports from both Russian and Ukrainian sources on irregular Russian formations operating in the Avdiivka-Donetsk City area suggest that these units are faced with pervasive issues of morale, organization, and command and are likely not particularly combat effective.
A reportedly captured Russian military manual offers insight into how 8th CAA and DNR forces are utilizing company-sized units in urban combat to mitigate limitations on the combat effectiveness of these formations as they fight along the Donetsk City line. A Ukrainian reserve officer released a captured Russian manual on April 6 that details the formation of "Storm Z" companies, which are staffed with recruits and created within elements of the 8th CAA and DNR. These "Storm Z" companies are staffed with 100 personnel (divided into four capture squads, four fire support squads, a command element, a combat engineering group, reconnaissance group, medevac group, and UAV crew) and are created outside the conventional army unit structure and attached to existing regiments and brigades. These formations are meant to conduct urban combat operations or operations in challenging geographic areas with the intent of capturing strategic objects and are likely being employed in urban combat in highly fortified small settlements near Donetsk City. Their existence suggests that 8th CAA and DNR elements are so badly damaged that they need this sort of irregular tactical arrangement. Such ad hoc tactical formations integrated into already disorganized units are unlikely to lend Russian forces on this axis a significant offensive advantage. […]
Eastern Military District (EMD) elements have been committed to western Donetsk Oblast near Vuhledar since fall 2022 and have suffered continued losses during repeated failed attempts to take Vuhledar. […] EMD elements in the Vuhledar area have been restaffed in various iterations with poorly trained and disciplined mobilized personnel to compensate for overall unit degradation. […] Limited DNR elements, a GRU brigade, several volunteer battalions, and a BARS detachment are also operating near Vuhledar. […] Reports suggest that volunteer elements near Vuhledar are likely poorly disciplined and are therefore combat ineffective.
Russia has committed SMD elements and several irregular formations to defensive operations in western Zaporizhzhia axis. […] Russian forces in western Zaporizhzhia Oblast are likely less exhausted and degraded than forces elsewhere on the front due to the largely defensive nature of operations on this front so far in 2023. While limited SMD and GRU elements have reportedly seen some active combat, most Russian forces in Zaporizhzhia Oblast are preparing for defense in depth. These troops are predominantly comprised of mobilized recruits and volunteers and are therefore likely to face some problems with poor training and discipline. They have, however, had more time on whole to rest and reconstitute following Ukraine's 2022 southern counteroffensive. […]
The Russian grouping in Kherson Oblast is likely the most disorganized and undermanned in the entire theater. […] It is highly likely that the remaining grouping on the east (left) bank is mainly comprised of badly understrength remnants of mainly mobilized units. These elements have been removed from combat since the withdrawal in fall 2022, so they may be slightly fresher than elements elsewhere on the frontline. However, morale issues and poor training and discipline are likely common in this area, especially since more competent conventional elements are engaged elsewhere.[…] Russian troops in Kherson Oblast, as in western Zaporizhzhia, are likely relatively less exhausted than forces elsewhere in theater and instead are preparing for defense in depth.
The Russian obsession with continuing small-scale tactical offensive operations past the point of operational culmination has left Russian forces ill-prepared to respond to a large-scale mechanized counteroffensive. Russian forces have been prioritizing small-scale frontal assaults in order to make incremental tactical gains and reinforce small-scale tactical successes on limited areas of the front. These small-scale attacks do not require particularly involved command and control capabilities as local commanders can likely choose particular units or groups of individuals for attacks at times and places of their choosing and then focus their attention on those localized operations. Defensive maneuvers against a large-scale counter-offensive are much more complicated and will require involved and careful exercise of command and control over large units and large areas. Attacking Ukrainian forces will determine the times and places at which fighting occurs and will likely press across much wider areas than the attack sectors Russian commanders have typically focused on.
Russian commanders will likely have to rely on all their units and sub-units fighting, not a chosen few, and will likely have to coordinate the defensive operations of all their units at the same time, rather than concentrating on a sector of their choice. The experience of combat that most Russian tactical and even operational commanders have is thus unlikely to prepare them well for the challenges they are likely to face.
The majority of the Russian units in important sectors of the front have been filled out with mobilized servicemen who were called up following Ukraine's successful Kherson and Kharkiv Oblast counteroffensives and have not had experience defending against or withdrawing from a mechanized, multi-brigade advance, moreover. They are unlikely to be emotionally or intellectually prepared to respond to such an assault regardless of combat experience they have gained in the offensive operations of which they have hitherto been part. Sound defense and retrograded withdrawal will also likely be complicated by pervasive and endemic issues with morale and discipline of Russian forces. ISW has reported on many previous instances of servicemen in different areas of the front complaining about conditions within their units, abuse at the hands of commanders, dismissive command attitudes towards casualties, and desertion. These factors are detrimental to unit cohesion and will likely further degrade overall Russian defensive capabilities.
The array of Russian fortifications throughout the theater is indicative of the defensive maneuvers Russian forces may have prepared to conduct. Russian forces have constructed a hard line of fortifications along the Kharkiv-Luhansk Oblast line at a distance of between 5 and 20 kilometers behind the front line with the bulk of Russian combat power deployed forward of its fortification lines all along the front. This array suggests that Russian forces intend to withdraw from the frontline to the fortification line and defend there in case of a Ukrainian breakthrough. Similarly, the lines of fortifications in the Bakhmut and Donetsk City area are 5 to 20 kilometers behind the current line of contact, in principle leaving Russian forces space to withdraw through a buffer zone and man a system of defenses behind the line.
Defensive lines in southern Ukraine, however, look very different. Russian forces in southern Ukraine have ostensibly prepared for defense in depth, with multiple lines of fortifications that go further into the rear. These defensive lines are mostly likely not all heavily manned—Russian forces simply do not have the personnel to properly man fortifications in areas far removed from the frontline at force densities sufficient to withstand a determined mechanized attack. Successful Russian defense in depth will likely require that Russian forces instead coordinate multiple retrograde maneuvers to fall back on each subsequent line of defense, which will require a high level of motivation and discipline among troops and sound command and control to oversee the complex and dangerous operation. Russian forces also suffer from significantly degraded mechanized maneuver capabilities and would likely be retrograding to secondary defensive lines largely by foot in the face of any potential mechanized Ukrainian counteroffensive push.
The current Russian ORBAT in Ukraine suggests that there are very few Russian units that are not actively online in the theater and emphasizes the widespread losses that Russian conventional elements have suffered throughout the war so far. The Russian military has 12 combined arms armies. ISW has observed reports of elements of all but two armies in operations so far in 2023—the EMD's 35th CAA and the CMD's 2nd CAA. Russian milbloggers reported that the 35th CAA was essentially completely destroyed by Ukrainian forces near Izium in June 2022, and remnants of the 35th CAA reportedly deployed to west (right) bank Kherson Oblast to defend against Ukrainian counteroffensives in the summer of 2022. It is therefore likely that remnants of the 35th CAA are scattered throughout southern Ukraine […]and have likely been deployed in formations that are neither doctrinal nor at effective combat capability. The 2nd CAA has likely suffered losses similar to those of the 35th CAA.  […]
The pattern of Russian deployments throughout Ukraine strongly suggests that most of the available maneuver elements of all military districts, as well as major surviving Airborne forces, are already committed to either active offensive or defensive operations in Ukraine. Russia will need to commit significant reserves to any discrete axis in order to conduct effective offensive operations, and the generally exhausted condition of troops and the apparently disorganized and fragmented deployment pattern in some areas will likely pose significant obstacles to Russia's prospects for defending critical sectors of the frontline."
Russian forces may go on the offensive in several areas – White House, Ukrinform reports. "The United States does not rule out that when the weather in Ukraine improves, Russian forces may go on the offensive in several areas of military operations. White House spokesman John Kirby said this in an interview with Voice of America. […]
He said he did not know exactly where the Russians would want to advance. However, according to him, the United States wants to provide Ukraine with better opportunities for defence. If the Ukrainians choose offensive operations of their own, they can also take advantage of these capabilities, Kirby said. We have evolved the capabilities that we are providing Ukraine, he added. Kirby also listed the current needs of the Ukrainian Armed Forces, among them armoured vehicles, artillery, air defence, and logistics [while omitting its calls for long-range weapons and western combat aircraft – me].
Ukraine postponed "anniversary" attacks on Russia after US request – The Washington Post, Ukrainska Pravda reports, citing The Washington Post. "Kyrylo Budanov, Chief of Ukraine's Defence Intelligence, planned bold strikes deep behind enemy lines that unnerved officials in Washington. In February, with the first anniversary of Russia's invasion of Ukraine days away, officials in Kyiv were busy making plans to attack Moscow. Major General Kyrylo Budanov instructed one of his officers to get ready for mass strikes on 24 February with everything Ukraine's Defence Intelligence had. This is stated in a classified report of the US National Security Agency.[…]
On 22 February, two days before the anniversary, the CIA circulated a new classified report: Ukraine's Defence Intelligence had agreed, at Washington's request, to postpone strikes on Moscow. The documents, part of a trove of classified information allegedly leaked, do not explain precisely who interceded and why the Ukrainians agreed to stand down.
Ukraine, eager to bring the fight to Russia's home turf, is sometimes restrained by the United States, which has consistently tried to avoid escalating the conflict into a direct fight between US and Russian forces. Some US officials see attacks on Russia, particularly if they involve US-supplied weapons, as highly risky operations that Russian President Vladimir Putin could find so threatening that he resorts to using tactical nuclear weapons. […]
Officials in Washington and Europe have admonished Ukraine for attacks outside its territory that they felt went too far. US officials are also concerned that Beijing is likely to view attacks by Ukraine inside Russia as an opportunity to cast NATO as the aggressor, and that China could increase its support to Russia if it felt the attacks were significant. 
The United States prohibits Ukraine from using American weaponry to strike Russia. A senior Ukrainian official said that Kyiv's willingness not to fire on certain targets and to coordinate with the Americans should encourage the United States to provide more modern and longer-range weapons, such as ATACMS. However, for now, Biden administration officials have declined to provide such weapons."
President's Office reacts to 'sensational' news in Western media about 'planned strikes' on Moscow, Ukrinform reports. "Advisor to the Head of the Office of the President of Ukraine Mykhailo Podoliak insists that Western media reports about Ukraine's alleged plans to launch anniversary attacks on Moscow shape public opinion in Western capitals as if Ukraine was an unreasonable, infantile, and impulsive country that is dangerous to trust with serious weapons.
Meanwhile, Ukraine needs long-range missiles and various types of aircraft to destroy Russian logistics in the occupied areas and protect the sky, Advisor to the Head of the Office of the President of Ukraine Mykhailo Podoliak wrote on Twitter, an Ukrinform correspondent reports.
We all see a strange media sensation once again… 'On the anniversary of the war, Ukraine planned to strike at Moscow with everything it had, but its partners made it change the decision', the reputable American media conspiratorially reported. Of course, without details and logic. And so I have a simple question. Why would there be a need for us to do this? What task would such a one-time action solve? Would it change the course of the war? Would it make the Russians flee? Would it remove the need for weapons? So, such publications, with the obligatory reference to 'anonymous sources', fulfill only one catastrophic function: they shape public opinion in Western capitals as if Ukraine was an unreasonable, infantile, and impulsive country that is dangerous for adults to trust with serious weapons. Whether this is done consciously or unconsciously is yet another question, Podoliak noted.
In his words, Ukraine sees things differently. We approach the war with ironclad mathematical logic: we need long-range missiles to destroy Russian logistics in the occupied territories and various types of aircraft to protect the sky and destroy Russian fortifications. These are the main components of successful counteroffensive operations and minimization of losses, Podoliak emphasized."
Consequences and what to do?
Ukraine war spurs record global spending on military, Stockholm think tank says, Reuters reports. "Global military spending rose to a record last year as Russia's war in Ukraine drove the biggest annual increase in expenditure in Europe since the end of the Cold War three decades ago, a leading conflict and armaments think tank said on Monday. World military expenditure rose by 3.7% in real terms in 2022 to $2.24 trillion, the Stockholm International Peace Research Institute (SIPRI) said in a statement.
Russia's invasion of Ukraine, which began in February last year following years of growing tensions, has prompted European countries to rush to bolster their defences. […] European military spending shot up 13% last year, primarily due to increases by Russia and Ukraine, but with many countries across the continent also ramping up military budgets and planning for more amid the surging tensions.
This included multi-year plans to boost spending from several governments, SIPRI Senior Researcher Diego Lopes da Silva said. As a result, we can reasonably expect military expenditure in Central and Western Europe to keep rising in the years ahead.
Ukraine's military spending rose 640% in 2022, the largest annual increase recorded in SIPRI data going back to 1949, with that total not including the vast amounts of financial military aid provided by the West. SIPRI estimated that military aid to Ukraine from the United States accounted for 2.3% of total US military spending in 2022. Though the United States was the world's top spender by far its overall expenditure rose only marginally in real terms.
Meanwhile, Russia's military spending grew by an estimated 9.2%, though SIPRI acknowledged figures were highly uncertain given the increasing opaqueness of financial authorities" since its war in Ukraine began. The difference between Russia's budgetary plans and its actual military spending in 2022 suggests the invasion of Ukraine has cost Russia far more than it anticipated, said Lucie Beraud-Sudreau, Director of SIPRI's Military Expenditure and Arms Production Programme."
Hans Petter Midttun: Why is the West reluctant to set up Ukraine for victory (restoration of the internationally recognised borders from 1991)?
The question is based on multiple reports and Ukrainian statements of the fact. The West is not providing Ukraine with all the tools it needs to succeed. Nor is it providing the weapons and munition in sufficient quantities.
President Zelensky has clearly stated that Ukraine can't start a counter-offensive yet due to a shortage of weapons, including heavy equipment and fighter jets. The appraisal has been repeatedly reinforced by both the Minister of Foreign Affairs, the Minister of Defence, the Chief of Defence, representatives of the Ukrainian Air Force, military experts, and analysts. Even the Pentagon leaks support the assessment.
Additionally, the inflow of weapons is slow and incremental. The scale and scope of Western support have denied Ukraine the chance to maintain or gain the initiative and exploit windows of opportunities.
I have been grappling with the question "why" for some time.
I have ended up focusing on the US. Not because it has a bigger obligation to support Ukraine than its allies in Europe. It has not. I focus on the US because it has taken security and defence seriously when Europe has not.
The US is the only party with the actual capability to change the military balance on the battlefield. Additionally, the US is leading the "pack" of willing (and not so willing) Western countries.
Europe has failed to invest in security and defence and, therefore, made itself fully dependent on the US. It has no strategic autonomy within security and defence and is, consequentially, unable to provide the military support needed for Ukraine to defeat Russia.
Europe not only lacks the military capability to intervene independently but also lacks leadership and a shared vision. Germany and France have for years led an attempt to appease an increasingly more aggressive Russia and "crashed and burned" in the process. Additionally, after years of underfunding and reductions, Germany lacks a credible fighting force and is unable to lead Europe in a time of crisis. The trust deficit between Germany and France and many of their European partners remains huge as the centre of gravity in Europe is shifting eastwards.
Lastly, NATO has proven itself unable to respond to the war in Europe. The fact that the "Ukraine Defence Contact Group" exists at all is evidence of its failure. For an Alliance designed to stop conflicts threatening its member states, coordination of the defence aid should have been an integrated part of its tasks. It is not. On the contrary, NATO has limited itself to non-military support only, is highly divided and has stepped back from its past commitment raising concerns over its future relevance.
After having consulted with several internationally renowned experts, I have come up with some possible answers.
I asked them the following questions: Do you agree that the West does not set up Ukraine for victory? If yes, why is that? If no, what is the strategy?
The results will be presented in an article shortly.