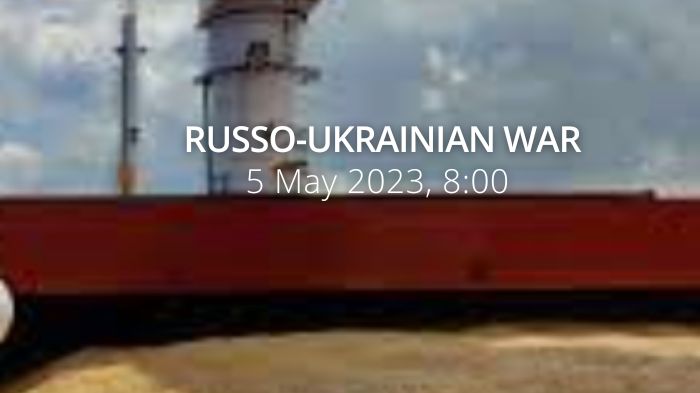 Russia, Ukraine, Türkiye, and UN to discuss grain deal. US announces new $300M security assistance package for Ukraine. Netherlands, Belgium, and Ukraine agree on joint actions on security and progress towards NATO membership.
https://twitter.com/EuromaidanPress/status/1654227030169333760
Daily overview — Summary report, May 5
A map of the approximate situation on the ground in Ukraine as of 00:00 UTC 05/05/23. pic.twitter.com/9LPJcViFCl

— War Mapper (@War_Mapper) May 5, 2023
The General Staff's operational update regarding the Russian invasion as of 18.00 pm, May 5, 2023 is in the dropdown menu below:
[The Russian Federation continues to wage a war of aggression. Despite the significant losses, they do not give up their plans to occupy our territory. Russian forces continue to disregard the laws and customs of war, and use terror tactics, strikes, and fires both at military and civilian targets.]
On May 4, the Russian Federation launched a massive attack on the territory of Ukraine employing Iranian Shahed combat UAVs. 18 of them were intercepted by Ukrainian Defence Forces.
The Russian Federation continues to use terror tactics. On May 4, the adversary launched 10 missile strikes on the cities of Kramatorsk and Zaporizhzhia, 75 airstrikes and 65 MLRS attacks at the positions of Ukrainian troops and various settlements. The attacks have killed and wounded civilians, and destroyed and damaged private residential buildings, educational institutions, kindergartens, and other civilian infrastructure.
The likelihood of further missile and air strikes across Ukraine remains high.
The adversary continues to focus its main efforts on offensive operations on Lyman, Bakhmut, and Marinka axes, where Ukrainian Défense Forces repelled about 60 attacks on May 4. The fiercest fighting is in Bakhmut and Marinka.
Volyn and Polissya axes: no signs of the formation of offensive groups were found. No major changes.
Sivershchyna and Slobozhanshchyna axes: the adversary continues to shell Ukrainian settlements from the territory of Russia, improving the engineering development of the area. On May 4, the invaders shelled the settlements of Yeline, Mykolaivka, Ivanivka, Buchky, Hrem'yach (Chernihiv oblast), Uralove, Porokhon', Studenok, Shalyhyne, Rivne, Boyaro-Lezhachi, Stukalivka, Bilopillya, Tymofiivka, Kindrativka, Oleksiivka, Yunakivka, Slavhorod (Sumy oblast), Chervona Zorya, Hlyboke, Lyptsi, Vesele, Ohirtseve, Vovchans'ki Khutory, Karaichne, Bochkove, Budarky, Komisarove, Kolodyazne, and Krasne Pershe (Kharkiv oblast). Private houses were destroyed and damaged. Civilians were wounded.
Kupyansk axis: Russian forces did not conduct any offensive operations. The adversary fired artillery and mortars at Fyholivka, Novomlyns'k, Kam'yanka, Dvorichna, Zapadne, Lyman Pershyi, Kyslivka, Kotlyarivka, Krokhmal'ne, and Berestove (Kharkiv oblast).
Lyman axis: the adversary conducted unsuccessful offensives in the vicinities of Bilohorivka and the southwestern outskirts of Spirne. Stel'makhivka, Andriivka, Hrekivka, Makiivka, Nevs'ke, Pishchane, Dibrova, Bilohorivka (Luhansk oblast), Tors'ke, Sivers'k, Verkhn'okam'yans'ke, Spirne, and Rozdolivka (Donetsk oblast) were shelled with artillery.
Bakhmut axis: fighting in the city of Bakhmut continues. Russian forces also conducted unsuccessful offensive operations towards the settlements of Bohdanivka and Markove. Nykyforivka, Vasyukivka, Novomarkove, Markove, Hryhorivka, Bohdanivka, Bakhmut, Ivanivske, Chasiv Yar, Oleksandro-Shul'tyne, Dyliivka, Zalizne, and New York (Donetsk oblast) suffered from enemy shelling.
Avdiivka axis: the adversary did not conduct any offensive operations. The invaders shelled Avdiivka, Pervomais'ke, Netaylove, and Karlivka (Donetsk oblast).
Marinka axis: the adversary is attempting to improve its tactical position. Numerous enemy attacks in Marinka were repelled on May 4. At the same time, the settlements of Krasnohorivka, Pobjeda, and Novomykhailivka (Donetsk oblast) were shelled by Russian forces.
Shakhtarske axis, Russian forces shelled Vuhledar, Novoukrainka, Prechystivka, and Shakhtars'ke (Donetsk Oblast).
Zaporizhzhia and Kherson axes: the occupiers stay on the defensive. More than 55 settlements were shelled, Including Vremivka, Novosilka, Novopil' (Donetsk oblast), Malynivka, Novoandriivka, Mali Shcherbaky, Stepove, Kam'yans'ke (Zaporizhzhia oblast), Nikopol' (Dnipropetrovsk oblast), Mykhailivka, Kozats'ke, L'vove, Novotyahynka, Sofiivka (Kherson oblast), and the city of Kherson.
The invaders keep forcing their passports on the Ukrainian citizens in the Stanychno-Luhans'kyi district (Luhansk oblast). Thus, according to an order of the Russian so-called "administration" put in office by the occupation forces, the heads of local organizations and enterprises were instructed to report the progress of the passportization among the locals.
[Russian occupying forces continue to suffer heavy losses on the battlefield. All medical facilities in the temporarily occupied territory are full of wounded occupiers. As a result, Russian forces continue to equip civilian educational institutions as medical institutions. For example, in the village of Myrne, Zaporizhzhia Oblast, the occupiers are converting the sports hall of the local school into a military hospital. At the same time, the Russians force the teaching staff to continue the educational process with compulsory school attendance by children.]
On May 4, the Ukrainian Air Force launched 6 air strikes on the concentrations of enemy troops. In addition, 4 Lancet loitering munitions were intercepted.
Ukrainian missile and artillery troops hit 1 command post, 8 concentrations of enemy troops, 2 ammunition depots, and 1 enemy electronic warfare system.
Military Updates
Russia launched a new wave of Shahed-136/131 kamikaze drones during the night, the Ukrainian General Staff reports. "On the night of May 4, 2023, the enemy will again attack with "shaheds" from the north (Bryansk region) and from the south – the eastern coast of the Sea of Azov. The invaders used up to 24 "Shahed-136/131" attack drones. […] The Defence Forces of Ukraine destroyed 18 attack UAVs.
Combat work was conducted in the northern, central and southern regions of Ukraine. Anti-aircraft missile weapons, aviation and mobile fire groups were used in the areas of responsibility of the Southern Air Command and the Center Air Command."
Drones attack Ukrainian capital Thursday evening, Moscow says US behind Kremlin drone, Reuters reports. "Russian drones attacked the Ukrainian capital Kyiv on Thursday evening, the fourth assault in as many days subjecting residents to spasms of gunfire and explosions, and at least one drone was shot down. The attacks started just after 8 p.m. (1700 GMT) and lasted around 20 minutes. […]
[On the night of May 5, 2023, the enemy used two "Shahed" attack UAVs from the southeast. Both drones were destroyed in the area of responsibility of the Eastern Air Command, the Ukrainian General Staff reports].
Russia said on Thursday that the United States was behind a purported drone attack on the Kremlin aiming to kill President Vladimir Putin. Washington and Kyiv denied involvement. Putin will head a scheduled meeting of Russia's Security Council on Friday and the Kremlin incident could be on the agenda, TASS news agency reported."
Drone attack on Kremlin likely a Russian False Flagg Ops, Institute for the Study of War reports. "Russia likely staged this attack in an attempt to bring the war home to a Russian domestic audience and set conditions for a wider societal mobilization. Several indicators suggest that the strike was internally conducted and purposefully staged.
Russian authorities have recently taken steps to increase Russian domestic air defense capabilities, including within Moscow itself, and it is therefore extremely unlikely that two drones could have penetrated multiple layers of air defense and detonated or been shot down just over the heart of the Kremlin in a way that provided spectacular imagery caught nicely on camera. Geolocated imagery from January 2023 shows that Russian authorities have been placing Pantsir air defense systems near Moscow to create air defense circles around the city. A strike that avoided detection and destruction by such air defense assets and succeeded in hitting as high-profile of a target as the Kremlin Senate Palace would be a significant embarrassment for Russia.
The Kremlin's immediate, coherent, and coordinated response to the incident suggests that the attack was internally prepared in such a way that its intended political effects outweigh its embarrassment. The Kremlin immediately accused Ukraine of conducting a terror attack, and Russian official responses coalesced rapidly around this accusation. If the drone attack had not been internally staged it would have been a surprise event. […] The Kremlin has notably failed to generate a timely and coherent informational response to other military humiliations not of its own making, including the falls of Balakliya and Kherson City in September and November 2022.
The rapid and coherent presentation of an official Russian narrative around the strike suggests that Russia staged this incident in close proximity to the May 9th Victory Day holiday in order to frame the war as existential to its domestic audience. The Kremlin may use the strike to justify either cancelling or further limiting May 9th celebrations […]. ISW has previously assessed that Russia is employing an array of measures to frame the war in Ukraine as existential to Russia's domestic audience and to prepare for wider societal mobilization.
Some Russian nationalist milbloggers seized on the Kremlin drone strike to call for Russian escalation in the war despite the fact that Russia currently lacks the military capability to do so. Many pro-war milbloggers, including ardent nationalist and former Russian officer Igor Girkin, criticized the Kremlin for allowing Ukraine to cross multiple Russian "red lines" with no adequate retaliation and called for Russia to escalate in response, including by targeting Ukrainian President Volodymyr Zelensky and other Ukrainian decision-makers. […] Other Russian milbloggers, including those with close Kremlin affiliations, criticized the high degree of outcry in the Russian information space. These milbloggers largely advocated against retaliatory military escalation on the grounds that this strike does not change the operational or strategic situation in the war, instead calling for a cautious response while acknowledging the sting of embarrassment over the strike. This messaging from pro-Kremlin milbloggers could support the assessment that the purpose of this false-flag attack was to justify increased mobilization measures rather than any sort of escalation.
The Kremlin may be planning to conduct other false flag operations and increase disinformation ahead of a Ukrainian counteroffensive in order to increase domestic support for the war. The Ukrainian Resistance Center reported on May 2 that Russian forces in Bryansk and Kursk oblasts received Ukrainian uniforms in order to conduct a false flag operation in border areas."
Russia keeps two missile carriers armed with 16 Kalibrs in the Black Sea, Ukrinform reports, citing the Ukrainian Navy. "As of 11:00 on May 4, there were 7 enemy warships on combat duty in the Black Sea, including two Kalibr missile carriers, with a total salvo of up to 16 missiles; one enemy warship in the Sea of Azov; up to five enemy warships on combat duty, including one Kalibr cruise missile carrier, with a total salvo of up to four missiles, in the Mediterranean Sea, the report says."
https://twitter.com/EuromaidanPress/status/1654244761874886658
According to British Defence Intelligence, (last 48 hours): 
A recent uptick in Russian rail accidents in areas bordering Ukraine, attributed to sabotage committed by unknown actors, has almost certainly caused short-term localised disruption to Russian military rail movements.
Although its Railway Troop Brigades are capable of restoring lines quickly, these incidents will increase pressure on Russia's internal security forces, who will highly likely remain unable to fully protect Russia's vast and vulnerable rail networks from attack.
On 3 May 2023 a fire broke out at a Russian fuel depot in Volna on the Russian mainland side of the Kerch Strait, close to the Crimean bridge. It was initiated by a suspected drone strike.
This follows a pattern of Russian fuel storage sites being damaged since the start of the year, with fuel depots in occupied Ukraine and the Russia-Ukraine border regions remaining particularly vulnerable to attack.
The disruption to the fuel storage and distribution network will likely force adjustments to Russia's military refuelling operations to mitigate targeting.
Russian adjustments could include deploying additional protection measures at fuel storage sites, as seen in Tuaspe in Russia, or relying on infrastructure in less threatened regions.
Losses of the Russian army 
Russia's estimated losses in Ukraine as of day 436 of the all-out war, according to Ukraine's GenStaff pic.twitter.com/HpFoaujm07

— Euromaidan Press (@EuromaidanPress) May 5, 2023
As of Friday 5 May, the approximate losses of weapons and military equipment of the Russian Armed Forces from the beginning of the invasion to the present day:
Personnel – about 193210 (+620)
Tanks – 3710 (+3)
Armoured combat vehicles – 7224 (+8)
Artillery systems – 2978 (+16)
Multiple rocket launchers –MLRS – 550 (+3)
Air defence means – 304 (+4)
Aircraft – 308 (+0)
Helicopters – 294 (+0)
Automotive technology and fuel tanks – 5916 (+30)
Vessels/boats – 18 (+0)
UAV operational and tactical level – 2540 (+17)
Special equipment – 373 (+3)
Mobile SRBM system – 4 (+0)
Cruise missiles – 947 (+0)
Russian troops panic in anticipation of counteroffensive, Kremlin intensifies propaganda – National Guard, Ukrinform reports, citing Colonel Mykola Urshalovych, Deputy Director of the Department of Planning for the Use of the Main Directorate of the National Guard of Ukraine. "Over the past week, the enemy has been focusing on fortifying the lines of contact and intensifying propaganda influence on its troops to stop the panic spreading among its personnel in anticipation of a Ukrainian counteroffensive, he said."
More than 80% of Russian POWs dissatisfied with their leadership orders, Ukrinform reports, citing Andriy Yusov, a representative of the Coordination Headquarters for the Treatment of Prisoners of War. "According to the results obtained, 56.9% of the surveyed prisoners of war answered that they absolutely did not like the content of the orders given to them, another 24.8% said that they did not like the content of the orders, Yusov noted.
According to him, 1.3% of respondents said they liked the content of the orders, and 2% said that they like them very much. Another 15% of respondents expressed a neutral attitude towards the orders they received.
The first pilot sociological survey of Russian prisoners of war was conducted by the Coordination Headquarters for the Treatment of Prisoners of War within the framework of the state project "I want to live" on the voluntary surrender of Russian occupiers. Four hundred respondents voluntarily participated in the survey. The survey was conducted from April 10 to 20."
Humanitarian 
https://twitter.com/EuromaidanPress/status/1654182853813346304
UN 'appalled and saddened' by Russian shelling in Ukraine, Ukrinform reports. "Matthew Hollingworth, Humanitarian Coordinator (a.i.) for Ukraine, and his colleagues are appalled and saddened by the series of airstrikes and attacks that killed and injured dozens of civilians in Ukraine. We are extremely concerned for the plight of civilians after almost a week of nightly airstrikes and attacks which have killed and injured dozens of people, Hollingworth said.
He also added that critical infrastructure had also been destroyed, compounding the dire humanitarian situation. It was particularly alarming to see how dozens were killed or injured in Kherson, when a train station and a supermarket where people buy their groceries, were hit during the busiest hours of the day, Hollingworth said."
Russia holds over 20,000 civilians hostage, number to increase after liberation, Ukrainska Pravda reports, citing Dmytro Lubinets, Ukraine's Human Rights Commissioner, quoted by Ukrinform. "According to our approximate estimates, the Russian Federation is holding more than 20,000 civilian hostages. I am giving these figures on the basis of personal appeals to me from relatives whose family members and friends have been detained by the Russian military.
Why I am saying that this is approximately and that this figure is much higher is because I am fully aware that those who are currently in the temporarily occupied territories do not contact me or do so in small numbers because even contacting the Ukrainian Ombudsman is considered espionage by the Russian Federation. After we liberate all Ukrainian territories, the number will be much higher."
Over 45,000 internally displaced children were registered in Kyiv since full-scale invasion – Kyiv City Administration, Ukrainska Pravda reports. "Since the beginning of the full-scale Russian invasion of Ukraine, more than 45,000 internally displaced children have been registered in the city of Kyiv. Moreover, since 24 February 2022, over 250,000 internally displaced adults have registered in Kyiv, as reported by the Kyiv City State Administration. […]
Since 2014, the capital of Ukraine has registered nearly 66,000 internally displaced children and over 384,000 adults. This is over 307,000 families, over 64,000 senior citizens and almost 14,000 disabled people."
Russia, Ukraine, Türkiye and UN to discuss grain deal on Friday, Reuters reports. "Technical personnel from Türkiye, Russia, Ukraine, and the United Nations will meet on Friday to discuss a deal that allows the exports of Ukrainian grains on the Black Sea, Turkish Defence Minister Hulusi Akar said. The evacuation of Turkish-flagged ships and grain shipments from Black Sea ports as part of the deal will be discussed, Akar said. Ankara is working to extend the deal that will expire on May 18. […]
The United Nations and Türkiye brokered what was described as a package deal in July last year – the safe resumption of Ukraine's Black Sea grain exports and a U.N. commitment to help Russian shipments of grain and fertilizer. Russia has a list of demands it wants met for continuation of the Black Sea pact, which the U.N. said helps tackle a global food crisis aggravated by Moscow's war in Ukraine."
Lifeline Ukraine needs more support to help Ukrainian society cope with the trauma of Russia's invasion, Business Ukraine reports. "As the initial mission of Lifeline Ukraine was specifically to provide support for those serving in the armed forces of Ukraine since 2014, many of the consultants working at Lifeline Ukraine are themselves veterans. On the eve of Russia's all-out invasion, they were recalled to the military, leaving the organization with a shortfall of people. At the same time, many other staff members were looking to find safety, either in safer parts of Ukraine or over the border in the EU, stretching our resources even further.
To help us over this period, the national suicide prevention hotlines of Israel and Lithuania stepped in to take on calls to Lifeline Ukraine. We also managed to bolster our ranks by adding a couple of new psychologists and by returning some former colleagues to the team. Despite all of these challenges, there was never a moment when Lifeline Ukraine was not open and supporting people in times of need. […]
Prior to February 2022, we used to average roughly 1,000 instances of support per month. Over the last year of full-scale war, this figure has grown to a new average of roughly 3,000 instances of chat and call support provided per month. Due to spikes related to various events, the number can even climb as high as 5,000 interactions in a single month. Lifeline Ukraine began as a project to provide support for any Ukrainian experiencing a turbulent emotional period; it has now become a vital national resource.
The truth is that Lifeline Ukraine will always be needed. The horrors of the last 14 months will not be washed away by the euphoria of eventual victory. Ukrainian society will need time to adjust and will remain deeply traumatized for many years to come. People in post-conflict countries can find themselves affected by their experiences even a decade after the end of hostilities.
While funding for Ukraine's national suicide prevention hotline has previously come from the international donor community, this model is not sufficient for the growing needs of Lifeline Ukraine. […] To that end, we have launched a crowdfunding effort on Patreon, where donors can pledge $25, $50, or more, on a monthly basis."
Environmental
https://twitter.com/EuromaidanPress/status/1654288047977140224
2023 World Press Freedom Index – journalism threatened by fake content industry, Reporters without borders reports. "According to the 2023 World Press Freedom Index – which evaluates the environment for journalism in 180 countries and territories and is published on World Press Freedom Day (3 May) – the situation is "very serious" in 31 countries, "difficult" in 42, "problematic" in 55, and "good" or "satisfactory" in 52 countries. In other words, the environment for journalism is "bad" in seven out of ten countries, and satisfactory in only three out of ten.
The terrain has been favourable for an increase in propaganda by Russia (164th), which has fallen another nine places in the 2023 Index. In record time, Moscow has established a new media arsenal dedicated to spreading the Kremlin's message in the occupied territories in southern Ukraine, while cracking down harder than ever on the last remaining independent Russian media outlets, which have been banned, blocked and/or declared "foreign agents". Russia's war crimes in Ukraine (79th) helped give this country one of the Index's worst scores for security. 
The United States (45th) has fallen three places. The Index questionnaire's US respondents were negative about the environment for journalists (especially the legal framework at the local level, and widespread violence) despite the Biden administration's efforts. 
The war launched by Russia on 24 February 2022 threatens the survival of the Ukrainian media. In this "information war", Ukraine stands at the front line of resistance against the expansion of the Kremlin's propaganda system.
The "information war" with Russia was already harming Ukraine's media environment before the Russian invasion. Media regarded as pro-Kremlin were banned by presidential decree, and access to Russian social media was restricted. This has intensified since the start of Russia's invasion. Media carrying Russian propaganda have been blocked, while the Russian army has deliberately targeted journalists, media and telecommunications infrastructure to prevent the Ukrainian population from having access to independent news and information.
Since the 2014 Maidan revolution, several sets of media laws have been adopted regulating media transparency, access to information and the protection of journalists. The creation of the independent public broadcaster Suspilne in 2017 was the most emblematic of these reforms. A new media law that was adopted in late 2022 after years of preparation is designed to bring Ukraine in line with European media legislation. The application of martial law sometimes results in reporting restrictions for journalists.
The Russian invasion has weakened the Ukrainian economy and, as a result, media outlets have lost many subscribers and advertisers. Combined with other consequences of the war, such as material destruction, the disruption of supply chains and the forced exile of employees, this situation is threatening the survival of many Ukrainian media. Several hundred media outlets have had to close, while others have reduced their activity and placed their employees on temporary suspension without pay. Local media outlets are the most affected in the face of these challenges.
The war has transformed journalists' work and the stories they cover. The Russian attacks taking place throughout the country have turned them all into war reporters. The Ukrainian media nonetheless continue to cover social issues and to play an essential role in exposing the corruption of the country's elite. […]
Journalists are in greater physical danger than ever since the Russian invasion in late February 2022. They are often deliberately targeted by military fire despite displaying "Press" identification, and the number of reporters killed or injured has risen steadily. Before the war, they were sometimes the targets of physical violence, mainly during protests. Cyberattacks, breaches of the confidentiality of sources and restriction on access to information were also matters of concern."
Russia says high waters threaten dam near Ukrainian nuclear plant – Tass, Reuters reports. "Record high water levels could overwhelm a major dam in southern Ukraine and damage parts of the Russian-controlled Zaporizhzhia nuclear power station, a Russian official told Tass agency on Thursday. Renat Karchaa, an adviser to the general director of nuclear energy firm Rosenergoatom, said if the Nova Kakhovka dam did rupture, the power cable line for the Zaporizhzhia plant's pumping stations would be flooded. This (would create) functional problems for the operation of the plant and risks for nuclear safety, he told Tass.
Last November, after Russian forces withdrew from the nearby southern Ukrainian city of Kherson, satellite imagery showed significant new damage to the dam. […]
Karchaa's comments represent a significant contrast from those made in late March by Ukrainian officials, who said they feared the Zaporizhzhia facility could face a shortage of water to cool reactors by late summer because Russian forces had let water out of a reservoir that supplied the plant."
Legal 
Ensuring that #Russia answers for its killing of children in #Uman, #Dnipro and other #warcrimes in #Ukraine#StandWithUkraine #RussiaWarCrimes #PutinWarCrimes #Mariupol #StopRussia #T4Phttps://t.co/ubfw22w0Au

— Euromaidan Press (@EuromaidanPress) May 5, 2023
OSCE Mission: Deportation of Ukrainian children may amount to crime against humanity, Ukrinform reports. "The OSCE expert mission has concluded that the forcible transfer and/or deportation of Ukrainian children to the temporarily occupied territories and to the territory of the Russian Federation may amount to a crime against humanity. The relevant report prepared within the framework of Moscow Mechanism […] was published on the OSCE website on Thursday. […]
According to the report, Ukrainian children, when displaced to Russia, "are exposed to pro-Russian information campaign often amounting to targeted re-education." Moreover, the Russian Federation "does not take any steps to actively promote the return of Ukrainian children." Rather, it creates various obstacles for families seeking to get their children back.
"The Mission found that while certain cases of evacuations of children were in line with Russia's duties under IHL, other practices of non-consensual evacuations, transfers and prolonged displacement of Ukrainian children constitute violations of IHL, and in certain cases amount to grave breaches of the Geneva Convention IV (GCIV) and war crimes, notably violation of the prohibition on forcible transfer or deportation under Article 49 of the GCIV," the report says."
Netherlands prepared mobile laboratory for forensic medical examination in Ukraine, Ukrinform reports, citing Minister of Defense of the Netherlands Kajsa Ollongren and President Zelensky's press service. "The Netherlands has prepared a mobile forensic laboratory for the needs of the International Criminal Court in Ukraine."
56 journalists killed in Ukraine due to Russian full-scale armed aggression, We Are Ukraine reports. "As World Press Freedom Day is marked on May 3, hundreds of brave journalists and media workers risk their lives in Ukraine daily to keep people informed about Russia's full-scale brutal aggression against Ukraine.
The Ukrainian Institute of Mass Information has recorded over 500 crimes committed by Russians against Ukrainian journalists and media for over a year of the full-scale invasion.
The Russian war has killed 56 Ukrainian media workers — nine of them killed while carrying out their professional duties. It is an unprecedented number. Also, at least 21 journalists were kidnapped by Russians, and another 14 went missing throughout the year of the large-scale war."
#Russia #FSB make mass arrests, claiming they 'thwarted #Ukraine terrorist plot' in occupied #Crimea#LetMyPeopleGo #StandWithUkraine #StopRussiahttps://t.co/mjWw8cjQZZ

— Euromaidan Press (@EuromaidanPress) May 4, 2023
Support
US Secretary of State Antony Blinken announced a new $300M security assistance package for Ukraine, Ukraine Business News reports. "The US' new defence aid package will include Hydra 70 air-launched missiles from surplus US stocks.
Hydra 70 missiles are 2.75-inch air-launched unguided missiles manufactured by General Dynamics. The missiles are usually loaded into a round 19-tube rocket launcher attached under the wing of an airplane or helicopter. In addition, the package includes artillery shells, howitzers, HIMARS missiles, mortars, rockets, and anti-tank guns.
This is the 37th delivery of US weapons to Ukraine since the beginning of the full-scale invasion by the Russian Federation. Including this package, the total amount of US military aid will amount to about $36B."
US focusing on air defence for Ukraine – White House, Ukrinform reports, citing National Security Council Coordinator for Strategic Communications John Kirby. "The United States is set to continue providing military assistance to Ukraine and is now focusing a lot on providing the Ukrainians with the air defence they need to protect themselves against Russian attacks.
He said that using air defence capabilities that had been provided to Ukraine not only by the United States but by allies and partners, the Ukrainians were able to down the majority of cruise missiles that were launched against Ukraine in just the last 48 to 72 hours. So we are continuing to focus on that, Kirby said.
He also noted that Washington has done everything it can to make sure that Ukraine is ready for a counteroffensive, recalling that the Ukrainian Armed Forces received almost everything they asked for. This includes, among other things, armour; artillery; air defence; ammunition, not to mention the training we've done for multiple brigades of Ukrainian armed forces outside the country" Kirby said."
Supplying Ukraine with F-16s will help restore global food security – Kuleba, Ukrinform reports. "Ukrainian Foreign Minister Dmytro Kuleba has said that providing Ukraine with F-16 fighter jets will help restore global food security.
Providing Ukraine with F-16s will also help restore global food security. With a squadron of well-equipped F-16s, Ukraine will be able to keep Russian warships and aircraft away from the Black Sea Grain Corridor thus securing its route for an uninterrupted flow of grain vessels, Kuleba wrote."
Dutch PM says talks on F-16s for Ukraine progressing, Reuters reports. "Talks on a potential donation of F-16 fighter jets to Ukraine are progressing, Netherlands Prime Minister Mark Rutte said on Thursday during a visit by Ukrainian President Volodymyr Zelenskyy to The Hague, but no decision has been made.
Answering a question at a press conference alongside Zelenskyy and Belgian Prime Minister Alexander De Croo, Rutte said On the F-16's: no taboos. We are working closely with our partners Belgium, others, UK, Denmark, on getting that debate somehow to a conclusion. We are not there yet, he said.
Earlier this week in Helsinki, Finland, Zelenskyy renewed his requests for the West to supply Kyiv with modern fighter jets and added he was sure we will soon have aircraft."
Netherlands, Belgium, and Ukraine Agreed on Joint Actions on Security and Progress Towards NATO Membership, European Pravda reports. "Ukraine has signed a joint declaration with Belgium and the Netherlands, who have pledged to support Kyiv on the path of Euro-Atlantic integration and strengthen country's military capabilities in every possible way.
The document covers the most important issues on the joint agenda: meeting Ukraine's urgent defence needs, supporting the Ukrainian Formula for Peace, advancing Ukraine's NATO membership, ensuring Ukraine's security, holding Russia accountable, as well as further strengthening anti-Russian sanctions and developing a mechanism for compensating losses caused by Russian aggression, informed Igor Zhovkva, Deputy Head of the OP. […]
An important element of the declaration is the recognition that Ukraine's security is of great importance to the Alliance (a similar formulation was included in the NATO Madrid Declaration in the context of the security of Finland and Sweden before they became members of the Alliance).
Also important is the shared understanding that all these most important issues for Ukraine, including security guarantees even before its accession to NATO, must be considered at the Vilnius Summit of NATO in July of this year."
How EU going to implement the "Ammunition Plan" for Ukraine, European Pravda reports. "On Wednesday in Brussels, two decisions were announced that should accelerate not only the transfer of ammunition to the Ukrainian army in the short term but also allow for the strengthening of their production to replenish the stocks of European countries. Journalist Yurii Onyshchenko of "European Pravda" explains what the EU agreed on and how it will help Kyiv in his article Europe prepares ammunition: how EU plans to back Ukraine's counteroffensive and strengthen itself (Ukr).[…] The plan has three main directions:
1 – EU member states provide additional ammunition worth 1 billion euros from their stock, with compensation from the European Peace Fund for this supply.
2 – EU member states intensify the procurement of new ammunition for Ukraine, for which the European Commission allocates an additional 1 billion euros.
3 – To replenish stocks and prepare for a potentially long war, the EU is strengthening and accelerating European defence-industrial production. […]
On Wednesday, the European Commission published a legislative proposal called the Act in Support of Ammunition Production or ASAP. The abbreviation ASAP has one more meaning – "as soon as possible." The European Commission project aims to implement the third point of the "armament plan" to assist Ukraine. Its idea is to increase the production of ammunition in order to quickly replenish the stocks of those EU countries that have transferred a significant amount of shells, missiles, etc. to Ukraine.
For this purpose, half a billion euros will be invested in the construction of existing ammunition production plants. The European Commission document provides for co-financing of the program to update production capacities in a ratio of 40% from the EU and 60% from national governments and businesses.
Formally, this is a bill that needs to be approved. Based on the events, the document has already been agreed with EU member states. Brussels has already identified 11 European countries with a defence industry capable of producing 155mm caliber shells, the so-called NATO standard, and 152mm shells – the former Soviet standard.
Until now, the issue related to joint procurement has remained problematic. The disagreement was whether manufacturers from outside the EU could fall under these contracts. France advocated for the funds to remain entirely within the European Union. Finally, at Wednesday's meeting, EU countries reached an agreement on approaches to joint procurement of ammunition for Ukraine for one billion euros. The details of the decision have yet to be discovered."
New Developments
"The missiles smashing into Kharkiv and other cities underline the fundamental truth of this war — Russia can only be deterred by defeat."https://t.co/FepR6sG9Oo

— Euromaidan Press (@EuromaidanPress) May 5, 2023
https://twitter.com/EuromaidanPress/status/1654167754218381313
Assessment 
On the war. 
The Institute for the Study of War has made the following assessment as of  May 4, 2022:
Russian forces continued defensive operations in the Kupyansk direction on May 4. […] Geolocated footage posted on May 3 shows elements of the 6th Combined Arms Army (Western Military District) shelling Ukrainian positions about 11km northeast of Kupyansk. A Russian milblogger claimed that mutual artillery shelling and reconnaissance efforts continued along the line of contact on the Kupyansk front on May 3 and 4.
Russian sources claimed that Russian forces made territorial gains south of Kreminna on May 4. A Russian milblogger claimed on May 4 that Chechen "Sever-Akhmat" (part of the 78th Special Purpose Motorized Rifle Regiment, 42nd Guards Motorized Rifle Division, 58th Combined Arms Army, Southern Military District) broke through Ukrainian defenses in the "Zakhidna" filtration plant in southeastern Bilohorivka (10km south of Kreminna). Another milblogger posted footage claiming to show fighting in the Bilohorivka industrial zone and claimed that "Sever-Akhmat" commander Apti Alaudinov reported that Chechen troops unblocked certain supply routes into Bilohorivka. Russian sources additionally claimed that a T-90M tank of the Luhansk People's Republic 2nd Army Corps is advancing towards Siversk from Bilohorivka. The Ukrainian General Staff reported that Russian forces conducted unsuccessful offensive operations in the direction of Bilohorivka on May 4. Russian milbloggers also claimed that Russian troops continued ground attacks and positional battles along the Svatove-Kreminna line.
Russian forces did not make any confirmed gains in or around Bakhmut on May 4. The Ukrainian General Staff reported that Russian forces conducted unsuccessful offensive actions near Bohdanivka (6km northwest of Bakhmut), Markove (14km northwest of Bakhmut), and Niu York (30km southwest of Bakhmut). […] Wagner Group financier Yevgeny Prigozhin claimed on May 3 that Wagner forces advanced 230m in Bakhmut and that Ukrainian forces currently control 2.64 square kilometers of the city. Russian milbloggers claimed on May 3 and 4 that Wagner fighters advanced in western Bakhmut, although ISW has yet to observe visual confirmation of further Russian advances in the city. A Russian milblogger claimed that Russian forces also conducted assaults on the outskirts of Ivanivske (6km west of Bakhmut) and towards Predtechyne (14km southwest of Bakhmut).
Ukrainian forces likely conducted a limited counterattack southwest of Bakhmut. Geolocated footage published on May 3 indicates that Ukrainian forces likely counterattacked northwest of Kurdyumivka (14km southwest of Bakhmut) and made marginal advances in the area. The limited nature of the likely Ukrainian advances suggests that the counterattack was a localized tactical operation.
Russian forces continued offensive operations along the Avdiivka-Donetsk front on May 4. Geolocated footage published on May 4 indicates that Russian forces made marginal gains west of Novobakhmutivka (13km northeast of Avdiivka). The Ukrainian General Staff reported that Russian forces conducted unsuccessful offensive operations near Sieverne (6km west of Avdiivka), Marinka (27km southwest of Avdiivka), and Novomykhailivka (36km southwest of Avdiivka). Ukrainian Tavriisk Defense Forces Spokesperson Colonel Serhii Telyatskyi reported that Russian forces conducted 24 assaults on Ukrainian positions along the Avdiivka-Donetsk front and that Russian forces are continuing to use highly attritional assault tactics in the area. A Russian milblogger amplified footage on May 4 purporting to show "Storm-Z" assault detachments operating in Marinka, and ISW has previously assessed that these reported irregular formations likely engage in highly attritional offensive operations. A Russian milblogger claimed that Russian forces pushed Ukrainian forces out of positions on the outskirts of Pervomaiske (11km southwest of Avdiivka) and advanced in western Marinka. The milblogger also claimed that Ukrainian forces counterattacked near Staromykhailivka (19km southwest of Avdiivka), possibly a part of a likely ongoing pattern of limited and localized Ukrainian counterattacks along this section of the frontline.
Russian forces did not conduct any confirmed ground attacks in western Donetsk Oblast on May 4. A Russian milblogger claimed that Ukrainian forces conducted a reconnaissance-in-force operation near Pavlivka (27km southwest of Donetsk City). The milblogger claimed that Ukrainian forces are more actively probing Russian positions in the area and called on Russian sources not to prematurely concluded that such activity represents the start of Ukrainian counteroffensive operations.
Russia conducted another Shahed-131/136 strike against Ukraine on May 4. Ukrainian military sources reported that Russian forces launched 24 Shahed-131/136s at Ukraine from the direction of Bryansk Oblast and the eastern coast of the Sea of Azov and that Ukrainian air defense destroyed 18 of the drones above northern, central, and southern regions of Ukraine. Ukraine's Southern Operational Command noted that Russian forces launched 15 of the Shaheds at Odesa Oblast, 3 of which struck an educational institution. Russian milbloggers claimed that the drones struck military facilities throughout Ukraine. The Kyiv City Military Administration reported that Russian forces attacked Kyiv overnight with Shaheds and unidentified missiles for the third time in the last four days, noting that Kyiv has not experienced such a high intensity of air attacks since the beginning of 2023.
Russian sources continued to respond to the May 3 drone strike on the Kremlin. The Russian Investigative Committee announced that it opened a criminal case "on the fact of a terrorist attack in connection with an attempt to strike the Kremlin" and further amplified the claim that Kyiv is to blame for the strike. Russian President Vladimir Putin will reportedly hold a Security Council meeting to discuss the incident on May 5. Russian Security Council Deputy Chairman Dmitry Medvedev called for the "physical elimination" of Ukrainian President Volodymyr Zelensky in retaliation for the strike. Kremlin Spokesperson Dmitry Peskov baselessly claimed that the US is behind the attack. Several Russian authorities, including the heads of Moscow, St. Petersburg, Leningrad, and Pskov oblasts introduced bans on drone launches and flights. State Duma Deputy Aleksandr Khinshtein sent an appeal to the Russian Ministry of Transport and Federal Air Transport Agency to introduce a total temporary moratorium on drone use due to the increased threat of drones associated with the "special military operation." Russian media aggregator Baza, citing unidentified internal sources, claimed that residents of Moscow suburbs noticed the drones flying at very low altitudes well in advance of the moment of contact with the Kremlin Senate Palace building on May 3 but that authorities ignored their reports as "drone hysteria." Another Russian source amplified this report and noted that if it is true, it demonstrates how impenetrable the Russian bureaucratic apparatus is. The milblogger praised the Kremlin's response as being thoughtful and logical and dismissed other voices in the information space for being irrational and hysterical.
Russian officials are likely using the May 3 drone strike on the Kremlin to expand cancellations of parades for the May 9 Victory Day holiday. Russian sources reported that Russian officials have canceled May 9 parades in 21 cities in Russia and occupied Crimea either without offering official justification or citing security reasons. Russian officials in several cities claimed that they were canceling May 9 events and parades out of concern for participants of the "special military operation." ISW has previously assessed that the Kremlin will use the May 3 strike to cancel May 9 events and augment its informational effort to frame the war in Ukraine as an existential threat to Russia. The Kremlin likely hopes to limit typical May 9 events to conceal the degradation of the Russian military because such events demonstratively showcase advanced Russian military equipment, much of which is either critical to Russian operations in Ukraine or has been destroyed in 14 months of attritional fighting. The Kremlin also likely hopes to curb May 9 events out of fears that celebrations honoring deceased servicemembers could become a potential source of domestic backlash for Russia's high casualty figures in Ukraine. Russian officials have canceled immortal regiment memorial events in recent weeks likely for such reasons.
The Kremlin is reportedly continuing its overhaul of domestic security organs. Russian media aggregator Baza reported that Russian authorities expanded prior mass investigations into the Moscow Central District Internal Affairs Directorate of the Ministry of Internal Affairs (MVD) to other district MVD directorates in Moscow. Baza reported that Russian authorities detained the Bibirevo Raion's deputy chief of police on allegations of leaking information as well as two other employees at unspecified MVD departments. The Russian Federal Security Service (FSB) and the MVD Security Service reportedly started mass checks of MVD departments in Moscow due to the "leakage of data from Russian security forces at the request of Ukrainian citizens." The Kremlin appears to be also overhauling elements of the Rosgvardia (Russian National Guard) amid a series of recent arrests and dismissals of prominent Rosgvardia officials. The Kremlin likely intends to use these investigations and arrests to oust officials who have fallen out of favor and to consolidate control of internal security organs. ISW has previously assessed that Russian authorities may use a series of new laws expanding punishments for discrediting the Russian Armed Forces, the misappropriation of military assets, and trespassing at facilities operated by security organs to support these efforts. […]
Russia and India reportedly suspended efforts to trade in rupees. Reuters reported on May 4 that Russia and India suspended months of negotiations because Moscow does not want to accumulate over $40 billion in rupees by the end of 2023. Russia reportedly views rupees as not convertible. An unnamed Indian government official stated Russia would prefer to settle bilateral trade with India in Chinese yuan or another currency and that Russia is increasingly trading in United Arab Emirate dirhams. The suspended negotiations likely concern India's payment to Russia for spare parts and two S-400 air defense systems.
Key Takeaways
Russia conducted another Shahed-131/136 strike against Ukraine on May 4.
Russian officials are likely using the May 3 drone strike on the Kremlin to expand cancellations of parades for the May 9 Victory Day holiday.
The Kremlin is reportedly continuing its overhaul of domestic security organs.
Russia and India reportedly suspended efforts to trade in rupees.
Russian sources claimed that Russian forces made territorial gains south of Kreminna.
Ukrainian forces likely conducted a limited counterattack southwest of Bakhmut.
Russian forces continued ground attacks in and around Bakhmut and along the Avdiivka–Donetsk City line.
Russian sources claimed that Russian forces repelled Ukrainian forces in Zaporizhzhia Oblast.
The Kremlin is attempting to increase the production quotas of military supplies despite reportedly lacking the necessary manpower.
Russian occupation authorities continue to announce new security measures in an effort to prevent partisan attacks in occupied territories.
Russia unlikely to be capable of significant offensive in Ukraine this year, Ukrainska Pravda reports, citing CNN, quoting Avril Haines, US Director of National Intelligence. "Russia is unlikely to be able to conduct a significant offensive in Ukraine this year due to a lack of ammunition and manpower, regardless of whether the Ukrainian counteroffensive is successful. In fact, if Russia does not initiate a mandatory mobilization and secure substantial third-party ammunition supplies beyond existing deliveries from Iran and others, it will be increasingly challenging for them to sustain even modest offensive operations.
Haines has said that Putin has likely scaled back his short-term ambitions in Ukraine in order to consider a victory to consolidate control of the occupied territory in eastern and southern Ukraine, and ensuring that Ukraine will never become a NATO ally. Despite this assessment, Haines believes it is unlikely that Russia will agree to a pause this year unless political factors change Putin's mindset.
Haines has also noted that Russian troops are preparing new defensive positions ahead of a Ukrainian counteroffensive and that they gained less territory in April than in any of the three previous months.
US General Mark Milley, Chairman of the Joint Chiefs of Staff, believes that it will not be easy for Ukraine and Russia to achieve their political goals by military means. Ben Wallace, Secretary of State for Defence of the United Kingdom, said that the war will most likely continue into next year."
Russia 'very unlikely' to use nuclear weapons, US intel chief, Reuters reports. "Russia is very unlikely to use its nuclear weapons, the top US intelligence official said on Thursday, despite past saber-rattling from the Kremlin and the heavy casualties that Moscow is enduring in its invasion of Ukraine. It's very unlikely, is our current assessment, Director of National Intelligence Avril Haines told the Senate Armed Services Committee.
Nuclear tensions between Russia and the United States have increased since the start of the conflict with Ukraine with Putin repeatedly warning that Russia is ready to use its nuclear arsenal if necessary to defend its territorial integrity. In February, Putin announced Russia was suspending its participation in the New START treaty, the last remaining nuclear arms pact with the United States, which limits the number of strategic warheads each side can deploy.
Haines did not elaborate on the US intelligence community assessment. US officials for months have said they have not seen signs Russia was preparing to employ nuclear weapons but also cautioned that they were staying vigilant."
Six Offensive Guard brigades are ready for combat missions, Ukrainska Pravda reports, citing Colonel Mykola Urshalovych, Deputy Director of the Implementation and Planning Department of the National Guard of Ukraine, quoted by the press service of the NGU. "The National Guard of Ukraine (NGU) brigades, which are part of the Offensive Guard [Hvardiia Nastupu, a project of the Ministry of Internal Affairs of Ukraine that aims to form new assault brigades to support the Armed Forces – ed.], are already formed and ready to perform missions within the Defence Forces of Ukraine.
Six brigades of the National Guard, which are part of the Offensive Guard, are formed, staffed and ready to perform tasks as part of the Defence Forces after receiving corresponding missions. The 7th Khartiia brigade, the formation of which was announced in April, is in the process [of formation – ed.]." According to Urshalovych, the formed brigades are now being re-armed and will undergo combat adjustment for several more weeks.
Soldiers who have already passed all the stages of selection and are enrolled in the assault brigades of the Offensive Guard are being trained at training ranges as training platoons and companies are formed. The NGU representative stressed that the training activities are carried out in parallel, that is, certain units are already engaged in collective training, while some are undergoing individual training. […]
Nevertheless, as soldiers of the Offensive Guard have told Ukrainska Pravda, two brigades have problems recruiting people."
Ukraine escalates sabotage operations ahead of counteroffensive, Washington Examiner reports. "In advance of a likely counteroffensive against Russian forces in southern Ukraine, Ukrainian forces are escalating their attacks in what's known as "the deep battlespace" area behind enemy lines. These actions are designed to complicate any Russian response to Ukraine's main offensive. As the Washington Examiner first reported last August, Ukrainian deep battlespace operations have been heavily influenced by British special forces advisers.
Ukraine's shaping operations in the deep battlespace were encapsulated by the Saturday drone strikes against an oil depot on the Crimean Peninsula. This operation degraded Russia's already overwhelmed logistics network in the region — a nice touch since Ukrainian forces are likely to push toward the peninsula in their offensive. But the video footage of blazing fires sparked by the drones will also impose a psychological blow on Russian forces and give a morale boost to their Ukrainian counterparts.
This is just the start, however. On Tuesday, we saw the sabotage bombing of a Russian freight transport in Russia's Bryansk region, 70 miles north of northern Ukraine. Multiple containers were derailed. A separate explosion targeted a different area of railway on Monday, also causing a derailment. While Bryansk is far from where Ukraine's counteroffensive is likely to focus, it is an important logistics hub for Russian forces.
These successive strikes illustrate that Ukrainian saboteurs are operating behind Russian lines with freedom of action in areas that sit on the major highway approaches to Moscow. Again, this will boost Ukrainian morale and degrade Russian morale in advance of the counteroffensive — and morale is a systemic concern for Russian forces.
It's not clear when and where the Ukrainians will launch their offensive. Nevertheless, a push to sever Crimea from Russian forces on the Ukrainian mainland makes the most strategic sense. Taking advantage of woeful Russian command and control, rapid Ukrainian advances would threaten the isolation and encirclement of Russian forces. If Ukrainian forces succeed in isolating the Crimean Peninsula, that would undeniably shift the battlefield momentum in Kyiv's favor. This would consolidate Western support and undermine Russia and China's interest in dividing the West.
Moscow appears to recognize the danger. The Kremlin is now warning that Ukrainian terrorists are plotting attacks on civilian targets to coincide with Russia's annual World War II victory celebration on May 9. While Ukraine has been careful, under significant Western pressure, to avoid Russian civilian casualties (such as with the recent railway attacks), the Kremlin has a record of conducting false flag terrorist attacks on its own soil. A Russian intelligence service penchant dating back to the Czarist era, these efforts are designed to boost popular resolve against an external enemy. There is heavy circumstantial evidence, for example, that the Russian security services blew up four Russian apartment buildings in 1999 in order to justify escalation in Chechnya. Hundreds died in those explosions.
Regardless, Ukraine's recent actions indicate that its counteroffensive is growing close."
Global ammunition race may decide Ukraine war: Peter Apps, Reuters reports. "The ramp-up comes amid a worldwide military supply battle on a scale not seen since the 1950-53 Korean War – and which may well decide the outcome in Ukraine. What Britain's Royal United Services Institute calls the "return of industrialised warfare" is also now shaping global geopolitics. The million-dollar question is whether China will prove willing to throw its industry into the fight on Russia's side, a move the United States, Ukraine and NATO allies are all expending considerable diplomatic effort to prevent. […]
China said in April it would not sell weapons to either side. Iran, meanwhile, is said to have shipped some 300,000 shells to Russia in recent months, while North Korea with its enormous ammunition stocks is also touted as a potential further source. […]
In December, a US defence official told Reuters some rounds used by Russia were up to 40 years old – bringing risks of failure or premature explosion, and a sign that even its gargantuan stockpiles were running down. Western arsenals have also been emptied, hitting capability for any future conflict. […]
At the start of March, Ukraine was reportedly firing 110,000 artillery shells a month, and requested allies to supply enough to bring that number up to 250,000. According to British analysts, Ukraine's artillery usage would exhaust the entire UK stockpile in eight days. The United States, the NATO nation with by far the largest stocks, has already sent a million shells and is looking to increase production capability to six times its current level. The European Union has pledged another million, a significant milestone in the bloc's involvement in the conflict – but not enough for many Eastern European members. […]
We and our allies have almost full knowledge of how much ammunition is being used daily, weekly and monthly, said Polish Prime Minister Mateusz Morawiecki in March. These are quantities many times greater than those available to most NATO countries today. For the West, this is uncharted territory.
Even in the Cold War, US and NATO military planners believed they needed no more than 30 days of artillery stocks in Europe, as any conflict was likely to either end within that timeframe or escalate into a global atomic war. Few of its European allies ever made enough shells to reach that level, and all Western states have dramatically reduced that effort since. […] US officials say they hope soon to be producing 20,000 shells per month from US plants, rising to 40,000 within two years – a programme that requires new factories, new machine tools and a desperate search for staff in an environment where arms firms find vacancies difficult to fill. […]
Another complication is Ukraine's mixture of weapons systems. Most of the West's defence industry is configured to produce ammunition of the calibre used by NATO – primarily 155 mm for artillery. Western states have gifted Ukraine dozens of their own artillery pieces of that calibre, and they remain better supplied. The majority of Ukraine's artillery, however, remains Soviet-built – and the 152-mm shells have been harder for its Western allies to find.
The result, reports from the frontline suggest, is that some Ukrainian units equipped with Soviet-calibre artillery have been restricted in recent weeks and months to firing only once or twice a day. Late last year, Ukraine began manufacturing some of its own 152-mm shells, but it is unclear how many have been produced, leaving Kyiv and the West looking for supplies elsewhere.
In August 2022, open-source researchers noted multiple flights by British RAF C-17 transport aircraft from Pakistan to Cyprus, reported in the Indian press to be part of a wider Western effort buying Pakistan's mostly Chinese-made artillery shells for Ukraine. NATO member Bulgaria – which has one of Europe's largest armaments industries as well as stockpiles of Soviet-calibre arms – has also been important. Pro-European Prime Minister Kiril Petkov said his government provided approximately one third of Ukraine's ammunition in the first months of the war.
Since Petkov's government fell in August 2022, pro-Russian President Rumen Radev has ruled out further arms sales to Ukraine, although some diplomats say transfers may still take place behind the scenes, potentially through purchases by other nations for onward transport.
Inevitably, that leaves the United States holding much of the burden. In April, a South Korean newspaper reported that the government in Seoul was reluctant to involve itself deeper in the war and so was considering "loaning" another 500,000 shells to the US on top of 100,000 already sold, allowing Washington to restock its arsenals while sending more shells to Ukraine. After leaked US documents showed South Korean worries over getting pulled further into the war, the topic is likely to have been a major theme behind the scenes as South Korean President Yoon Suk Yeol visited Washington last week, receiving new defence pledges from the White House.
In April, as German Foreign Minister Annalena Baerbock visited Beijing, Chinese Foreign Minister Qin Gang pledged that China would not sell weapons to either side in Ukraine. Whether Beijing keeps that pledge in the coming year may decide not just the outcome in the current war, but the trajectory of much wider world events."
Consequences and what to do?
Hans Petter Midttun: An alleged UAV attack against a "flagpole" on top of the historic Senate Palace in the Kremlin has been declared a terrorist attack and an attempt to murder President Putin.
The attack bears all the hallmarks of a False Flag operation. It's reflected in the quick and coordinated response by both Russian media and officials. It is also reflected in the choice of target (given Western sensitivity towards Ukrainian attacks against targets on Russian territory), past False Flag operations and Russia's extensive air defence network between its international border and Moscow (and not least around Kremlin itself).
Still, Russia cries "terrorist attack". A state sponsoring terrorism claims to be exposed to a terrorist attack.
It stands in brutal contrast to the reality in which Russia is massively killing civilians across Ukraine and committing war crimes at an unprecedented scale. The Kremlin defines Ukraine as an artificial state while attempting to change its demography to the advantage of Russia. It is trying to eradicate the Ukrainian nation. It is dismantling the Ukrainian economy through the destruction of infrastructure, industrial and agricultural bases, and a maritime embargo. It is involved in genocide. Again. It is waging the most brutal war in Europe since World War 2 on a pretext of outright lies. Not least, it is waging a war – a hybrid one, mind you, but a war all the same – against the US and Europe. Its war in Ukraine is only an objective in its broader confrontation with the West.
And still, it has the extreme impudence to call an attack against a flagpole – an attack most likely made by Russia itself – a terrorist attack.
It is offensive to all the values and principles that define our liberal democracies. It is not least, intellectually insulting.
Watching an aggressor – that can best be described as a fascistic regime – trying to portray itself as a "victim" is sickening to the core. It is outright repulsive. In my humble opinion, it reflects the level of its moral decay.
It should spiral the West into action. Russia's corrupt worldview should motivate further restrictive measures.
Only lasting peace, true peace, true freedom, and true justice. That is what we need right now."
President Zelensky
And the truth, I might add. The truth and nothing but the truth.
"Since Russia invaded Ukraine in February 2022, almost all independent media have been banned, blocked and/or declared "foreign agents" or "undesirable organisations". All others are subject to military censorship."
Reporters without borders, the 2023 World Press Freedom Index
We must acknowledge that anything coming out from Kremlin is designed to distort the truth, manipulate and influence public opinion and key policy and decision-makers. It has weaponised information (as it has weaponised nearly everything else) to achieve its strategic aim and objectives. As previously argued, Russia has no credibility.
It is high time we start acting accordingly.
Our defence strategy is based on the idea of the need for a strong defensive capability to deter aggression and, if deterrence fails, the ability to fight until territorial integrity and sovereignty has been restored.
After decades of a Russian Hybrid War, no clear frontline in the information sphere has yet been established. We have failed to stop the enemy from "operating effectively behind our lines". It is conducting information warfare in our battlespace with impudence.
It must be stopped, and I see no reason why we cannot apply the same principles as applied for our Armed Forces. Deter, and if failing to do so, restore informational integrity.
This does not impede freedom of speech as Russian freedom of speech has already been lost. It is all about blocking state-controlled media and trolls from undermining Western democracy. It is a defensive measure to defend truth and allow for educated opinions, discussions, deliberations, and decisions.
Deterrence has already failed. It is time to stop Kremlin from waging war in the Western information space. All Russian media and social media channels must be blocked. Take away their voice until they admit responsibility for their actions and stop waging informational warfare.
Russia's future re-entry into the Western information space must be based on merits, including its actions in Ukraine (and beyond), the truthfulness of its statements at international organisations and its efforts to re-establish independent media and freedom of speech in Russia.
Until that time, we must acknowledge that Russia is waging war in the information space. A robust informational frontline is urgently required.
Tags: Russian invasion