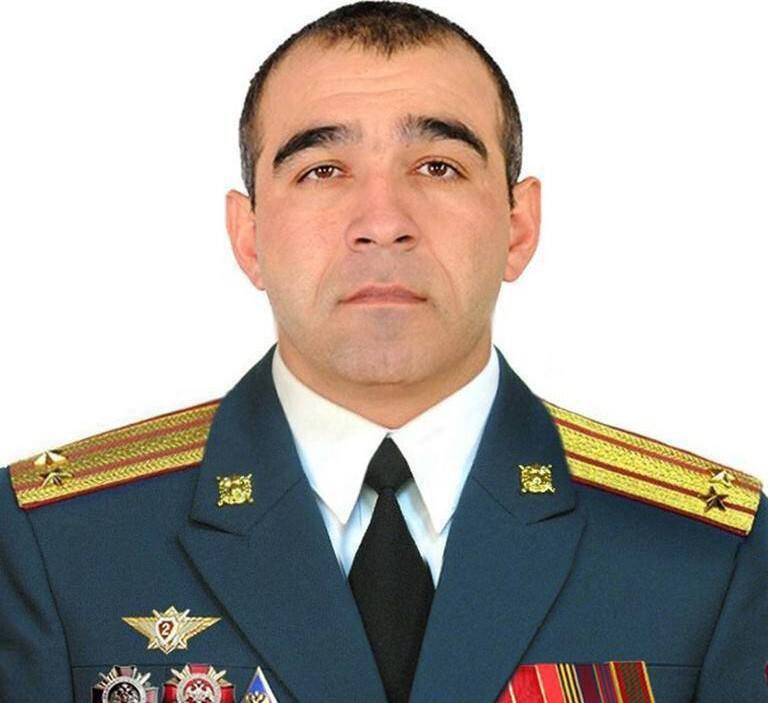 Lieutenant Colonel of Russia's National Guard Ayuba Eldarov.
Credit: SBU/Telegram 
Ukraine's Security Service (SBU) identified a commander of Russia's National Guard, who had allegedly ordered the poisoning of Ukrainians in gas chambers on the occupied territories of Ukraine's Zaporizhzhia Oblast.
According to the investigation, the perpetrator is Lieutenant Colonel Ayuba Eldarov, commander of the battalion of the 96th operational regiment of the 46th separate brigade of the Russian National Guard. The SBU accuses Eldarov of being involved in the mass torture and murder of Ukrainian civilians on Russian-occupied territories in southern Ukraine.
UN report accuses Russia of war crimes in Ukraine: Torture, sexual violence, and murder revealed
In May 2022, Eldarov was appointed the so-called "commandant" of Chernihivka village in the temporarily occupied Berdiansk district of Zaporizhzhia Oblast, southeastern Ukraine. According to the SBU, Eldarov took an active part in suppressing the resistance movement and conducting mass repressions against civilians in the occupied territories of Ukraine.
For this purpose, he formed punitive units consisting of the Russian military, representatives of the Russian special services, and local collaborators. Eldarov ordered to search for Ukrainian patriots and then kidnap them, according to the SBU.
Russian torture chamber network in occupied Ukraine part of strategy to extinguish Ukrainian identity – lawyers
In the dungeons, people were subjected to brutal torture involving toxic chemicals and electric shocks. The fact that the Russian forces used asphyxiating gases in specially equipped "gas chambers" where Ukrainian prisoners were kept has been documented. The Russians tortured civilians to obtain information about the location and movement of Ukraine's Armed Forces.
According to the SBU, Eldarov personally participated in illegal detentions and torture and "covered" the murders of abducted citizens by his subordinates.
In addition, the SBU received testimonies from three local residents who survived Russian torture and managed to leave for the territory controlled by Ukraine. One of them is a resident of the Chernihivka village. He was abducted by Russian invaders at a checkpoint and tortured because he followed one of the Ukrainian Telegram channels. The Russians accused another illegally imprisoned Ukrainian civilian of adjusting the fire of the Ukrainian Armed Forces. The third victim was abducted and tortured by the Russians because he supported Ukrainian defenders in public statements.
Related:
Tags: Genocide, ICC, Russian invasion of Ukraine, Russian war crimes, The Hague tribunal, torture chambers