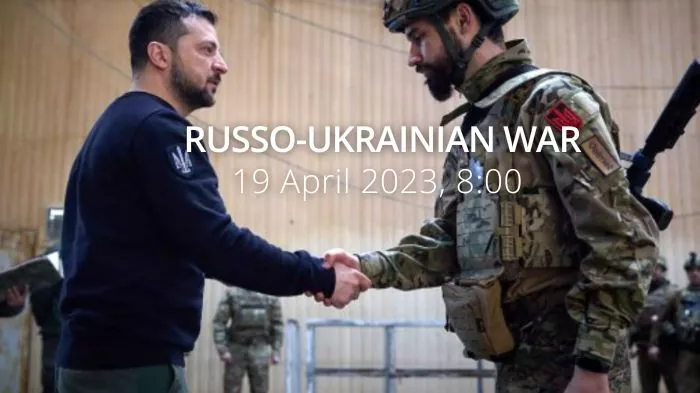 Russia systematically uses information operations as a major element of its strategy, including discrediting the Ukrainian government. First Bradley IFVs already in Ukraine, says Pentagon. Zelenskyy arrives at the frontline in Avdiivka.
Bakhmut sector remains "epicenter of fighting," where Russians focus "most of their efforts and is determined to take control of the city at any cost" – the battle contiues, the situation is under control – Ukraine Ground Forces Comander Col-Gen Syrskyihttps://t.co/D1lZXBCO9U

— Euromaidan Press (@EuromaidanPress) April 18, 2023
Daily overview — Summary report, April 19
A map of the approximate situation on the ground in Ukraine as of 00:00 UTC 19/04/23.

There have been no notable changes to control since the last update. pic.twitter.com/8UivCJAWdw

— War Mapper (@War_Mapper) April 19, 2023
'The General Staff's operational update regarding the Russian invasion as of 18.00 pm, April 19, 2023 is in the dropdown menu below:
Over the past day, Russian forces launched 4 missiles and 60 air strikes, carried out 58 rounds from MLRS; civilians were also injured.
The threat of launching further missile and air strikes across the entire territory of Ukraine remains high.
The main efforts of Russian forces are concentrated on conducting offensive operations in the Lyman, Bakhmut, Avdiivka and Maryinka areas. Over the past 24 hours, more than 60 enemy attacks have been repelled by units of the Defence Forces of Ukraine on the specified areas of the front. The fiercest battles are fought for Bakhmut and Maryinka.
Volyn', Polissya, Sivershchyna and Slobozhanshchyna axes: the operational situation has not changed significantly. [Certain units of the armed forces of the Republic of Belarus continue their missions in the areas bordering Ukraine. Certain units of the territorial troops of the Russian Armed Forces continue their deployment on the territory of Belarus. The adversary continues to maintain a military presence in the areas of Bryansk, Kursk, and Belgorod oblasts (Russia) bordering Ukraine.] During the past day, Russian forces shelled the settlements of Gremyach, Chernihiv Oblast, Velyka Berizka, Korenyok, Boyaro-Lezhachi, Iskryskivshchyna, Volfyne, and Richki, Sumy Oblast, as well as Veterinarne, Kozacha Lopan, Hlyboke, Vovchansk, Bochkove, Okhrimivka, and Nesterne in Kharkiv Oblast.
Kupyansk axis: Kam'ianka, Ridkodub, Krasne Pershe, Novomlynsk, Dvorichna and Zapadne of the Kharkiv Oblast were subjected to Russian forces shelling.
Lyman axis: Russian forces tried to improve the tactical position, and conducted unsuccessful offensive actions near the settlement of Dibrova. Stelmakhivka, Nevske, Hryhorivka, Belogorivka in Luhansk Oblast and Ivanivka, Torske and Spirne in Donetsk Oblast were hit by artillery fire.
Bakhmut axis: Russian forces continues to conduct offensive actions. Heavy fighting continues for the city of Bakhmut. At the same time, our defenders repelled an enemy offensive in the vicinities of Stupochki. Vasyukivka, Minkivka, Orikhovo-Vasylivka, Novomarkove, Hryhorivka, Bakhmut, Ivanovske, Stupochki, Chasiv Yar, Kostyantynivka, Toretsk and New York of the Donetsk Oblast were affected by enemy shelling.
Avdiivka axis: Russian forces carried out unsuccessful offensive actions in the areas of Stepove, Berdychi, Avdiivka, Severne, Pervomaiske and Nevelske settlements. They shelled the settlements of Novokalynove, Avdiivka, Tonenke, Netaylove and Pervomayske in the Donetsk Oblast.
Maryinka axis: our defenders repelled numerous enemy attacks in the vicinity of the Maryinka settlement of the Donetsk Oblast. At the same time, Krasnohorivka, Maryinka, Pobyeda and Novomykhailivka got under enemy fire.
Shakhtarske axis: during the past day, Russian forces conducted unsuccessful offensive actions in the axis of Prechistivka. Russians shelled the settlements of Vugledar, Prechistivka, Novoukrayinka and Velika Novosilka of the Donetsk Oblast.
Zaporizhzhia and Kherson axes: Russian forces continue to conduct defensive operations. At the same time, during the day they carried out shelling of populated areas, which are next to the frontline. Among them are Novopil' of Donetsk Oblast; Olhivske, Malynivka, Chervone, Gulyaipole, Charivne, Orihiv, Stepove and Plavni of the Zaporizhzhia Oblast; Antonivka of the Kherson Oblast and the city of Kherson. There are casualties among the civilian population.
In the temporarily captured territory of the Kherson Oblast, the Russian invaders continue to mine the area, building up defence capabilities. The water areas of the Konka and Dnipro rivers are also affected. There are cases of local residents being blown up by enemy mines when trying to get onto the water.
Over the past day, the Ukrainian Air Force conducted 11 strikes on personnel concentration areas and 2 strikes on Russian anti-aircraft missile systems. In addition, 2 enemy reconnaissance UAVs ("Orlan-10" and "Supercam"), as well as 8 strike UAVs (7 – type "Shahed-136" and 1 – "Lancet") were shot down.
Units of missile and artillery troops hit 3 areas of concentration of manpower, a radio-electronic warfare station and another important military object of Russian forces."
Military Updates
In the late evening of 18 April, Ukrainian air defenses shot down 7 Russian drones, including 6 Shahed-136 kamikaze drones. 6 drones were destroyed over Zaporizhzhia Oblast. A 7th drone was shot down on the outskirts of Dnipro.https://t.co/U2mpdP89GA

— Euromaidan Press (@EuromaidanPress) April 19, 2023
Infrastructure hit as Russian invaders attack Odesa region with drones, Ukrinform reports, citing the Odesa district military administration. "Russian invaders attacked the Odesa region with Iranian-made Shahed-136 kamikaze drones in the early hours of Wednesday, April 19.
Thanks to the successful work of our defence forces, most of the enemy's UAVs have been destroyed, but, unfortunately, there are hits on a public infrastructure facility, the report reads. Measures have been taken to contain the fire that broke out at the scene of the strike. According to preliminary information, there were no casualties."
According to British Defence Intelligence, (last 48 hours): 
Since the start of its full-scale invasion of Ukraine, the Russian state has systematically used information operations as a major element of its strategy. It has cultivated multiple channels and proxies to spread disinformation: the intentional creation and sharing of false or manipulated information.
One component of Russia's disinformation is 'narrative laundering', whereby Russia promotes information from proxies, or unverified social media sources, which then permeates to more mainstream or state-run media. This aims to cloud the source of the information, making it easier for the Russian state to distance itself from the message. It then promotes misleading fragments of the narrative, while masking its vested interest.
Russian state actors present manipulated narratives in both orchestrated and opportunistic ways. Their current priorities almost certainly include discrediting the Ukrainian government and reducing international support for Ukraine.
Heavy fighting has continued along the Donbas front line. However, there is a realistic possibility that Russia has reduced troop numbers and is decreasing offensive action around Donetsk city, most likely to divert resources towards the Bakhmut sector.
In Bakhmut, Russian MoD and Wagner Group forces continue to make creeping advances. The front line in the town centre largely follows the main railway line. Ukraine is generally holding Russia's envelopment from the south along the line of Korsunskovo Street, the old main road west out of town.
For both sides, the exact sequencing of any major drawdown of their units around Bakhmut has become a critical question, with Ukraine wanting to free-up an offensive force while Russia likely aspires to regenerate an operational reserve.
Losses of the Russian army 
Russias approximate losses on day 420 of its full-blown war against Ukraine pic.twitter.com/iLA1YAiwPD

— Euromaidan Press (@EuromaidanPress) April 19, 2023
As of Wednesday 19 April, the approximate losses of weapons and military equipment of the Russian Armed Forces from the beginning of the invasion to the present day:
Personnel – about 183750 (+620)
Tanks – 3665 (+4)
Armoured combat vehicles – 7110 (+12)
Artillery systems – 2819 (+9)
Multiple rocket launchers –MLRS – 538 (+0)
Air defence means – 285 (+0)
Aircraft – 308 (+0)
Helicopters – 293 (+0)
Automotive technology and fuel tanks – 5692 (+16)
Vessels/boats – 18 (+0)
UAV operational and tactical level – 2376 (+23)
Special equipment – 330 (+0)
Mobile SRBM system – 4 (+0)
Cruise missiles – 911 (+0)
At least 750,000 Russians are expected to have served in the war in Ukraine, @ChrisO_wiki, an independent military history author and researcher, reports on twitter. "At least 750,000 Russians – equivalent to 65 percent of the entire Russian army – are expected to have served in the war in Ukraine, according to a leaked official document. At least 16,000 of them are forecast to have sustained disabling injuries. The "We can explain" Telegram channel has published a leaked extract from a presentation by the Defenders of the Fatherland Veterans Support Fund, a state fund headed by Putin's niece Anna Tsivileva. The fund is working on programmes to support war veterans. The document states the "estimated number of Special Military Operation veterans" as 750,000 – a figure that likely includes regular Russian army personnel, those mobilised since 2022 from Russia, Luhansk and Donetsk, and convicts or mercenaries recruited by the Wagner Group.
72,377 people are stated to have acquired the status of veterans of the Ukraine war as of 1 February 2023. Of those, 1,536 people (2.1%) have either been rated as disabled or are in the process of being so rated. The document estimates that 15,750 people will be rated as disabled. It breaks them down into three classes: 2,662 (16.9%) in class I, likely the most severely disabled; 10,111 (62.2%) in class II; and 2,977 (18.9%) in class III.
The estimates indicate that more Russians are likely to fight in the Ukraine war than in any conflict since World War II. 620,000 Russians fought in the 10-year Afghan war, and 600,000 fought in the 12 years of the two Chechen wars.
The number of people disabled in the fighting is likely to exceed those sustained in previous conflicts, further increasing the long-term burden on Russian society.The figures also show the burden that the war is placing on the Russian military. While many of the 750,000 will be newly mobilised reservists, many others will be professional soldiers who will not so easily be replaced if they are disabled or killed. […]"
Egypt refused to supply ammunition to Russia and started producing for Ukraine – Washington Post, Ukrainska Pravda reports, citing The Washington Post referring to five US intelligence documents leaked earlier this month. "Last week, another document was reported exposing a secret scheme proposed by Egyptian President Abdel Fattah el-Sisi in February to provide Russia with up to 40,000 122 mm Sakr-45 rockets that can be used for Russian multiple-launch rocket systems. Sisi allegedly instructed his subordinates to keep the project secret to avoid problems with the West.
However, new documents that WP obtained from the array of materials show that Sisi abandoned plans to supply Moscow in early March. Despite long-standing diplomatic and military relations with Russia, Egypt has been America's main ally in the Middle East for decades. It receives more than US$1 billion annually in military aid from the United States. According to the documents, Egypt postponed the Moscow Agreement and approved the sale of 152 mm and 155 mm artillery shells to the United States for transfer to Ukraine."
Humanitarian
https://twitter.com/EuromaidanPress/status/1648408604469493760
Russia is breaking promises to countries dependent on Ukraine grain, Blinken says, Reuters reports. "Russia is breaking its promises to countries around the world that are dependent on grain that has not been able to get out of Ukraine over the last few days, US Secretary of State Antony Blinken said on Tuesday. […]
On Monday Kyiv said a U.N.-brokered initiative allowing the safe Black Sea export of Ukrainian grain was in danger of "shutdown" after Russia blocked inspections of participating ships in Turkish waters."
Ship inspections restart under Ukraine grain deal – RIA, Reuters reports. "Inspections of ships moving grains from Ukraine have restarted after a pause which threatened to shut down the Black Sea shipping corridor, the RIA news agency cited the Russian foreign ministry as saying on Tuesday."
Threat of Russia abandoning UN-backed grain corridor is growing, Insurance Marine News reports. "Russia has said that the deal will end on May 18th, 60 days after the last renewal, should the West not enable the export of Russian grain and fertilizer. That would include the reconnection of Russian Agricultural Bank (Rosselkhozbank) to the SWIFT payment system, the resumption of supplies of agricultural machinery and parts, lifting restrictions on insurance and reinsurance, the resumption of the Togliatti-Odesa ammonia pipeline and the unblocking of assets and the accounts of Russian companies involved in food and fertilizer exports. Russia has said that these restrictions have meant that, even though fertilizer and grain from Russia is not sanctioned, the effect of other actions by the West have served to make exports to the West virtually impossible.
The deal, first signed by Russia, Ukraine, Türkiye, and the UN in July last year and twice extended, allows for the export of food and fertilizer, including ammonia from Ukraine's Black Sea ports of Odesa, Chornomorsk, Yuzhny/Pivdennyi. […]
When the first renewal was being renegotiated in October and the second renewal was being negotiated in late February and early March, there was a view that Russia was setting out a negotiating stance, but this time round there is a feeling that Moscow might think the deal too unbalanced to be worth continuing. Its two major aims when agreeing to the UN and Turkiye-brokered deal last July were to gain political sympathy in the global south, to which Ukraine's grain was meant to be delivered, and to supply Russia with finance via the export of grain and fertilizer. With neither of these objectives being achieved, Moscow might be discussing internally whether it might not be better to abandon the Corridor deal entirely. […]
Since August 2022 Ukraine has been able to export about 27.7m tonnes of agricultural products, including 13.9m tonnes of corn and 7.5m tonnes of wheat, via the Black Sea. That represents about 60% of Ukraine's corn exports in the current 2022/23 season and 56% of wheat exports. Rapeseed, sunflower oil, sunflower meal and barley have also been exported through the Corridor. Although Russia felt that the West had promised most of the exports would head for the global south, in fact the major importers have been China (6.3m tonnes), Spain (4.8m tonnes) and Türkiye (3m tonnes).
Before last July Ukraine's ports had been blocked. If the deal ends in May, then war insurance rates would climb even higher and most shipowners would be unlikely to want to risk their vessels being attacked while sailing in the Black Sea.
Although Ukrainian farmers planted less corn and wheat late last year than would have been the case pre-war, its production volume will still be far higher in 2023 than can be exported via land and the Danube."
West Africa faces acute food shortages with thousands near famine, say UN agencies, Reuters reports. "Forty-eight million people in West and Central Africa face acute food insecurity in the coming months, a 10-year high spurred by insecurity, climate shocks, COVID-19 and high prices, United Nations humanitarian agencies warned on Tuesday.
West and Central Africa has faced increasing risks caused by higher temperatures and erratic rainfall. War in Ukraine has contributed to food and fertilizer shortages in one of the world's poorest regions. The number of people without regular access to safe and nutritious food is projected to hit 48 million during the June-August lean season, according to a regional food security analysis presented by the U.N.'s World Food Programme (WFP), humanitarian agency OCHA, Food and Agriculture Organization (FAO) and children's agency UNICEF."
Environmental
More than 550 objects of cultural heritage destroyed or damaged in Ukraine, Ukrinform reports. "More than 550 monuments and objects of cultural heritage have been destroyed or damaged by the occupiers. The war continues, so we record new destructions every day," Minister of Culture and Information Policy of Ukraine Oleksandr Tkachenko posted on Telegram.
According to him, 109,930 monuments are protected by the state, and there are more than 130,000 objects of cultural heritage on the state register. Part of them are inscribed on UNESCO World Heritage List – especially during the war as something that is under threat. Because the aggressor state purposefully destroys everything that we love and cherish so much, everything that defines us as a nation, the minister emphasized.
He noted that every loss of Ukraine's cultural monument is a loss for world heritage. Cultural heritage is a key element of the identification of the Ukrainian nation and a factor of Ukraine's national security. The war became the impetus for the transformation of the understanding of the latter. That is why we bring cultural heritage – monuments of history and culture, landmarks and traditions – to a new level of significance for everyone inside the country and in the world, Tkachenko stressed."
Legal 
"I shot a 5-year-old in the head": Wagner convicts confess to killing children in Bakhmut and Soledar, Ukrainska Pravda reports, citing Gulagu.net [a Russian anti-corruption, anti-torture human rights organisation and website – ed.]. A Russian organisation has released videos in which Russian convicts from the Wagner Group confess to murdering Ukrainian children in Bakhmut and Soledar. According to one of the killers, unarmed 15-year-old Ukrainians can hardly be called civilians.
The human rights activists posted the testimonies of two former Wagner Group unit commanders who were recruited to join Yevgeny Prigozhin's mercenaries from Russian penal colonies.
They are Azamat Uldarov from Saratov Oblast, a former prisoner from Correctional Labour Colony No. 13 of the Russian Office of the Federal Penitentiary Service (pardoned by a decree of the President of the Russian Federation dated 23 August 2022), and Alexei Savichev from Voronezh Oblast, a former prisoner from Correctional Labour Colony No. 1 (pardoned by Putin's decree dated 2 September 2022). The criminals are now in Russia.
Over the course of a week, they gave testimonies in video and audio interviews, telling Vladimir Osechkin, the founder of Gulagu.net, the details of how they shot more than 20 Ukrainian children and teenagers, blew up a pit containing more than 50 wounded prisoners and so-called "500s" (soldiers who decided to stop fighting and refused to carry out orders to kill Ukrainians), and mopped up residential buildings, killing everyone, even the children.
One of the Wagnerites admits that he shot a 5-year-old girl in the head when they went to Soledar and Bakhmut: "She screams – she's a small child, you know. I shot a five- or six-year-old girl in the head. A killshot.
I carried out the order with this very hand, I killed children. You understand, by order. The fact that we… We were given an order to mop up and kill everyone… We went there and we killed everyone – women, men, pensioners and children, including little ones, five-year-olds, [Uldarov said]
The terrorists said the command to mop up Bakhmut came from Prigozhin. He ordered that no one should be spared – neither elderly people nor children. All were to be killed. In Soledar, he said, it was even worse. Uldarov also said he had mopped up" the basement of a nine-storey building in Bakhmut where there were 300-400 civilians, 40 of whom were children. He added that he had no choice and that he had an order to kill everyone. The terrorist stated that this happened in March 2023.
Civilians were coming outside. And the order was: everyone aged 15 and over – all of them were to be shot on sight. 20-24 people were shot, 10 of them were teenagers aged 15 and 17, [Savichev said]. Asked how many unarmed civilians they had killed in February 2023, Savichev replied that 15-year-old Ukrainians can hardly be called civilians.
Both former Wagner unit commanders also said that Prigozhin had personally given the criminal orders for the executions and killing. […] Uldarov also admitted that Wagnerites do not take prisoners and it is their practice to kill Ukrainian soldiers: "Mainly with a knife. We cut their throats. We film it. When Prigozhin said sledgehammer, we'd take a sledgehammer and kill with a sledgehammer. That's his method. He is a horrible person."
CoE Commissioner reports numerous violations of rights of Crimean Tatars on occupied peninsula, Ukrinform reports, citing the website of the Council of Europe. "Commissioner for Human Rights of the Council of Europe Dunja Mijatović released a report on the human rights situation of Crimean Tatars in Ukraine's Autonomous Republic of Crimea and the city of Sevastopol, temporarily occupied by Russia. Crimean Tatars in Crimea, and especially those opposing Crimea's illegal annexation or expressing dissent, are being subjected to numerous patterns of serious violations of human rights, persecution, discrimination, and stigmatisation by the Russian occupying authorities, Mijatović said.
The report focuses on multiple patterns of violations of human rights committed against Crimean Tatars throughout their history, especially following the occupation and illegal annexation of Crimea in 2014 by the Russian Federation and Russia's full-scale invasion of Ukraine in February 2022.
Crimean Tatars have been exposed to a never-ending string of human rights violations and unfairly cast out of their ancestral homeland many times in the course of their troubled history. They have suffered enough, Mijatović stressed. The Commissioner reiterated her call for the persecution of Crimean Tatars to stop and for an immediate end to all arbitrary arrests, harassment, and searches of homes of Crimean Tatar human rights defenders, activists, leaders, and journalists, as well as ordinary members of the group. […]
In her report, the Commissioner also called for putting an end to the forced conscription and military mobilisation of Crimean Tatars in the occupied Crimea. Mijatović also called for the fate and whereabouts of the persons gone missing since the occupation of the peninsula in 2014 to be clarified in prompt, effective, and adequate investigations."
Support
https://twitter.com/EuromaidanPress/status/1648440012986548227
Former senior diplomats urge west to 'go all in' on military support for Ukraine, The Guardian reports. "A transatlantic group of former senior diplomats and high-level military advisers have said the war in Ukraine is on course to become a stalemate unless the west goes "all in" and increases its level of military support. Writing in the Guardian on Monday, the group said that "declarations of unwavering support" were not enough and "actions still fail to match the rhetoric" in a reflection of military assessments in European capitals and Washington.
The urgent warning comes from an authoritative group including the former UK foreign office permanent secretary Simon McDonald; Christoph Heusgen, a diplomatic adviser to the former German chancellor Angela Merkel; the former national security adviser to [the US president] Barack Obama, Jim Jones; Stéphane Abrial, chief of staff to the former French prime minister Jean-Pierre Raffarin; and Stefano Stefanini, a diplomatic adviser to the former Italian president Giorgio Napolitano.
They said the west has to go all in and there was no time for complacency. We have to provide the weapons and ammunition Ukraine needs to fight, and defeat Putin's war of aggression. The faster Putin understands that he will not achieve his objectives in Ukraine, the earlier peace can be achieved, and the sooner the suffering of the Ukrainian people will end, they wrote. Ukraine needs the combined force of tanks, longer-range missiles and aircraft to conduct a successful counterattack, paving the way to Ukrainian victory and peace negotiations on acceptable terms.
With the prospects of a major Ukraine ground offensive this year possibly being scaled back, Ukraine's defence minister, Oleksii Reznikov, has called for the US to reassess its refusal to provide F-15 or F-16 combat aircraft. Ukrainian officials and western military analysts warned as far back as last autumn that Ukraine was running critically low on air defence missiles and fighter jets could help compensate for that.
In remarks directed at the French president, Emmanuel Macron, who recently emphasised China as a potential mediator to end the war, the group also advised the west to be cautious about Beijing's role in this conflict. Beijing is already helping Putin's war efforts, supplying non-lethal aid and permitting North Korea to transfer weapons to Russia. We should have no illusions: wary of democracy and Russia becoming an open society, China has every interest in keeping Putin in power, they said. Macron, by contrast, during his recent visit to Beijing urged China to use its influence to persuade Russia back to the negotiating table.
The authors from five of the countries inside the G7 group of nations did not define the acceptable terms on which Ukraine should settle for peace, but at a major recent in-house review by the UK Foreign Office there was an emerging consensus that Vladimir Putin would need to be offered a diplomatic off-ramp, and that might centre on leaving Russia in control of Crimea, or its future put to an internationally recognised referendum. The former UK prime minister Boris Johnson has been arguing for this position, though it is not the formal stance of the Ukrainian leadership. […]
Looking ahead to the NATO summit in Riga this summer, they said: If the world's democracies are going to deter and, if necessary, defend themselves against Russia and China, major economies like Germany will have to do their fair share. It is no longer acceptable that Germany and Italy do not spend 2% of their GDP on defence; the 2024 budget will be a litmus test. The UK, they said, had been slow to enforce the sanctions it had implemented and needed to step up since the current regime had too many holes.
The decades-old promises to strengthen European defence capabilities had to be implemented to help preserve the bipartisan US support for helping Ukraine militarily, they said. The cohesion of the alliance between Europe and the US, they said, was vital to proving Putin wrong in counting on fatigue over Ukraine.»
Pentagon confirms: First Bradley IFVs already in Ukraine, Ukrinform reports. "Yes, we can confirm that a portion of Bradleys have arrived [in Ukraine], Army Maj. Charlie Dietz, a Pentagon spokesman, told The War Zone Tuesday morning, The Drive informs. Dietz would not say when they arrived or how many have arrived, deferring those questions to the Defense Ministry of Ukraine. […]
The Pentagon reported earlier that Ukraine would receive a modernized version of the Bradley infantry fighting vehicles which are called "tank killers". Bradley vehicles are part of the concept of network warfare which has already proven its effectiveness in battles with the Russian army.
The new package of US security assistance included 50 US M2 Bradley infantry fighting vehicles. The latest aid package also provides for the transfer of ammunition for M2 Bradley, consisting of 500 TOW anti-tank missiles and 250,000 rounds of 25mm ammunition specifically for these vehicles."
Germany delivers Patriot air defence system to Ukraine, Ukrinform reports. "Germany delivered Patriot air defence system to Ukraine. This is reported on the website of the German government, where the updated list of delivered military support has been published.
The list includes, in particular, the Patriot system, 16 Zetros trucks (a total of 76 have already been delivered), and two border protection vehicles (122 units have been sent). It should be noted that the German side reports on the transfer of weapons when they are already in the territory of Ukraine and are delivered to the place of deployment.
As reported, Germany sent Leopard 2A6 tanks, Marder IFVs, and mine clearing tanks to Ukraine."
Ukraine to ask for urgent air defence assistance at Ramstein on 21 April, Ukrainska Pravda reports, citing Financial Times quoting three officials who have been informed of the meeting's preparations. "Ukraine will plead for urgent shipments of surface-to-air missiles at this week's Ramstein-format meeting, fearing that an acute shortage could allow Russia to launch widespread bombing attacks. Kyiv will press allies to bolster their dwindling stocks at the so-called Ramstein military coordination group on Friday, according to three officials briefed on the preparations.
Without adequate air defences, Western capitals fear a long-planned counter-offensive against occupying Russian troops could falter, the FT notes.
Kyiv is desperate for more missiles capable of shooting down fighter jets having used large quantities to counter barrages of Moscow's drones and missiles. Short-range air defence has been a topic that has been raised increasingly by the Ukrainians, said one European official. If they use them all up, it opens the space up for air forces. If Russia can get in with dumb bombers, Ukraine will be in trouble, they added, referring to unguided munitions dropped from planes."
South Korea announces possibility of military aid for Ukraine, Ukrainska Pravda reports, citing Reuters and South Korean President Yoon Suk Yeol . "South Korea might extend its support for Ukraine beyond humanitarian and economic aid if Ukraine suffers another large-scale civilian attack.
If there is a situation the international community cannot condone, such as any large-scale attack on civilians, massacre or serious violation of the laws of war, it might be difficult for us to insist only on humanitarian or financial support."
New Developments
During the visit, Ukraine's FM Kuleba invited the State of Kuwait to join Ukraine reconstruction. The emphasis is placed on social causes: kindergarten, school, hospital construction, psy support & rehabilitation programs for war-affected Ukrainians.https://t.co/majFp1onsj

— Euromaidan Press (@EuromaidanPress) April 18, 2023
Russia decided to do without Immortal Regiment march on Victory Day, Ukrainska Pravda reports, citing TASS. "Victory Day will be held in a mixed format in Moscow and other Russian cities in 2023. There will be no full-time Immortal Regiment march this year."
Assessment 
https://www.understandingwar.org/backgrounder/russian-offensive-campaign-assessment-april-18-2023*
On the war. 
The Institute for the Study of War has made the following assessment as of  April 18, 2022:
Russian forces conducted limited ground attacks northeast of Kupyansk and along the Svatove-Kreminna line on April 18. The Ukrainian General Staff reported that Russian forces conducted unsuccessful ground attacks near Synkivka (8km northeast of Kupyansk), Dibrova (5km southwest of Kreminna), and Spirne (25km south of Kreminna). […] Footage published on April 17 and 18 purportedly shows Ukrainian forces driving a captured TOS-1A thermobaric artillery system in the Svatove-Kreminna direction and Chechen "Akhmat" special forces elements repelling Ukrainian forces near Kreminna.
Russian forces continued to make gains in Bakhmut on April 18. Geolocated footage published on April 17 indicates that Wagner Group forces have likely advanced closer to the House of Culture in northwestern Bakhmut. […]The Ukrainian General Staff reported that Russian forces conducted ground attacks in Bakhmut, and that Ukrainian forces repelled Russian forces near Ivanivske and Predtechnyne (12km southwest of Bakhmut). Commander of the Ukrainian Ground Forces Colonel General Oleksandr Syrskyi stated that Russian forces have increased heavy artillery and air strikes against Bakhmut. The Ukrainian Border Guards stated on April 18 that Wagner forces are not currently suffering from artillery ammunition shortages. Russian milbloggers claimed that Russian forces began to use modified FAB-500 aerial bombs equipped with guidance systems to strike Bakhmut as of at least April 17.
Russian forces continued to conduct ground attacks along the Avdiivka-Donetsk City line on April 18. Geolocated footage shows that Russian forces have advanced up to the H-20 highway northeast of Krasnohorivka (3km north of Avdiivka). The Ukrainian General Staff reported that Russian forces conducted unsuccessful ground attacks near Stepove (2km north of Avdiivka), Novokalynove (8km north of Avdiivka), Berdychi (4km northwest of Avdiivka) Avdiivka, Sieverne (5km west of Avdiivka), Pervomaiske (11km southwest of Avdiivka), and Marinka (27km southwest of Avdiivka). […] Other milbloggers claimed that Russian forces tried and failed to break through Ukrainian defenses near Keramik, Pervomaiske, Nevelske, and Marinka.
Ukrainian forces likely conducted limited counterattacks in western Donetsk Oblast. […] Russian forces did not conduct any confirmed or claimed ground attacks in western Donetsk Oblast on April 18.
Russian President Vladimir Putin continued to portray himself as a wartime leader in anticipation of a planned Ukrainian counteroffensive during his visit to occupied Kherson and Luhansk oblasts. The Kremlin announced on April 18 that Putin visited the headquarters of the Russian Dnepr Group of Forces in Kherson Oblast and the Vostok National Guard headquarters in occupied Luhansk Oblast. Kremlin Spokesperson Dmitry Peskov claimed that Putin visited occupied territories on April 17. Putin, however, stated that Orthodox Easter holiday is "coming up" in one of the videos, which suggests that his visit occurred prior to April 16. […] ISW reported on Russian milbloggers criticizing Russian officials for failing to visit the frontlines like Zelensky, and Putin had previously visited occupied Mariupol on March 19 to improve his appearance as a wartime leader. Russian occupation officials and milbloggers celebrated Putin's visit and claimed that he boosted the morale of Russian servicemen preparing to repel Ukrainian counter-offensives. Geolocated footage shows that Putin visited Arabat Spit in southwestern Kherson Oblast – at least 130km from the nearest frontline.
Putin's visit likely also intended to publicly identify potential scapegoats ahead of the planned Ukrainian counteroffensives. Putin received briefings from Commander of Russian Airborne Forces (VDV) Colonel General Mikhail Teplinsky, Commander of the Dnepr Group of Forces Colonel General Oleg Makarevich, and other unnamed military commanders regarding the situation along the Kherson and Zaporizhzhia frontlines. Putin also met with Colonel General Alexander Lapin and other unnamed top-ranking officers to discuss the situation on the Luhansk frontline. Putin likely deliberately singled out Teplinsky and Makarevich as commanders responsible for southern Ukraine, and Lapin as a commander overseeing the Luhansk direction. Putin, Kremlin sources, and milbloggers have been increasingly discussing the prospects for a Ukrainian counteroffensive, and it is likely that the Kremlin is preparing the domestic information space for either military failures or the defeat of the counteroffensive threat.
Putin's demonstrative meetings with Teplinsky, Makarevich, and Lapin likely confirm another change in military command and possibly within the Kremlin's inner circle. A Kremlin-affiliated milblogger observed that the Chief of the Russian General Staff Army General Valery Gerasimov and Defense Minister Sergey Shoigu did not attend Putin's meetings in occupied Ukraine. The milblogger claimed that Teplinsky and Lapin – both of whom had reportedly been placed on a leave – returned to the Russian military command likely against the wishes of Gerasimov and Shoigu. Russian sources previously claimed that the Kremlin replaced Wagner-affiliated Teplinsky with Makarevich as the VDV commander on January 13, likely after the Russian MoD and Gerasimov regained Putin's favor in the lead up of Russia's unsuccessful winter-spring offensive operation in Donbas. The meeting confirms previous Wagner Group financier Yevgeny Prigozhin's hints at Teplinsky's reappointment. ISW previously assessed that Teplinsky's confirmed reappointment suggests that the Kremlin is likely seeking to work with Wagner to achieve a decisive victory in Bakhmut. The confirmation may further indicate that Prigozhin has at least partly regained Putin's favor by overriding Gerasimov and Shoigu's efforts to eliminate Wagner in Bakhmut.
Putin may be attempting to balance Wagner's influence by reappointing Lapin to command the Luhansk sector of the frontline. The Kremlin-affiliated milblogger claimed that Lapin assumed the role of the commander of the Vostok National Guard formation and noted that the Putin-Lapin meeting confirms Lapin's return to the frontlines. Prigozhin and Chechen Leader Ramzan Kadyrov had led a successful campaign to remove Lapin from his position as the commander of the "center" group of Russian forces, likely due to personal conflicts during the Sievierodonetsk-Lysychansk and Luhansk offensive operations in the summer of 2022. The milblogger speculated that Putin reappointed Lapin to reinforce command in the area or to help Putin avoid conflicts with the Russian Defense Ministry.
Select members of the "Club of Angry Patriots" are advocating for a revolution in Russia if the Kremlin freezes the war or pursues peace negotiations with Ukraine and the West. Self-proclaimed former "People's Governor of Donetsk Oblast" Pavel Gubarev defined the "Club of Angry Patriots" as a "potentially revolutionary power" that will prevent "betrayal" if the government decides to freeze the current frontlines in Ukraine. Gubarev also noted that Russia cannot win the war without a revolution – either from within the government or in society – because oligarchs, agents, ethnic mafias, and nationalist separatists will not allow for the reformation of social-economic institutions to support the war effort. Former Russian officer and ardent nationalist Igor Girkin noted that Gubarev's opinion does not represent the collective vision on the "Club of Angry Patriots" and noted that any revolution begins with a "coup from the top" over which he and other members of the group have no control over since they do not have connections to the Kremlin.
The official "Club of Angry Patriots" Telegram account amplified a forecast regarding possible political changes within the Kremlin as a result of a Ukrainian counteroffensive, which may represent the group's concerns over the progress of the war. The group amplified a post from the leader of the Russian "Civil Solidarity" movement Georgiy Fedorov, who stated that the political situation in Russia largely depends on frontline realities. Fedorov assessed that Wagner Group financier Yevgeny Prigozhin's recent statements about the end of the "special military operation" is the start of the campaign to freeze the war in Ukraine.
Fedorov stated that if Russians are able to defeat Ukrainian counteroffensives over the summer, then Russian President Vladimir Putin may freeze the war to avoid calling up mobilization ahead of the 2024 presidential election cycle. Fedorov claimed that Russia would likely present a suppressed Ukrainian counteroffensive as a victory and is likely intensifying volunteer recruitment efforts to generate enough contract servicemen to hold existing frontlines. Fedorov claimed that the Kremlin will continue to intensify censorship and repressions and will not replace officials in the Kremlin or within the military command under the conditions of unsuccessful counteroffensive operations. Fedorov stated that if Ukrainians are successful, then political situation within the Kremlin will lead to a deeper conflict between different parties for influence and the Kremlin will conduct personnel changes. Fedorov claimed that despite potential mobilization and disruption in society and the Kremlin, Putin's system is capable of eliminating all threats "associated with the interception of power." Fedorov noted that the most unlikely scenario is the imminent dissolution of Putin's power system, but noted that different financial, regional, and industrial figures may be preparing for such an outcome.
Russian Defense Minister Sergey Shoigu and Chinese Defense Minister Li Shangfu met to discuss unspecified strategic partnership and military cooperation in Moscow on April 18. Shoigu claimed that mutual Russian-Chinese efforts aim to stabilize and reduce conflict and that each state significantly values deepening military cooperation. Shoigu also claimed that Russia and China can deepen their partnership by firmly supporting each other on national security issues. Li stated that his first visit to Russia as Defense Minister demonstrates the determination to strengthen cooperation between the Russian military and the Chinese People's Liberation Army. Shoigu's and Li's remarks largely echoed Li's and Russian President Vladimir Putin's remarks on April 16.
The Kremlin continued efforts to portray Russia as a respected international partner by meeting with China against the backdrop of the G7 meeting in Japan on April 18. The G7 communique condemned Russian nuclear blackmail rhetoric, Russia's possible deployment of tactical nuclear weapons to Belarus, destabilizing Wagner Group activities in Africa, the forced deportation of Ukrainian children from occupied Ukraine, Russia's suspension of the New START Treaty, and Iran's provision of combat UAVs to Russia. The Russian Ministry of Defense published footage of two Russian strategic bombers flying in international airspace over the Bering and Okhotsk Seas as part of the Pacific Fleet's ongoing readiness check. ISW previously assessed that the Pacific Fleet's ongoing readiness checks are likely meant to posture that Russia supports Chinese security objectives in the Pacific ahead of the G7 meeting. […]
The Russian State Duma approved a series of possibly unconstitutional amendments to the Russian Criminal Code on April 18 aimed at encouraging domestic self-censorship and repressing the Russian public. The Russian State Duma approved amendments to the Russian Criminal Code that increase the maximum prison sentence for high treason from 20 years to life and authorize the revocation of Russian citizenship for discrediting the Russian military and participating in designated undesirable nongovernmental organizations. The amendment also stipulates that a Russian citizen may not renounce their citizenship if the citizen has an outstanding duty to the state, such as mobilization. These measures appear to violate the Russian Constitution, as Article 6 states that a Russian citizen may not be deprived of their citizenship or of the right to change citizenship status. The State Duma also approved an amendment that criminalizes advising international organizations in which Russia does not belong or foreign states bodies. Russian opposition media outlet OVD-Info states that this amendment would criminalize facilitating international war crimes investigations. International Humanitarian Law, to which Russia is a party, stipulates that states have a duty to investigate and prosecute war crimes. […]
Key Takeaways
Russian President Vladimir Putin continued to portray himself as a wartime leader in anticipation of a planned Ukrainian counteroffensive during his visit to occupied Kherson and Luhansk oblasts.
Putin's visit likely intended to publicly identify scapegoats ahead of the planned Ukrainian counteroffensives.
Putin's demonstrative meetings with Teplinsky, Makarevich, and Lapin likely confirm another change in military command and possibly within the Kremlin's inner circle.
Select members of the "Club of Angry Patriots" are advocating for a revolution in Russia if the Kremlin freezes the war or pursue peace negotiations with Ukraine and the West.
Russian Defense Minister Sergey Shoigu and Chinese Defense Minister Li Shangfu met to discuss on strategic partnership and military cooperation in Moscow on April 18.
The Russian State Duma approved a series of amendments to the Russian Criminal Code on April 18 aimed at encouraging domestic self-censorship and repressing the Russian public.
Russian authorities detained Russian public relations specialist Yaroslav Shirshikov, an associate of detained Wall Street Journal reporter Evan Gershkovich, in Yekaterinburg on April 18.
The Russian Immortal Regiment Central Headquarters announced the cancelation of the annual Immortal Regiment Victory Day march, likely in an effort to reduce public discussion of war dead.
Russian forces conducted limited ground attacks northeast of Kupyansk and along the Svatove-Kreminna line.
Russian forces continued to make gains in Bakhmut and conducted ground attacks along the Avdiivka-Donetsk City line.
Ukrainian officials reported that Russian forces continue defensive preparations in southern Ukraine.
The Kremlin continues efforts to integrate proxy formations with conventional Russian forces.
Russian occupation officials continue to deport Ukrainian civilians to Russia under healthcare and rehabilitation schemes.
Belarus may begin economically supporting Russian-occupied Donetsk Oblast with a patronage system.
Russia switched to defence, except for two sectors – Budanov, Ukrinform reports, citing the Defense Ministry's Main Intelligence Directorate Kyrylo Budanov in an interview with Radio NV. "Russia has already stopped the offensive and switched to defense, except for two sectors. On March 31, 2023, another attempt of the Russian offensive, the so-called winter-spring offensive, failed. They were supposed to reach the administrative borders of Donetsk and Luhansk regions. Again, this was not even the fifth attempt that failed. As of now, Russia has no potential for a strategic offensive operation. And it will not be in the near future, he said.
According to him, Russia has switched to a strategic defensive operation to hold on to the seized territories, deterring the Ukrainian operation to liberate them. There are two exceptions. The first is an attempt to capture Bakhmut. I must also say frankly that they have been almost seizing Bakhmut, according to their statements, since June 2022. It will soon be a calendar year. The situation there is complicated, but Bakhmut is still standing. The second is an attempt to semi-capture Avdiivka from the northern side, where the main front of Maryinka is located, basically an attempt to take active action there, the Defense Intelligence of Ukraine chief said.
As Ukrinform reported, Deputy Defense Minister Hanna Maliar said on April 17 that the enemy had concentrated all its professional strike forces in four areas in the east – Marinka, Lyman, Bakhmut and Avdiivka – so Ukraine should concentrate more of its military potential there to stop the enemy."
The Russians keep evolving, Futura Doctrina (Major General ® Mick Ryan) reports. "Contrary to the 'Russian are stupid' stereotypes that have developed throughout the war in Ukraine, they have demonstrated an ability in some areas to learn and adapt. This isn't a statement of admiration; far from it! It is however necessary, through military prudence, to understand where the Russian are adapting and to assume that they may continue to do so in the coming months. In understanding Russian adaptation, we can ensure Ukrainian forces understand tactical and operational risks, and that they are best prepared for the months ahead.
Several areas of Russian adaptations during this war bear closer examination. Three key areas of learning stand out: strategic adaptation; operational adaptation; and tactical adaptation. Within each of these areas, there are sub-topics which deserve deeper exploration.  I intend to cover these three levels of Russian adaptation in a series of posts. Tactical excellence is core to the military effectiveness of military organisations in a theatre of war. It is the foundation skill, and set of experiences, for military leaders in any service and in any nation. You can't win wars if you can't win battles.
At the most basic level of military operations, armies, navies, air forces, and their supporting elements must be able to fight and win battles within their domains. The tactical level of war is therefore focused on the planning and employment of military forces in battles, engagements, and other activities to achieve military objectives. […]
Tactical adaptation is those actions that underpin learning and improvement on the battlefield, as well as the dissemination of those lessons to other battlefield elements as well as the training institutions that prepare reinforcements and new units. There are many tactical adaptations which have occurred over the period since the beginning of the 2022 Russian invasion of Ukraine. In this article I will explore close combat, tactics, the use of mercenaries and an evolved approach to defensive operations.
One area of adaptation has been how the Russians have conducted close combat. Early in the war, the Russians sought to conduct sweeping manoeuvres that coordinated airborne and airdrop operations with ground offensive operations. Unfortunately for the Russians, air-land integration as well as ground combined arms tactics were poorly conducted. Shortfalls in infantry also played a part. Combined, this permitted the Ukrainians to attack Russian logistics and rear areas, destroy armoured vehicles while also killing many of the dismounted infantry soldiers of the Russian invading force. […]
The disastrous crossing of the Severskii River by Russian forces in May 2022 was [an] exemplar of poor Russian tactical integration in their combat operations. Over the course of a full day on 11 May 2022, the Russian attempt to cross the river was repulsed by Ukrainian forces. They lost over a quarter of personnel committed to the crossing and nearly 80 percent of their armoured vehicles. It was decisive defeat, and indicative of an army that was still coming to grips with modern surveillance and targeting, and the complex integration of ground and air units when crossing obstacles.
However, after this, the Russians appeared to learn. Their conduct of the withdrawal from Kherson in October and November 2022 shows that they had adapted. They were able to undertake a large-scale river crossing operation and extract a large portion of the Russian forces that were deployed in the south of Ukraine. As one review of the operation describes:
The Russians succeeded in withdrawing two army-sized groupings from the Dnipro right bank:  the Crimea-based 22nd Army Corps in the south; and a mixed northern grouping comprising formations from 35th Combined Arms Army and 49 CAA.  42,370 troops got away …253 tanks and almost 400 armoured personnel carriers of various types were also evacuated alongside several thousand wheeled vehicles. A Russian Army got away, and a Russian President escaped a humiliating defeat on the battlefield.
Their poor tactical performance also drove the Russians to adapt their design for battle in the Donbas. Instead of more maneuverist tactics, they adopted a very attritional model. The Russians turned to massed artillery guided by UAVs to 'lead the way' in their offensive thrusts. It resulted in the Russians advancing more slowly, and more caution, in order to not expose their logistics to attack.
Two other more recent tactical adaptations bear mentioning. The first that emerged was the large-scale deployment of Wagner Group mercenaries in 2022, particularly in the Bakhmut area of eastern Ukraine. Their adaptation was essentially a return to human wave attacks that have featured in conflicts such as the Iran-Iraq war. This was not just the simple application of human wave tactics, however. It is a more sophisticated adaptation to tactics where the initial human waves are just the first echelon of several, each successive echelon featuring more experienced and capable troops.
The Wagner Group, which had actively recruited convicts from the Russian penal system, used convicts as first wave troops, and essentially as bullet catchers for Ukrainian defending forces. Each successive wave would claw out small gains and eventually better trained and more experienced Wagner Troops would exploit any gains that these human wave attacks achieved.
Another recent tactical adaptation by Russian forces has included the formation of Shock Troops and the use of infiltration tactics to bypass Ukrainian strongpoints. Perhaps the best exploration of this topic has been provided in several posts by the @Tatarigami_UA twitter feed. I recommend following if you don't already. There is also a good review of the evolved Russian tactics here.
These tactics, developed in the First World War to overcome the operational challenge of kilometres-deep defensive zones, demand tactical discipline and good leadership. They are also meant to enable the penetration of exploitation forces that can rapidly move into an enemy's rear areas and destroy enemy reserves, logistics, artillery and headquarters. Despite the tactical adaptations we have seen from the Russians, we are yet to see them achieve an operational breakthrough and exploitation during the 2023 offensives.
The Russians have also evolved their conduct of air support to ground forces. In order to avoid the deadly Ukrainian air and missile defence network, the Russians have adapted their aerial tactics to employ longer range weapons. In March, it was revealed that the Russians have been using in combat for the first time their 1.5 ton UPAB-1500B glide bombs. Not only do these increase the survivability of the launch aircraft, but they are also very difficult to intercept.
Concurrently, Russian forces have been quite busy adapting their defensive tactics and developing successive defensive zones in the east and the south. Back in November 2022, I examined the utility of tactical and operational obstacle belts and zones. Since then, the Russians have further developed these eastern and southern defensive belts. The twitter feed maintained by Brady Africk (@BradyAfr) is an excellent resource in following Russian construction of these obstacle belts and zones. These are likely to pose a significant challenge to Ukrainian offensives in the short term.
There are several other tactical adaptations which I will cover in a subsequent post. These include Russian logistic systems, vehicle protection systems, and the use of drones and loitering munitions.
Thus far, the Russians have demonstrated the ability to learn and to adapt at the tactical level. This adaptation has been uneven, not evident across the breadth of Russian military operations, and many of the ideas are hardly new ones. But it is undeniable that some learning and evolution has taken place.  It is a military capability that will be central to Russia's ongoing ability to conduct operations in Ukraine, and one that should be studied for weaknesses that might be exploited by the Ukrainian forces as well as Western intelligence agencies.
Notwithstanding the Russian ability to learn and adapt in this war, it is also clear that the Ukrainians have also been quick studies in modern war. Indeed, since the beginning of the Russian invasion, they have demonstrated the ability to learn on the battlefield and adapt. They have also shown a knack for the rapid assimilation of new equipment such as HIMARS and western armoured vehicles, and then applying these systems with great tactical competence.  
Part of this Ukrainian capacity for individual and institutional learning must be a focus on developing a better understanding of Russian learning systems and outcomes. In doing so, Russian learning can be impeded or stopped, and their tactical adaptation made less effective and less systemic."
Consequences and what to do?
Gazprom says Europe set to struggle fill gas storage for next winter, Reuters reports. "It will be very difficult for Europe to refill its gas storage to last year's levels after the continent ended the winter heating season with relatively low stockpiles, Russian natural gas giant Gazprom said on Tuesday. The European Union last year invested heavily in liquefied natural gas (LNG) imports and adopted regulation to boost storage to fend off any shortage after Russian gas supplies to Europe shrank following Moscow's [war] in Ukraine.
Gazprom said that as of April 16, Europe storage contained 56.6 billion cubic metres (bcm) of gas, down from 58 bcm in the same period of 2020, at the start of COVID-19 pandemic. In a message on Telegram social media, Gazprom said Europe had been helped by relatively mild weather, which may not be the case next year. Repeating the filling of storage could become a non-trivial task for European companies, Gazprom said.
This will be very difficult to do, given the politically motivated decisions aimed at refusing to import Russian pipeline gas. The volume of gas available on the European market will be greatly affected by competition for LNG, Gazprom said.
Last year's European imports of Russian pipeline gas were 62 bcm, 60% below the average of the previous five years, European Commission data shows. This year, Russian deliveries to the EU are expected to fall to 25 bcm, assuming flows via the TurkStream pipeline and through Ukraine are in line with December 2022 volumes, the International Energy Agency (IEA) forecasts."
Ukrainian underground storage facilities contain over 9 bcm of gas – Galushchenko, Ukrinform reports, citing Ukrainian Energy Minister German Galushchenko. "Last heating season Ukraine's natural gas consumption volumes reduced significantly, but the country is already making preparations for the next autumn and winter period and accumulating the necessary amount of natural gas in its underground storage facilities.
The consumption of gas has dropped significantly. We used to need about 18-19 billion cubic meters before the start of the heating season. As we were entering the previous season, we had a little more than 14 billion cubic meters. But, it is important that we fully counted on the domestic resources and withdrew from exports. This allowed us to pass through that season smoothly, Galushchenko told.
In his words, there is more than 9 billion cubic meters of natural gas in Ukrainian underground gas storage facilities at the moment, including industrial gas. Hence, Ukraine can accumulate the necessary amount of gas in a calm manner until the next heating season starts. […] A reminder that, on April 17, 2023, Naftogaz of Ukraine NJSC announced the launch of gas pumping operations as part of preparations for the next heating season."
Hans Petter Midttun: As the threat of Russia abandoning the UN-backed grain agreement is growing and it continues to disrupt the inspection of ships under the agreement, the West needs to adapt to the strategic environment.
We need to acknowledge where we are. The West need to shape – not adapt – the strategic environment. It needs to retrieve the military initiative.
These are the realities:
48 million people in West and Central Africa face acute food insecurity in the coming months as a consequence of food insecurity, climate, COVID-19 and high prices. The Russian war in Ukraine and its maritime blockade in the Black Sea have contributed to food and fertilizer shortages in one of the world's poorest regions. This is, however, only a fraction of what is an increasing global challenge. The number of people affected by hunger globally rose to as many as 828 millionin 2021, an increase of about 46 million since 2020 and 150 million since the outbreak of the COVID-19 pandemic, according to United Nations.
Global food insecurity will last for years unless the West adapts its strategy. According to the World Bank, food inflation has not shifted and prices will remain high for some time, increasing the risk of food insecurity and social tensions. According to the Global Risks Report, soaring prices for energy and food will likely persist for the next two years.
The world is experiencing an unprecedented global wave of protests over the cost of living. In 2022 – before the full effect of the "tsunami of ripple effects took hold – researchers reported more than 12,500 protests across 148 countries. The largest protests were in Western Europe. Over the next couple of years, populistic political parties will exploit public discord to increase their power base and change the political landscape in the USA and Europe.
Russia's maritime blockade is violating the United Nations Convention on the Law of the Sea and its transgressions go unopposed. The convention regulates the freedom of navigation within and outside of the maritime jurisdictions of countries. These are the right of innocent passage, right of transit passage, right of archipelagic sea lanes passage and freedom of the high seas. UNCLOS clearly states that the high seas shall be reserved for peaceful purposes, no State may validly purport to subject any part of the high seas to its sovereignty, and every State, whether coastal or land-locked, has the right to sail ships flying its flag on the high seas.
Russia tries to force Ukraine into submission through the combined use of both military and non-military means. The occupation of the Crimean Peninsula, as well as parts of Luhansk, Donetsk, Zaporizhzhia and Kherson oblasts, combined with its maritime embargo and gradual destruction of Ukrainian critical infrastructure, continue to undermine the financial viability of Ukraine. It needs 3-5 billion USD monthly in Western support to uphold its internal and external commitments. Ukraine risks defeat until the maritime embargo is lifted or broken.
The last non-Black Sea NATO warship left the region on 2 January 2022. In my opinion, that was a strategic mistake.
Firstly, the deployment of a NATO maritime force to the Black Sea after being absent for 15 months will be framed as an escalation of the conflict between Russia and the West. If the Alliance had maintained a limited maritime presence throughout, a strengthening of its maritime force posture would be seen as a continuation of its lasting commitment.
Secondly, the withdrawal of its maritime forces sent a signal to the Russian Federation that NATO was stepping away from its commitment to stop conflicts threatening the security and stability of its member states, and its obligation to uphold Freedom of Navigation according to UNCLOS. It sent a signal of appeasement, encouraging Putin to proceed.
The situation might, however, be about to worsen.
Russia is not only flagrantly sabotaging the present grain agreement and threatening to walk away from it altogether in May, but Ukraine's closest partners are considering banning the transport of its grain. Poland, Hungary, Slovakia, Bulgaria, Romania, and the Czech Republic are all facing internal discontent by the increased inflow of Ukrainian agricultural products. The Russian disruption of maritime transport has disrupted a fine-tuned land transport network and marked.
It serves as a reminder of the importance of restoring Freedom of Navigation in the Black Sea.
Russia's weaponizing of food and its enduring blackmail of the world community, threatening to further increase global famine, should motivate NATO to reconsider its present strategy.
If it chooses to remain disengaged, global food insecurity and costs of living will increase. NATO – the only military power with the ability to intervene – will be held partly accountable. While Russia is the perpetrator, its information war has succeeded in framing the USA and NATO as the aggressors in parts of the world community.
Since Russia's war in Ukraine began nine years ago, the world has been broadly divided into three camps – countries allied with Ukraine, those impartial to the conflict, and the nations that have defended Russia. Only 46 countries have sanctioned Russia and around 32 countries have provided Ukraine with military assistance including weapons, equipment or financial aid for the army. That means a greater part of the world community has decided to remain impartial or supportive of Russia.
The world is watching how the West responds to both regional and global challenges. It either defends the rule-based world order and its shared values and principles or loses credibility.
As a response to the Russian threats (and past transgressions), NATO should deploy maritime forces to the Black Sea to start a Freedom of Navigation Operation. It should offer an escort to civilian shipping transiting the Black Sea. The Alliance should not least, start a mine-clearing operation to ensure that the Sea Lines of Communication remain safe.
Defending international law in international waters does not constitute a threat or an attack on the Russian Federation.
Does it run counter to Russia's aggressive foreign policy? Yes. Does it support Ukraine and increase its hope for survival? Absolutely. Does it run the risk of escalation? Yes, but less than the risk following inaction. The West's attempt to appease Russia has only helped encourage Russia to escalate since 2014. It is time for NATO to escalate to de-escalate.
Russia will persist to use any leverage – including food security – against the West if the US and Europe allow it.
The West cannot continue to let Russia blackmail the world. It must acknowledge that it is no longer in a state of peace and is exposed to a Russian hybrid war and start to act accordingly.
Tags: Russian invasion