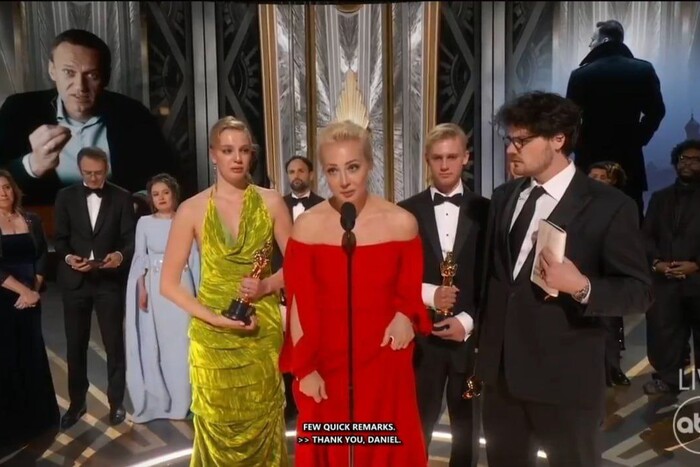 Yulia Navalnaya, wife of imprisoned Russian opposition politician Alexei Navalny, came out to receive the statuette with the film's team in red dress. Screenshot from broadcast 
A darling of western media, imprisoned Russian opposition politician Alexei Navalny has a bad rap with Ukrainians and Georgians for supporting Russia's occupation of Crimea and war against Georgia.
Last month, a film about Alexei Navalny won an Oscar for best documentary. During the acceptance speech, the film's director dedicated the award to Alexei Navalny. Yulia Navalnaya then concluded the acceptance speech by stating that her husband is defending democracy, and that their family was dreaming of the day when "[Russia] would be free" from Russian President Vladimir Putin and his government.
Many Westerners quickly took to social media to praise the documentary and the award. In their posts, these Westerners commended the work of Navalny and the Russian opposition as they continue to fight against the Putin regime. Social media posts also highlighted the democratization efforts by Navalny and his team.
The imprisonment of political opponents is wrong, and Navalny should be released. He is pro-democracy and anti-Putin, and he is working to achieve real change in Russian society.
But there is a critical oversight in the Western narrative on Navalny and his work. He may be good for ethnic Russians, but he has expressed problematic views on Russia's neighbors and minority groups within Russia.
What has Navalny previously stated about Russia's neighbors? How do ethnic Russians feel about other ethnic groups within the region?
One of the first examples occurred at the turn of the century. In 1991, the Soviet Union collapsed and 15 new republics emerged in Eastern Europe and Central Asia. Many of these countries were previously ruled by the Russian Empire. In several cases, the collapse of the Soviet Union resulted in the first opportunity for these countries to become truly independent states.
17 years later, the first major war occurred in the region. During the summer of 2008, Russia increased its involvement in Abkhazia and South Ossetia, two semi-autonomous areas in Georgia. By August, a conflict emerged between Georgian officials and forces within Abkhazia and South Ossetia. Georgian President Mikheil Saakashvili called for a ceasefire, but the fighting intensified. Shortly after, Russian troops arrived in these two Georgian provinces, and this led to the Russo-Georgian war.
During the war, Navalny made statements in support of the Russian incursion. He referred to the Georgians as "rodents," and called for the expulsion of all ethnic Georgians from Russia. He also favored providing Russian financial and defense assistance to Abkhazia and South Ossetia (he has since publicly apologized for these statements).
Outside of these opinions, ethnic Russians also supported their country's invasion. At the time, over 80% of "Russians supported Russia's intervention in Georgia." In another poll, several Russians expressed that Abkhazia and South Ossetia should become part of Russia.
Six years later, Navalny and ethnic Russians expressed their opinions on the first Russian invasion of Ukraine. During the illegal Russian annexation of Crimea from Ukraine in 2014, Navalny stated "Crimea will remain a part of Russia." In the same video released by Radio Free Europe/Radio Liberty's Russian language service, Navalny argued that Crimea would not be part of Ukraine "in the foreseeable future." He said that Crimea is not a territory that can be traded back and forth between Russia and Ukraine.
Similarly, an overwhelming majority of Russians supported the illegal Russian annexation of Crimea. Russian citizens believe that Crimea has always been Russian, and they argue that the peninsula should not be returned to Ukraine.
But the current Russian invasion of Ukraine has swayed some opinions on Crimea. For example, Navalny appears to have had a recent change in opinion on this topic. In his statement on February 20, Navalny called for the recognition of Ukraine's "internationally recognized and defined [borders] in 1991." He also said that the world "cannot start wars [in the twenty-first century]" just to redraw [these borders]." These statements imply that Ukraine's territory and borders should return to those before the first Russian invasion in 2014. This interpretation also suggests that Crimea should be part of Ukraine. (Some Russian opposition leaders have also stated that "Crimea is Ukraine's".)
While Navalny and some others may be walking back on his previous statements on Georgia, Crimea, and Ukraine, other Russians appear to not have budged. In an interview with Navalny's team after the Oscar ceremony, a spokesperson from his team stated that Crimea would not be returned to Ukraine. In addition, most Russians still believe that Crimea should be part of Russia.
Beyond Crimea, most Russians continue supporting the ongoing military incursion into Ukraine. As the war enters its second year, most Russian nationals continue to support the Russian invasion of Ukraine. A survey cited in a recent UnHerd article stated that "75 per cent of Russians approved of the [Russian invasion of Ukraine]." It is certainly possible that the survey could be skewed, as some will argue that participants are concerned for their safety and that they do not want to voice an opinion that does not support the current Russian government. Others might state that misinformation and disinformation have negatively impacted the Russian population. But given that Russia has a population of 143 million, it is hard to believe that all of these individuals have become susceptible to the talking points of the Russian regime.
Overall, the relationship between Russia and its geographic neighbors is complex. Some Russians and opposition leaders have denounced the government, and they are fighting for true freedom and democracy in Russia. Given the nature of their work, they have been targeted by President Putin and his regime. Some of them have even been killed.
Despite their work, Georgians, Ukrainians, and other ethnic groups in the region are still skeptical of the Russian opposition. There is a sense of distrust given Russia's past relationships with ethnic groups and countries in the region. These groups have rightly pursued these relationships with caution, and it will be interesting to see how these relations develop over time.
The opposition groups are pro-democracy and anti-Putin. But reservations from Russia's regional neighbors should not be discounted.