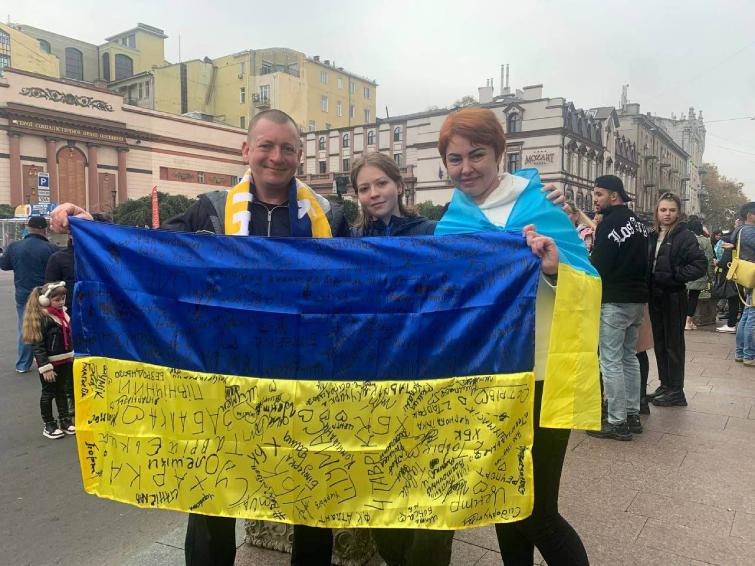 The image shows a family of Kherson activists: Dmytro Kolesov, his wife Yulia, and their two daughters during a protest against the Russian occupation. 
Thousands of Kherson residents took to the streets to oppose Russian occupation. But one particular poster caught the attention of the media worldwide.
Kherson survived 255 days of Russian occupation. During the initial months of the war, the city's residents gathered in mass rallies against the invasion, which made it a symbol of fierce Ukrainian resistance.
Among the protesters were the Kolesov family: Dmytro, his wife Yulia, and their two daughters. From the beginning, the couple faithfully stood on the city's Freedom Square to demonstrate to the Russians that Kherson belongs to Ukraine, Ukrainska Pravda wrote. Here's the story of tells of the heroic residents who defended their hometown against all odds.
Meaningful placard
Kherson was under Russian occupation from 1 March to 11 November 2022.
Since the first day of the occupation, invaders terrorized the city with relentless shelling. And even today, they continue to hit Kherson with rockets and missiles in revenge for their retreat.
"The first minutes after Russians entered Kherson, they started to shell everything in sight, striking buildings, including schools and residential buildings. A friend of mine went on an upstairs landing to check her meter readings, and at that very moment, a shell directly targeted her apartment, turning it to rubble. Had she not stepped out to check the meter, she would not have survived," Dmytro Kolesov described the situation in Kherson during the first days of the occupation.
The residents of Kherson were not ready to agree with the prospects of living under Russian rule and took to the streets to protest against the invaders.
"Our peaceful rallies began on 5 March, when many residents came to the Svoboda Square next to the regional state administration. We agreed to continue to gather every day at noon," he said.
Weekends, especially Sundays, saw the highest turnout of people at the protests. Nevertheless, starting from the middle of March 2022, the number of protesters declined as many residents left the city.
"Once, before the following rally, we decided to paint a poster. My younger daughter, 14-year-old Masha, said, 'Let me draw it. What should I write?' I replied, 'Write whatever you think about the occupation.' Then Masha glued together A4 sheets of paper because we didn't have larger ones and wrote, 'Get f*cked and get out of Kherson.' This placard was displayed everywhere! It was shown in the American and English media, and especially in the Ukrainian media," recalls the man.
During the rallies, thousands conveyed a resounding message to the invaders that they were unwelcome in Kherson. Slogans, such as "Glory to the Armed Forces of Ukraine!" and "Kherson is Ukraine!" reverberated throughout the city, while "Shame!" and "Go home!" were shouted directly to the occupiers. Despite their desire for the immediate liberation of the city, the residents showed remarkable restraint, conscious of the looming possibility of a conflict erupting with the Russian troops.
People went into the streets almost every day during the month of the occupation. However, on 27 March, Russian troops decided to use their guns to end the Ukrainian resistance movement.
"We have a monument to the Heavenly Hundred [dedicated to the protesters who were killed during the Euromaidan protests in Kyiv] and an exhibition stand with images [of the heroes]. The Russians had written on it claiming that "the Ukrainian Armed Forces are killers." Our guys, of course, went to paint over those writings. When they approached the monument, they saw that those inhuman creatures were standing behind it. At 12:50, we witnessed that those 'gentlemen' started to push on our guys. I don't know, maybe in Russia, people run when the military starts attacking them, but we did the opposite – we rushed toward them. By the way, the invaders were extremely surprised by our actions," Dmytro told.
Suddenly, a black minibus drew closer to the protesters. One activist was shot in the leg, and another was forcefully taken away. The people of Kherson began shouting at the Russians, but they responded with tear gas and stun grenades.
"I was astonished by my wife's actions at that moment. She is a role model of patriotism for me. When the occupiers started dispersing us, my wife had a poster in her hands. And she took that placard, rolled it into a tube, and hit an invader's head with it from behind. He was standing there with an assault rifle in his hands. He turns around. My blood ran cold in my veins. Then he hits her head with the muzzle of his gun. Thank God he didn't hit her too hard, just pushed her. Everything turned out fine. Though her courage impressed me!" Dmytro revealed.
Since then, the invaders began to use violence against civilians at rallies. As a result, coming to the streets became more perilous.
"One day, the Russians were dispersing a protest once again. My godfather was standing at the bus stop when a stun grenade targeted him, injuring his leg and tearing his jacket. At the time, we realized that attending protests was too dangerous because we might get killed sooner or later. Those who used megaphones and fired up the crowd were especially at risk. We understood that we were living under occupation, and unfortunately, no one would come to help us," he said.
Russian troops used a policy of terror against peaceful residents of Kherson
Invaders pointed weapons at peaceful protesters and targeted infrastructure to break the free spirit of Kherson. But these are not the only atrocities the Russian troops committed against the city's residents. From the early days of the seizure of Kherson, a wave of mass arrests rocked the city as Russian soldiers detained people in the streets for no apparent reason.
"There were many cases like this. I remember one incident when two young men were snatched as they walked behind us, minding their own business. A car marked with a 'Z' pulled up, and the men were forcibly taken away. They were brought to the infamous Chornobaivka detention center, where they were tortured for a day. Russian soldiers beat them, breaking one man's arm and shooting the other in the leg. Thankfully, both of them survived."

They also subjected women to abuse. One girl was simply walking down the street when she met a group of Russians. They stopped her, surrounded her, took off her underwear, and, excuse me, pointed a gun between her legs. Can you imagine how inhumane their actions were?! The poor girl was shaking in fear for several days after that," says Dmytro, describing the horrors of living under the rule of the Russian military.
In addition, Russian soldiers could detain every resident of Kherson for several hours or even days and interrogate them using torture to find out the names of the organizers of rallies and those who "pay" for participation in them. The invaders did not understand how anyone could be truly dedicated to their homeland and were amazed to learn that Ukrainians protest voluntarily without receiving any compensation.
"I know that one activist was detained for 10 days. He was held in our drunk tank, which was remade into a detention center. During the sentence, Russian soldiers tortured, electrocuted, beat, and held him in darkness and deprived him of food. They forced him to declare pro-Russian slogans on camera, such as 'Glory to Russia,' etc.

People who lived near that prison center said that they heard screams at night that were so unbearable that they couldn't sleep. They were just inhumane screams. Besides that, they saw how bodies, limbs, and even heads were taken away in cars," says Dmytro Kolesov.
Providing a lifeline to residents of Kherson
Chances of survival in such drastic conditions were minimal. At the same time, the evacuation was extremely difficult. Russian troops did not open a humanitarian corridor to allow civilians to leave the occupied city. Those who fled Kherson did so at their own risk. Dmitry and Yulia managed to escape the city and reach Mykolaiv, another southern town that has been constantly targeted by the invaders but remains unseized.
"My daughters were the first to evacuate. Our top priority was ensuring their safety. Our older daughter left with our friends, while the younger one went with relatives. When we moved out from Kherson by car, we took as many people as possible with us. It was on 17 April. Luckily, we escaped in just three hours. In contrast, a friend who fled through Vasylivka in the Zaporizhzhia Oblast needed a month and four days to evacuate," Dmitry recalled.
The Kolesov family has found a shelter in Odesa. Today they help Ukraine to win the war with Russia serving as volunteers and transporting vital humanitarian aid from Europe to Kherson. Despite being on a tight budget, they're currently using their savings from their "previous" life to cover the rent for a new apartment.
Prior to the invasion, Dmyro was an entrepreneur. However, when Russian troops entered the city, they stole his trucks, causing significant damage to his business. Dmitry's close friend lost his combine harvester worth $434,000 in the high-scale looting of Kherson by the invaders. Later, with the help of GPS tracking, he was eventually able to locate the stolen vehicle in Russia's Tambov Oblast.
Since the beginning of the war, nearly a thousand of Kherson's residential buildings have been destroyed or damaged. The Kolesov family's home survived, but the windows were shattered in a shock wave as a shell landed just beneath their house. Today even after the liberation of the city by the Ukrainian Army, the threat of shelling remains. But Dmytro is hopeful and determined. He plans to return to his beloved hometown as soon as possible and rebuild it, brick by brick.
"It's dangerous to return to Kherson now. There are constant shelling and attacks in all areas. Although, as a patriot, I truly want to return to my homeland, work, and restore it," says Dmytro.
The article was prepared as a part of the "Prihystok" [shelter] project established by the Ukrainian deputy Halyna Yanchenko. On the project's website, volunteers offer temporary housing for displaced persons in Ukraine or abroad.
Related:
Tags: Kherson, Occupation