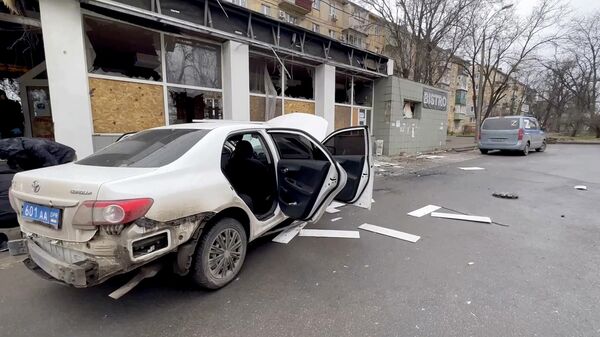 Photo: screenshot from RIA Novosti 
A car explosion in Russian-occupied Mariupol at 8:07, targeting the car of a Russian top-commander, was organized by the Ukrainian resistance, according to the legitimate mayor of Mariupol Vadym Boichenko.
The assassination attempt was targeted at Mihail Moskvin, the quisling police chief of occupied Mariupol, Russia's state-controlled TASS reported citing the "law enforcement" structures of Russia's proxy "Donetsk People's Republic."
According to TASS, Moskvin's car exploded a few meters away from him, and the man suffered a concussion but is alive.
https://twitter.com/EuromaidanPress/status/1640290779988893699?
In February 2023, there were speculations that Ukraine had received capabilities for long-distance strikes as a series of explosions occurred in Mariupol, occupied by Russia since May 2022.
Bombing collaborators is a regular activity of the partisan movement of Ukraine's Russian-occupied territories. On 3 February, a car explosion killed a policeman collaborating with Russian occupiers in the Ukrainian city of Enerhodar.
Explosions in Russian-occupied Mariupol suggest Ukraine has long-range missiles
Growing partisan movement of Kherson Oblast now bombs collaborators
Tags: assassinations, Mariupol