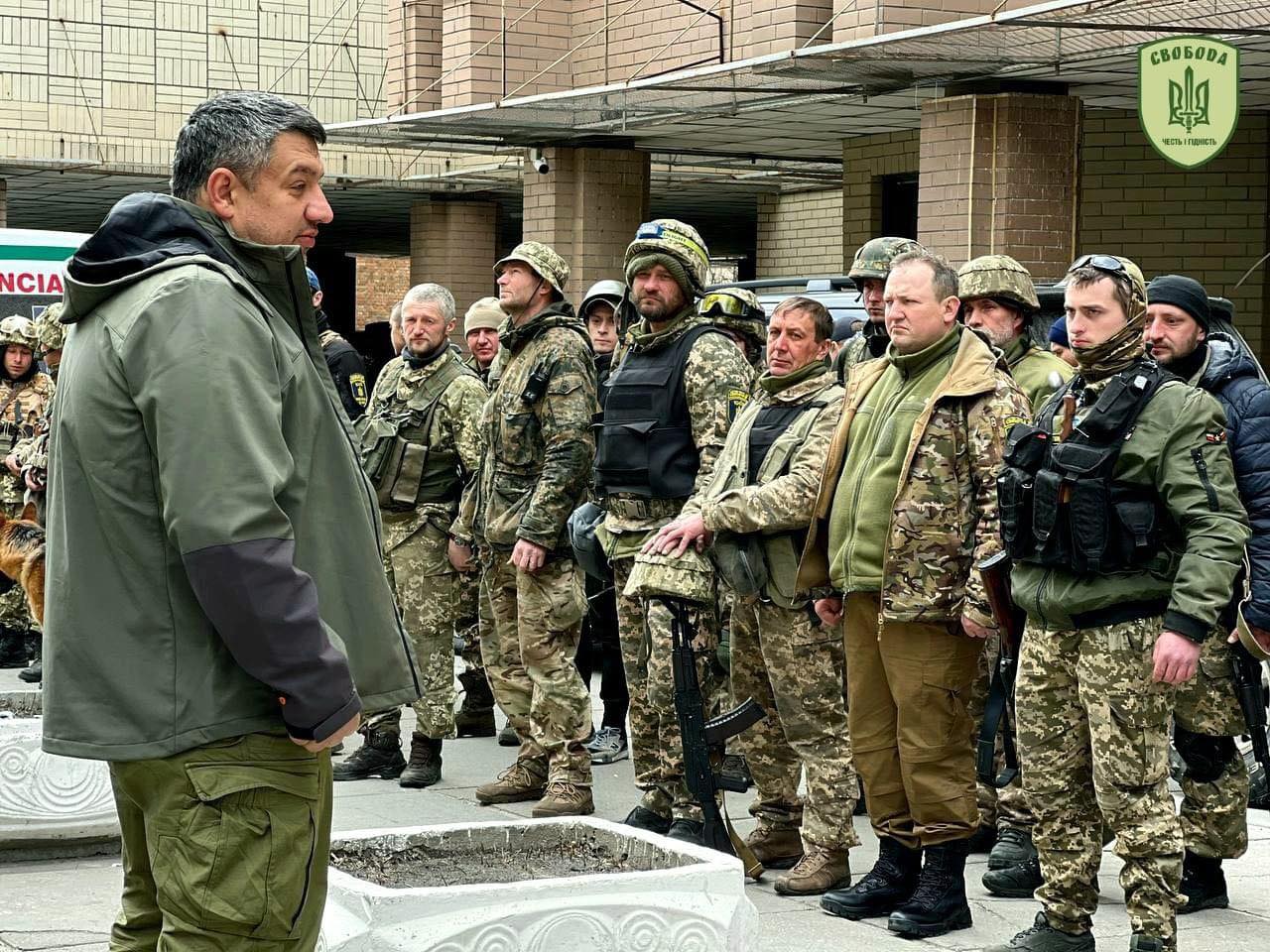 Ukrainian battalion commander Petro Kuzyk and soldiers of his battalion Svoboda. He named two problems when speaking about Ukrainian defense: the need for more ammunition and, sometimes, the need for more extended training for new troops. Source: Svoboda 
Editor's Note
Despite the delivery of the first Western tanks to Ukraine, and 
statements
by Ukrainian officials about a planned offensive, the Ukrainian army might not yet be fully ready, soldiers who were wounded while fighting in the Bakhmut region told us in March 2023. They want to go to the offensive as soon as possible but also speak about desperately needed ammunition for mortars, grenade launchers, and artillery. An offensive without enough ammunition would cost too many lives and might not be successful, unless stockpiles are filled through other sources, the battalion commander also said.
"I don't understand how it is possible [for Russians] to crawl among corpses like that and still crawl further. They are under the influence of some drugs, definitely," says Ukrainian machine gunner Artem, describing his experience in Bakhmut.
He was wounded on 28 February 2023, while defending the city of Bakhmut which Russians had been assaulting for months — and still are. They continue to pitch into the battle dozens of thousands of Wagner mercenaries, in addition to regular Russian army units.
Artem joined the military on 25 March 2022, voluntarily. Then after almost a year of fighting, he was evacuated to the military hospital in Dnipro city having sustained shrapnel wounds. We spoke with him and two other Ukrainian soldiers who do not post online, but have experienced more than a year of combat.
Watch the full video story
"I was lucky to survive in Bakhmut for 16 days, in comparison to others," Artem says. "Russians fired mortars constantly, from morning to night. We can't do that."
Artem says that even during intensive Russian attacks when his unit asked for more ammunition, it was not always available, "Because everything is limited." He also saw how his wounded comrades died because of too few off-road vehicles that could have evacuated them in time to survive.
However, Artem does not doubt that Ukraine should and must win this war. He says:
"Give us weapons, and we will go on the offensive. Everyone wants this. Everyone wants to end the war. The only thing is the lack of weapons – or at least we haven't seen them yet."
It is the most difficult at night and especially in winter. Infantry soldier Liubomyr, who was also wounded in Bakhmut, says that during the winter the mud prevented most of the available trucks from reaching the battle lines, and soldiers had to carry all supplies by hand. Yet, the most critical conditions remain with the wounded, who also have to be carried, sometimes several kilometers, while every minute matters.
At night, in turn, "even if you have a thermal imager, you still don't see everything like in the daytime." Russians use this to their advantage. They like most to sneak up to windows and lob grenades.
Operator of grenade launcher Stanislav was also wounded by mortar fire, the same way as were Artem and Liubomyr. In February 2023, his unit held defensive positions near Vuhledar, another city in Donbas which Russians have been pummeling for months. Stanislav witnessed a massive Russian tank assault which Ukrainian troops repelled. He saw his comrades destroy four tanks.
Stanislav operates the American MK-19 automatic grenade launchers. Public information about their supply to Ukraine appeared in October 2022. However, Stanislav says, "Ammunition is very limited," given the scope of Russian attacks and the intensity of hostilities. Spare parts are also lacking,"he says.
Although tanks and fighter jets became the most discussed topics of Western military aid for Ukraine, Stanislav speaks about equipment as basic as "heavy infantry weapons," such as mortars and grenade launchers that are effective in resisting numerous attacks by Russian troops and inflicting heavy losses.
When asked about his motivation to go to war as early as the third day of invasion, Stanislav says he made the decision "instantly and unequivocally" to defend the homeland, defend families and friends, and virtually all people of Ukraine. "Everyone in any nation would do the same and go to protect their country," he adds.
Ukraine's battalion commander and former MP, fighting in Bakhmut
Yuriy Syrotiuk is a former Ukrainian MP and member of the parliamentary committee on national security and defense. He is currently fighting in Bakhmut, and in March 2023 he gave an online interview with Ukrainian journalist Yanina Sokolova, explaining the current situation.
Operating a machine grenade launcher, he says that ammunition "is the only thing missing here."
"There is a catastrophic lack of ammunition for firearms. There is a projectile 'famine.' There is not enough ammunition for mortars, not enough artillery shells, and not even enough grenades for grenade launchers. The less ammunition here, the more the Ukrainian infantry suffers."
Syrotiuk says that nonetheless the cost the enemy pays in the battle for Bakhmut is much higher in terms of losses than Ukrainians pay. He too is strongly motivated to stay in the city, despite all the difficulties, saying, "If we retreat from Bakhmut we will have to recapture it later." And when recapturing the city, losses are always higher.
"Many of my friends died in the battles for this city," he adds. "This is Dmytro Cherniavskyi's city, by the way. The first to die in the Russian-Ukrainian war at a peaceful rally in Donetsk in March 2014. This city has a lot of personal ties for me. And I think we should fight for it, no need to give Putin a prize."
Syrotiuk believes that for Putin, Bakhmut would be a huge propaganda prize, which he would use for a new wave of mobilization, in order to drive "the horde" back to Ukraine "for slaughter."
Petro Kuzyk, former member of the Kyiv city council and commander of the Svoboda battalion in the Russo-Ukrainian war, first fought in Rubizhne, holding the city with 300 troops against more than 2,000 Russians in spring 2022. In recent months he also fought in Bakhmut and shared his perspective and experience as a commander in an interview with Ukrainian YouTube's ISLND.
When asked about the main problems of the Ukrainian army, Kuzyk named two. The first, he says, is the lack of ammunition, especially for mortars and artillery. The problem is partly being solved, he adds. New artillery systems are coming, and they are precision perfect. However, this does not answer the dire needs of the current phase of the war which is very intensive.
"Sometimes this [lack of ammunition] hurts, sometimes there are periods when 10 mortar rounds are provided for a week. 'Well, what do you want? We don't have any more.' There were times when ammunition was taken from the enemy. There were times when we were ready to sell a kidney for ammunition," he says.
The emotions here are not an exaggeration, Kuzyk says, recalling his experience in Rubizhne in Ukraine's Donbas that can only now be made public. His troops prepared for 9 May 2022, expecting the Russian offensive. And they beat the Russians on that day, "Burning their tanks as well." However, the next day, on the 10th, the Russians attacked again, "It was a hell."
"From our side, not a single artillery round, not even a mortar round in our support. And once we had survived the night there, I broke into the headquarters, ready to wring their necks, honestly. But they told me that on the 10th, the very same was happening in Bilohorivka, where they managed to destroy 100 Russian vehicles along with pontoon bridges. And they said, they rushed all available artillery to that battle and it worked on those pontoons, but no rounds or systems were left for us."
"We knew [Russians] were burying you there," commanders told Kuzyk that day.
Kuzyk later said, "I looked at it like a military man, and understood they made the right decision. I would probably do the same in their place," adding that the ammunition and artillery problem has only been partially resolved since May 2022.
Ukraine finally launches domestic ammunition production. How will this impact the war?
The second problem he named is the lack of attention to preparing new units, and especially their field commanders.
"Sometimes, maybe because there is no time, some kind of breakthrough is needed, or the gap must be closed somewhere, and newly formed units are dispatched there. And they, objectively speaking, are not ready for such a large number of airstrikes … to such a number of assaults … to such conditions, and so on."
He says that the Russian tactic, which they used near Rubizhne – and are currently using near Bakhmut – is to look for weak sections of Ukrainian defense. They attack in a certain section, but if the unit there holds fast, the next time they try to bypass it, unless they find a section where the Ukrainian unit cannot hold and has had to retreat far to the back. Kuzyk's battalion had to break through an encirclement in Rubizhne and from a semi-encirclement in Sievierodonetsk, after other troops nearby failed to hold the line.
As was reported earlier, Ukraine started producing its own ammunition for artillery and mortars in September 2022, delivering the first batches to the frontline by the end of that year. Also, the latest and one of the largest military aid packages from the US, approved on 4 April, provides various types of ammunition worth $2.6 billion. Yet, given the scope and intensity of the war, higher volumes of ammunition production are needed, both in Ukraine and in allied states, to assure stable supplies to the frontline.
Read more:
Tags: Bakhmut, battlefield medicine, production of ammunition, Ukrainian Army, Ukrainian military, wounded soldiers