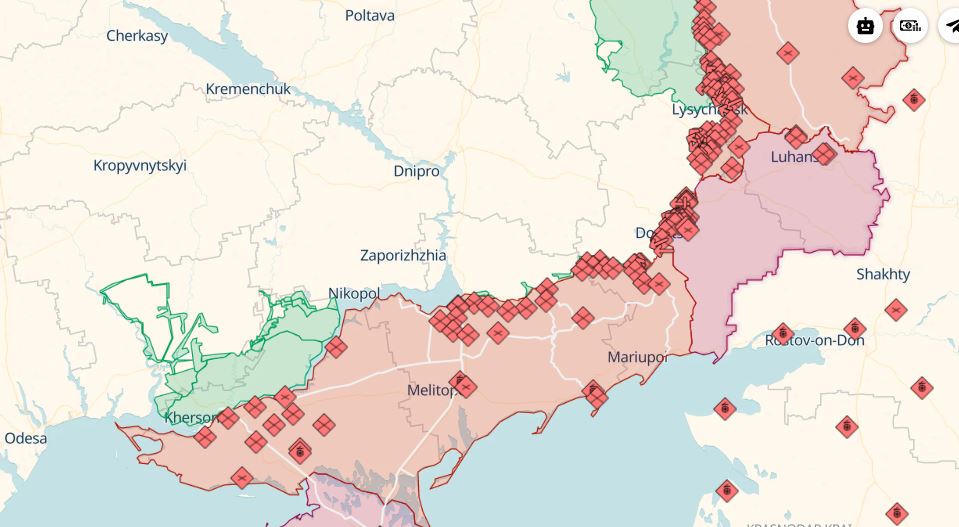 Credit: Deepstatemap 
Speaking on air of Ukraine's national newscast, Oleksiy Dmytrashkivskyi, spokesperson of Ukraine's Army in the Tavria front, said that Ukrainian attacks on supply lines have already constrained Russian offensive operations.
Explaining why the Zaporizhzhia front has remained remarkably stable, despite the Russians maintaining a group of troops there, Dmytrashivsky explained that Russia already lacks logistics capabilities to support the four fronts where they are attacking and if a fifth front is opened, they will not  if they open a fifth front in addition to the four ones where they are currently attacking, they will not be able to supply ammunition or fuel at all.
Dmytrashkivskyi added that the logistics problems are so severe that Russia had already started to withdraw equipment and ammunition out of Mariupol following successful Ukrainian strikes on ammunition and fuel storage points in the seaside city.
"This will complicate logistical supplies of ammunition and fuel, as well as equipment repair," he said.
On 23 February, explosions were heard in occupied Mariupol, suggesting that Ukraine has the possibility to conduct strikes with long-range missiles. Reportedly, they targeted a Russian base on the territory of the Illich plant, and the third hit Russian warehouses near the airport. Explosions targeting Russian military facilities in the occupied Ukrainian city were heard also in previous days.
Explosions in Russian-occupied Mariupol suggest Ukraine has long-range missiles
On 27 March, explosions were heard at Russian bases in another key city for Russia's war efforts in Ukraine, Melitopol. Earlier in the month, a Ukrainian drone attack had damaged a key railway hub in occupied Crimea.
Explosions destroy Russian military bases in occupied Melitopol
Destroying Russian supply lines was one of the strategies Ukraine's army used before conducting an offensive on south Ukraine's Kherson Oblast, from where the Russian Army retreated in November after being cut off from reinforcements.
According to Ben Hodges, former commander of the US Army in Europe, Ukraine will retake occupied Crimea in 2023, and to do so, it will disrupt the logistical networks that are important for Crimea. These include the land bridge that runs through Melitopol and Mariupol, as well as the one through Kerch.
Ukraine to liberate Crimea by end of August 2023 – former commander of US Army in Europe
Tags: Mariupol