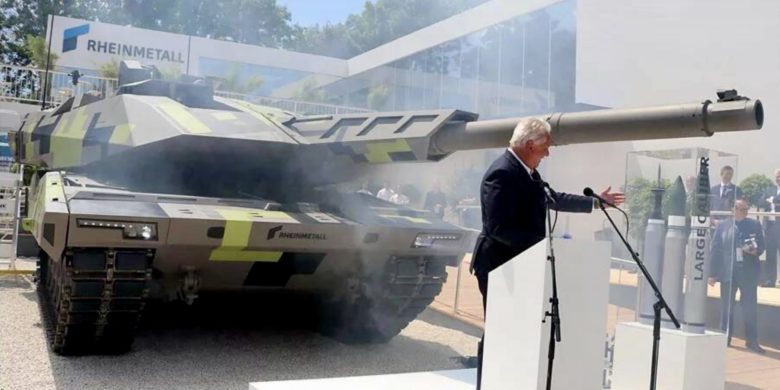 CEO of the Rheinmetall AG, Armin Papperger, presumably with a Panther tank in the background, an illustrative image/ Source: Source: cont.ws 
Rheinmetall AG, a German automotive and arms manufacturer, completes building a maintenance and logistics center near the Romanian border with Ukraine, according to a German television news channel N-TV.
Western military gear and combat systems that Ukraine is provided by its allies, such as the main battle tanks Leopard 2, will be kept operational and repaired at a new maintenance center built 31 kilometers from Ukraine in the Romanian town of Satu Maru, according to N-TV.
This maintenance center will be the third German defense repair facility in Eastern Europe. Two others are located in Lithuania and Slovakia, according to Defence Express.
German arms manufacturer Rheinmetall wants to build a tank factory in Ukraine
Apart from German equipment, such as Leopard 2 tanks, Marder infantry fighting vehicles, Fuchs armored personnel carriers, and military trucks, the German repair facility in Romania will provide service for British Challenger 2 tanks, which Rheinmetall AG modernizes together with BAE Systems, and other armored vehicles and road freight transport used by Ukraine's Armed Forces, N-TV reported. Moreover, the newly built center will serve the combat vehicles of NATO members stationed in Romania.
"It is a key concern for us at Rheinmetall to give the NATO forces and Ukraine the best possible support in this critical situation," Rheinmetall chief Armin Papperger told N-TV.
The maintenance facility in Romania is scheduled to start working in April 2023, according to N-TV. It should "play a central role in maintaining the operational readiness of Western combat systems in use in Ukraine and in ensuring their logistical support," a Rheinmetall spox said.
Related:
Tags: Germany, military aid to Ukraine, Rheinmetall AG, Russian invasion of Ukraine