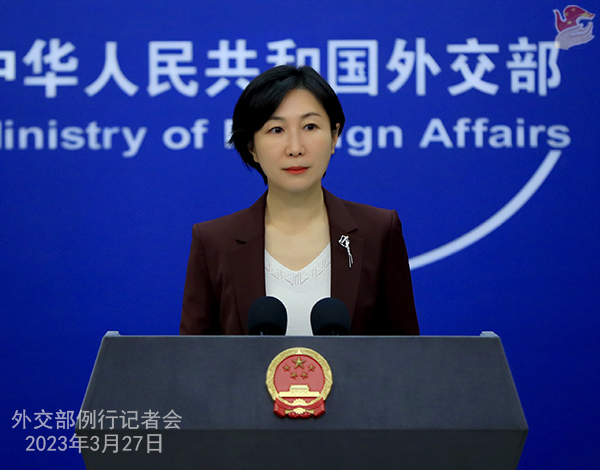 China's Foreign Ministry spox during a press conference on 27 March 2023.
Credit: http://my.china-embassy.gov.cn 
All sides need to work together for de-escalation, China's Foreign Ministry spox Mao Ning said during a regular press conference on 27 March 2023, when answering a question about Russia's decision to deploy tactical nuclear weapons to Belarus.
"In January last year, the leaders of the five nuclear-weapon states released a joint statement, in which they affirmed that a nuclear war cannot be won and must never be fought and stressed the importance of avoiding war between nuclear-weapon states and the reduction of strategic risks," Mao Ning said. "Under the current circumstances, all sides need to focus on making diplomatic efforts towards a peaceful settlement of the Ukraine crisis."
Answering a follow-up question from an American NBC journalist about Russia's decision to deploy tactical nuclear weapons in Belarus, China's Foreign Ministry spox Mao Ning blamed the escalation in the Russo-Ukrainian war on the United States.
"NBC: Regarding President Putin's decision on tactical nuclear weapons, do you think that will complicate China's peace plan for Ukraine? In general, anyway, how can any peace plan make progress if major powers like the US and China are not even discussing this? Is there any possibility that in the reported next conversation between Chinese and US leaders, this issue will be touched?

 

Mao Ning: China's position on this issue is well articulated in China's Position on the Political Settlement of the Ukraine Crisis. On the issue of Ukraine, we have advocated a political settlement of the crisis and promoted talks for peace. China has been in communication with all sides and will continue to play a constructive role in our own way to help de-escalate the situation. We hope that the US will also act responsibly to create the necessary environment and conditions for peace talks between the parties concerned rather than add fuel to the fire."
On 26 March, the President of the Russian Federation Vladimir Putin announced that Russia has a deal with Belarus to station tactical nuclear weapons on its territory. Ukraine demanded an urgent UN Security Council meeting regarding the deployment of nuclear weapons in Belarus.
Related:
Tags: China, Nuclear blackmail, nuclear prolifiration, Russian invasion of Ukraine, Russian nuclear weapons