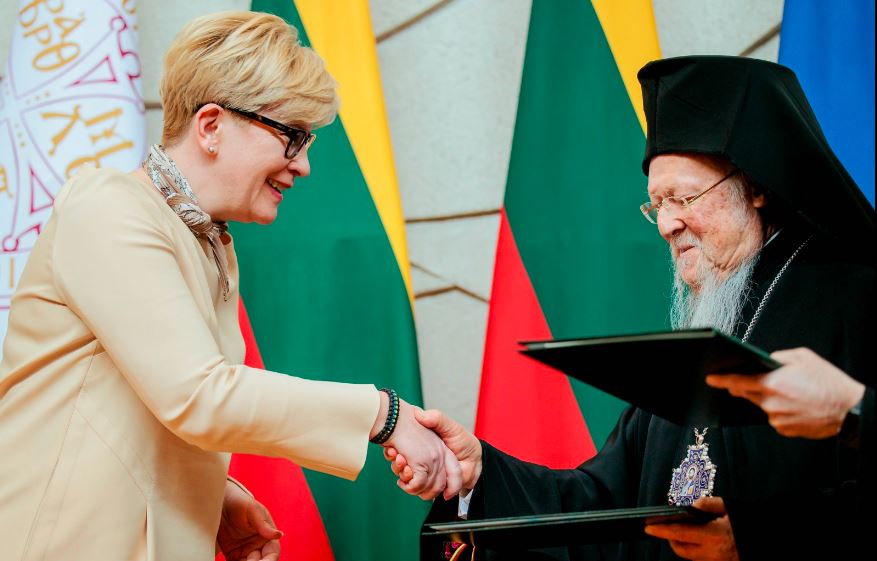 Lithuanian Prime Minister Ingrida Šimonytė and Ecumenical Patriarch Bartholomew signing the agreement on bilateral cooperation. Photo: Delfi.lt 
In the conflict between the Orthodox Patriarchates of Constantinople and Moscow, Ecumenical Patriarch Bartholomew I is seeking to establish his own structure, an exarchate, in Lithuania.
During a three-day visit to the Baltic nation, the Patriarch signed a cooperation agreement with Lithuanian Prime Minister Ingrida Šimonytė on Wednesday, March 22. The Lithuanian government said the agreement aims "to strengthen and develop cooperation in areas important to both sides, to facilitate the realization of freedom of conscience and worship for believers of the Orthodox faith in Lithuania, Delfi reported.
"Today we have a new perspective before us and the possibility of working together to establish an exarchate of the Ecumenical Patriarchate in Lithuania," Bartholomew said in a statement following his meeting with Šimonytė. The Catholic news agency KNA notes that the Patriarchate of Constantinople aims to create an Orthodox church structure under its sovereignty in order to remove the Orthodox Church there from Moscow's influence.
Today the Lithuanian Orthodox Church has the status of a diocese of the Russian Orthodox Church. In December 2022, however, its leadership asked Moscow to grant it greater independence after condemning Russia's invasion of Ukraine, an act blessed by the Russian Orthodox Patriarch Kirill.
In February, five Lithuanian Orthodox priests who had previously been deprived of their ministry because of their anti-war stance, including criticism of Patriarch Kirill, were already admitted to the special jurisdiction (omophoria) of the Ecumenical Constantinople Patriarchate.
The Baltic states have been grappling with the issue of separating from the Russian Orthodox Church after it openly supported Russia's full-scale aggression against Ukraine, raising concerns about the political influence of the church and its potential role in the ongoing conflict.
During his visit to Lithuania, the Ecumenical Patriarch also condemned the ideology of the "Russian world," stating that the Russian Orthodox Church shares responsibility for Russian crimes, as it theologically legitimized the invasion of Ukraine.
Russian Orthodox Church shares responsibility for Russia's aggression – Ecumenical Patriarch
Tags: Ecumenical Patriarch Bartholomew of Constantinople, Lithuania, Religion, Russian Orthodox Church