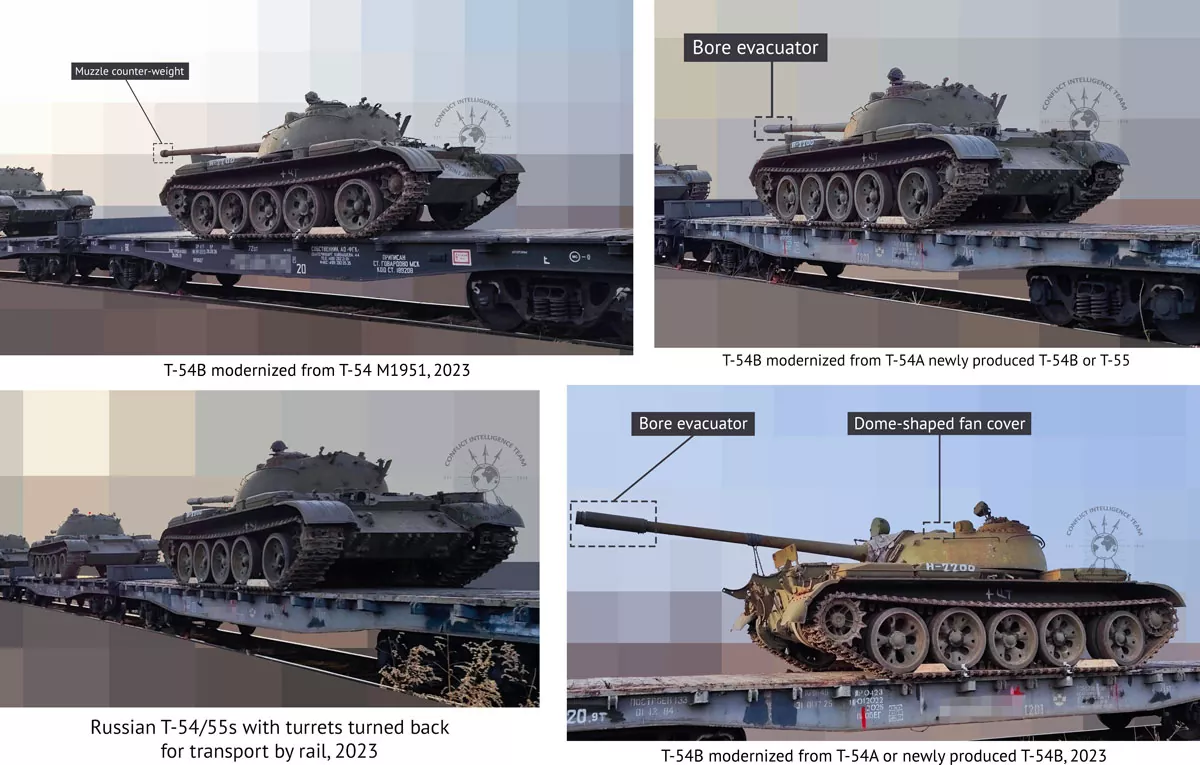 Antiquated T-54/55 tanks spooted in transit by rail in Russia. Images and captions are by CIT Team 
As Russia
ramps up
the demothballing and refurbishment of the antiquated T-62 tanks from the 1960s in an attempt to compensate for its huge losses of modern tanks in Ukraine, the Russian OSINT group CIT Team
reports
that even older Soviet tanks – T-54/T-55 – were spotted in transit by rail from a town near Russia's Pacific coast hosting a tank repair facility. Deployment of the T-62 has been documented since the summer of 2022, while it's the first confirmation that now Russia also withdraws T-54/55 from storage.
The CIT Team published photos of the Soviet-era T-54/55 series tanks reportedly transported by rail from Russia's Far East, saying it is the "first recorded instance of T-54/55 tanks withdrawal from storage."
"As we have established, the filmed train has recently departed from the town of Arsenyev, Primorsky region, where the 1295th Central Tank Repair and Storage Base is located. We had already documented shipments of military vehicles from that base: for example, in October, in Yekaterinburg, a train carrying T-62M(V) tanks was captured on video, and the point of departure of the train was also Arsenyev," CIT wrote.
According to CIT research, the mentioned base has relatively modern T-80BV and T-72B tanks, a significant amount of old T-62M(V) tanks, as well as the T-54s and T-55s. Satellite images show that at least 191 tanks left the base between June and November 2022, "most likely T-62s."
Ukrainian soldier with the Crimean Tatar flag atop the captured Russian T-62 tank (https://t.co/rVtxvQwMe3) pic.twitter.com/cOl57zTKtg

— English Luhansk (@loogunda) October 15, 2022
The serial production of the T-54 tanks began in 1947, its upgraded versions – T-54A, T-55, T-55B – saw serial production starting in 1955, 1956, and 1957 respectively. The T-54s are known for their wide use in the Soviet invasion of Hungary in 1956.
The intended purpose of the T-54/55 withdrawal from storage is so far unknown. CIT believes that it further indicates severe military vehicle supply issues in the Russian army, "along with the removal of BTR-50 armored personnel carriers from storage and the modification of MT-LB multi-purpose AFVs with naval anti-aircraft guns."
Read also: