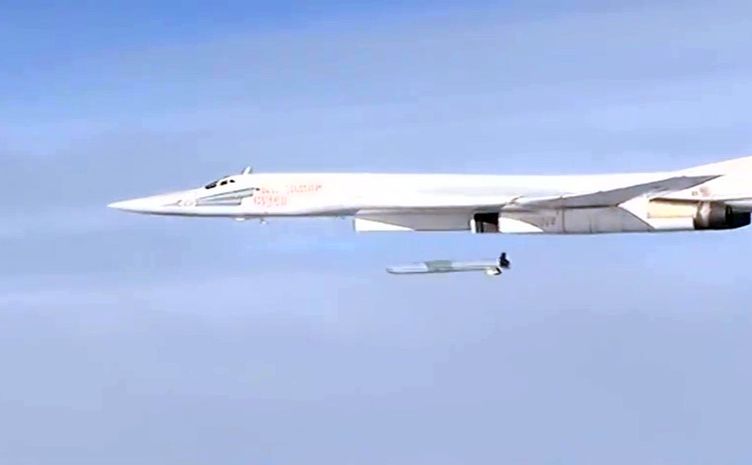 Launch of a Russian Kh101 missile. File photo from open sources 
Russia has around 100 high-precision cruise missiles left, the representative of the Main Directorate of Intelligence of Ukraine's Defense Ministry Andriy Cherniak said.
Russia relies on three types of high-precision cruise missiles in its war against Ukraine: Kalibr, Kh-101, and Kh-555. However, the production volume fails to keep up with the dynamics with which Russian forces use cruise missiles during the invasion of Ukraine, Cherniak said in his interview with RBK-Ukraine. Russia still has thousands of missiles of other types, which are not used as often as the aforementioned high-precision cruise missiles, according to Cherniak.
"Russia can now produce no more than 30-40 missiles per month. Those old Soviet-era missiles they have in service either do not reach targets due to a malfunction or have a limited range of attack," Cherniak explained.
Russia has had no strategic success in its war against Ukraine, which is why Russian command may consider changing tactics, Cherniak suggested based on the data of the Defense Intelligence of Ukraine.
"95% of Russia's Ground Forces already take an active part in the armed aggression against Ukraine. Russia has no more soldiers and equipment to fight with," Cherniak said. "Therefore, Russia considers increasing its military potential by using air forces more."
The Ukrainian air defense gets stronger every day and is able to down more missiles and drones; Russian aircraft would be a much easier target, Cherniak said.
On the other hand, the Russian army has not given up on the idea of ​​destroying Ukraine's energy system. Moreover, Russia may start targeting oil depots more often in order to disrupt the supply of oil products, according to Cherniak.
Related: