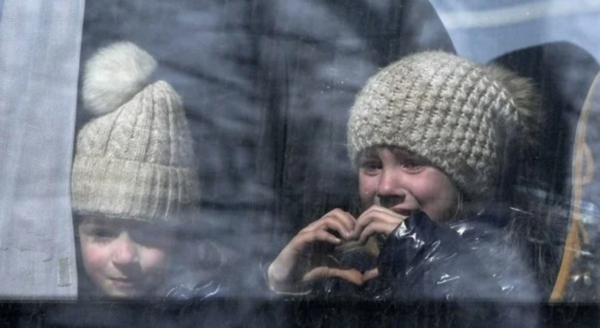 Children crying leaving their families to find safety abroad. SourceL Fakty.ua 
The Military Administration of Chasiv Yar city evacuated all kids to a safer place, far from the frontlines, according to the Head of the Military State Administration of Chasiv Yar Serhii Chaus.
"There are no children in Chasiv Yar anymore. They were evacuated on 17 March. It was painful and hard, but we had to do that," Serhii Chaus said.
The evacuation was carried out by the Military Administration, local police, and volunteers, according to Chaus.
Chasiv Yar is a small town of approximately 12 250 residents in Donetsk Oblast, eastern Ukraine. It is located 15 kilometers southwest of Bakhmut, where the heaviest fighting between Ukraine's Armed Forces and the Russian invading army is currently taking place.
Apart from the threat of being shelled by the Russian forces, there is a danger of Ukrainian kids being abducted and forcefully transported to Russia in case the Russian army manages to capture Bakhmut and occupy the neighboring city of Chasiv Yar.
On 17 March 2023, the International Criminal Court (ICC) issued warrants of arrest for the President of Russia, Vladimir Putin, and the Commissioner for Children's Rights in the Office of the President, Maria Lvova-Belova. The ICC alleges that both suspects are responsible for committing war crimes, specifically the unlawful deportation and transfer of children from the occupied territories of Ukraine to the Russian Federation.
The Prosecutor of the International Criminal Court, Karim Khan, recently announced that they are investigating two cases. One was about the deportation of Ukrainian children to Russia, and the other was about shelling Ukrainian civilian infrastructure.
Related:
Tags: Bakhmut, children of war, deportation of children, ICC, Russia's war crimes, Russian invasion of Ukraine