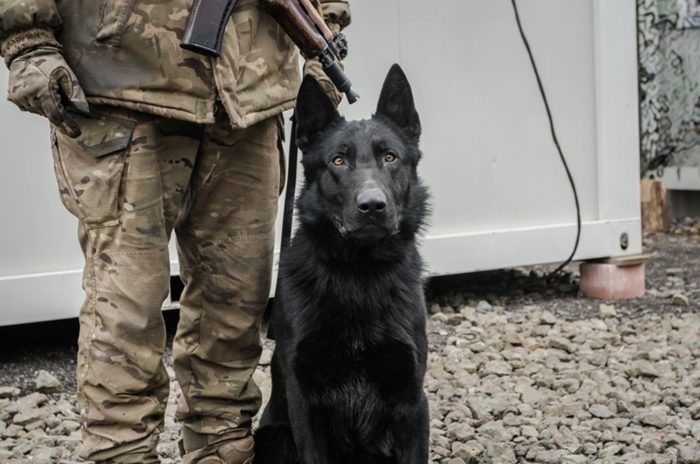 A service dog rescued from the fighting in Luhansk Oblast/ Source: Facebook, the National Guard of Ukraine (NGU) 
The Ukrainian National Guard recounted how guardsmen-cynologists rescued service dogs evacuated from the temporarily occupied Rubizhne in the Luhansk Oblast, as the National Guard communique reported.
Since 2005, Vadym, the head of the dog training service, has been training service dogs. He has served in the 15th Sloviansk Regiment of the National Guard since 2020. He has been through fierce combat alongside other soldiers in the battles for Rubizhne, Kreminna, Sievierodonetsk, Lyman, and other settlements.
The head of the dog training service was in Rubizhne at the beginning of the full-scale invasion of Russia.
Additionally, the National Guard released an image of one of the rescued dogs.
"From day one, we acted as part of the reconnaissance unit and fought against enemy sabotage and reconnaissance groups that attempted to operate in our rear," recalls the guardsman.
According to him, it was challenging because he was responsible for the lives of his personnel and the service dogs remaining in their cages at the time.
Two service dogs were killed as a result of artillery shelling. Every day, the operational situation in the Luhansk Oblast was deteriorating.
"We decided to evacuate all of our surviving four-legged companions to a safe location because the intense fighting and terrible shelling prevented them from being used effectively," Vadym explained.
The service dogs have been returned to Sloviansk in order to regain their combat capability. They are now involved in stabilization activities, such as searching for injured or trapped in the rubble, explosives, and weapons.
The member of the National Guard also resumed working with service dogs. He participates in specialized professional dog-handler training.
Vadym is also involved in selecting service dogs for the 15th Sloviansk Regiment's dog service, which includes an evaluation of the animals' qualities and capacity to work in canine units.
Read also:
Dogs from Kramatorsk wait in line for food from volunteers [Photo]
Trophy dog abandoned by Russian army learning to obey commands in Ukrainian
Ukraine sends "unarmed heroes" right from the war zone to quake-ravaged Türkiye
Tags: National Guard of Ukraine, Russian invasion of Ukraine, service dogs