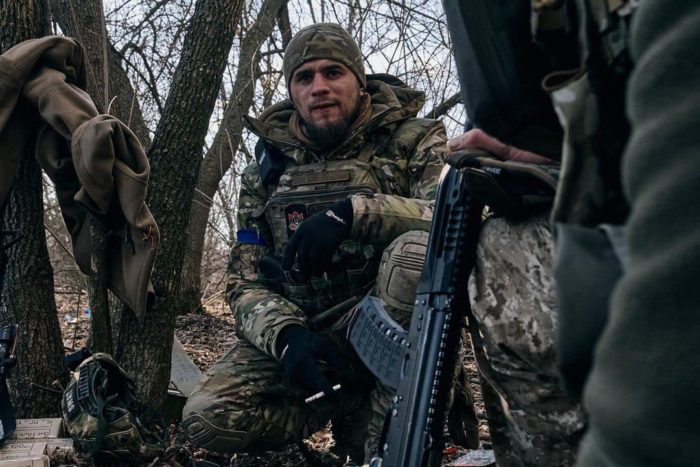 Dmytro "Da Vinci" Kotsiubailo in Bakhmut, March 2023. Photo: Libkos 
Thousands of mourners, including Ukraine's top war officials, lined the streets and knelt on Kyiv's main square at the funeral of war hero Da Vinci, who was killed by Russians in the battle for Bakhmut. Dmytro Kotsiubailo was a legend, one of the many young men and women born in an independent Ukraine who were ready to change the world. Here is his story.
Da Vinci's brief but eventful life story is emblematic of Ukraine's young and determined post-independence generation. Born in rural communities or large cities, most of these under-thirty young men and women took part in the Euromaidan movement of 2014. They did not hesitate to enlist as volunteers, fighters, or paramedics when Russia launched its full-scale invasion of Ukraine in February 2022.
Hundreds of people gathered in Kyiv near the St. Michael Cathedral and then followed the procession on the Independence Square (Maidan) to say the last goodbye to the Hero of Ukraine and the youngest awarded commander Dmytro Kotsiubaylo (callsign Da Vinci) https://t.co/WF7A5Lpwfq pic.twitter.com/Jzy4axOSjL

— Euromaidan Press (@EuromaidanPress) March 10, 2023
"Peace at any cost is the philosophy of slaves, because free people know that the true price of peace is Victory.

From the first days of Maidan, we have been fighting for our right to be truly free and worthy representatives of our nation.

Freedom is not free. It must be fought for.

War does not end in peace. It ends in Victory.

Glory to Ukraine!"
These words were posted by Dmytro "Da Vinci" Kotsiubailo, Hero of Ukraine, Defender of Ukraine, Maidan activist.
On 7 March, 2023, Dmytro Kotsiubailo, the youngest battalion commander in the history of the Ukrainian Army, was killed near Bakhmut.
Ukrainian Army officers under 32 explain the meaning of Independence
The early years
Dmytro Kotsiubailo was born on 1 November 1995 in the village of Zadnistrianske, Burshtyn Territorial Community, Ivano-Frankivsk Oblast.
He completed his primary school years at Bovshivka Secondary School and then went on to study at the Professional Art and Construction Lyceum in Ivano-Frankivsk. Dmytro loved art and sketching, and that is why he decided to adopt the call sign "Da Vinci".
His teachers remember him as a small, slender, self-effacing young man. He was also very smart, quiet and hard-working.
"He would come in and sit very quietly in the corner desk of the back row. But, no matter the task or the project, he would always create something interesting. Like I'd ask him to draw a poster for New Year's… and he'd come up with something very unique.

He used pencils, ordinary paints or worked on stained glass. He also loved batik and he was very good at it," says art teacher, Olha Komarchuk.
Mykola Hladkyi, senior teacher at the lyceum, recalls that Da Vinci was fascinated by the history of Ukraine. At a very young age, he even established a small folklore museum in his village, scouring the region for interesting artifacts.
"He bought himself a metal detector, travelled around the Prykarpattia region, collected antiques and brought them back to his museum," says Hladkyi.
Da Vinci visited his native village several times a year. The family had a small farm, and he would help his grandmother with household and farm chores. He ploughed, hoed and planted the fields, felled the trees, and gathered firewood for the winter.
Valerii Zaluzhnyi, Commander-in-Chief of the Armed Forces of Ukraine
It's hard to find words. They will not help to ease the pain and loss.
Da Vinci joined our military family nine years ago. A young man with sincere and honest eyes who was never afraid of anything.
I knew Dmytro well. He knew how to unite people with a common goal – to fight for their country.
The path to our Victory is very difficult. And this Victory has a price – the lives of our soldiers.
Da Vinci and the call of Maidan
According to his homeroom teacher, Svitlana Kysylytsia, Dmytro was 18 years old when protests erupted in Kyiv during the Revolution of Dignity. When the school winter break began, Dmytro packed his bag and, without informing his parents or teachers, set off to Kyiv.
It was then, during the Maidan revolution that his fight for a free and independent Ukraine really began. It lasted nine years…
"We thought that people like Dmytro could not die," concludes teacher Svitlana Kysylytsia.
The Donbas war 2014 and the Da Vinci Wolves
During the Revolution of Dignity in 2014, when Russian troops invaded and occupied Crimea and parts of Luhansk and Donetsk Oblasts, young Dmytro, who was only 18, joined a group of volunteer fighters and headed to eastern Ukraine. Thousands of Ukrainians, young and old, men and women, went straight from the Maidan to the battlefields of the Donbas.
At first, Dmytro commanded a platoon and in 2015, an entire company. He was seriously injured by a tank shell fragment in Pisky, Donetsk Oblast. After three months of rehabilitation, he returned to the front.
On 17 March, 2016, Dmytro Kotsiubailo was appointed commander of the 1st Separate Assault Company 'Da Vinci Wolves' of the Pravy Sektor Volunteer Corps.
He became an adult during the war, acquired military skills and experience in the Donbas, and gained credibility among his comrades and officers of the Armed Forces of Ukraine. His opinion was respected by the commanders of all the units he worked with.
In a recent interview, Da Vinci admits that from the very beginning something kept him at the front.
"By 2022, many volunteer units had long since either disbanded or were merged into other military structures. However, at the end of 2021 and the beginning of 2022, it was clear to us that Russia was preparing for a full-scale war."
Serhiy Zhadan, writer, poet, public activist
His death is a great loss… even if we don't realize it yet.
He was probably aware of the possibility of his death. A person, who has been in hell for nine years, understands that he may not survive this hell.
He became part of our history while he was still alive. I'm not exaggerating. During his lifetime, Da Vinci was in the same places as Kryvonis, Honta, Bolbochan, Chuchupaka and Shukhevych. He is an epic historical figure – integral, profound and expressive. I was lucky enough to know him, and I had the opportunity to observe his deeds, his work, his fight.
Our children and grandchildren will wear T-shirts emblazoned with his portrait. Simply because it is the face of an honest and conscientious man who lived his short life to the fullest, with consistency and brilliance, leaving behind a memory and a strong sense of dignity.
Da Vinci and Alina: Love on the front line
Dmytro Kotsiubaylo met his love, Alina Mykhailova, during the war. Alina worked as a volunteer paramedic with the Hospitaliery, and offered to deliver medicine and medical equipment to his unit.
Alina participated in the Revolution of Dignity and then joined the volunteer movement in the Russian-Ukrainian war. In 2016-2017, she was a paramedic with the Hospitaliery medical battalion of the Ukrainian Volunteer Army, and in 2017-2019 she founded and managed the ULF medical service.
In 2020, she was elected deputy of the Kyiv City Council. After the large-scale Russian invasion, she returned to the front and headed the medical service of the Da Vinci Wolves.
She was included in Forbes.Ukraine list of the 30 Most Successful Under-30 Ukrainians in 2022 and became the model for one of the LEGO figures dedicated to Ukrainian female defenders.
"I know that Dmytro worries about me, and I worry about him too. We both are very attentive to the needs of the soldiers, because Da Vinci is very protective of his men… and the guys know that. We've been together for six years now, during a time of war; that's just the way it is. I can't imagine our life in any other way, and neither can he… and that's not so good," said Alina in an interview with Ukraїner in January, 2023.
The Great War – 24 February 2022
Da Vinci's military skills and experience came in handy in the first days of Russia's full-scale offensive against Ukraine. In February-March-April 2022, the artillery group of the 1st Assault Company worked in different directions, hitting and destroying columns of Russian armored vehicles, halting the Russian advance near Kyiv, in the southern regions, and near Zaporizhzhia.
Just before 24 February, Da Vinci's unit was deployed to Stanytsia Luhanska and Shchastia, Luhansk Oblast. There was an unexpected number of Russian armored vehicles, pontoon crossings, and artillery along the river. The men knew it was more than a covert preparation for crossing the river.
However, the situation in the Donbas turned out to be more stable than elsewhere. The enemy launched its main attacks against Kharkiv, Kyiv, and Kherson.
"The enemy's plan was to reach Zaporizhzhia and Dnipro through Kherson, to advance from Sumy to Poltava and to surround and destroy our troops on the front line through Kharkiv." recalls Dmytro in an interview with Censor.net.
As his men were highly trained fighters with years of combat experience, in the first months of the war, the Da Vinci Wolves were deployed in several regions: Orikhove and Huliay Pole in Zaporizhzhia Oblast, near Brovary and Boryspil in Kyiv Oblast, then Mykolaiv, Kryvyi Rih, and Kherson.
"At that time, we had many experienced artillerymen, reconnaissance officers, and aerial reconnaissance specialists. The Leleka helped us detect Russian army columns. We spotted columns that were taking a break or had stopped somewhere in factories or abandoned buildings. On average, our artillery strikes neutralized at least three vehicles or more. Sometimes it was from 15 to 20 at once. We also destroyed their ammunition depots. Then, the Russians dropped everything and ran.

Our artillery groups included medics and a few reconnaissance officers. We also had guys who were using NLAWs, which proved to be quite effective. Unfortunately, we didn't have Javelins at that time."
The Da Vinci Wolves also took part in the liberation of Kharkiv Oblast in September, 2022. The unit was ordered to take part in a secret operation in and around Balakliya. On 8 September, the Ukrainian flag was raised in the city after a brief battle, and on 10 September, Kyiv announced that the Ukrainian Army fully controlled Balakliya. Then came Kupiansk, Shevchenkove, Kivsharivka, Novoosynove, Kruhliakivka…
"80% of the villagers we liberated were Ukrainians who had lived under Russian occupation. They met us with flowers, tears and smiles.

This operation was a success, because we managed to break through their defense, by about ten kilometers, and destroy their artillery. They were demoralized and most of them ran. The Himars were super effective. As we passed through areas abandoned by the enemy, we saw hangars with dozens of scorched equipment."
Mariya Berlinska, volunteer soldier, women's rights advocate
His war began at the age of 18. His whole life was war, nothing but war. He was one of the best, most worthy warriors and commanders in this war.
He never believed in peace with Russia because he knew they wanted to kill us all. Because we're Ukrainians, because we're different.
I know how difficult it was for him and people like him to see all these useless political talks about "reconciliation". How hard it was when the people you're fighting for do not believe in imminent mortal danger, do not prepare for war.
But a year ago, everyone woke up. They understood why the only way for us to survive was to fight and take revenge – ruthlessly and relentlessly. And to teach our children to take revenge.
I will not weep; I will melt my tears into cold-blooded rage… and take revenge.
Death in Bakhmut
In a strange twist of fate, Ukrainian photographers Kostiantyn and Vlada Liberov were working in Bakhmut at the time of Da Vinci's death on 7 March. They witnessed how Da Vinci led his men into attack, caught him in action, and recorded the last minutes of his short, but eventful life.
"You drove a tank into enemy territory, and then led your men forward. They followed without hesitation, because they trusted you, their commander.

We managed to snap the last photo of you on a burning tank. It happened before our very eyes. The shelling began… You told us to take cover. Explosions, many explosions. A minute later, screams: Medic! Medic! Da Vinci!

We hoped and believed. We prayed.

You were the bravest, the most reckless warrior we'd ever known. You seemed immortal!

Hero of Ukraine. The best of the best. A warrior. A friend. A legend." they wrote.
The Euromaidan generation – the end of youth
In his 27 years, Da Vinci lived harder, fought longer and hurt more than any young man or woman of his generation. Often referred to as the Euromaidan generation, these young Ukrainian men and women dropped their cushy office jobs, their athletic careers or carefree student life, took up arms and stood to fight the Russian invaders.
Meet the singers, filmmakers, and sports stars who joined the Ukrainian Army
Such were 25-year-old public activist Roman Ratushnyi, 19-year-old athlete Yevhen Malyshev, 33-year-old actor Pasha Lee, 25-year-old rower Ivan Shchokin, and many, many others.
The war continues. The best of Ukrainians are dying, leaving a large gaping hole in this war generation.
Masi Nayyem, lawyer and serviceman
Dmytro Kotsiubailo lived in a beautiful country where he became a warrior.
His courage and heroism were acknowledged and he received a standing ovation in the Verkhovna Rada. He was awarded the title of Hero of Ukraine.
He became a legend, without pathos. He was professional, honest, open and courageous. He was always at the head of his pack of wolves.
Today, the whole country accompanied him on his last journey and we all knelt before him.
He died in battle. This is an honour for a Defender. For Ukraine, it's an incredible loss, the price we pay for our future.
Tags: Bakhmut, Da Vinci, EuroMaidan, Russia-Ukraine war