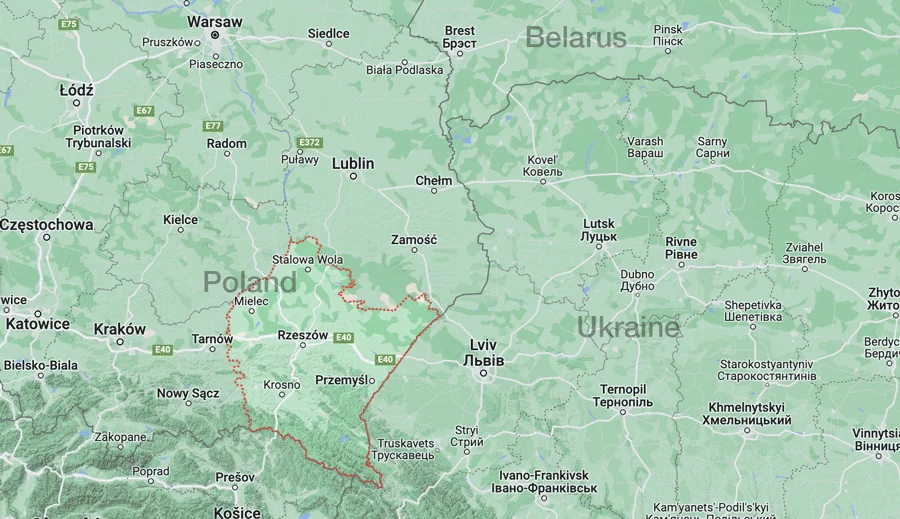 Eastern Poland and western Ukraine on the map. Map: Google Maps 
Polish special services busted a spy network of six foreigners working for Russia, who were supposed to conduct sabotage activities in Poland, Radio RMF24 reported.
"As the RMF FM reporter found out, officers of the Internal Security Agency [ABW] detained six people in this case, and a security alert was introduced in connection with the network's activities on railway routes and in the critical national infrastructure," the radio reported.
According to RMF24, ABW detained those six after dozens of hidden cameras were discovered on important highways and railway junctions, which transmitted the footage over the Internet. Those were mainly installed on railway lines in Poland's Podkarpackie Voivodeship, including the airport area in Jasionka near Rzeszów, the main logistical gateway to transfer Western weapons and ammunition to Ukraine. The Podkarpackie Voivodeship borders Ukraine's Lviv Oblast.
"Cameras were also set up in other parts of Poland," RMF24 says.
Update:
On 16 March, Polish authorities said they detained nine members of a Russian spy ring gathering intelligence on weapons supplies to Ukraine.
Read also:
Tags: Poland, Russia, Russian intelligence/espionage, spies