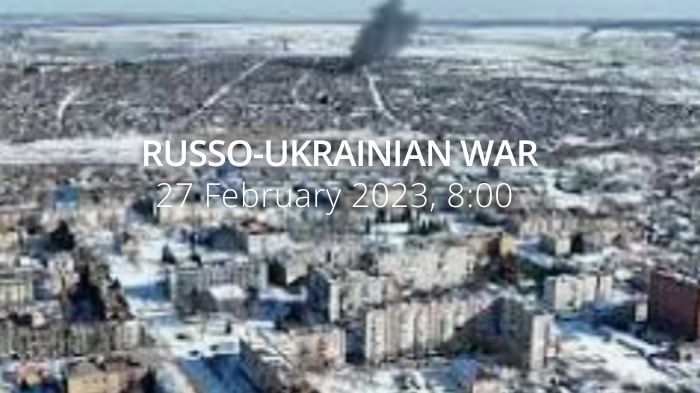 Russian forces lose at least 500 soldiers a day near Bakhmut. Explosions reported near Mariupol. Saudi Arabia's Foreign Minister announces USD 400 mn aid in the first visit to Ukraine since 1993.
Daily overview — Summary report, February 27
A map of the approximate situation on the ground in Ukraine as of 00:00 UTC 27/02/23.

There have been no notable changes to control since the last update. pic.twitter.com/aJi9gXFa4N

— War Mapper (@War_Mapper) February 27, 2023
The General Staff's operational update regarding the Russian invasion as of 18.00 pm, February 27, 2023 is in the dropdown menu below:
Day 369 of the russian full-scale invasion continues.
The russian federation continues its full-scale armed aggression against Ukraine. The invaders' main efforts are focused on the offensive operations on Kup'yans'k, Lyman, Bakhmut, Avdiivka, and Shakhtars'ke axes. The number of enemy personnel is increasing. According to the available information, up to 200x conscripts from Rostov oblast (russia) have been redeployed to the temporarily occupied territory of Luhansk oblast.
During the day of February 27, the enemy launched 8x missile and 28x air strikes, 12x of them employed Iranian Shahed-136 combat UAVs. The invaders launched more than 55x MLRS attacks.
The threat of missile strikes across Ukraine remains high.
Volyn, Polissya, Sivershchyna, and Slobozhanshchyna axes: no significant changes, no formation of offensive groups was found. The adversary is carrying out engineering development, including anti-tank ditches, of the border areas of Bryansk and Kursk oblasts (russia).
During the day of February 27, the enemy fired mortars and artillery at the settlements of Khrinivka, Yeline (Chernihiv oblast), Budivelne, Hirky, Atyns'ke, Volfyne, Pavlivka, Stepok (Sumy oblast), Veterynarne, Strilecha, Hatyshche, Vovchans'ki Khutory, Kam'yanka (Kharkiv oblast).
Kup'yans'k and Lyman axes: the enemy conducted several unsuccessful offensives. In particular, the attempts were made towards the settlements of Stel'makhivka, Nevs'ke, Bilohorivka (Luhansk oblast), Spirne, and Vyimka (Donetsk oblast). The adversary shelled the vicinities of settlements of Dvorichna, Hryanykivka, Kurylivka, Kyslivka, Tabaivka (Kharkiv oblast), Nevs'ke, Chervonopopivka, Dibrova (Luhansk oblast), and Rozdolivka (Donetsk oblast) with artillery.
Bakhmut axis: the following settlements came under fire: Zaliznyans'ke, Dubovo-Vasylivka, Berkhivka, Bakhmut, Ivanivske, Stupochky, Klishchiivka, and Ozaryanivka (Donetsk oblast).
Avdiivka and Shakhtars'ke axes: the adversary continues to attack the positions of Ukrainian troops, launched several unsuccessful attacks towards Kam'yanka, Krasnohorivka, and Mar'inka (Donetsk oblast). The invaders fired artillery and mortars at the vicinities of settlements of Avdiivka, Netaylove, Vodyane, Pervomais'ke, Mar'inka, Bohoyavlenka, Novomykhailivka, Velyka Novosilka, Neskuchne, and Vuhledar.
Zaporizhzhia axis: the enemy shelled the vicinities of 17x settlements. Among them are Vremivka, Novopil' (Donetsk oblast), Ol'hivs'ke, Hulyaipole, Zaliznychne, Charivne, Orikhiv, Mala Tokmachka, and Bilohir'ya (Zaporizhzhia oblast). The enemy is active in aerial reconnaissance to spot for artillery fire, and has deployed 1x Zoopark-1 radar system in the vicinity of settlement of Stepove to determine the positions of Ukrainian artillery.
Kherson axis: russian occupation forces' artillery fire hit more than 20x settlements of Kherson oblast located on the right bank of the Dnipro River. In particular, Berehove, Beryslav, Vesele, Tyahynka, Antonivka, and the city of Kherson.
The adversary continues to suffer losses. Therefore, it actively uses the local infrastructure in the temporarily occupied territories to provide medical care to its servicemen. For example, a military hospital has been set up using the facilities of a local hospital in the settlement of Kalanchak. About 150x wounded soldiers of the russian armed forces have already been brought there. According to the available information, the medical staff are exclusively russians.
The enemy continues to act in a way to discredit the Ukrainian Defense Forces and intimidate residents of the temporarily occupied part of Kherson oblast. Yet again, the enemy fired mortars at residential neighbourhoods of Oleshky and accused the Ukrainian Armed Forces of the shelling.
The Ukrainian Air Force launched 4x air strikes on the concentrations of occupants' personnel and military equipment. During the day of February 27, our soldiers also destroyed 9x out of 12x Iranian Shahed-136 and 1x Zala combat UAVs.
Missile and artillery units hit 1x command post, 1x concentration of the adversary manpower, and 1x air defense position.
Military Updates
Russia's elite infantry force significantly degraded – British Intel. Costly offensives in Donetsk Oblast of eastern Ukraine have significantly degraded Russia's elite infantry force, according to British Intelligence. Imagery shows concentrated Russian vehicle losses in the Vuhledar sector of Donetsk Oblast. Destroyed Russian military vehicles were likely elements of Russia's 155th Naval Infantry Brigade which has been at the forefront of recent costly offensives, British Intel reported on 26 February in its daily update on Ukraine.
Russia loses 500 soldiers a day in Bakhmut offensive alone – Ukraine's Defense Minister. Every single day Russian forces lose at least 500 soldiers killed in action during the incessant assaults on Ukrainian Bakhmut in Donetsk Oblast, Ukraine's Defense Minister Olkesii Reznikov told the Italian newspaper La Repubblica. Russian offensive in the Donbas region (eastern Ukraine) is extremely costly for the Russian army, Reznikov said.
Russian forces obliterate another Ukrainian town in Donetsk Oblast, eastern Ukraine

Over the year of Russia's full-scale invasion, Russian forces reduced the city of Mar'inka to the rubble but failed to capture it. https://t.co/c9MQt5q7tJ

— Euromaidan Press (@EuromaidanPress) February 27, 2023
According to British Defence Intelligence, (last 48 hours): 
Since 21 February 2023, pro-Russian officials have reported at least 14 explosions around the Russian-occupied city of Mariupol.
Sites of the incidents have included an ammo cache at the airport, two fuel depots, and a steel works that Russia uses as a military base. Mariupol lies at least 80km away from the front line.
Russia will likely be concerned that unexplained explosions are occurring in a zone it had probably previously assessed as beyond the range of routine Ukrainian strike capabilities. Although widely devasted earlier in the war, Mariupol is important to Russia because it is the. largest city Russia captured in 2022 that it still controls, and sits on a key logistics route.
Losses of the Russian army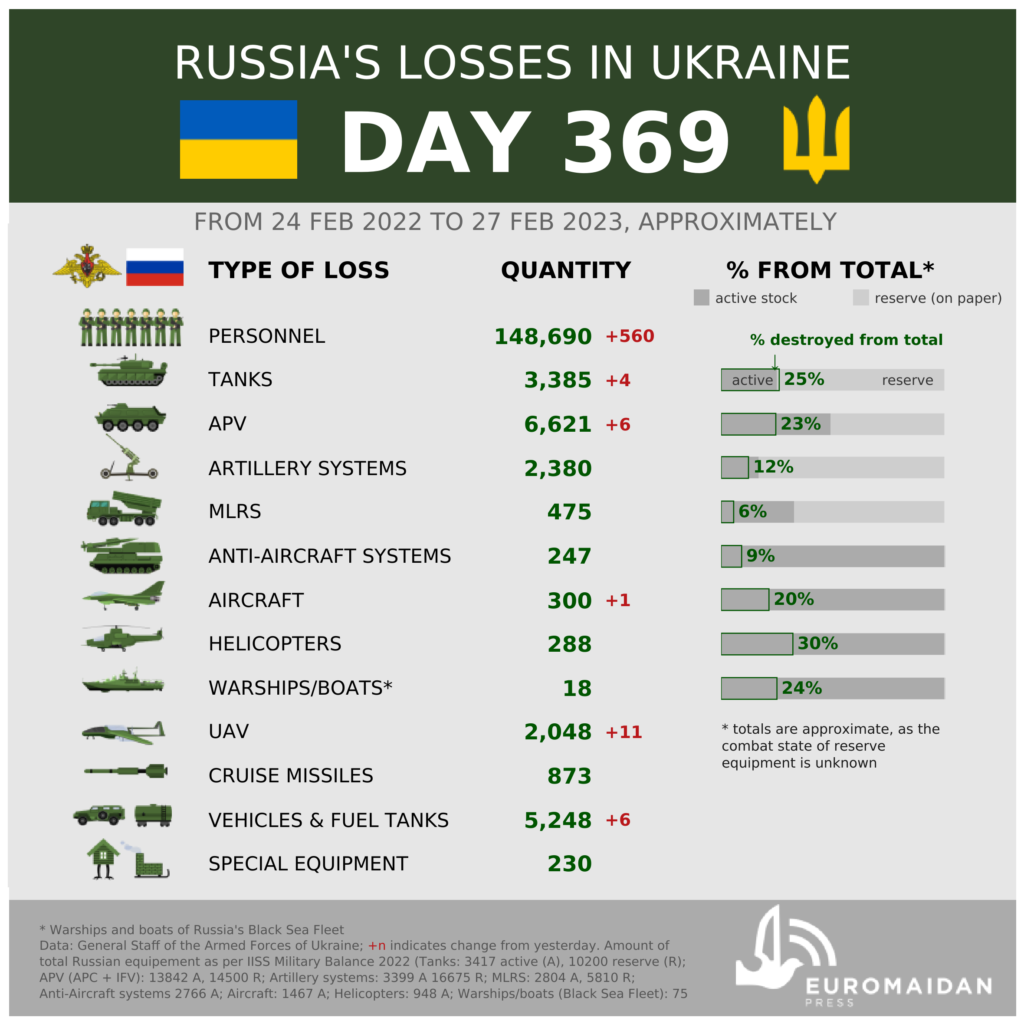 Humanitarian 
One year of Russia's war made Ukrainians believe in themselves: poll
Russian forces reduce Ukrainian frontline city to rubble – Associated Press (VIDEO). The Associated Press released drone footage of the urban combat amid the ruins in the frontline city of Mar'inka, Donetsk Oblast, eastern Ukraine. Over the year of Russia's full-scale invasion, Russian forces have totally destroyed the city of Mar'inka. Russian artillery and tanks shoot at everything that can be used as a cover. Intense urban fighting amid the ruins continues every day. Russian army fails to capture Mar'inka due to the stiff Ukrainian resistance.
American volunteer Andrew Peters was killed in action; he became the 7th American killed in Ukraine after Russia's invasion.
American volunteer at Ukraine's International legion Andrew Peters was killed in action on February 16. He had also served as an infantryman in Afghanistan. Peters is at least the seventh American killed in Ukraine after Russia's invasion began last year, the Washington Post 
writes
.
When war erupted in Ukraine, Andrew Peters volunteered to join the fight against the Kremlin's invasion. He arrived in Ukraine a couple of days after Thanksgiving with his own armor and military gear. He stayed in touch with his family until he stopped texting around February 11.
Legal 
180 Ukrainian citizens are political prisoners in Russia, including 116 Crimean Tatars. Ukrainian Ombudsman for human rights Dmytro Lubinets said Russia illegally holds 180 Ukrainian citizens as political prisoners. 116 of them are Crimean Tatars whom Russia imprisoned in occupied Crimea, Lubinets clarified. He also recalled that February 26 became symbolical data of resistance to the Russian occupation, which has been going on for nine years. On this day in 2014, a mass rally in support of the territorial integrity of Ukraine was organized by the Mejlis of the Crimean Tatar people in Simferopol near the Crimean parliament. Both Ukrainians and Crimean Tatars came out to resist Russian occupation of the peninsula while armed forces were incapable of active defense then.
Ukraine records over 2,000 cyber incidents, even more cyberattacks in 2022. The State Special Communications Service of Ukraine (SSSCIP) has recorded more than 2,000 cyber incidents  and even more cyberattacks in 2022, as reported by Suspilne, referencing a commentary by Viktor Dzhura, Deputy Head of the SSSCIP.
Support
On February 25, one of the most important symbols of American democracy – the Lincoln Memorial – turned into the Ukrainian Maidan, wrapped in blue and yellow. A large crowd gathered to mark the first anniversary of Russia's full-scale war against Ukraine. https://t.co/QjMgRvPaZe pic.twitter.com/uy6yyMwQKw

— Euromaidan Press (@EuromaidanPress) February 27, 2023
Saudi Arabia's Foreign Minister announces USD 400 mn aid in first visit to Ukraine since 1993. On 26 February, the Foreign Minister of Saudi Arabia Prince Faisal bin Farhan visited Kyiv and met with Ukraine's President Volodymyr Zelenskyy and the head of the President's Office of Ukraine Andriy Yermak. After the meeting with Saudi Arabia's Foreign Minister, the head of the President's Office of Ukraine Andriy Yermak informed that Saudi Arabia will allocate an aid package for Ukraine worth $400 million, which includes oil products worth $300 million and humanitarian aid worth $100 million.
Croatia will send promised 14 helicopters to Ukraine within ten days — media. Croatia will send 14 transport helicopters to Ukraine. Twelve MI8 MTV-1 helicopters and two MI8 T helicopters will be ready for transportation in approximately ten days, Croatian media Jutarnjilist writes, referring to its sources. The Croatian Government has classified all information on military aid to Ukraine as confidential, and it is impossible to obtain official confirmation of this information. The donation of 14 transport helicopters was confirmed by Prime Minister Plenković in November last year but without any other details. On the other hand, President Milanović was angry that the Government was arranging the donation of helicopters. He said that the Ministry of Defense did not explain how these helicopters would be replaced.
Lithuanians collected EUR 14 million to purchase radars for Ukraine. During the campaign "Radarom!" which lasted from January 30 to February 24, 2023, Lithuanians collected EUR 14 million. ​The funds raised during the campaign were used to purchase multifunctional tactical radars. These radars are needed to monitor the airspace around strategically important objects in Ukraine. Protecting crucial infrastructure, such as power plants, water towers, etc., helps prevent disruptions to the lives of Ukrainians while the war continues.
New Developments 
After a year of the war, support for EU and NATO integration stays at a record high level among Ukrainians. https://t.co/2sUcmcTxDM pic.twitter.com/PpbrP6sEKC

— Euromaidan Press (@EuromaidanPress) February 27, 2023
Ukraine sanctions Wagner-affiated entities, Russian Olympic Committee and Red Cross (updated). The Ukrainian government has imposed new sanctions against Russian citizens supporting Russia's war against Ukraine. The President of Ukraine Volodymyr Zelenskyy signed three relevant decisions of the National Security and Defense Council on 26 February. "I signed three decrees to implement the decisions of the National Security and Defense Council of Ukraine. Against those Russians who are involved in the abduction of Ukrainian children. Against those representatives of the Russian sports sector who are trying to put sports in the service of aggression. And against those who help maintain mercenary structures in Russia for the war against Ukraine and all free people," Zelenskyy informed in his daily televised address to the Ukrainian nation.
Series of explosions rock military airfield in Belarus, BYPOL reports. Locals in Machulishchi (12 kilometers from the Belarusian capital Minsk) heard at least two powerful explosions at the military airfield that hosts Russian air forces, BYPOL reported. BYPOL is a Belarusian organization that was created by former employees of law enforcement agencies to counter the Belarusian authorities. Two explosions in the area of Machulishchi airfield were reported at around 8 am and 9:30 am today, according to BYPOL. As a result of the explosions, a Russian military aircraft was allegedly damaged. According to BYPOL, the Russian airborne early warning and control aircraft Beriev A-50 was seriously damaged by explosions.
Ukraine marks the Day of Crimean Resistance to Russian Aggression. On February 26, 2014, Crimeans held a massive rally near the Crimean Parliament in Simferopol in support of the territorial integrity of Ukraine. Since that day Crimean Tatars have been systematically persecuted, arrested on false charges, tried in kangaroo courts and thrown into prisons. Many have been kidnapped, killed or have simply disappeared.
https://twitter.com/EuromaidanPress/status/1630039013846384640
Assessment 
https://www.understandingwar.org/backgrounder/russian-offensive-campaign-assessment-february-26-2023*
On the war. 
The Institute for the Study of War has made the following assessment as of  February 26, 2022:
ISW is publishing an abbreviated campaign update today, February 26. This report focuses on Russian President Vladimir Putin's attempt to avoid ordering involuntary mobilization by launching a series of irregular volunteer force generation campaigns since late May 2022 and the consequences of that attempt. Putin sought to satisfy the requirement for replacements following Russian defeats around Kyiv by conducting a voluntary recruitment campaign building on the existing campaigns already being conducted by quasi-official ultranationalist groups such as the Donetsk and Luhansk People's Republics (DNR and LNR) or the Wagner Group. Putin unsuccessfully attempted to establish new all-volunteer formations over the summer that competed with other existing quasi-official formations. Putin eventually abandoned his volunteer recruitment campaign after Ukrainian forces liberated much of Kharkiv Oblast between September 6 and September 11, ordering partial reserve mobilization on September 21.
Russia likely began to run out of combat-ready forces by late May 2022, forcing Russian President Vladimir Putin to decide between launching a volunteer recruitment campaign or ordering an unpopular involuntary reserve call-up. ISW observed several indicators that suggested that the Russian military command had begun to suffer significant manpower shortages in May 2022. Russian forces began withdrawing from their positions immediately around Kharkiv City in mid-May, and ISW assessed that Russian forces had abandoned their offensive on the Izium-Sloviansk line in favor of concentrating forces for the seizure of Sievierodonetsk-Lysychansk.[1] The inability of Russian forces to pursue offensives on both Sievierodonetsk-Lysychansk and Sloviansk simultaneously reflected serious limitations in Russian combat power. Russian veteran communities apparently came to the same conclusion and called on Putin and the Russian MoD to immediately declare partial mobilization while improving the mobilization call-up system for subsequent mobilization waves in May 2022.[2] The Russian Ministry of Defense (MoD) had likely advised Putin that he needed to declare mobilization as soon as possible to ensure that Russia had sufficient combat power to continue offensive operations past the capture of the Sievierodonetsk-Lysychansk line.
Putin likely rejected the Russian military's advice to order an involuntary reserve call-up because of the unpopularity of the move, the fact that he had not set informational conditions for it, and possibly also because of his growing distrust of the Russian MoD, which had overseen such spectacular failures in the war to date.[3] Putin decided instead to double down on existing volunteer recruitment efforts already being conducted by ultranationalist groups and ordered the formation of new volunteer formations. Putin signaled this decision by removing the upper age limits for contract service on May 28, 2022, which would expand the pool of volunteers (although not in a way that would generate many volunteers suitable for frontline combat).[4] Putin also removed the planners and the executors of his invasion plan – Chief of Russian General Staff Valery Gerasimov and Defense Minister Sergey Shoigu – from the public eye, prompting many to speculate that both had been fired or demoted.[5] Putin began to interact directly with the Russian ultranationalist milblogger community that was spearheading the voluntary recruitment campaign – even holding an official meeting with milbloggers on June 17.[6] Milbloggers had been increasingly criticizing the Russian MoD for failing to achieve significant victories while taking heavy losses and for their repeated military failures, likely voicing similar complaints to Putin.[7] Putin and his mouthpieces continued to push a narrative that the Russian "special military operation" in Ukraine was a limited campaign that would not affect the general Russian public, setting informational conditions to preclude rather than facilitate involuntary mobilization.[8]
The Kremlin had consistently outsourced voluntary recruitment efforts to support its operations abroad and during the full-scale invasion of Ukraine to ultranationalist groups and likely allowed ultranationalist networks to expand their force generation campaigns over the summer. The New America Foundation found that the Kremlin has been relying on Russian ultranationalist networks – such as Task Force Rusich and the Russian Imperial Movement (RIM) — to recruit active reservists, veterans, and contract servicemen for Russia's covert operations abroad for years.[9] These ultranationalist movements are interconnected both in the real world and online, with Rusich and RIM facilitating recruitment for the Wagner Group's commanders.[10] New America also observed that these ultranationalist groups have been using online platforms such as VK and Telegram to facilitate recruitment, crowdfund, and disperse propaganda.[11] Recruitment for the Donetsk and Luhansk People's Republics (DNR and LNR), select regional volunteer formations such as the Alania Battalion in North Ossetia, Chechen units, and Cossack paramilitary groups among other formations have similar online recruitment campaigns.[12] These campaigns continue to target Russian nationalists via financial incentives and by appealing to their ideological convictions.[13]
The Kremlin likely turned to these existing networks in hopes that they would immediately attract volunteers who ideologically support his war. ISW repeatedly observed and reported on numerous instances of Russian pro-war, nationalist milbloggers (military bloggers and war correspondents) promoting recruitment and crowdfunding campaigns.[14] These quasi-official ultranationalist groups began to increasingly recruit from the general public, reaching beyond reservists who had completed their mandatory conscript service, veterans, and contract servicemen. Certain groups expanded eligibility for service to men ages 18 to 50 or 60 regardless of whether they had prior military experience.[15] ISW reported numerous instances of DNR officials spamming Mariupol residents with recruitment text messages and even observed Wagner Group's "Orkestr W" billboard in Yekaterinburg, among other examples.[16] The Kremlin had also allowed Wagner Group financier Yevgeny Prigozhin to begin recruiting prisoners around July 2022 – a campaign Prigozhin would not have been able to execute without the permission of the Russian government.[17]
ISW also observed that Putin had been increasingly tolerating ultranationalist milbloggers who have become mainstream sources of frontline information since May 2022 despite their harsh criticism of the Russian military command and the progress of the war.[18] Putin likely valued the milbloggers' ability to recruit volunteers above maintaining the Russian MoD's propaganda efforts or saving the reputations of Shoigu, Gerasimov, and other failed military commanders.[19] The Kremlin, for example, tolerated and continues to tolerate former Russian officer Igor Girkin who directly criticizes Putin and his administration, likely due to Girkin's connections to DNR and LNR volunteer formations that have generated additional volunteers for the war. Russian milbloggers have accused the Russian MoD of attempting to censor them, but none of these censorship attempts were successful, likely because Putin did not permit them to proceed.
Putin likely ordered the Russian MoD to form its own regional volunteer battalions to replicate the recruitment processes of the ultranationalist groups rather than ordering the involuntary reserve call-up the MoD likely recommended. ISW observed a widespread campaign among Russian federal subjects (provinces and similar regional governments) recruiting volunteers without prior military experience into regional volunteer battalions between late May and early September.[20] The timelines for most of these battalions are complicated, with local Russian outlets regularly publishing conflicting dates of these units' announced formation and completion. Perm Oblast, the Republic of Bashkortostan, and Chechnya were among the first to form volunteer units, which started recruiting in late May 2022.[21] ISW assessed that at least 47 federal subjects had generated volunteer units as of September 15.[22] The Russian MoD was responsible for equipping and paying salaries to volunteers, while Russian federal subjects provided one-time enlistment payments to local volunteers. Russian military recruitment centers, which are subordinated to the Russian MoD, were responsible for advertising the recruitment alongside regional government heads. The Russian MoD, however, appeared to largely delegate support for the volunteer recruitment effort to regional authorities by reportedly failing to properly equip and train volunteers, and withholding payments.[23] The Russian MoD likely did not put significant effort into this volunteer campaign because it preferred to push for a reserve call-up. This MoD volunteer recruitment campaign essentially drew from the same pool of potential volunteers as the ultranationalist groups, which further complicated relations between the Russian MoD and the ultranationalist formations who were competing for the same people.
The Russian MoD has historically struggled to generate volunteer forces and has instead remained reliant on conscription. The Russian MoD first attempted to form a voluntary full-scale military reserve force in February 2018 by offering individuals who had left active duty to sign military contracts.[24] Although it is unclear how many forces this campaign generated, the Russian MoD's August 2021 failed efforts to form the Russian Combat Army Reserve (BARS-2021) – which sought to recruit 100,000 volunteer reservists for three-year contract service – suggests that the Russian MoD had likely already failed at incentivizing former servicemen to join their ranks.[25] Ukrainian officials reported that the Russian military command brought only around 7,000 BARS servicemen into combat, which likely indicates that the Russian MoD could not recruit the desired number of reservists before the war.[26] The Russian MoD largely advertised BARS recruitment on its official website and websites of regional military recruitment centers, an effort that was clearly far less effective than advertisements disseminated by the ultranationalist online communities and milbloggers who were competing for the same human resources. The Russian MoD and military recruitment centers also suffer from poor reputations. The recruitment centers advertising for volunteers were the same as those executing the semi-annual conscription call-up, and the Russian MoD had not covered itself with glory in combat during the war's opening months. The Russian MoD, thus, likely largely relied on incentivizing or coercing its current conscripts as the primary recruitment base for contract service.
The Russian MoD, in fact, appears to have abandoned the effort to recruit into the BARS system itself, delegating that undertaking to the ultranationalist community. Ukrainian intelligence indicated in March 2022 that the Kremlin used BARS to covertly recruit prisoners.[27] The Russian MoD likely transferred the wartime recruitment for the BARS program to the Russian-based quasi-official network "Union of Donbas Volunteers," which recruited men with little or no military training to serve on the Izium frontline.[28] Russian independent outlet Novaya Gazeta also noted that the BARS structure included Rusich and Imperskiy Legion which participated in Russian operations in Donbas in 2014-2015.[29] BARS formations are technically still subordinated under the Russian MoD while also operating as irregular armed groups under proxy commanders. Russian and Ukrainian sources reported that BARS servicemen did not officially sign contracts with the Russian MoD and often find themselves in a bureaucratic limbo where they are not perceived as being formally part of the Russian Armed Forces.[30]
Ukraine's sweeping counteroffensive in Kharkiv Oblast between September 6 and September 11 likely shocked Putin into realizing that he needed to order an involuntary reserve call-up. Putin declared partial mobilization shortly after the Ukrainian counteroffensives on September 21. He likely realized that irregular volunteer formations were not sufficient to defend Russian positions or conduct successful offensive operations. BARS units, for example, were responsible for holding the new Kreminna frontline after losing ground in Izium, and the Kremlin immediately reinforced those positions with newly mobilized personnel.[31] Bloomberg reported that Putin even consulted Kremlin-affiliated milbloggers regarding the situation on the ground, and it is also possible that the latter expressed concern over the ability of the volunteer forces to hold the frontline.[32]
Putin likely recognized that the involuntary reserve call-up could not close the gap between Russian force requirements and available manpower in a timely fashion, however, and so gave the Wagner Group room to expand its recruitment of prisoners and its operations on the frontline until the mobilized personnel could arrive en masse. Putin continued to tolerate the Russian ultranationalist community, which only expanded in its influence in society against the backdrop of Russian military failures in Ukraine.[33] Putin even reportedly listened to Prigozhin's criticism of the Russian military command, which likely resulted in the appointment of Army General Sergei Surovikin (who is linked with Wagner) as the theater commander in Ukraine on October 8.[34] Wagner was allowed to retain responsibility for offensive operations in the Bakhmut direction, and the Russian MoD did not attempt to integrate the DNR and LNR 1st and 2nd army corps at this time. Putin delayed allowing the Russian MoD to reassert control over all Russian forces in Ukraine until December likely in an effort to retain favor with the only effective forces he had available.[35]
Once the bulk of the 300,000 mobilized reservists had arrived with units in Ukraine Putin began allowing the Russian MoD to reassert its primacy over all Russian forces. Putin named Gerasimov overall theater commander on January 11, subordinating Surovikin to him.[36] The Russian MoD began actively integrating the 1st and 2nd (DNR and LNR) army corps into the conventional Russian military and is reportedly removing proxy commanders, measures that are generating backlash within the ultranationalist community.[37] The Russian MoD is also attempting to restrict Wagner from receiving state ammunition and stopped Wagner's prisoner recruitment in favor of its own prisoner recruitment efforts.[38] Gerasimov stripped Wagner of responsibility for Bakhmut, began introducing Russian conventional military reinforcements into the area, and ordered official Russian channels to use a euphemism for Wagner forces without using the Wagner name.[39] The Russian MoD is reportedly entertaining ideas to restrict milbloggers' operations on the frontlines and is introducing new operational security and discipline regulations.[40] These controversial measures are all part of the Russian MoD's rushed attempts to unwind and resolve the aftermath of Putin's refusal to order involuntary mobilization in May 2022.
Putin's clear efforts to prepare the Russian people for a protracted and painful war suggest that he has realized that only the Russian MoD can actually sustain the large mechanized forces he needs to have any hope of achieving his ambitions in Ukraine. Putin has apparently still hesitated to order the additional reserve call-up that Russian officials were reportedly preparing at the start of 2023.[41] He has not turned back to voluntary recruitment and is unlikely to do so, but he seems to remain nervous about how much sacrifice he can impose on his people.
Putin's need for the ultranationalist community has changed but has not vanished. Putin no longer needs that community to draw volunteers to allow him to avoid involuntary mobilization at this time, but he still needs it to serve as the most reliable pro-Kremlin voice sustaining support for the war effort. He is unlikely, therefore, to allow the MoD fully to censor or shut it down, but he may allow Gerasimov to sideline or remove entirely some milbloggers who have been too strident in their criticisms now that their services as active recruiters are no longer necessary.
Putin may find himself facing another dilemma after another wave or two of reserve call-ups, as the pool of reservists appropriate for front-line fighting is finite. The Russian conscription system generates roughly 260,000 new soldiers each year, drawn in two semi-annual call-ups. The combination of the pre-war reserve call-up, the recruitment efforts that drew partly on reservists, and the partial reserve call-up of September have likely made significant inroads into the available reserve manpower in the age groups and with the experience appropriate to replace losses in front-line combat units. Putin may need to consider expanding conscript service itself, drawing a higher proportion of young Russian men against their will into military service each year. But demographics do not favor such an approach. Roughly 800,000 young men turn 18 each year in Russia.[42] Expanding conscription much beyond the 260,000 of those already forced into military service risks not only taking young men with physical conditions unsuitable for war but also beginning to pull too many young men out of the Russian economy, which Putin is simultaneously attempting to put on a war footing.
The specter of limitless Russian manpower is a myth. Putin has already been forced to make difficult and suboptimal choices to offset the terrible losses his war has inflicted on the Russian military, and he will face similarly difficult choices in 2023 if he persists in his determination to use military force to impose his will on Ukraine and the West. Russia can mobilize more manpower, and Putin will likely do so rather than give up. But the costs to Putin and Russia of the measures he will likely need to take at this point will begin to mount rapidly.
Key inflections in ongoing military operations on February 26:
Deputy Head of the Ukrainian Main Intelligence Directorate (GUR) Vadym Skibitsky stated that Ukrainian forces will be ready for a counteroffensive this upcoming spring and that one of Ukraine's strategic goals will be to drive a wedge into the Russian front in southern Ukraine between Crimea and the Russian mainland.
Russian President Vladimir Putin falsely stated that the West is trying to break up the Russian Federation and suggested that Western security assistance to Ukraine makes the West a participant in the war.[44] Putin leaned on a longstanding rhetorical line of effort for raising domestic support for the war by falsely claiming that the West is threatening the survival of the Russian people as a unified ethnic group.
Russian Defense Minister Sergei Shoigu stated that the types of systems that the West provides to Ukraine will determine how far Russian forces need to push threats away from Russia's borders, likely in support of an ongoing Russian information operation aimed at discouraging the Western provision of specific systems to Ukraine.
US Central Intelligence Director William Burns stated on February 25 that the CIA is confident that Chinese leadership is considering the provision of lethal equipment to Russia but has not made a final decision.
Russian forces continued to conduct unsuccessful operations northwest of Svatove and near Kreminna.
Russian forces continued offensive operations around Bakhmut, and a prominent Russian milblogger claimed that Russian forces made further advances north of the city.
Russian forces continued offensive operations along the western outskirts of Donetsk City and in western Donetsk Oblast.
Representative of the Ukrainian Tavriisk operational direction Oleksiy Dmytrashkivyskyi reported that Russian forces are accumulating a large amount of Russian personnel and equipment near Vasylivka and Hulyaipole in Zaporizhzhia Oblast.
Head of the Ukrainian Joint Coordination Press Center of the Southern Forces Nataliya Humenyuk stated that Russian forces are continuing to construct defensive fortifications in Crimea.[52] Humenyuk also reported that Russian forces conducted failed attempts to mine islands in the Dnipro River delta and are mining the east (left) bank of the Dnipro River in Kherson Oblast.
A Ukrainian military officer reported that Russian forces are replacing Battalion Tactical Groups (BTGs) with a new unit called the "Assault Unit" or "Assault Detachment" due to failures with their current assault tactics.[54] The Ukrainian military officer stated that Russian forces are transitioning from larger structures to smaller, more agile assault units that rely heavily on artillery support that are customizable to specific mission requirements.[55]
Russian military personnel from the 1439th  Regiment from Irkutsk Oblast released a video complaining about being subordinated under DNR commanders in Ukraine, further indicating that the Russian Ministry of Defense may be continuing to integrate DNR formations into the Russian Armed Forces through the subordination of mobilized personnel to these formations.
Independent Russian outlet Dozhd reported that it identified communication between the Russian Ministry of Education and regional guardianship authorities revealing that Russian officials forcibly deported 400 Ukrainian children to Russian territory in August 2022.
 Dozhd reported that 36 children had been placed into foster care by mid-January 2023 and that boarding schools received instructions not to place the children with families with Russian citizenship.[58] Dozhd also stated that Russian officials are subjecting the children to Russian patriotic-military education programs.
Tags: Russian invasion