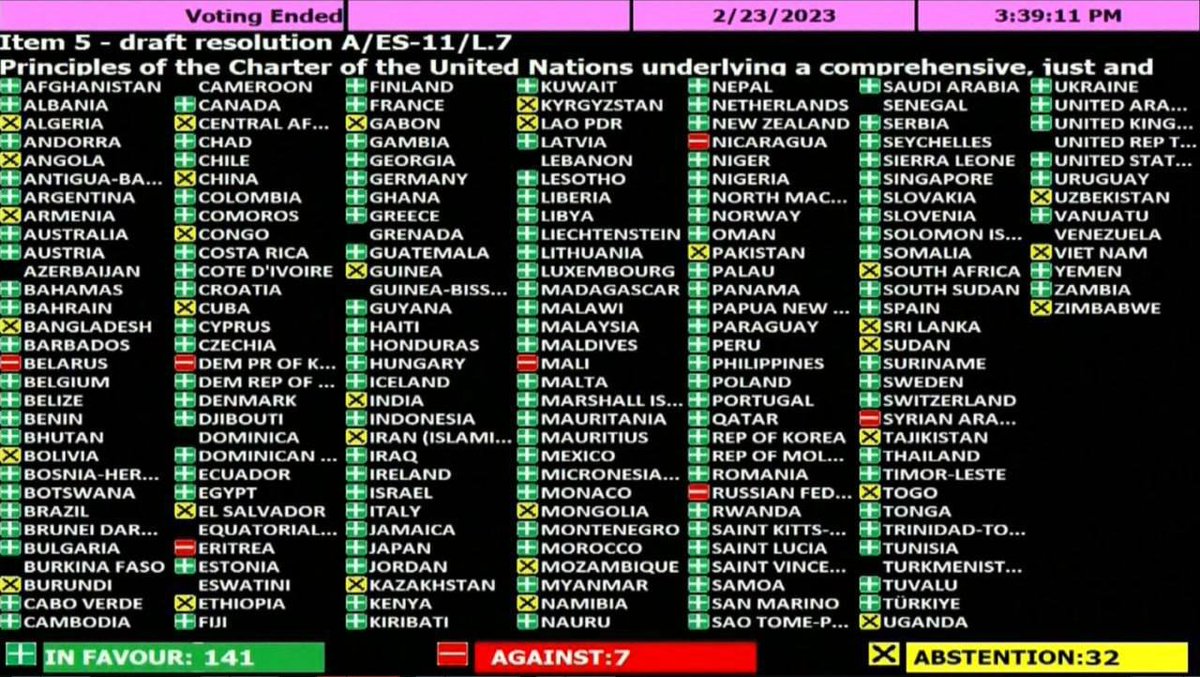 Late on 23 February, the UN General Assembly (UNGA) voted to demand a comprehensive, just, and lasting peace and again called for Russia to stop fighting and withdrawal its forces from Ukraine. In a vote, 141 countries favored the resolution, while 32 other countries including China, India, Pakistan, Kazakhtan abstained, and six joined Russia in voting no.
The countries that voted against the resolution were Russia, Belarus, North Korea, Eritrea, Mali, Nicaragua, Syria.
The resolution reaffirmed the UNGA's commitment to Ukraine's sovereignty, independence, unity, and territorial integrity within its internationally recognized borders, extending to its territorial waters.
"The Assembly also emphasized the need to ensure accountability for the most serious crimes under international law committed in Ukraine through independent national or international investigations and prosecutions to ensure justice for all victims and the prevention of future crimes," the UN website reported.
Ukrainian President Volodymyr Zelenskyy welcomed the UN vote:
I am grateful to all the countries that endorsed the crucial @UN General Assembly resolution "Principles of the Charter of the United Nations that underline the comprehensive, just and lasting peace in Ukraine". 1/2 pic.twitter.com/nFx8OuOMug

— Володимир Зеленський (@ZelenskyyUa) February 23, 2023
The UN General Assembly resolutions are not legally binding upon member states, and the UN's website describes them as the expression of member states' views.
Read also:
UN General Assembly calls for Russia's reparations to Ukraine
Why Ukraine's new UN General Assembly resolution is important for returning Crimea and political prisoners
Ukraine initiates a complex process to expel Russia from the UN Security Council
Tags: UN General Assembly