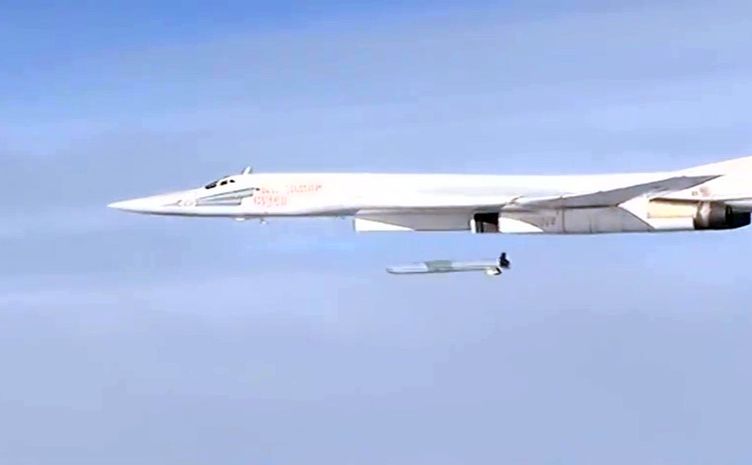 Launch of a Russian Kh101 missile. File photo from open sources 
Overnight into February 16, the Russian forces carried out another massive missile attack on Ukraine's critical infrastructure facilities. Ukraine's Air Force Command
says
Russians launched 32 air and sea-based cruise missiles as Ukrainian air defenses shot down 14 of those, and two more guided air missiles. Later Ukrainian Commander-in-Chief Valerii Zaluzhnyi published updated information that the attack comprised 32 cruise, one anti-ship, three anti-aircraft missiles.
Between 3:00 and 4:00, various sources reported explosions in several regions of Ukraine.
The authorities of Poltava Oblast reported that air defenses were active as residents of Poltava's Kremenchuk raion heard explosions.
After the air alert was canceled at about 4:30 a.m., the Lviv Oblast chief wrote that a critical infrastructure object was hit in the region.
The Operational Command South (OC South) says that Russian missiles launched from strategic bombers hit a critical infrastructure facility in Kirovohrad Oblast.
"Another missile attack by the Russians. UAVs and missiles were launched at night. Unfortunately, there are hits in the North and West of Ukraine, as well as in Dnipropetrovsk and Kirovohrad Oblasts. The Russians have somehow changed their tactics. They conduct active reconnaissance, use false targets," President's Office reported.
The AF Command says Russians launched:
12 Kh-101/Kh-555 cruise missiles from two Tu-95MS strategic bombers in the Caspian Sea area;
8 Kalibr cruise missiles from a frigate in the Black Sea
12 Kh-22 cruise missiles from six Tu-22M3 long-range bombers in Russia's Kursk Oblast
Additionally, two Russian Su-35 tactical aircraft launched two Kh-59 guided air missiles from the area of occupied Melitopol, Zaporizhzhia Oblast.
The Air Force Command says Ukraine destroyed 14 Kh-101/Kh-555 and Kalibr cruise missiles, and two Kh-59 guided air missiles.
According to OC South, Ukrainian air defenses downed all eight Kalibr cruise missiles in the country's south, six in the skies of Mykolaiv Oblast and two in Kherson Oblast.
"Unfortunately, some of the Kh-22 cruise missiles reached their targets, hitting critical infrastructure facilities. Currently, there are no weapons in the service capable of destroying this type of missile," the AF says.
Update:
Later the Telegram channel of Commander-in-Chief of the Armed Forces of Ukraine Valerii Zaluzhnyi reported, that Russians also launched one Oniks anti-ship missiles, and a total of three Kh-59/31 guided anti-aircraft missiles.
Read also:
Russia sends Kalibr missile carrier in Black Sea and steps up drone surveillance – Operational Command South
Ukraine shot down 20 of 28 Shahed drones, 61 of 74 cruise missiles on 10 February – General Staff
Ukrainian air defenses down 61 of 71 Russian missiles – Air Force Command
Tags: Kh-101, Kh-22, Kh-555, Kh-59, Russian missile attacks