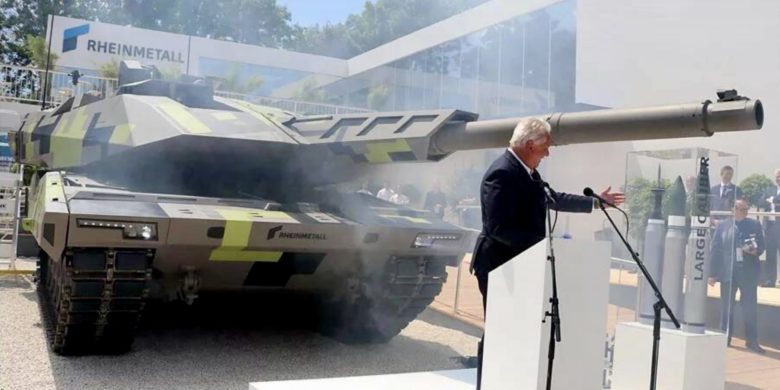 CEO of the Rheinmetall AG, Armin Papperger, presumably with a Panther tank in the background, an illustrative image/ Source: Source: cont.ws 
If the Federal Government of Germany grants export permission, one of the largest German automotive and arms manufacturers in Europe, Rheinmetall AG, intends to provide Ukraine with its most advanced main battle tank Panther and other equipment, reports the German newspaper Handelsblatt.
"We are talking with Kyiv about Panther's export," said in an interview the company's CEO Armin Papperger.
According to Pappenger, Ukraine is interested in the main battle tank and the new Lynx infantry fighting vehicle (IFV).
Last summer of 2022, Rheinmetall introduced the Panther at a trade show in Paris, promoting it as the world's most powerful main battle tank. Potentially, Ukraine would be the vehicle's first customer.
The new Panther KF51 is currently only available as a prototype. Papperger maintains the possibility of the first vehicles' delivery within 15 to 18 months. Tanks could be manufactured in either Germany or Hungary.
The Europeans could not spare any more main battle tanks from their inventory "because we are broke," argues Papperger.
Panther was developed in Germany and is based on the Leopard 2. It is also best suited for countries that already operate Leopards. Ukraine is anticipated to receive the first Leopard tanks from its allies in the coming months.
It is also important to remind that earlier, the German Minister of Defense announced a "tank summit" of countries supplying Leopard tanks to Ukraine.
Read also:
Portugal to send Ukraine three Leopard 2 tanks – Portuguese PM
German Defense Minister makes surprise trip to Kyiv, first Leopard tank arrives in Ukraine
Three EU countries to deliver 178 Leopard 1 tanks to Ukraine – Bloomberg
Germany's Scholz sent Leopard 2 tanks to Ukraine after "pressure from all sides" – MP
Germany approves Leopard 1 delivery to Ukraine, wants purchase back Gepards from Qatar for Ukraine – media
Spain to send up to six Leopard 2A4 tanks to Ukraine – El País
Tags: main battle tanks, Panther, Rheinmetall AG, Ukraine-Germany relations