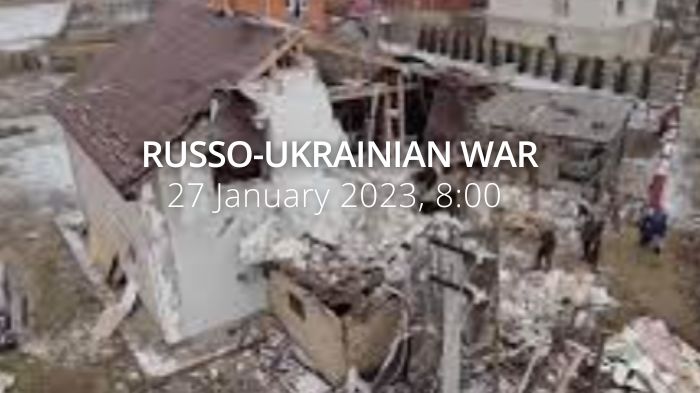 Russian massive drones and missile attack kill 11 Ukrainians, injures 11. Ukrainian air defense destroys 47 Russian cruise missiles out of 55 launched. Ukrainian soldiers shoot down 24 Shahed drones during the previous night. Russia blocks Black Sea Grain Initiative: vessel departure from Ukrainian ports plummets to record lows.
Daily overview — Summary report, January 27, 2023
A close-up map of the approximate situation around the city of Bakhmut.

There have been no confirmed changes to control since the last update. pic.twitter.com/f05isFNkFa

— War Mapper (@War_Mapper) January 27, 2023
The General Staff's operational update regarding the Russian invasion as of 18.00 pm, January 27, 2023 is in the dropdown menu below:
"[Russian forces do not abandon their intentions to destroy the critical infrastructure of our state, strikes at civilian objects and homes of the civilian population.]
[Bakhmut and Novopavliv axes: to achieve the previously stated goals, despite significant losses, Russian forces continue its offensive.]
[Lyman and Avdiiv axes: Russian forces conducted unsuccessful actions to improve the tactical position. In the rest of the axis, it is defensive.]
According to the updated information, over the past 24 hours, Russian forces conducted 44 air strikes. 18 of them with the use of "Shahed-136" attack drones. All kamikaze drones were intercepted. The adversary launched 70 missiles, and 47 of them were intercepted. Moreover, Russian forces conducted 125 MLRS attacks. Sadly, the air strikes have resulted in casualties among the civilian population and damage to civilian objects.
The threat of air and missile strikes remains high across Ukraine.
Ukrainian Defense Forces repelled enemy attacks in the vicinities of Ploshanka, Nevske, and Chervonpopivka (Luhansk oblast); Verkhnyokam'yans'ke, Paraskoviivka, Bakhmut, Klishchiivka, Vodyane, Nevelske, Mar'inka, and Vuhledar (Donetsk oblast).
Volyn, Polissya, Siversshchyna and Slobozhanshchyna axes: the situation remains stable, and no enemy offensive groups were detected. However, the joint Russia-Belarus military exercises are ongoing, under the guise of which the Russian Federation is building up its aviation grouping in Belarus.
Polissya, Siversshchyna and Slobozhanshchyna axes: The vicinities of Tymonovychi and Senkivka (Chernihiv oblast); Timofiivka, Pavlivka, and Velyka Pisarivka (Sumy oblast); as well as Strilecha, Ternova, Varvarivka, Starytsya, Vovchanski Khutory, Okhrimivka, Budarky, Kolodyazne, and Novomlynsk (Kharkiv oblast) were subjects to artillery attacks.
Kupyansk axis: Russian forces shelled Dvorichne, Synkivka, Podola, Orlyanka, Pishchane, Tabaivka, Berestov, and Lozova (Kharkiv oblast); Stelmakhivka (Luhansk oblast); and Ivanivka (Donetsk oblast).
Lyman axis: the vicinities of Makiyivka, Nevske, Chervonpopivka, Kreminna, Dibrova, and Kuzmyny (Luhansk oblast); as well as Yampolivka (Donetsk oblast) came under enemy fire.
Bakhmut axis: Spirne, Bilohorivka, Rozdolivka, Krasna Hora, Paraskoviivka, Bakhmut, Klishchiivka, Bila Hora, Pivnichne, and New York (Donetsk oblast) suffered enemy shelling.
Avdiivka axis: Berdychi, Avdiivka, Vodyane, Krasnohorivka, Heorgiivka, and Mar'inka came under enemy fire.
Novopavlivka axis: Vuhledar, Velyka Novosilka, and Vremivka (Donetsk oblast) suffered enemy attacks.
Zaporizhzhia axis: Russian forces shelled more than 20 settlements, including Novopil (Donetsk oblast); as well as Poltavka, Chervone, Hulyaipole, Zaliznychne, Mala Tokmachka, Novodanilivka, Orihiv, Novoandriivka, and Stepove (Zaporizhzhia oblast); and Vyshchetarasivka (Dnipropetrovsk oblast).
Kherson axis: the occupiers shelled Kherson again.
[Counter-intelligence measures are ongoing in some temporarily captured settlements of the Kherson Oblast. Russian occupiers are actively looking for Ukrainian patriots. In the building of the former Gornostaivsky Regional Department of the Ministry of Internal Affairs of Ukraine in the Kherson Oblast, the Russian invaders set up a torture chamber. Some can get into it simply because of a speculated suspicion of cooperation with the Armed Forces of Ukraine.]
[In the temporarily occupied Ukrainian Simferopol, all budget institutions, under the pretext of reform, received an instruction to reduce staff by 10 percent. It is also known that lists of persons subject to "optimization" must be drawn up by February 1 of this year.]During the past day, Ukrainian Air Force launched 8 air strikes against concentrations of Russian troops and 1 air strike against a Russian anti-aircraft missile complex.
Ukrainian troops shot down 3 enemy reconnaissance UAVs.
Ukrainian missile and artillery troops attacked 4 command posts, 1 concentration of enemy troops, 2 concentrations of enemy artillery systems, 1 ammunition depot and 2 other critical military targets.
Military Updates
Air defence destroys 47 Russian cruise missiles out of 55 launched, Ukrainska Pravda reports, citing Valerii Zaluzhnyi, Commander-in-Chief of the Armed Forces of Ukraine and the Ukrainian Air Force Command. "According to the data of the Air Force Command, the Russian forces used high-precision air and sea-based missiles:
Х-47 Kinzhal hypersonic missiles launched from two MiG-31K interceptors (from the Russian territory);
X-101/X-555 cruise missiles launched from six Tu-95MS strategic bombers that flew over the Caspian Sea; 
Kalibr cruise missiles launched from surface vessels and submarines that had taken positions in the Black Sea. 
In general, the Russian forces launched 55 air and sea-based missiles (up to 2 Kh-47 Kinzhal missiles, up to 40 Kh-101/Kh-555 missiles, up to 9 Kalibr missiles, 4 Kh-59 missiles). The forces and means of Air Defence of the Armed Forces of Ukraine shot down 47 cruise missiles, 20 of them near the city of Kyiv. In addition, three of the four Kh-59 guided air missiles did not reach their targets.
Units of the Anti-Aircraft Missile Forces, fighter jets and mobile fire groups of the Air Force engaged in the fighting, coordinating their efforts with anti-aircraft units of other parts if Ukraine's defence forces".
Ukrainian soldiers shoot down 24 Shahed drones during night, Ukrainska Pravda reports, citing the Ukrainian Air Force Command. "Russian occupiers resumed attacks on Ukraine with Iranian-made Shahed-136/131 kamikaze drones on the night of 25-26 January. The UAVs were launched from the eastern coast of the Sea of Azov.
According to preliminary data, Russian forces launched 24 Shahed drones. All 24 were shot down by anti-aircraft missile units, fighter aircraft, mobile fire groups of the Air Force in cooperation with air defence units of other components of the Defence Forces of Ukraine."
Kyiv City Military Administration reported the shooting down of about 15 Shahed drones over Kyiv."
According to British Defence Intelligence, (last 48 hours): 
https://twitter.com/DefenceHQ/status/1618923314109358083
Over the last six days, Russian online commentators have claimed Russian forces have made significant advances, breaking through Ukrainian defences in two areas: in Zaporizhzhia Oblast near Orikiv, and 100km to the east, in Donetsk Oblast, near Vuhledar.
Russian units have probably conducted local, probing attacks near Orikiv and Vuhledar, but it is highly unlikely that Russia has actually achieved any substantive advances.
There is a realistic possibility that Russian military sources are deliberately spreading misinformation in an effort to imply that the Russian operation is sustaining momentum.
Russia has likely completed training of the 2nd Guards Motor Rifle Division (GMRD) in Belarus, which had been carrying out training since autumn 2022. The majority of the 2nd GMRD has now transferred back to Russia, before almost certainly being recommitted to operations in Ukraine.
The 2nd GMRD is an element of the 1st Guards Tank Army and suffered major losses in the opening phases of the conflict. It is now primarily made up of mobilised personnel operating older equipment taken from storage. Its combat effectiveness will likely be limited despite several weeks of training.
There is a realistic possibility that other Russian units are being rotated into Belarus for similar training, and that Russia will continue this model to regenerate and prepare units to maintain its force in Ukraine.
Losses of the Russian army 
As of Friday 27 January, the approximate losses of weapons and military equipment of the Russian Armed Forces from the beginning of the invasion to the present day:
Personnel – about 124710 (+850),
Tanks – 3182 (+7),
Armoured combat vehicles – 6340 (+6),
Artillery systems – 2180 (+11),
Multiple rocket launchers –MLRS – 452 (+0),
Air defence means – 221 (+1),
Aircraft – 292 (+0),
Helicopters – 283 (+1),
Automotive technology and fuel tanks – 5001 (+15),
Vessels/boats – 18 (+0),
UAV operational and tactical level – 1941 (+33),
Special equipment – 199 (+4),
Mobile SRBM system – 4 (+0),
Cruise missiles – 796 (+47)
Russian occupiers actively use mobile crematoriums, Ukrainska Pravda reports, citing Hanna Malyar, Deputy Defence Minister of Ukraine. "According to the Chief Intelligence Directorate of the Ministry of Defence, given the catastrophic situation that has developed, Russian forces is actively using mobile crematoriums. In particular, a constant movement of about five such crematoriums are observed behind the frontline positions of the occupiers. Cremations take place without any identification and accounting of the bodies of the dead occupiers."
According to Malyar, this way, the Russian command conceals huge losses of military personnel and continues to apply the traditional Russian practice of depriving the families of the dead of benefits and compensation advertised by Russian propaganda."
Ex-Wagner commander witnessed comrades shot for fleeing, says his Norwegian lawyer, Reuters reports. "A former commander of Russia's Wagner mercenary group who fled to Norway has spoken about how he witnessed some of his comrades being shot as they were trying to flee from the frontline in Ukraine, his Norwegian lawyer told Reuters."
Humanitarian 
Russian drones and missiles kill 11 Ukrainians on 26 January, Ukrainska Pravda reports, citing the press service of Ukraine's State Emergency Service. "Since the beginning of the day on 26 January, 11 people have been killed and another 11 have been injured in Ukraine in missile attacks by Russia. It is reported that from 00:00 to 15:00, two fires broke out and 35 buildings were damaged due to missile and drone attacks.
The rescuers state 11 people have been killed, and another 11 have been injured. The most damaged buildings, in particular private and residential high-rise buildings, are in Kyiv Oblast."
https://twitter.com/EuromaidanPress/status/1618646948805844992
Ukraine's Energy Minister: Worst situation with electricity supply in Kyiv, Odesa, and Vinnytsia Oblasts, Ukrainska Pravda reports. "Energy infrastructure targets were hit in several oblasts of Ukraine as a result of the recent missile attack by the Russian Federation. Emergency power outages have been introduced. The worst situation is currently observed in Kyiv, Odesa and Vinnytsia Oblasts."
Russia blocks Black Sea Grain Initiative: vessel departure from Ukrainian ports plummets to record lows, Ukrainska Pravda reports, citing Ministry of the Agrarian Policy of Ukraine. "In January, the index of vessel departure from Ukrainian ports within the framework of the Black Sea Grain Initiative was 2.7, which corresponded to 2-3 vessels a day. This is one of the lowest indices in all the months of the initiative's existence. This decrease was caused by the artificial blockade of the grain corridor by the Russian inspectors.
Despite this, the average tonnage of shipment per vessel remained at a level of 37,000 tonnes in January, which is the best indicator of all the time the corridor was active. However, it had no effect on the total number of vessel departures in January. Thus, only 2.4 million tonnes of grain left the ports this month, compared to 4 million metric tonnes in September and October, the Ministry reports.
In January, 540,000 tonnes of wheat left the ports, with 61,000 tonnes going to Africa. In total, Ukraine has sent 675 vessels with a cargo of 18.4 million tonnes within the framework of the grain initiative. Africa has 2.3 million tonnes, Asia has 5.1 million tonnes, Europe has 7.5 million tonnes, and the Middle East has 3.4 million tonnes. 
A queue of 120 vessels formed at the entrance and exit of Ukraine's Black Sea ports. The vessel inspection duration rose to 10-15 days due to the lack of inspectors."
Millions of refugees from Ukraine have crossed borders into neighbouring countries, and many more have been forced to move inside the country. The escalation of conflict in Ukraine has caused civilian casualties and destruction of civilian infrastructure, forcing people to flee their homes seeking safety, protection and assistance the UNHCR reports. As of 24 January:
| | |
| --- | --- |
| Individual refugees from Ukraine recorded across Europe: | 7,996,573 |
| Bulgaria, Czech Republic, Hungary, Poland, Republic of Moldova, Romania, Slovakia | 2,447,026 |
| Other European countries | 2,677,737 |
| Russian Federation, Belarus | 2,871,810 |
| Refugees from Ukraine registered for Temporary Protection or similar national protection schemes in Europe: | 4,952,938 |
| Bulgaria, Czech Republic, Hungary, Poland, Republic of Moldova, Romania, Slovakia | 2,447,356 |
| Other European countries | 2,505,582 |
| Border crossings from Ukraine (since 24 February 2022): | 17,923,566 |
| Border crossings to Ukraine (since 28 February 2022): | 9,770,241 |
Environmental
The European Union plans to cap the price of Russian fuel at $100 a barrel – Bloomberg

The cap would apply to products like diesel that trade at a premium to crude. A lower $45 threshold would also be set for fuel oil, according to Bloomberg.https://t.co/5b7ryP9Oc8

— Euromaidan Press (@EuromaidanPress) January 26, 2023
Blasts near Ukraine nuclear plant says UN watchdog; Russia calls it a provocation, Reuters reports. "The U.N.'s nuclear watchdog on Thursday reported powerful explosions near Ukraine's Russian-occupied Zaporizhzhia nuclear power station and renewed calls for a security zone around the plant. A Russian official dismissed the comments by Rafael Grossi, head of the International Atomic Energy Agency (IAEA), saying they suggested Moscow could not uphold nuclear safety.
Russian forces seized the plant in early March, soon after invading neighbouring Ukraine. Russia and Ukraine have accused each other of firing around it near the front lines, prompting the IAEA to place experts at all of Ukraine's five nuclear stations.
Grossi, who visited Ukraine last week, said IAEA monitors routinely reported explosions near the plant. Yesterday, eight strong detonations were heard at around 10 a.m. local time, causing office windows at the plant to vibrate, and more were audible today, he said in a statement.
But Renat Karchaa, an adviser to the head of Rosenergoatom, the company operating Russia's nuclear plants, said Grossi's comments were unfounded."
Simulator for personnel of Zaporizhzhia Nuclear Power Plant out of order because of Russians, Ukrainska Pravda reports, citing Energoatom, Ukraine's nuclear power company. "The actions of the Russian occupiers have led to the stoppage of a unique full-scale simulator at the temporarily occupied Zaporizhzhia Nuclear Power Plant (the ZNPP).
The Russians deliberately block access to workplaces for FSS instructors, as they refused to cooperate with Russian forces and sign contracts with the fake JSC 'Operating Organisation of the Zaporozhye NPP'," the Ukrainian state company emphasised.
Trainings and qualification support on the full-scale simulator is an important component of operational activities for NPP safety, and it should be carried out systematically so that personnel retain and develop previously acquired skills, Energoatom explained.
This is how the International Atomic Energy Agency recommends maintaining the licensed readiness of NPP personnel and training them, and this is one of the requirements of the State Nuclear Regulatory Inspectorate of Ukraine.
Since the full-scale simulator cannot operate to the full extent now, it is not known how long Ukrainian nuclear experts will have the opportunity to either study or improve their qualifications, and this threatens the safety of operation of Europe's largest nuclear facility, Energoatom emphasised."
UNESCO Moves to Protect Odesa, Designating the City a World Heritage Site, The New York Times reports. "The United Nations cultural agency, UNESCO, designated the historic center of Odesa as a World Heritage Site and classified it as being "in danger" during a committee session in Paris on Wednesday, in a nod to the historic importance of a Black Sea port that Russia has battered with missiles as it tries to reconquer Ukraine.
France's foreign minister, Catherine Colonna, traveled to the city on Thursday in a show of support, but her plans were interrupted by the threat of a Russian missile strike. "Thanks to a Russian missile, I experienced my first diplomatic bilateral meeting in a shelter," Ms. Colonna wrote on Twitter, sharing a photo with Ukraine's minister of foreign affairs.
President Volodymyr Zelensky called on the United Nations to designate Odesa as an endangered World Heritage Site in October, and the process was fast-tracked at the U.N. agency out of concern for the damage being done to the city's many cultural sites. Including the city on the UNESCO list is intended to put pressure on Russia to refrain from attacking Odesa and gives the city access to more financial and technical assistance.
Gennadiy Trukhanov, the mayor of Odesa, has said the city is the intercultural capital of Ukraine, making it a symbol of the Ukrainian identity that President Vladimir V. Putin has denied exists and is intent on destroying. Mr. Trukhanov expressed gratitude to UNESCO after the announcement on Telegram, adding that he hopes for a new level of development, new opportunities and a new Odesa.
According to the agency, at least 236 cultural sites in Ukraine have been damaged since the Russian invasion began, including religious buildings, museums, monuments and libraries."
Legal 
Russia Lost Donbas Case at First International Court. What Does It Mean, European Pravda asks? "On January 25, the European Court of Human Rights published an interim verdict on the so-called "big Donbas case". This decision has become an astonishing victory for Ukraine.
The Court confirmed that Russia has been carrying out a military invasion of Donetsk and Luhansk oblasts since April 2014. From May 2014, Russian control over the occupied territories had become absolute. In the summer, the Russian Federation sent troops to Donbas full-scale. It is now legal and official that the war between the Russian Federation and Ukraine has been going on for almost nine years.
In addition, the Court has ruled that Russia bears full responsibility for what happened under its occupation. The decision of the Court will have a real financial matter for many Ukrainian businesses and ordinary citizens who suffered from the Russian aggression in Donbas. […]
It decided that the Russian Federation controlled all the territory of the so-called "DPR" and "LPR" since May 11, 2014. "The finding that the Russian Federation had effective control over the relevant parts of Donbas controlled by the subordinate separatist administrations or separatist armed groups means that the acts and omissions of the separatists are attributable to the Russian Federation in the same way as the acts and omissions of any subordinate administration engage the responsibility of the territorial State," the Court explains."
PACE: Russian official rhetoric reveals genocidal intent to destroy Ukrainians, Ukrinform reports. "The Assembly notes that there is mounting evidence that the Russian official rhetoric used to justify the full-scale invasion and aggression against Ukraine, the so called "de-Ukrainianisation" process, carries characteristics of public incitement to genocide or reveals a genocidal intent to destroy the Ukrainian national group as such or at least part of it, reads the resolution. PACE recalls that the 1948 Convention on the Prevention and Punishment of the Crime of Genocide, to which both Ukraine and the Russian Federation are parties, prohibits direct and public incitement to commit genocide and the attempt to commit genocide.
It [PACE] also notes with the utmost concern that some of the acts committed by Russian forces against Ukrainian civilians could fall under Article II of the Convention, such as killings and forcible transfer of children of one group to another group, for russification purposes through adoption by Russian families and/or transfer to Russian-run orphanages or residential facilities like summer camps," the document says.
The resolution mentions "possible genocide" in Ukraine three times. In particular, the text refers to the war of aggression waged by the Russian Federation against Ukraine and "atrocities that flow from it (war crimes, crimes against humanity and possible genocide)". It also contains a provision that the creation of an international special tribunal for the crime of aggression against Ukraine should not affect the ICC's exercise of jurisdiction over war crimes, crimes against humanity and possible genocide committed in the context of the ongoing aggression. In addition, the resolution mentions already existing international and domestic accountability mechanisms to investigate, prosecute and, where appropriate, punish war crimes, crimes against humanity and possible genocide committed during the ongoing war.
The Assembly recalls that all States Parties to the Genocide Convention have a duty to punish genocide. As interpreted by the International Court of Justice, they also have an obligation to prevent genocide and a corresponding duty to act, which arises at the instant when the State learns of, or should normally have learned of, the existence of a serious risk that genocide will be committed," reads the resolution."
Ukraine's Security Service exposes another traitor: Lieutenant Colonel "leakes" data to Russians, Ukrainska Pravda reports, citing press services of the SSU, Office of the Prosecutor General and the State Bureau of Investigation. "The Security Service of Ukraine (SSU), together with the State Bureau of Investigation, exposed an employee of one of the service's divisions in Zaporizhzhia Oblast, who conducted intelligence and subversive activities in favour of the Russian special services.
The State Bureau of Investigation notes that now, a report on suspicion of high treason is being prepared for the detained Lieutenant Colonel of the SSU, as well as a petition to the court to choose a preventive measure in the form of detention without a bail alternative. The sanction of the article provides for a penalty of up to a lifetime of imprisonment."
Support
Next meeting in Rammstein format to take place at NATO headquarters on 14 February 2023https://t.co/gWsoj0VFW1

— Euromaidan Press (@EuromaidanPress) January 26, 2023
Britain wants to deliver Challenger 2 tanks to Ukraine by end of March, Ukrainska Pravda reports, citing Reuters and Alex Chalk, British Deputy Defence Minister. "Earlier this month, Britain said it would send 14 of its main battle tanks, along with additional artillery support, to Ukraine. The intention is that it will be at the end of March, he told parliament in response to a question asking when the tanks would arrive in Ukraine. He said between now and then, Ukrainian forces would be trained intensively on how to operate and maintain the vehicles."
Germany promises to supply Ukraine with Leopard tanks by end of March, Ukrainska Pravda reports, citing Tagesschau. "Boris Pistorius, Federal Minister of Defence of Germany, has promised to supply Ukraine with German Leopard 2 tanks by the end of March. Asked if this was a timely step to strengthen Ukraine ahead of Russia's expected spring offensive, Pistorius said it was, as far as he knew, a timely one."
Canada prepares to send Leopard tanks to Ukraine, Ottawa Citizen reports. "The Canadian Forces is looking at sending Leopard tanks to Ukraine but is still examining exact numbers it can donate, National Defence and industry sources say. […] The Canadian Forces has 112 Leopard 2s in its fleet. Some of the tanks are for training while others are armoured recovery vehicles. Those can recover disabled tanks as well as provide combat engineer support. […] Military insiders say Canada is hoping to provide at least 10 Leopard 2s, if not more."
German company wants to equip Leopard tanks that countries will send to Ukraine with a lot of ammunition

"Rheinmetall significantly increased its capacities—especially in large caliber sector. We do all we can to support Ukraine, NATO & German govt" https://t.co/l7K3RDlOGV

— Euromaidan Press (@EuromaidanPress) January 26, 2023
US will send Ukraine advanced Abrams tanks, but without "secret armour", Ukrainska Pravda reports, citing Politico. "The Abrams tanks that the United States intends to transfer to Ukraine are the modern M1A2, not the A1, which the US military has in stock […]. The M1A2 Abrams has more advanced optics and a control system than the A1, which allows for more accurate targeting, and a separate thermal camera for the crew commander, allowing him independent identification of targets in any weather and battlefield conditions.
The new modification of the tank contains digitised control mechanisms, which allow machines to continuously and automatically exchange information, quickly track the location of allied machines, identify enemy positions and process artillery requests.
At the same time, those Abrams that Ukraine will receive will be deprived of the secret armour packages used by the American military, which include depleted uranium. The USA uses the same practice when selling tanks to other countries.[…] Abrams is significantly more effective in terms of firepower, accuracy and armour compared to the Soviet-era tanks currently used by Ukraine. However, they are more difficult to operate.
Currently, it is equally difficult to determine the timing of when Ukraine will receive Abrams tanks. They will be purchased from the industry. Tanks are assembled in only one place, at the state-owned General Dynamics plant in Ohio, which is currently loaded with new orders for Taiwan and Poland."
France does not approve Leclerc tanks supply yet, Ukrainska Pravda reports, citing Catherine Colonna, the Minister for Foreign Affairs of France (European Pravda). "France has not yet approved the decision about supplying Ukraine with the Leclerc tanks but promises to help Ukraine with air defence strengthening.
Élisabeth Borne, the Prime-Minister of France, reported on 25 January that France continued to consider the possibility of handing its heavy Leclerc tanks over to Ukraine."
Ukraine sets sights on fighter jets after securing tank supplies, Reuters reports. "Ukraine will now push for Western fourth generation fighter jets such as the US F-16 after securing supplies of main battle tanks, an adviser to Ukraine's defence minister said. […] Ukraine's Air Force has a fleet of ageing Soviet-era fighter jets that came off the assembly line before Kyiv even declared independence more than 31 years ago. The warplanes are used for intercept missions and to attack Russian positions.
If we get them (Western fighter jets), the advantages on the battlefield will be just immense… It's not just F-16s (US multirole fighter jets): fourth generation aircraft, this is what we want, [Yuriy Sak, who advises Defence Minister Oleksiy Reznikov, told Reuters by phone.]
Western military support has been vital for Kyiv and has rapidly evolved during the war. Before the invasion, even the idea of supplying lethal aid to Ukraine was highly controversial but Western supplies have since shattered taboo after taboo. They didn't want to give us heavy artillery, then they did. They didn't want to give us Himars systems, then they did. They didn't want to give us tanks, now they're giving us tanks. Apart from nuclear weapons, there is nothing left that we will not get, Sak said. […]
Justin Bronk, a researcher at the RUSI think tank in London, said Ukraine's Air Force would benefit greatly from Western fighters in terms of air-to-air and potentially air-to-ground lethality. But he said on Twitter they would still be at high risk from Russian surface to air missiles, forcing them to fly very low near the front line, something that would dramatically reduce effective missile range and limit strike options.
Deputy White House national security adviser Jon Finer told MSNBC on Thursday that the United States would be discussing the idea of supplying fighter jets "very carefully" with Kyiv and its allies. We have not ruled in or out any specific systems."
France and Italy soon to close deal on supplying Ukraine with SAMP/T air defence systems, Ukrainska Pravda reports. "France and Italy are close to finalising technical details regarding the supply of SAMP/T anti-aircraft missile systems to Ukraine. This was reported by two diplomatic sources to Reuters news agency on Thursday. Kyiv has repeatedly asked its Western allies for more air defence systems; in particular, Ukrainian officials asked in November for the SAMP/T air defence system, also known as the Mamba.
French Defence Minister Sébastien Lecornu will leave for Italy on Friday, where he is to meet with his Italian counterpart Guido Crozetto. Both sides are committed to making progress in the SAMP/T negotiations. […]
The system, created by a joint French-Italian consortium, can track dozens of targets as well as intercept 10 targets simultaneously and is the only European-made system capable of intercepting ballistic missiles."
New Developments 
Russia is highly likely to continue rotating its troops into Belarus to regenerate & prepare units in order to maintain its force in Ukraine, according to British Intelhttps://t.co/06gu5SU9ct

— Euromaidan Press (@EuromaidanPress) January 26, 2023
US at OSCE: Putin sees Ukraine and Belarus as part of his empire, Ukrinform "Russian President Putin, like the dictators of the past, denies the existence of sovereign nations and sees Ukraine and Belarus as parts of imperial Russia. Kremlin's bid to deny Ukraine's existence as a state, seize its territory by force, and subjugate its people to the Kremlin's imperial rule is a threat to every single one of us, and not only to those who are Russia's neighbors, US Permanent Representative to OSCE Michael Carpenter said at the OSCE Permanent Council meeting on Thursday. According to him, Russia is trying to wipe out the sovereignty of an entire, independent nation."
US ready to weaken sanctions if Russia withdraws troops from Ukraine, US Under Secretary of State Nuland says

"In the context of Russia's decision to negotiate seriously and withdraw its forces from Ukraine, I would favor sanctions relief," Nuland said.https://t.co/l6fjqpQwWh

— Euromaidan Press (@EuromaidanPress) January 26, 2023
Nuland: Sanctions against the Russian Federation may be eased if it withdraws its forces from Ukraine, Ukrainska Pravda "Victoria Nuland, the US Under Secretary of State for Political Affairs, believes that a possible condition for easing some of the sanctions implemented against Russia is the withdrawal of troops from all of Ukraine and an agreement to negotiate seriously."
PACE condemns Russia's abuse of veto right in UNSC, Ukrinform reports, citing the PACE Resolution "Legal and human rights aspects of the Russian Federation's aggression against Ukraine". "The Assembly considers the inability of the United Nations and its Security Council to counter the Russian aggression due to an abuse of the right to veto to be an existential threat to international rule-based order and the democratic security of Council of Europe member States, the resolution states. In this regard, the Assembly declared its support for all efforts and discussions on unblocking the situation at the United Nations and making the United Nations more efficient, including a call to request an advisory opinion from the International Court of Justice on potential limitations of the right of veto implicit in the Charter and general principles of law."
Ukraine's Zelenskyy urges U.N. action on deportations, Reuters "President Volodymyr Zelenskyy has urged a senior U.N. official to help find a way to resolve what Ukrainian authorities decry as a serious consequence of 11 months of war – the deportation to Russia of thousands of adults and children. Ukraine has for months denounced reports of mass deportations to Russia, often to remote regions thousands of kilometres from Ukraine."
https://twitter.com/EuromaidanPress/status/1618621768188710912
Türkiye says it is "meaningless" to restore NATO dialogue with Sweden, Finland, Reuters "Turkish Foreign Minister Mevlut Cavusoglu said on Thursday it was "meaningless" to hold a trilateral meeting with Sweden and Finland to discuss their NATO bids after proteststhis month in Stockholm. Speaking at a news conference, Cavusoglu also said there is no offer to evaluate Sweden's and Finland's NATO membership seperately."
Russian GRU's effort to block Sweden's bid to join NATO, Ukrinform reports, citing  Robert Lansing Institute, a US-based think tank. "Through a demonstrative burning of the Quran outside the Turkish embassy in Stockholm, the Main Directorate of the General Staff of the Russian Armed Forces (military intelligence) likely used exploited the unsuspecting leader of the ultra-right Hard Line party, Rasmus Paludan, with the mediation of a local journalist Chang Johannes Frick, who, according to numerous indications, is a Russian intelligence asset recruited to run psyops."
https://twitter.com/EuromaidanPress/status/1618658454243254273
US recognises Wagner Group as transnational criminal organisation, Ukrainska Pravda reports, citing US Department of the Treasury. "The US Treasury Department's Office of Foreign Assets Control (OFAC) on Thursday declared the Wagner Group private military company a transnational criminal organisation and imposed sanctions on individuals and entities associated with it."
Russia outlaws Meduza news site in latest media crackdown, Reuters "Russian authorities designated the independent news outlet Meduza an "undesirable organisation" on Thursday, effectively outlawing the site from operating in Russia and banning any Russian from cooperating with Meduza or its journalists. The designation is the latest in a years-long campaign by the Kremlin to curb independent media and stop their reporting from reaching ordinary Russians in a crackdown that has escalated since Russia invaded Ukraine last year. […] More than 50 organisations are on the "undesirable" list, including Russian investigative news outlets iStories and Proekt and Dutch-based Bellingcat."
One more country joins Crimean Platform: now there are more than 60 states , Ukrainska Pravda reports, citing Emine Dzhaparova, First Deputy Foreign Minister of Ukraine. "Costa Rica has joined the Crimean Platform negotiation space for liberation of the peninsula. According to Dzhaparova, this unique format now brings together more than 60 states and international organisations from Europe, North and South America, Asia and Africa."
https://twitter.com/EuromaidanPress/status/1618690359957004298
Assessment 
On the war. 
The Institute for the Study of War has made the following assessment as of  January 26, 2023:
Russian forces continued ground attacks around Bakhmut on January 26. The Ukrainian General Staff reported that Ukrainian troops repelled Russian attacks on Bakhmut itself; northeast of Bakhmut near Blahodatne (8km northeast), Verkhnokamyanske (30km northeast), Spirne (27km northeast), and Rozdolivka (15km northeast); and south of Bakhmut near Klishchiivka (7km southwest). Geolocated footage posted on January 25 shows that Russian forces have made incremental advances on the southeastern outskirts of Bakhmut. Russian milbloggers continued to discuss fighting within Bakhmut itself. Ukrainian Eastern Grouping of Forces spokesperson Serhiy Cherevaty reported that Russian forces conducted 39 combat clashes in one day in the Bakhmut direction and that Russian forces lost almost an entire battalion in combat clashes on January 25 alone. Ukraine's Joint Forces Task Force noted that the Wagner Group is using small unit tactics and squad-sized assault detachments of four to five people to attack and infiltrate urban areas of Bakhmut.
Russian forces continued ground attacks on the western outskirts of Donetsk City on January 26. The Ukrainian General Staff reported that Ukrainian troops repelled a Russian attack on Marinka, on the southwestern outskirts of Donetsk City. A Russian milblogger claimed that Russian forces are continuing to fight for the western part of Marinka. Another Russian milblogger claimed that the Donetsk People's Republic (DNR) 1st Motorized Rifle Brigade took control of Vodiane, on the northwestern outskirts of Donetsk City. The Russian milblogger noted that DNR forces are exhausted from fighting different battles on this axis and that they are lacking manpower to hold territory or pursue further advances near Donetsk City.
Russian forces conducted limited ground attacks in western Donetsk Oblast on January 26. The Ukrainian General Staff reported that Russian troops attacked Vuhledar and Pavlivka, about 30km southwest of Donetsk City. Russian sources widely claimed that Russian troops interdicted the Pokrovske-Vuhledar highway, although there is no one clear highway that runs from Pokrovske (75km northwest of Vulhedar) to Vuhledar, which likely means that Russian sources are claiming control of a segment of the T0509 Velyka Novoselivka-Pavlivka highway that runs just south of Vuhledar. A Russian milblogger claimed that Russian forces broke through Ukrainian defenses on the southern outskirts of Vuhledar and gained positions in Vuhledar itself. A video taken by Ukrainian troops in the Vuhledar area shows heavy smoke near Vuhledar, and a Ukrainian soldier stated that Russian forces are actively storming the settlement. Several Russian sources emphasized that Russian forces still do not control all of Vuhledar but that heavy fighting is underway. […]
Prigozhin and Girkin – both critics of Russian President Vladimir Putin's conduct of the war – are likely competing for influence and patronage among pro-war politicians disillusioned with the progress of the war. ISW assessed on October 4 that the Russian nationalists are split among three distinct groups that pursue different objectives while unilaterally criticizing the Russian Ministry of Defense (MoD): Russian or proxy veterans, nationalists with their own private forces, and Russian milbloggers and war correspondents. Girkin represents the veteran faction due to his connections with veteran organizations such as the All-Russian Officers Assembly, while Prigozhin is a self-proclaimed nationalist with access to a parallel military structure. While both have avidly denied their political aspirations in Russia, they have continued to criticize the Russian MoD and the Kremlin in an effort to boost their prominence in Russian society against the backdrop of Russian military failures. Prigozhin and Girkin are likely competing for favor with the same pro-war nationalist patronage networks within the Kremlin that are represented by outspoken nationalist politicians. Prigozhin, for example, is engaging members of the A Just Russia – For Truth Party and nationalist-leaning Chairman of the State Duma Vyacheslav Volodin to legalize Wagner mercenaries in Russia. Girkin had broken with many officials with strong nationalist rhetoric like Volodin, however, and may be frustrated that he is unable to attain the same political power that he exerted in 2014 during the occupation of Crimea, and parts of Donetsk and Luhansk oblasts.
Prigozhin's attack on Girkin may benefit Putin, however. Prigozhin is very prominent in the Russian information space, and many milbloggers accused Girkin of lacking combat experience and cowardice in response to this exchange. Prigozhin may have attempted to undermine Girkin to gain influence in the nationalist space while simultaneously but not necessarily intentionally discrediting one of the most prominent Putin critics.
Prigozhin is likely attempting to maximize his influence to avoid Girkin's fate. The Kremlin had seemingly rid itself of Girkin after his militants retreated from Sloviansk and following his involvement in the downing of Malaysia Airlines Flight 17 in July 2014. Girkin was removed from the position of Minister of Defense of the Donetsk People's Republic (DNR) in August 2014 and has not resurrected his influence within the Kremlin since then. Prigozhin, however, is trying to build a support base within the Kremlin and in Russian society to solidify his presence in Russian domestic affairs even as Wagner struggles on the battlefield.
Russian President Vladimir Putin continued his campaign against critical and opposition voices by cracking down on several major opposition media outlets while continuing to platform highly critical Russian milbloggers. Putin signed a law on January 25 designating several major Russian language media and investigative outlets, including Meduza, Important Stories, Bellingcat, The Bell, and The Insider as undesirable organizations within Russia, outlawing the publication, distribution, or financial support of the organizations and their publications. The Russian Prosecutor General's Office claimed that the activities of Meduza and other outlets threaten the "foundations of the constitutional order and security" of Russia. Wagner Group financier Yevgeny Prigozhin had notably called for the Russian Prosecutor General's Office to censor Meduza in July 2022, claiming that the outlet deliberately spread false information to split Russian society. Putin has failed, however, to rein in highly critical Russian nationalist milbloggers who have long criticized and undermined the Russian Ministry of Defense (MoD), Kremlin, and even Putin himself, as ISW has previously reported. Putin likely hopes to cultivate a group of loyal milbloggers to undermine other rising opponents, such as Prigozhin and Chechen Republic Head Ramzan Kadyrov. […]
Key Takeaways
Russian forces launched another massive series of missile and drone strikes across Ukraine on January 26.
A recent altercation between Wagner Group financier Yevgeny Prigozhin and former Russian officer Igor Girkin is exposing a new domain for competition among Russian nationalist groups for political influence in Russia against the backdrop of Russian military failures in Ukraine.
Russian President Vladimir Putin continued his campaign against critical and opposition voices by cracking down on several major opposition media outlets.
The United States Treasury Department announced new sanctions targeting the Wagner Group's global support network, likely in response to the Wagner Group's renewed efforts to reinvigorate its operations outside of Ukraine.
Russian sources claimed that Ukrainian forces relaunched counteroffensive operations near Kreminna.
Russian forces continued ground attacks around Bakhmut, on the western outskirts of Donetsk City, and in the Vuhledar area.
Ukrainian officials reported that Russian forces in Zaporizhzhia Oblast are not conducting offensive operations at the size or scale necessary for a full-scale offensive.
Russian milbloggers claimed that Russian forces continued to conduct limited and localized ground attacks in Zaporizhzhia Oblast.
The Wagner Group likely experienced significant losses in attritional offensive operations in eastern Ukraine over the past few months.
Russian occupation officials are reportedly continuing to "nationalize" property and close places of worship belonging to the Ukrainian Evangelical Baptist Christian communities in occupied Zaporizhzhia Oblast in an effort to establish the Kremlin-affiliated Moscow Patriarchate Orthodox Church as the dominant faith in the region.
Three-quarters of citizens are proud of Ukraine, Ukrinform reports, citing the 19th nationwide poll, presented by Oleksiy Antypovych, director of the Rating Sociological Group. "The war unleashed by Russia contributed to the formation of a positive attitude of Ukrainians toward their country and its future. What does a Ukrainian currently think about Ukraine? 75% [of Ukrainians] feel proud. I draw your attention to the fact that only a third felt proud a year ago. In 2021, the first response when thinking about Ukraine was "sadness". Currently, there is no such thing. In other words, the war brought the society not even from a passive, but from a depressed state in its attitude to its state, Antypovych said.
He emphasized that more and more Ukrainians no longer feel ashamed when thinking about Ukraine: Just a year ago, every fifth person said that he or she was ashamed of the state, and today it is only 2%. At the same time, the poll did not reveal people indifferent to the state at all, although in 2021 there were 5% of such people.
Ukrainians have very high expectations for the future. Where do they see Ukraine in 10 years? Two-thirds say they see Ukraine on the top. But if the authorities do not lead us there, or if we as a society do not get there, then new disappointment and depression await us again, the expert warned."
Consequences and what to do? 
Russia needs to be humiliated in Ukraine, Anders Aslund argues in The Hill.  "Listening to various discussions here in Washington, D.C., (mostly off the record) I am amazed how many people fear a Ukrainian victory over Russia. None of the arguments I hear make sense. The West needs to give as many arms as it can to Ukraine to help it defeat Russia.
One argument I often hear is that the war cannot be allowed to spread. That's right, but the war will spread unless Russia loses. If he can do so militarily, Russian President Vladimir Putin will march on to Moldova and then proceed from there, so the only way to contain his war is to support Ukraine fully.
Some have uttered versions of the phrase, "All wars end with negotiations. We must maintain relations with Putin." That's simply not true. Many wars end with capitulation (World War II, the war in Iraq), ceasefire (Korean war, Japan's war with the USSR) or revolution (Russia in World War I). Putin should be treated, like Hitler or Saddam Hussein, as the international war criminal he is. Few called for negotiations with them.
Many treat the line of contact of Feb. 23, 2022, as a legitimate border, but it was not. Russia had maintained a low-intensity war since 2014, and it brought no peace. Putin maintained it as a starting point for his new war of aggression in 2022. All of Ukraine's territories must be returned. We must not accept the gains from a war of conquest.
Many have accepted the Russian argument that Crimea is intrinsically Russian, but it is not. It was conquered by Catherine II in 1783, and the USSR passed it on to Ukraine in 1954. The Russian population in Crimea is a result of Soviet and Russian ethnic cleansing that must not be condoned. The Crimean Tatars and the Ottoman Empire have much longer claims to Crimea.
For 20 years starting in 1997, Russia leased the naval base in Sevastopol from Ukraine. At the time, 1997 stood out as the peak of friendship between Russia and Ukraine, but it turned out to be a serious mistake for Ukraine's security. Russia's lease facilitated Russia's occupation of Crimea in February and March 2014. Legally, Sevastopol has all along been Ukrainian territory. In December 1991, the populations in Sevastopol and Crimea voted freely to belong to Ukraine.
Some suggest that Ukraine should give up some territory to Russia to calm Putin, but Putin wants the whole of Ukraine, so any concession to Putin would just lead to a new Russian assault on Ukraine. Russia must be defeated.
Absurdly, some even propose that Crimea or Donbas could become a "frozen conflict" to satisfy Putin, as if "frozen conflicts," such as Transnistria, Abkhazia and South Ossetia, were desirable. The best outcome of this war is that all Russia's "frozen conflicts" are resolved by Russian troops withdrawing.
The ultimate argument seems to involve the question: "What will Putin do?" The people who pose this question clearly don't understand that the whole of Russia's military force is engaged in Ukraine, and that it is being beaten. A defeated Putin cannot do much. The danger comes from Putin not being defeated. Putin is very unlikely to use nukes, because that would mean both he and his generals will die. Remember that Hitler never used his many chemical arms, because he could not see how they could help him. Instead, he committed suicide.
Some are afraid of Russia's destabilization and want to keep Putin in power as a source of stability. But Putin has proven to be a source of international instability and kleptocratic despotism in Russia. Such a regime must not be supported. How can anybody favor Putin's frightful suppression of the Russians? Putin belongs in prison.
Finally, many fear the dissolution of Russia, just as President George H.W. Bush feared the dissolution of the USSR and even went to Ukraine to agitate against Ukrainian nationalism in his 1991 "chicken Kiev" speech. We must not repeat his mistake. Let those nations that desire to leave Russia do so.
As the exiled Russian opposition politician Leonid Gozman argues, the ideal outcome is that Russia is defeated and has to capitulate, as Germany did in 1945. The problem with the 1991 collapse of the USSR was that it was too peaceful; Russians did not feel defeated. They did not understand why the USSR had collapsed.
Therefore, the Russian mood evolved, as in Weimar Germany in the interwar period. What Russia needs is a capitulation, a true humiliation, so that most Russians will understand that they must rethink and denounce Putin. An aggressive war criminal such as Putin must not be left in place. As President Biden rightly stated in his great March speech in Warsaw: "This man cannot remain in power."
Therefore, the West should give Ukraine all the potent arms it needs (modern battle tanks, precise long-distance missiles and modern fighter jets) as soon as possible because the longer the war lasts, the worse the suffering will be."
Ukraine War Accelerates Shift of Power in Europe to the East, The New York Times reports. "The war has raised the influence of Central and Eastern European countries with negative views of Russia, amplified calls to expand the E.U. and NATO, and dimmed the power of France and Germany. […] Russia's invasion of Ukraine has been a shock to the complacent European order, both to the European Union and to NATO. And it has underscored and enhanced the influence of the countries of Central and Eastern Europe.
Poland and the Baltic states have driven the moral argument to support Ukraine, filling a near-vacuum early in the war, when Europe's traditional leaders, France and Germany, appeared paralyzed. But the war has also brought new urgency and energy for the enlargement of the European Union to the Western Balkans and beyond, with offers of candidacy for Ukraine and Moldova. […]
The war is also accelerating what Mr. Scholz implied: that the balance of power in Europe is shifting, too, along with its center, away from "Old Europe," which valued and cultivated its ties to Moscow, to the newer members to the east and north, with their raw memories of Soviet occupation and their reluctance to cede chunks of their reestablished sovereignty to Brussels.
Scholz is right, said Timothy Garton Ash, a European historian at Saint Antony's College, Oxford. The voices of Central and Eastern Europeans are being listened to more and taken more seriously in the councils of Europe, and there is a big eastern enlargement agenda on the table. With a major war within its borders, Europe is more about hard power now than before, he said. So having a Central and Eastern Europe that takes security seriously has an impact.
Poland has a rapidly expanding military — the government said last year that it planned to double the size of the country's armed forces — and has ordered a large amount of sophisticated new arms, making it a more important player in both the European Union and in NATO. Poland was a prime lobbyist to try to convince a reluctant Berlin to send German tanks to Ukraine and authorize other countries to do so.
Power has moved east, and Ukraine will cement this trend, said Jana Puglierin, Berlin director of the European Council on Foreign Relations. One can extrapolate too much from the Ukraine war, she said, but you see the clear pattern in moral leadership. Central and Eastern European countries, Ms. Puglierin said, see themselves as the freedom fighters in the E.U. and defending its values, standing up to dictatorship. They feel vindicated in their longstanding warnings about Russia's neo-imperialism, its president, Vladimir V. Putin, and Europe's dependence on Russian energy — in contrast to what they see as Western Europe's naïveté about diplomacy and trade with Russia.
Acting early to provide Ukraine military support and to welcome refugees, these countries have helped shape the narrative for Europe, while in Berlin and Paris, too, there was such a vacuum, negotiating with Putin to the last and surprised by the invasion, Ms. Puglierin said. The eastern countries were quick movers and much more credible, and we were speechless and frozen.
Germany and France have also had to confront the failure of their traditional policy of European security with Russia, not against it. President Emmanuel Macron of France persists in hoping to be part of any future peace negotiations between Russia and Ukraine, going so far as to talk of giving Russia security guarantees, which has enraged many in Europe, not just in the east. […]
Weakened within Europe, at least for now, France will also be less influential in a more active and aggressive NATO. The alliance is more reliant on American arms and leadership than it was before the war, not less so, and it is expected to expand soon with the new membership of Sweden and Finland.
Germany's new government, led by Mr. Scholz, was unprepared for war, let alone for a sudden cutoff of Russian energy and trade. With rising concern about similar dependence on China, Germany faces the need to reshape its export-driven economy, built on cheap Russian gas and unfettered trade with China. […] Still, France and Germany are on the back foot in Europe for the near future, at least. […]
Poland's new importance to NATO also makes it more important to the European Union, said Wojciech Przybylski of Res Publica, a Warsaw-based research institution. The volume of purchases of new equipment and upgrade of defense systems makes it a country that you must talk to when discussing security assurances and peace. Central and Eastern Europe, he said, delivers a lot of attitude, even if the substance is still in the hands of the bigger players. The war, he added, has confirmed the reality that Europe can no longer be ruled from Paris and Berlin. […]"
Hans Petter Midttun: Today's assessment will be published as a separate article. A teaser:
On January 25, the European Court of Human Rights published an interim verdict on the so-called "big Donbas case". This decision has become an astonishing victory for Ukraine.
It is important because it changes the media narrative. The NRK – along with most other international media outlets ignored the facts at hand.
NRK failed on several other important aspects crucial to an objective and credible reporting of the war. It had a reporter permanently stationed in Moscow – exposed to Russian disinformation – reporting on the war in Ukraine. It used some of the Russian terminology and narratives in its reporting, including the term "Ukrainian civil war" and "pro-Russian separatists" (indirectly supporting the first narrative).
The biggest fault of international media – including NRK – was the fault of omission.
While the lack of public awareness was highly regretful, the media's lack of focus denied it the chance to question their respective government and parliament's response to a constantly evolving war in Europe. That is by far a more critical failing.
Media failed to ask the important questions and has as such, failed to uphold its commitment towards civil society and has not acted as the Fourth Estate.
That is no longer possible. The interim verdict from the European Court of Human Rights will force the media to review its past policy and face up to its failings. The verdict has put the media's past failings in the spotlight."
Tags: Russian invasion