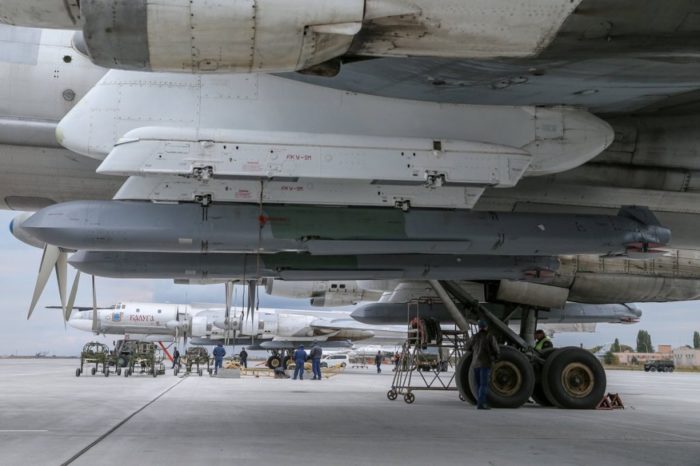 Kh-101 mounted on pylons. Photo: Russian MoD 
Serial numbers and other data obtained from 16 downed Russian air-launched Kh-101 missiles provide insight into Russian production rates, according to the analysis by FDD's Long War Journal published last December, which suggests that the production rates of the Kh-101s might be higher than before Russia's full-scale invasion of Ukraine.
The Kh-101 is a Russian stealthy air-launched cruise missile carried by strategic bombers Tu-160 and Tu-95MS. The missile entered service in 2013, and saw its first combat use in Syria in 2015. In 2022-2023, Russia has been using the Kh-101s extensively in Ukraine.
Many Russian weapons, including the Kh-101, remain chock full of Western-made components, Various experts and western officials claimed that sanctions have hobbled Russia's ability to produce precision-guided munitions. However, Russia continues to conduct periodic missile strikes primarily targeting Ukraine's energy infrastructure, including with modern cruise missiles such as the Kh-101.
"The data suggests that although Russia is likely running low on missiles and expending them at an unsustainable rate, production of Kh-101s and perhaps other missiles not only continues but is probably greater than some analysts believed. What is more, Russia may now be producing more Kh-101s per day than it was before its full-scale invasion of Ukraine. These findings underscore that while Western export controls pose significant challenges for Russia's defense industrial base, it is too early for the West to take a victory lap," the Long War Journal says.
In late November 2022, Ukraine's Defense Minister Oleksii Reznikov reported that Russia manufactured 120 X-101 missiles after the full-scale invasion of Ukraine on 24 February 2022. In early December, the representative of Ukraine's Main Directorate of Intelligence Vadym Skibitskyi said that Russia has already produced 240 X-101s.
Meanwhile, based on the structure of serial numbers of the downed Kh-101s, the Long War Journal assumes that Russia might have manufactured at least 402 Kh-101s during the timeframe between 1 April 2018 and 23 November 2022 with a production rate of 0.24 missiles per day.
"Western export controls have already undermined Russia's defense industrial base and will likely pose even greater challenges for Moscow in the future. But the new measures will need time and strict, multilateral enforcement to achieve their full potential," the Long War Journal concludes.
Read also:
Russians used Kh-101 cruise missiles produced in the last quarter of 2022 to attack Ukraine's power grid on 29 November
US parts found in Russian Kh-101 precision missile used to shell Ukrainian cities
Russia starts using Kh-101 missiles produced in Q2 of 2022 – Defense Express
Tags: Kh-101, Russian missiles